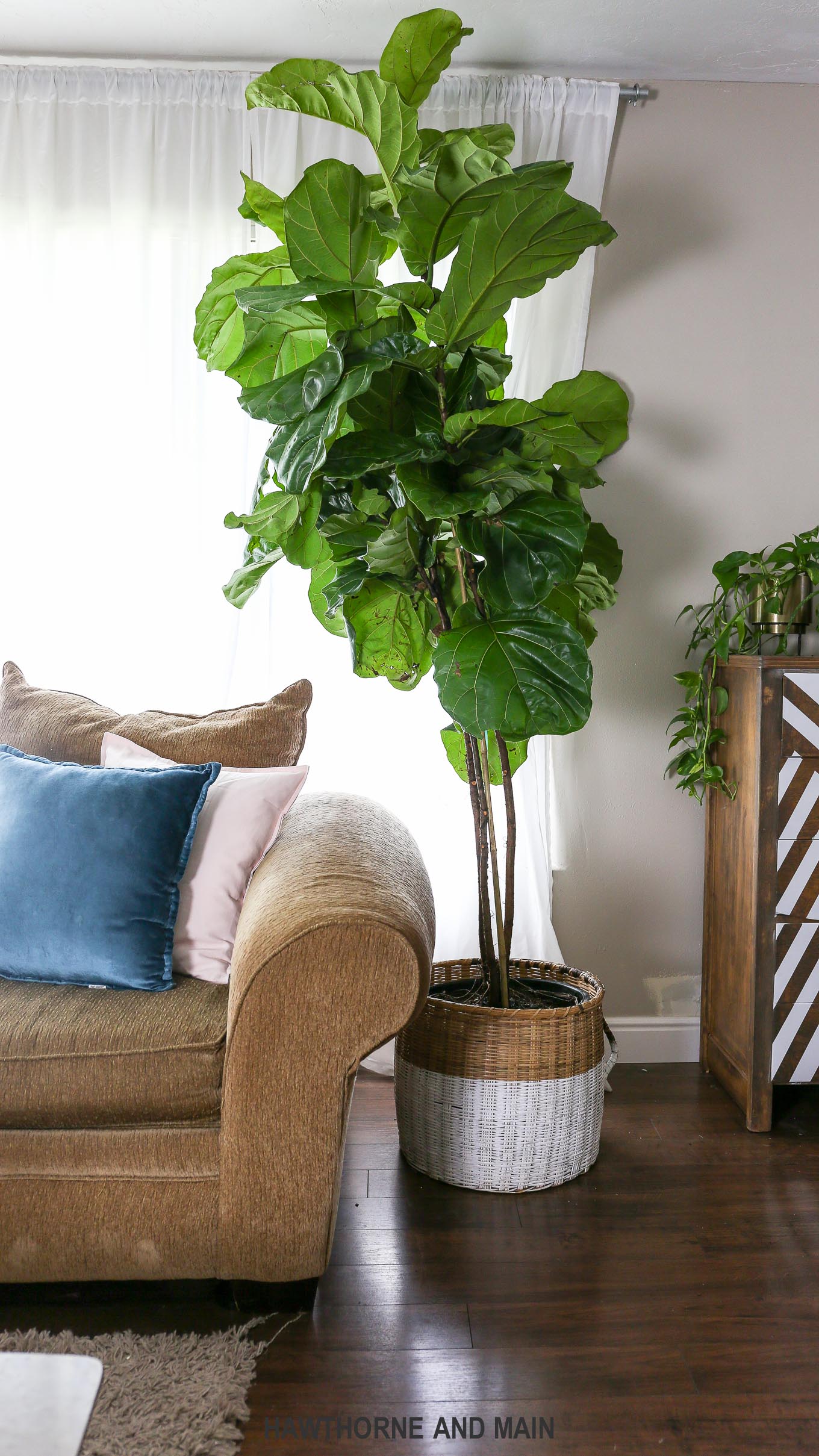 \
Do you remember the letter I wrote to my dearest Fiona?  It was almost a year ago…crazy!
I thought that since I have kept my dear Fiona alive for this long….I should give an update. Fiona is my fiddle leaf fig tree.  She is wonderful and alive and thriving. For a black-thumbed gardener, I am very pleased.
Are you debating about getting a house plant…? You should! T
There are so many reasons why I think house plants are a must….but for today I want to share some of my tips and tricks to caring for a fiddle leaf fig tree.
Tips on how to care for a fiddle leaf fig tree.
When I was researching fiddle leaf figs I was hesitant to get one because EVERYONE said they were very hard to keep alive.  I knew that it wouldn't stand a chance against me.
But, when I saw one for sale online at Home Depot for $29 I jumped the gun and a few days later she was there….sitting on my doorstep. My dearest Fiona.
A couple weeks ago I was…once again at Home Depot grabbing some supplies for a project.  I walked over to the indoor plant section and could NOT believe my eyes.  Giant fiddle leaf fig trees were lined up.  These guys were almost 8 feet tall and beautiful.  I couldn't resist.
My newest fiddle leaf fig tree is affectedly known as Big Red.  I am hoping he will last a little longer…(anyone get that…?  I'm getting so old.)
With a few tricks and tips, I have come up with a few things to help ensure that you can have a happy fiddle leaf fig…no matter what you name it.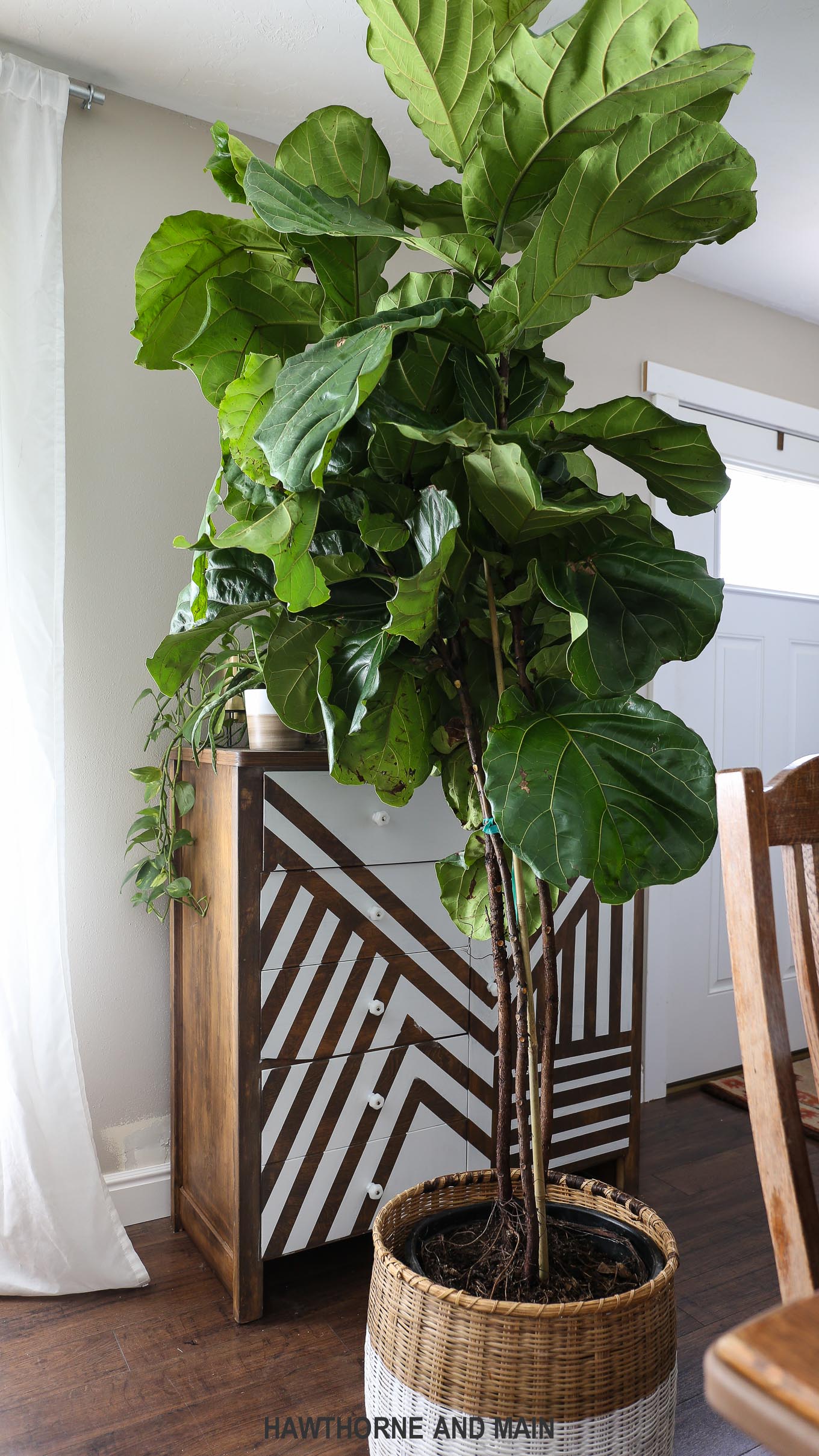 1- When to purchase a fiddle leaf fig:
This might seem silly… I believe that the best time of year to purchases a fiddle leaf fig is in the Spring, March or April.  This is the time of year when the trees are growing and putting forth new leaves.  The weather outside is warm but not sweltering.   Hopefully, it will adjust to its new home easier.  I bought Fiona at the end of the summer and she did survive but I think Spring would have been better.  I got Big Red in March and he has adjusted very well.
2-Name your tree:
This might seem dumb, but if you actually think about a name and really put into your mind that you care about this tree…you might remember to water it and do all the necessary, though simple things to help ensure its survival!
3- Find a sunny spot and leave it:
I have read so much about fiddle leaf fig trees needing a lot of indirect sun….and that they grow particularly well near an East facing window.   Mine happens to be sitting near an East facing window, but this is only because this was the only spot I had to put them. Once you have a spot picked out…leave it alone for a while.  Fiddle leaf fig trees love the light. They will grow toward the light.  Because of this, you will need to rotate them periodically.  If after a few weeks you feel like the tree is not leaning toward the light perhaps because it's not getting enough sun…maybe then try another spot.
4- Wait to water:
I have made the mistake, more times than I would care to admit…over watering a plant and killing it.  What can I say, I love to water my plants… it makes me feel important.  When you get your new fiddle leaf fig tree feel the soil.  If it's moist, and it probably will be, take it home and don't water it for about 7-10 days.  I know you will be tempted but don't do it.
Here's why…  The tree is already going to be going through some shock from being taken outside and then into your car ( or mailed to your doorstep) and now it's in a new spot with different light…don't add  water into the mix.  Wait a few days before you water.  Trust me!
5- Wash the leaves:
The famous thing about fiddle leaf figs is their beautiful large leaves.  Big Red literally has leaves that are 2 feet by 1.5 feet…amazing! Trees need clean leaves in order to survive and be happy.  The day that you get your tree…instead of drowning it with water, wash its leaves.  Grab a simple spray bottle filled with lukewarm water and use a clean cotton cloth to wash the leaves. Spray each of the leaves with the spray bottle and gently wipe the leaves clean. I could not believe how much dirt Big Red had on his leaves.   You will need to continue to do this monthly to help your tree stay healthy.  Washing plant leaves go for all indoor plants.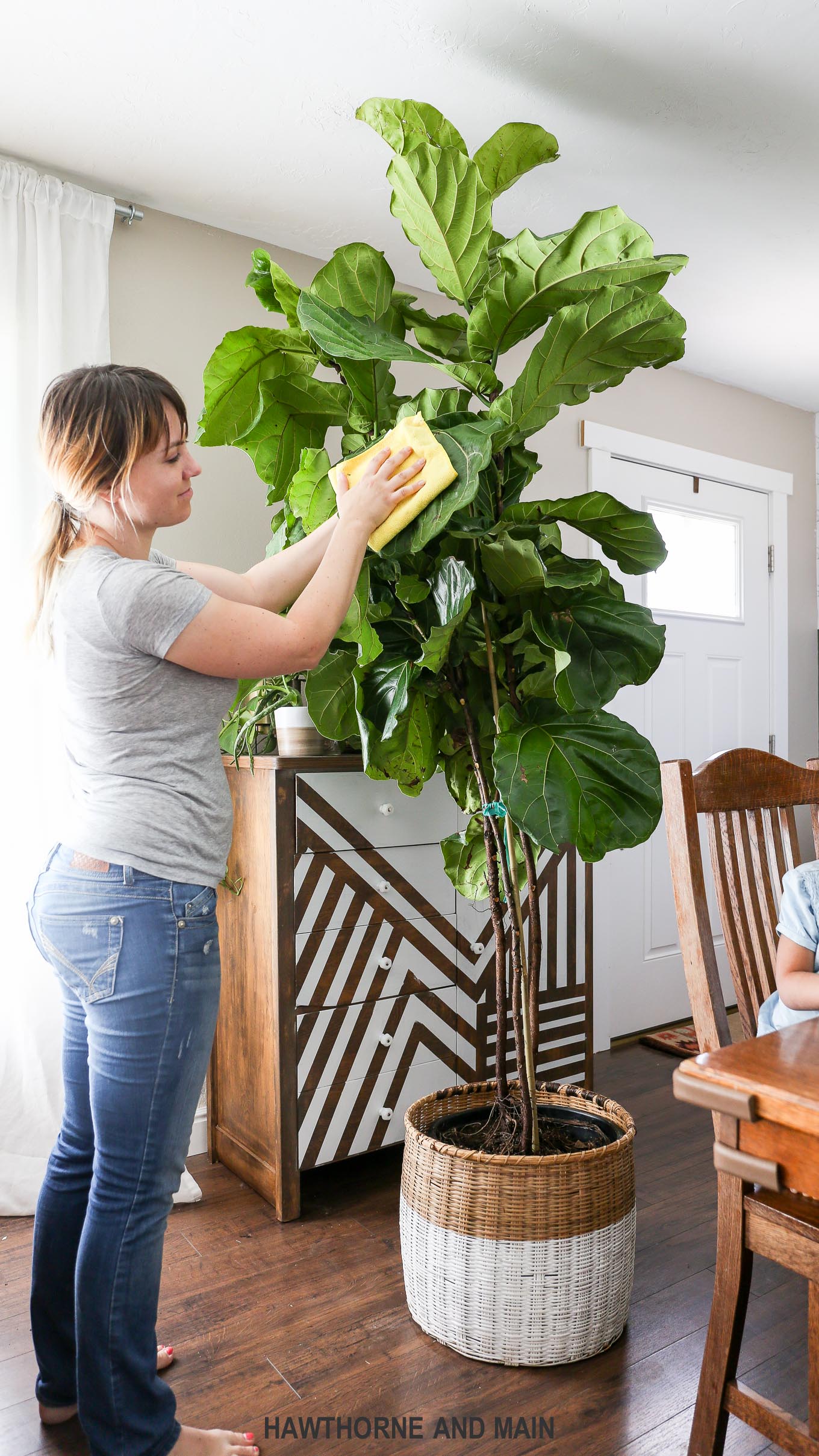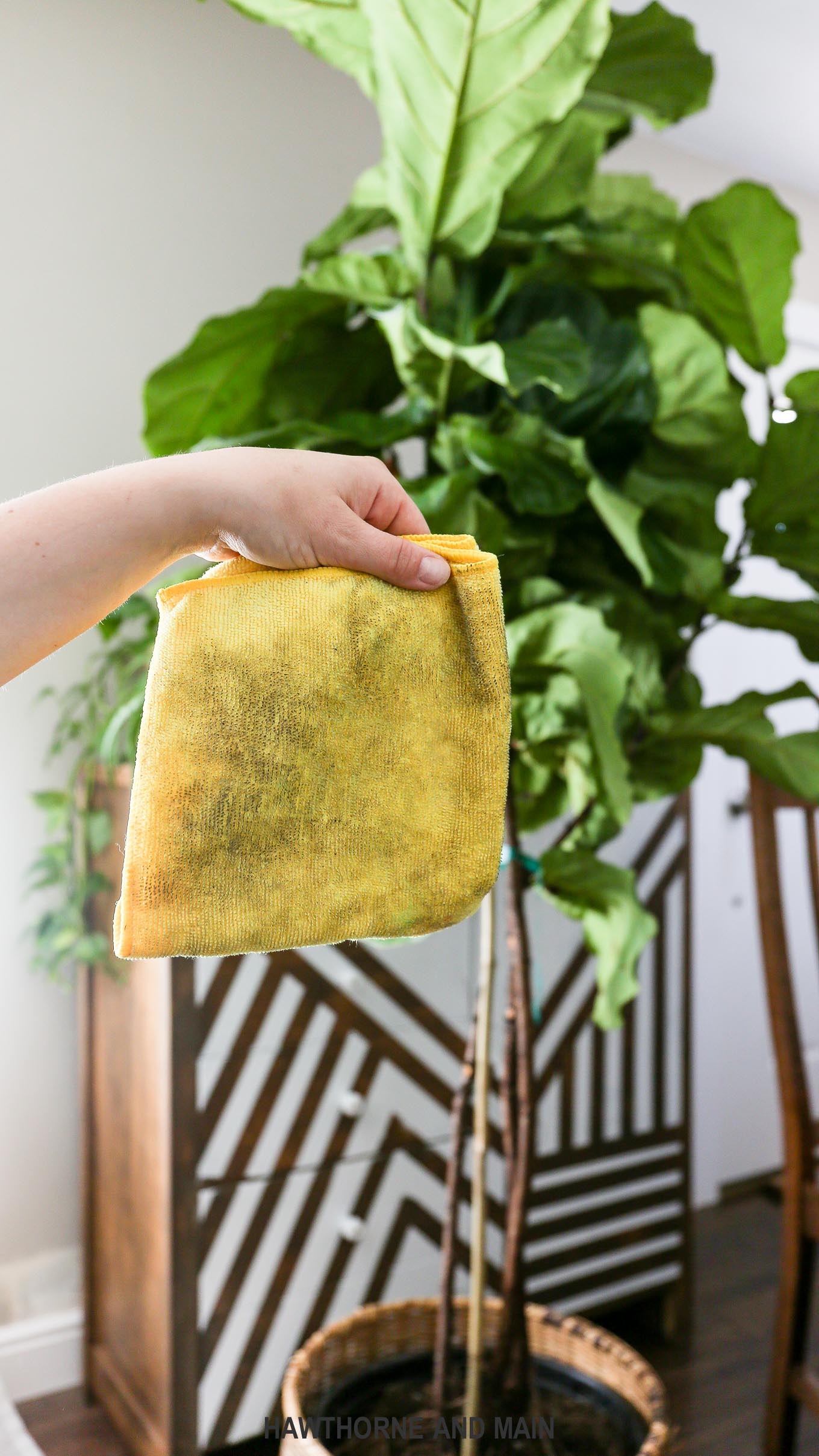 6-  Water your fiddled leaf fig (with lukewarm water):
After the 7-10 days have passed it's time to start experimenting with watering.  Try to use lukewarm water as to not shock the plant even more.  I have read so much about watering plants. Fiona literally almost died because I kept reading that people were watering their trees with 1 cup of water once a week…so that's what I did.  She lost about 7 leaves because she was dying of thirst.
There are a few things that you need to consider when determining HOW MUCH water and HOW OFTEN you need to water your tree.
Where do you live?
Is their humidity in the air?
What temperature do you like to keep your house?
I live in the desert with an almost 0% humidity most of the year. My tree needs more water than someone who lives with humidity in the air.  If you like to keep the temperature in your home very cold or on the warmer side… your watering schedules might need to be different.
I hate to leave you hanging on this but really you need to try and see what YOUR tree likes.
Here is what I do…  I usually water my trees once a week.  Say I water my tree on Monday.  I come back on Friday and stick my finger in the soil to check if I gave the tree enough water. If it feels dry or only slightly damp then I will add slightly more water immediately.  Maybe one cup to get the tree by until Monday.  When Monday rolls around I will water it a little bit more than I did the previous week.  You might find that your tree really likes to be watered twice a week rather than once a week, or maybe it needs to be watered every 10-12 days.  Fiona gets about 3-4 cups of water each week and Big Red gets about 7-8 cups.  REMEMBER….this all depends on the climate in which you live.  Experimenting is key.
7- Fertilizer
For indoor plants, I typically use it at 50% strength.  I add fertilizer to my first watering and then during the spring months when growth is occurring. Adding too much fertilizer can also be damaging to your tree.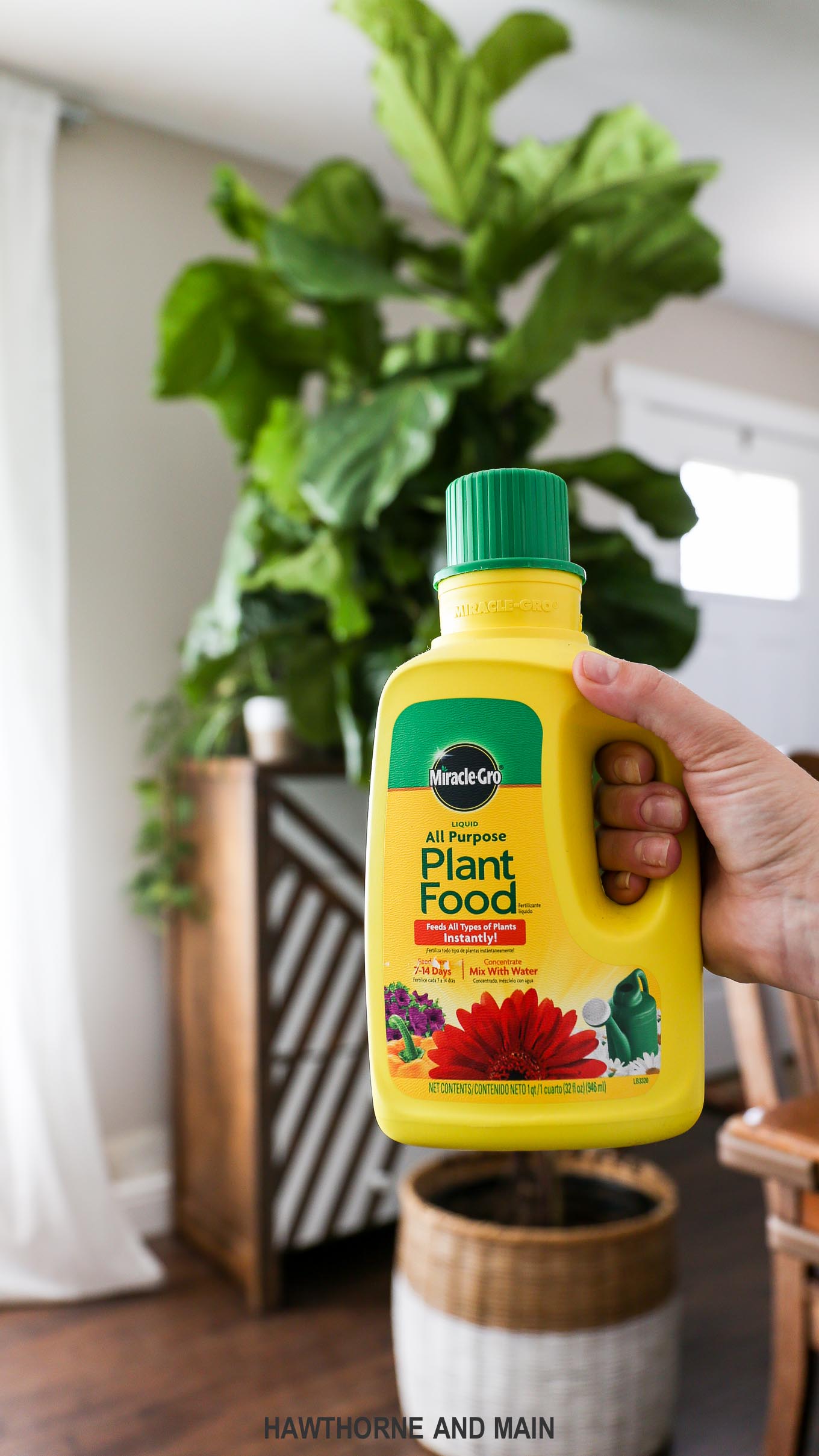 8- Repot your Fiddle Leaf Fig Tree
I always wait to repot my plants.  I have had more success with plants surviving when I wait a few weeks…even a few months before repotting.
This might not always work..depending on the plant.
I have had Big Red for almost two months and am just now thinking about getting a new pot for him.  Tree's are a lot like humans…too much shock all at once is hard.  Let your new tree adjust to your home before you make too many changes.  When you do decide to repot, find a pot that is slightly larger than the one it's in now.  This will give the roots some breathing room…but decrease the amount of shock.  Are you seeing a theme here…hahaha.
House plants are so fun to take care of…frustrating at times but overall so fun!
What house plants have you had or want to get?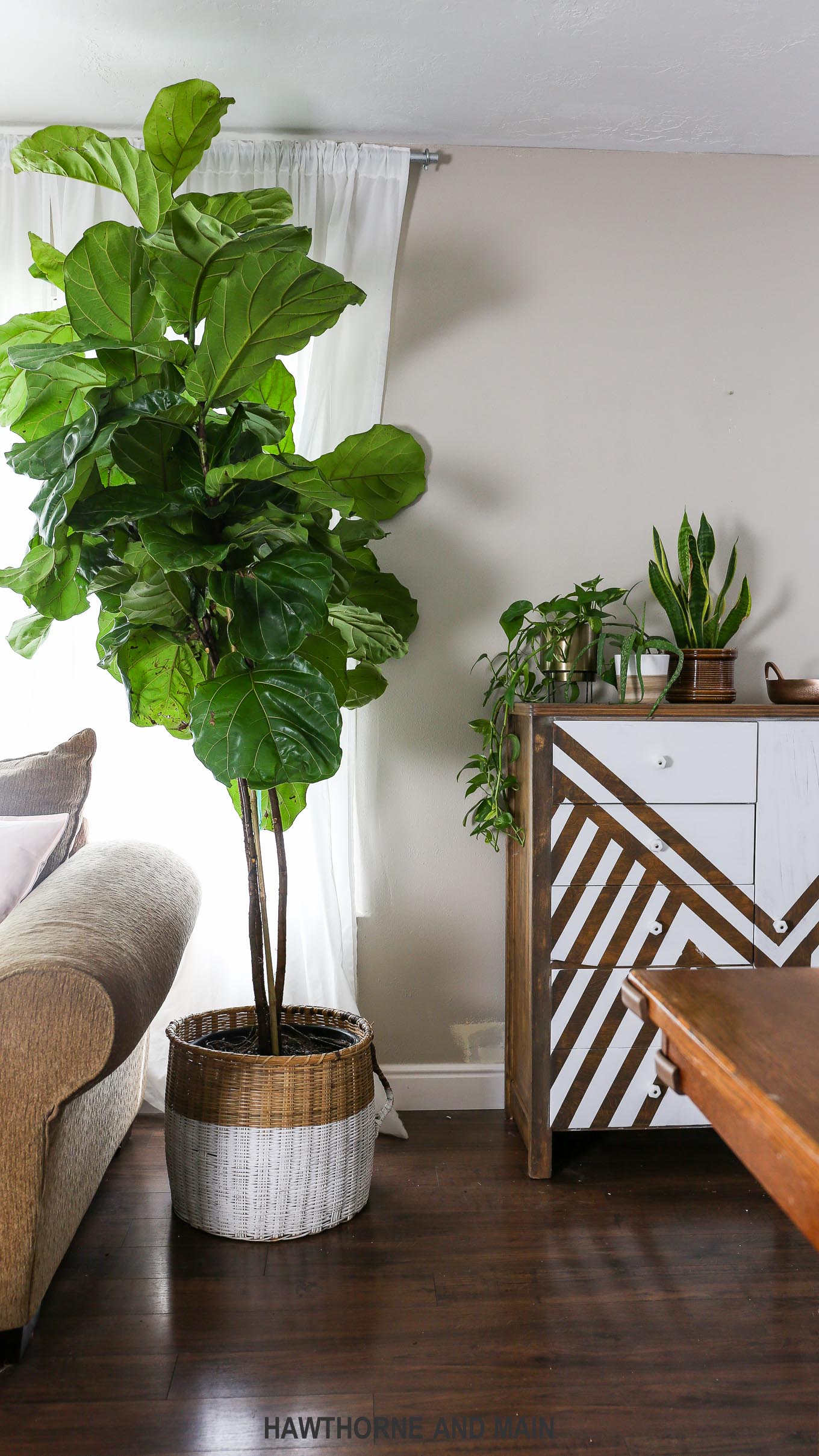 Want more AWESOME ideas...Check these out too!