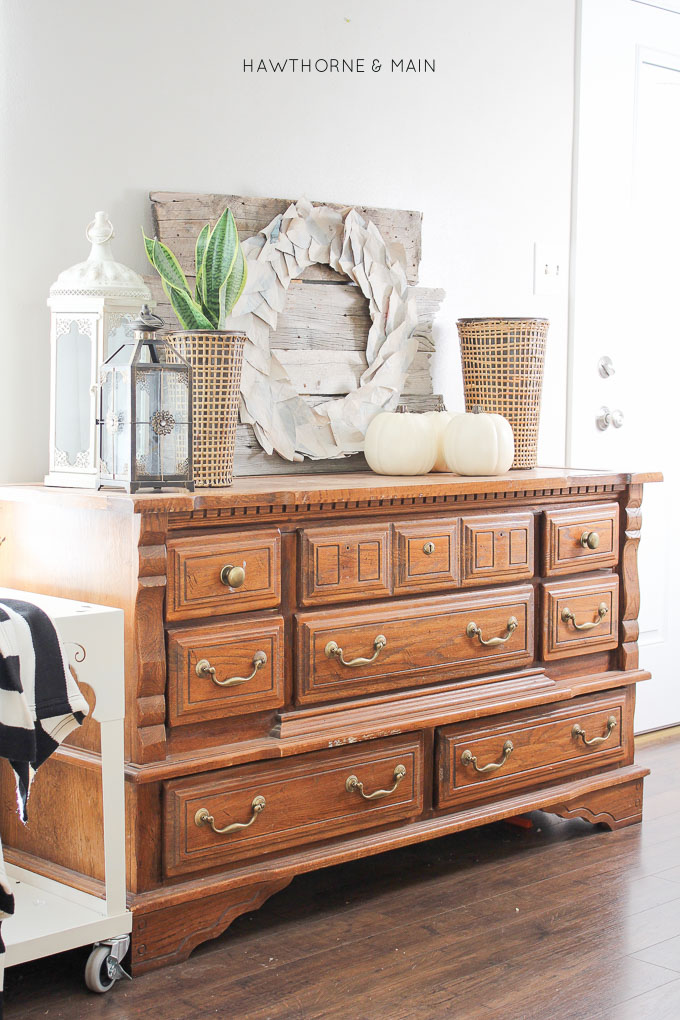 Fall is in the air. I cannot believe that I have already had to put a jacket on! Fall is one of my favorite times of year.  I decided to clean my house, just for you, (haha) to show you some of the things that I have chosen to decorate with this fall.  I would love to hear your thoughts in the comments below!
Welcome to my home, I hope you enjoy my fall home tour at Hawthorne and Main!
As you enter through the front door you see my grandmothers old dresser.  I was lucky enough to get this piece from her after she passed.  I cannot bring myself to paint it yet.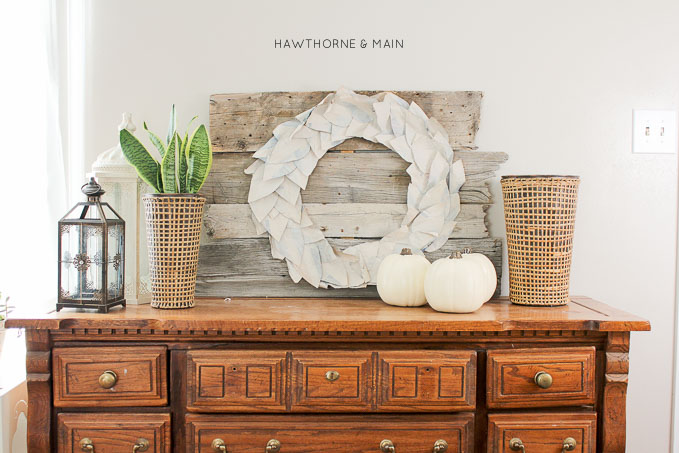 I decided to bring back my DIY Fall wreath that I did last year. If you are looking for an easy and did I mention, FREE wreath, this one is just for you!
I also added a few white pumpkins and a little pop of green!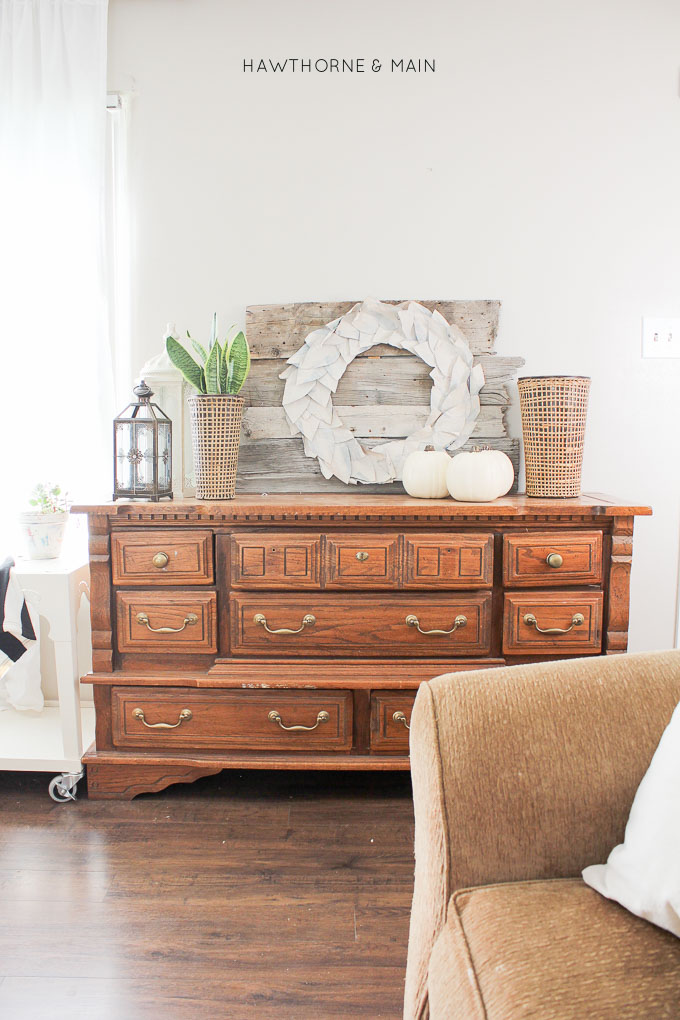 Since our house has a very open floor plan you sort of enter the house and are greeted with the front room, dinning room, and kitchen all at once.
The dinning room has a simple birch planter centerpiece, with my drop cloth table runner, my fav!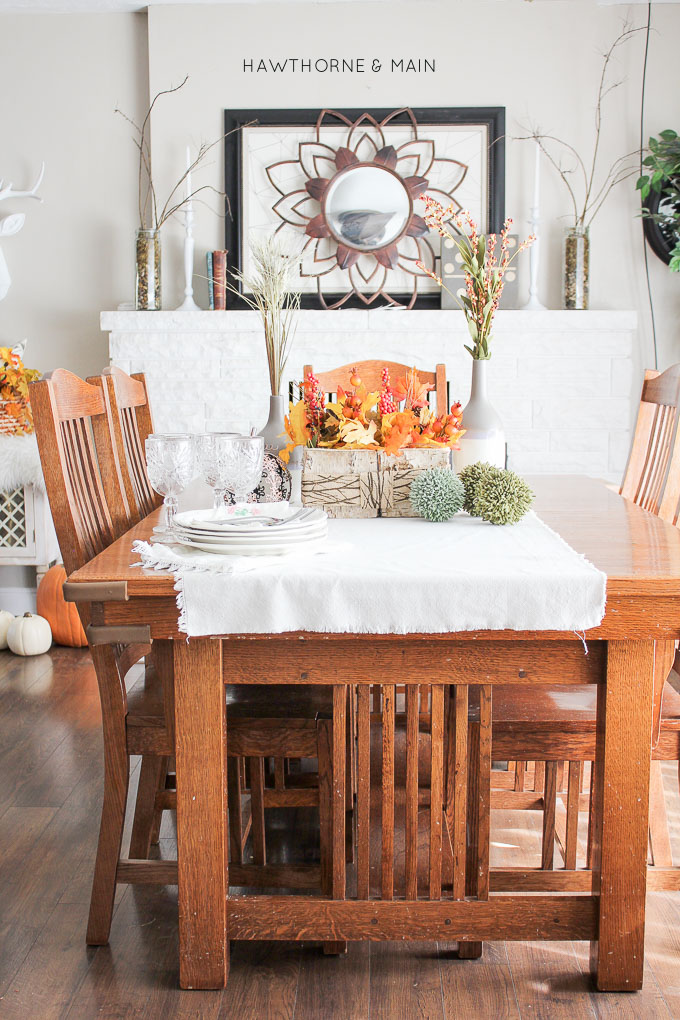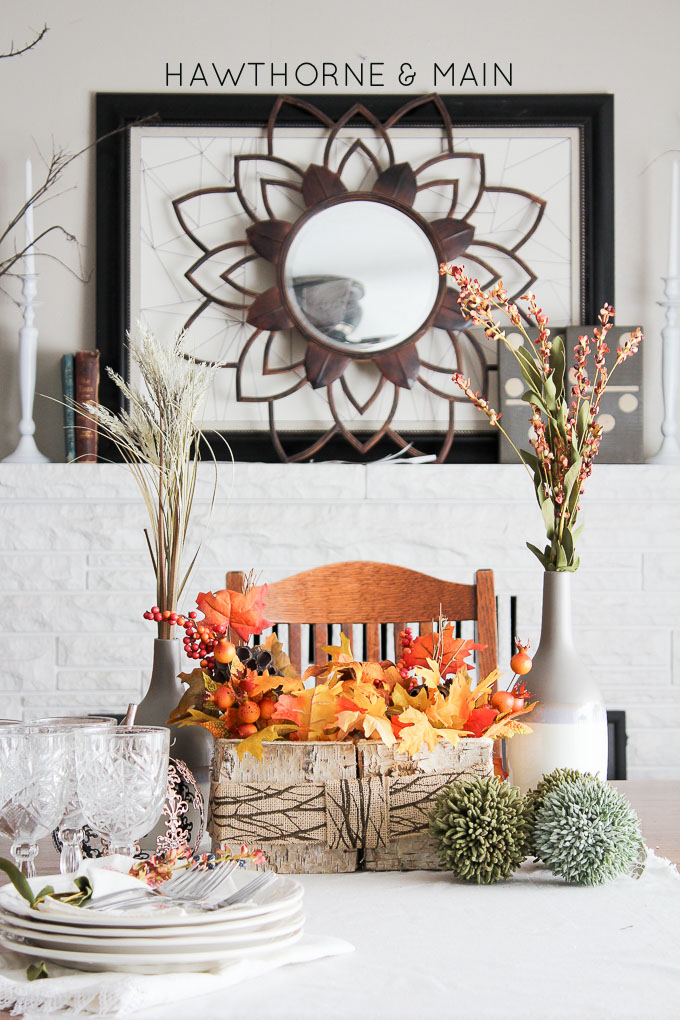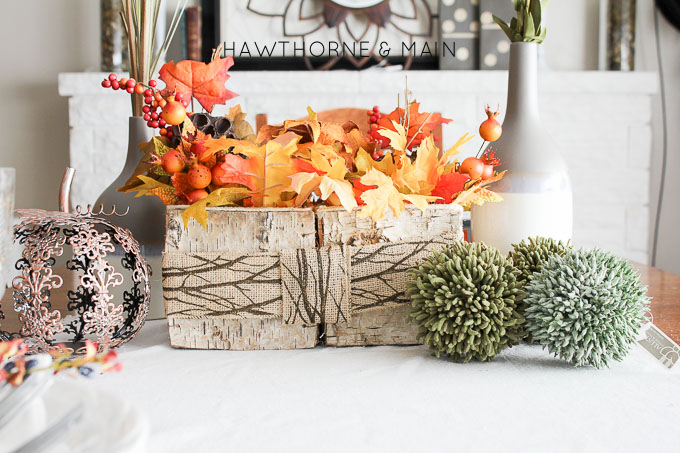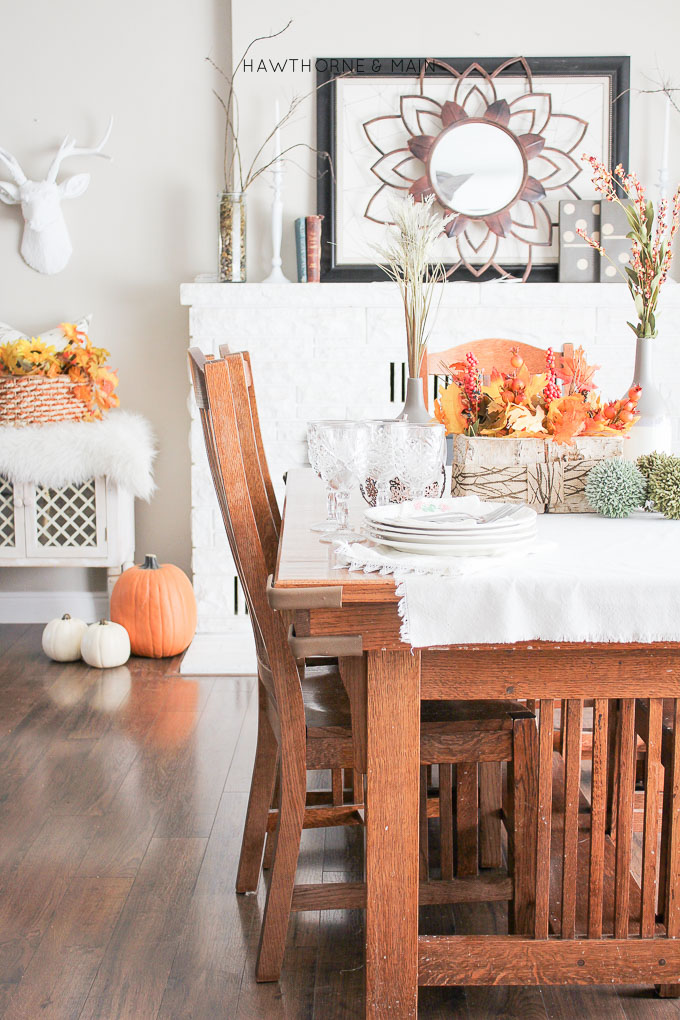 Just to the left of the fire place is a small chest.  Although I got it to store some of my nicer dishes, it has become the fridge/hiding place for all things little girl play. I guess the dishes can wait!
I added a faux wool IKEA
rug to the top, a basket with a fall leaf garland
, some sunflowers

and my favorite bird pillow. Simple and festive!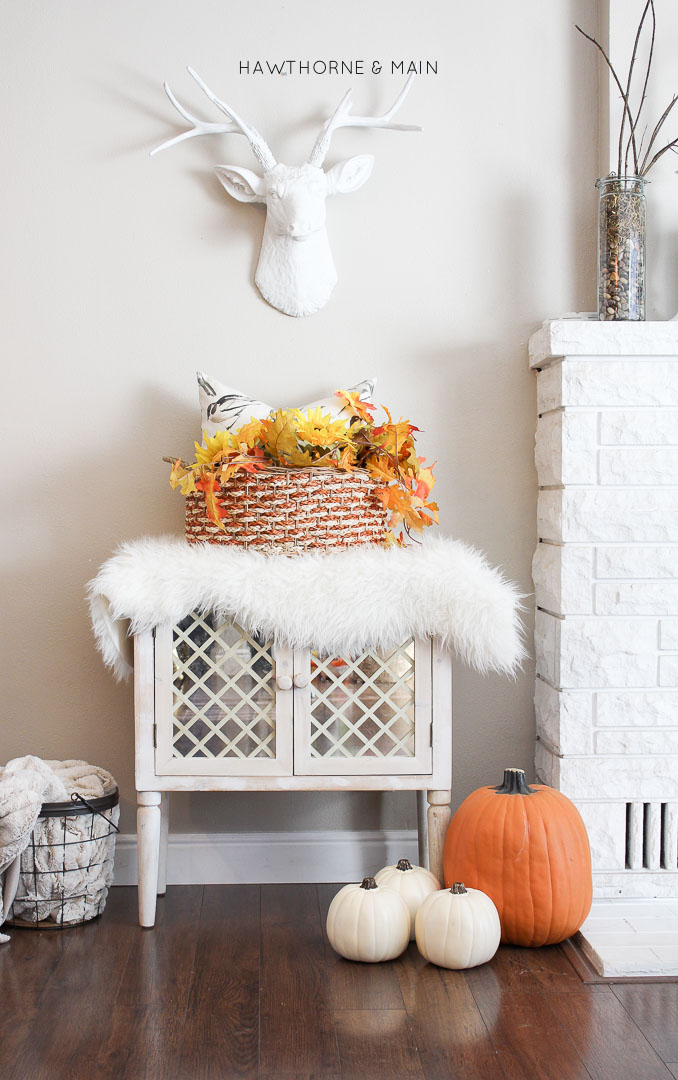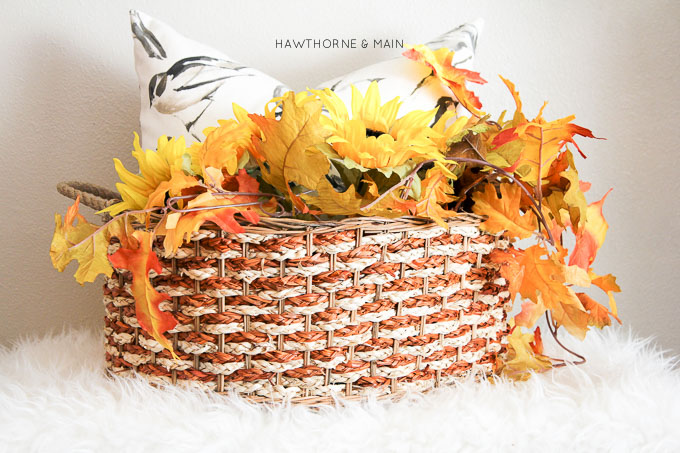 The mantel was sort of one of those things that just came together one day.  I had totally forgotten about this flower mirror.  My parents were down visiting one weekend and came across this at the thrift store. They knew I would like it, and I do! They snatched it up quick.
The black framed art is a DIY, and I totally and completely love the result!  I also DIY'd the wood dominos.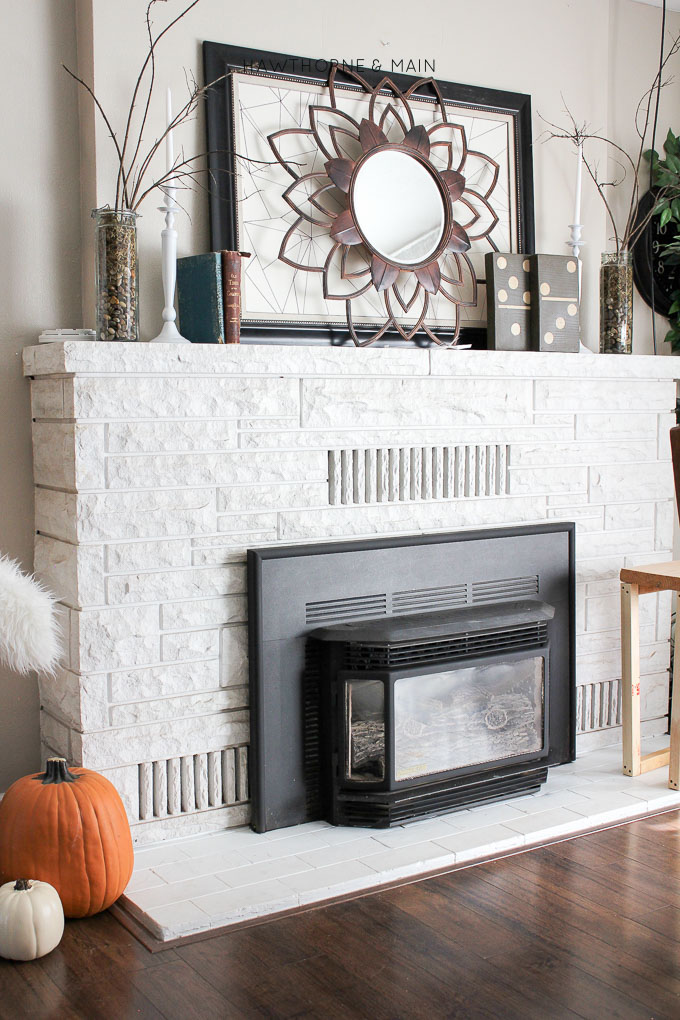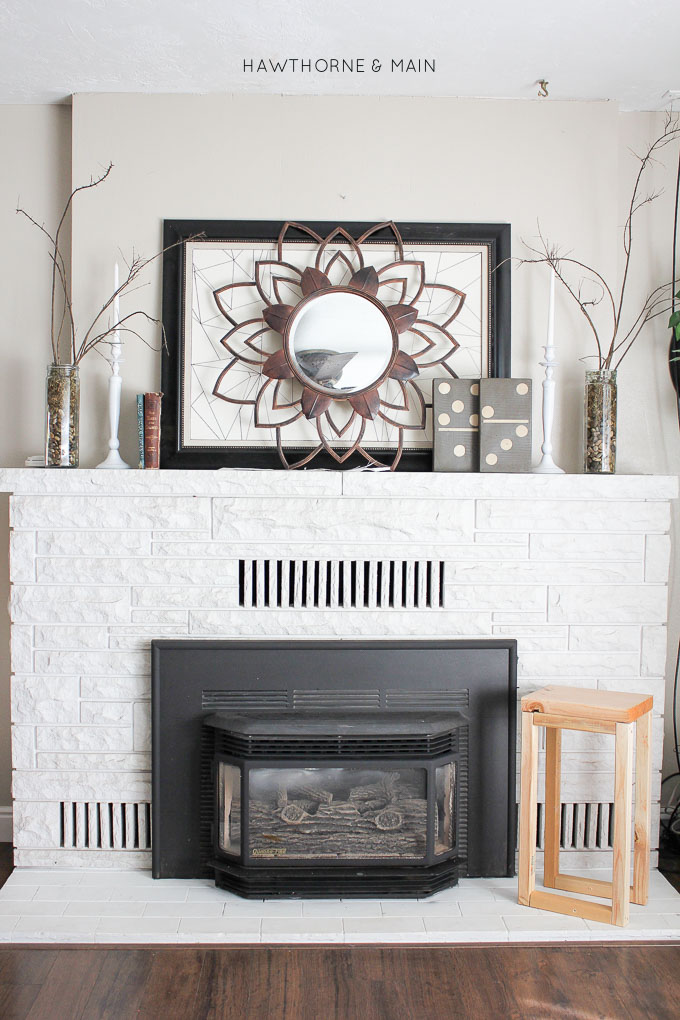 I found some moss and small river rocks at the dollar store.  I put them in a tall glass jar and added some branches from the backyard.  I love the height and intrigue that it adds!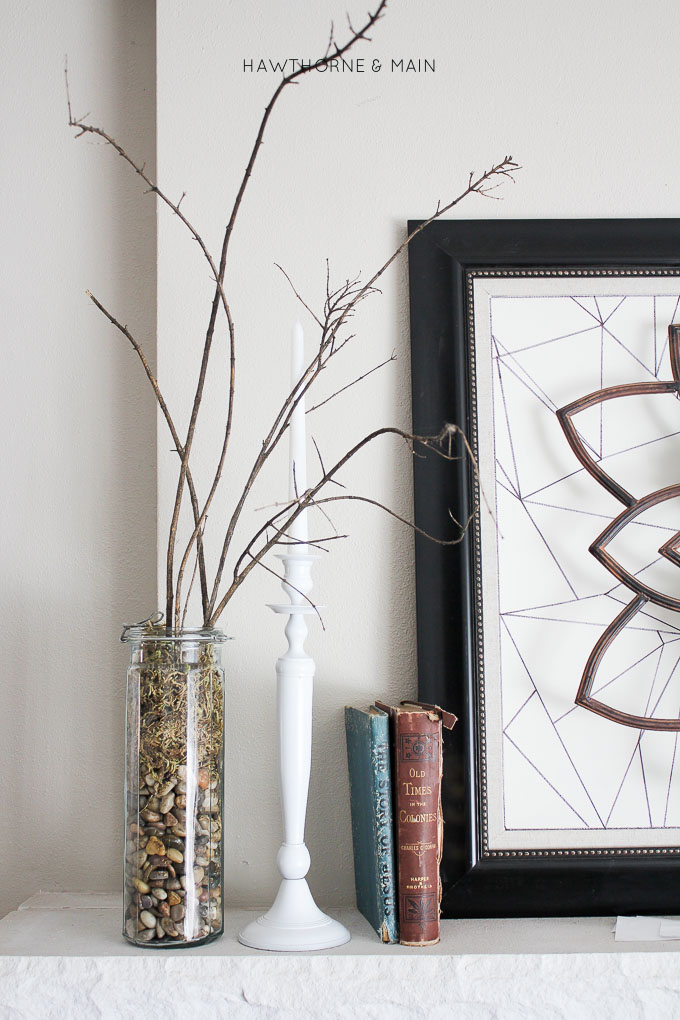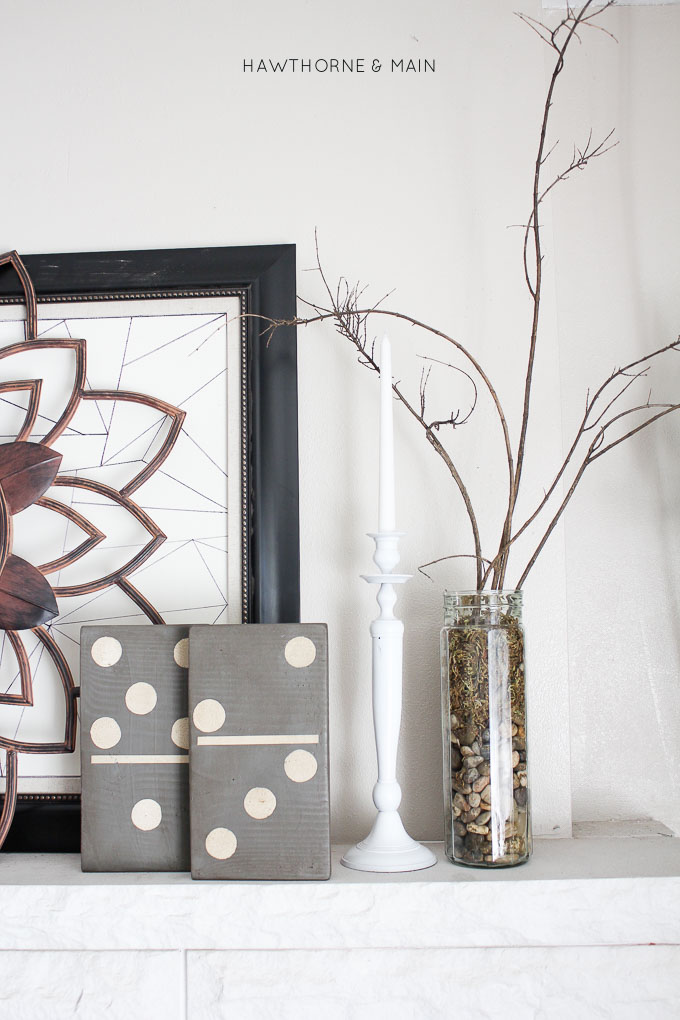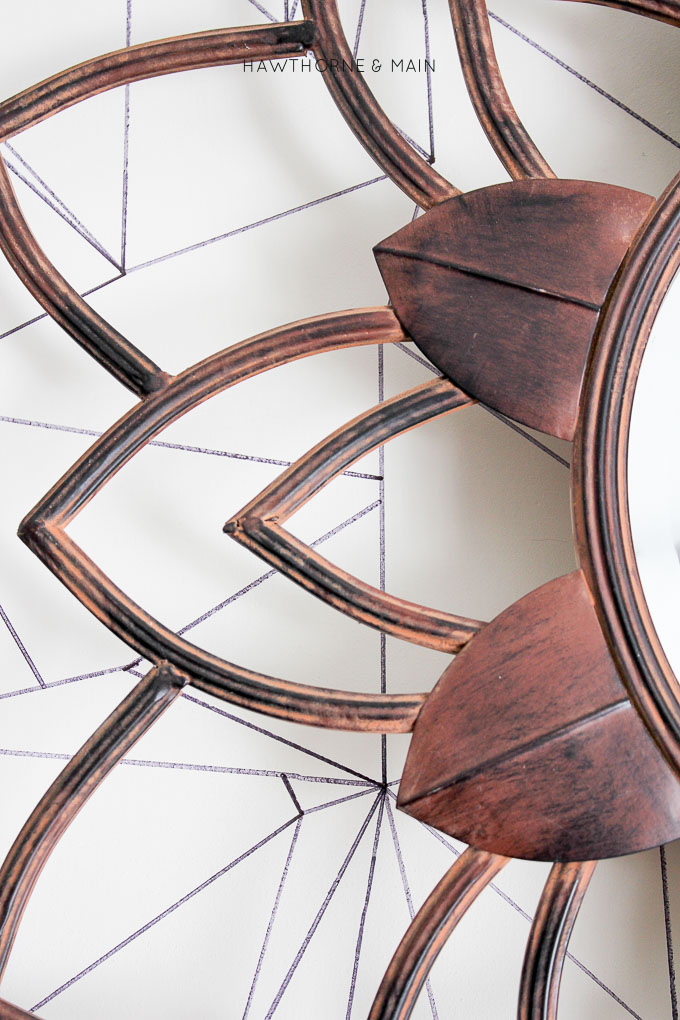 Continuing on, straight ahead is our family room.  I did some furniture rearranging a few months ago.  The TV used to be in the first room that I showed you, the front room.  It seemed that we never ever set foot in the family room, a huge waste of space.
Since moving the TV in the family room, we never ever use the front room anymore…… haha. I am glad that I made the switch though. The family is room is quite a bit bigger which can hold a lot more people.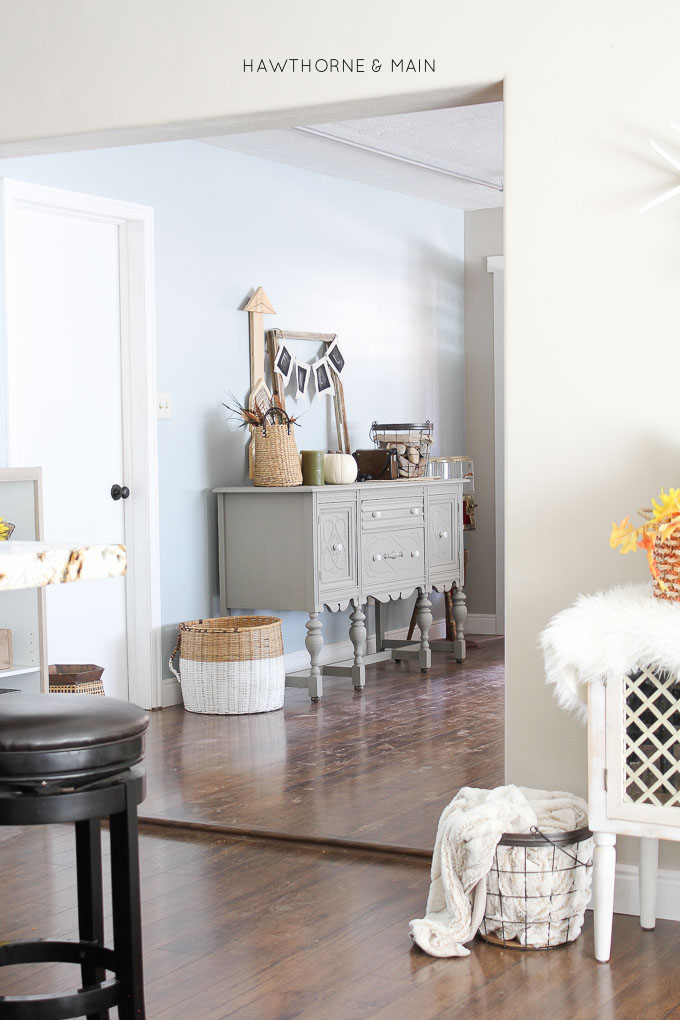 Here is where my Target bookshelf hack is residing.  I have really grown to love this piece. Plus the makeover was pretty simple and very inexpensive.
This shelf has the perfect amount of fall colors.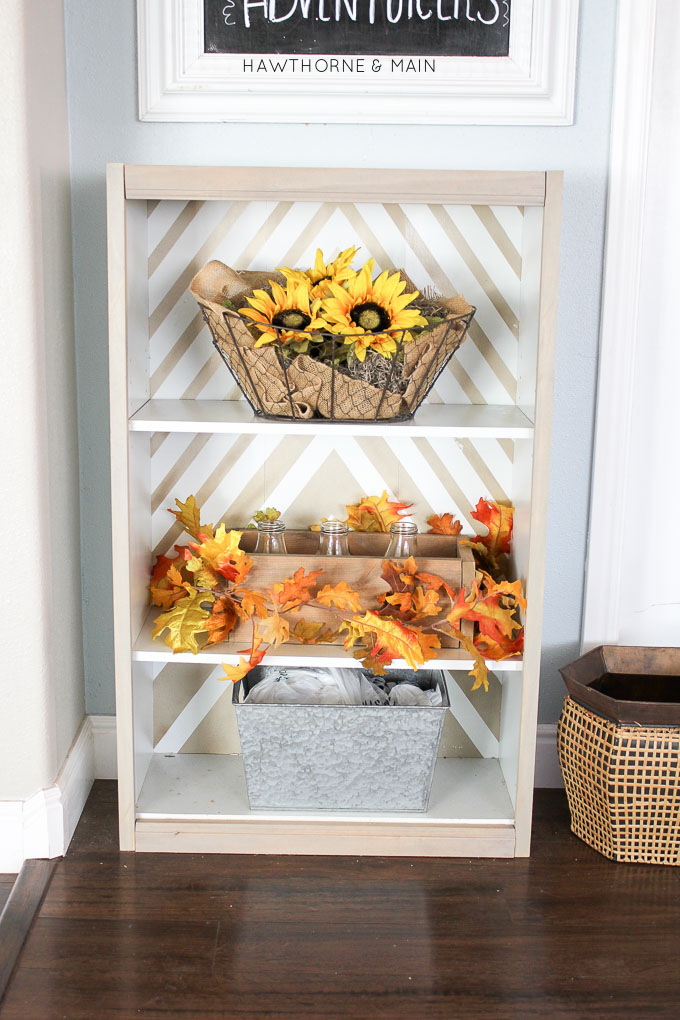 This bookshelf got a very simple fall look this year.  The top shelf has a metal basket that I have had for years, here is a similar metal basket. All I did was add some dollar store moss, burlap and a few sunflowers.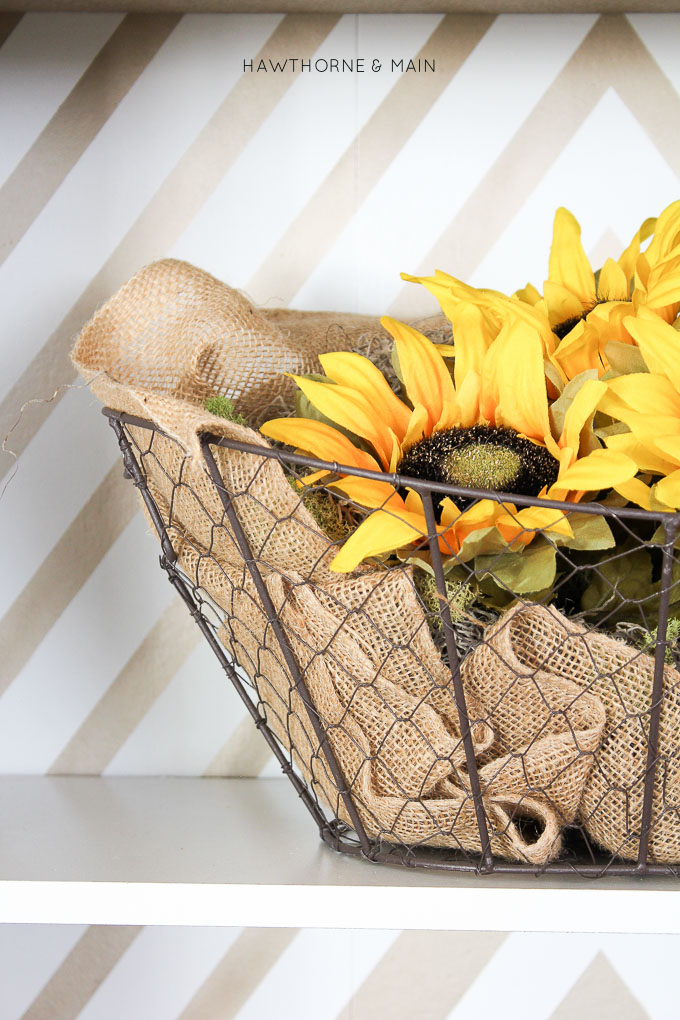 The middle shelf has a wood box on it that I made a few months ago. I added 3 milk bottles with another fall garland.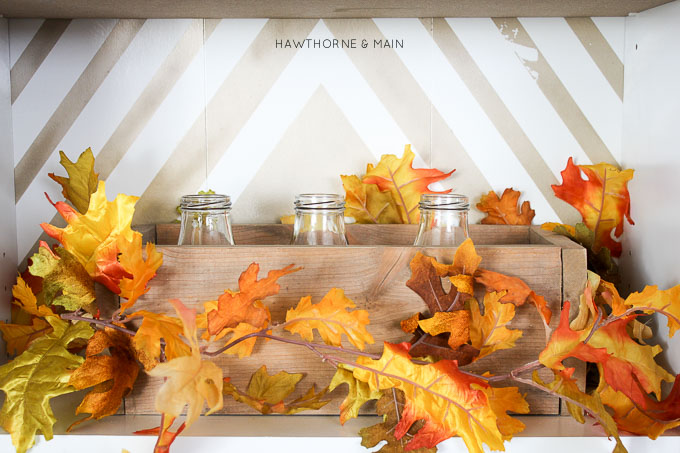 I added a metal bin to the bottom shelf.   Right now it is filled with some odds and ends
. I actually have about 4 of these bins, they are super sturdy and well made.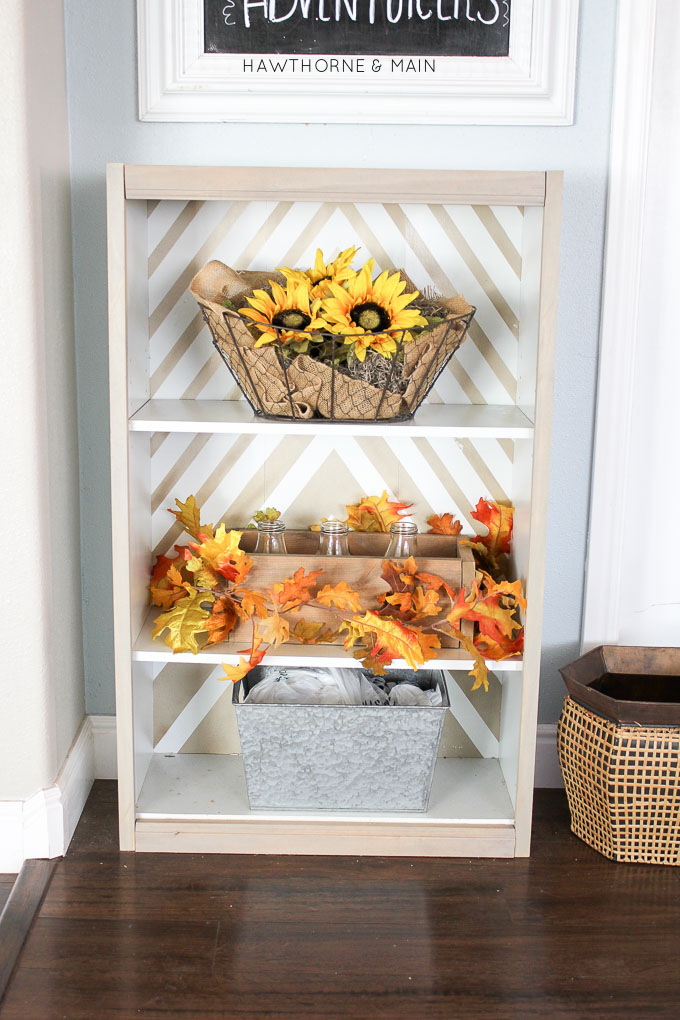 This buffet table is a fairly new addition to our home. I had been looking for a long time for one of these.  I have to admit that I am not an expert furniture thrifter.  I really like this piece but after I bought it I realized that it had some damage to the top and the inside smells horribly of smoke.
#liveandlearn
I am still really happy with how the paint job turned out!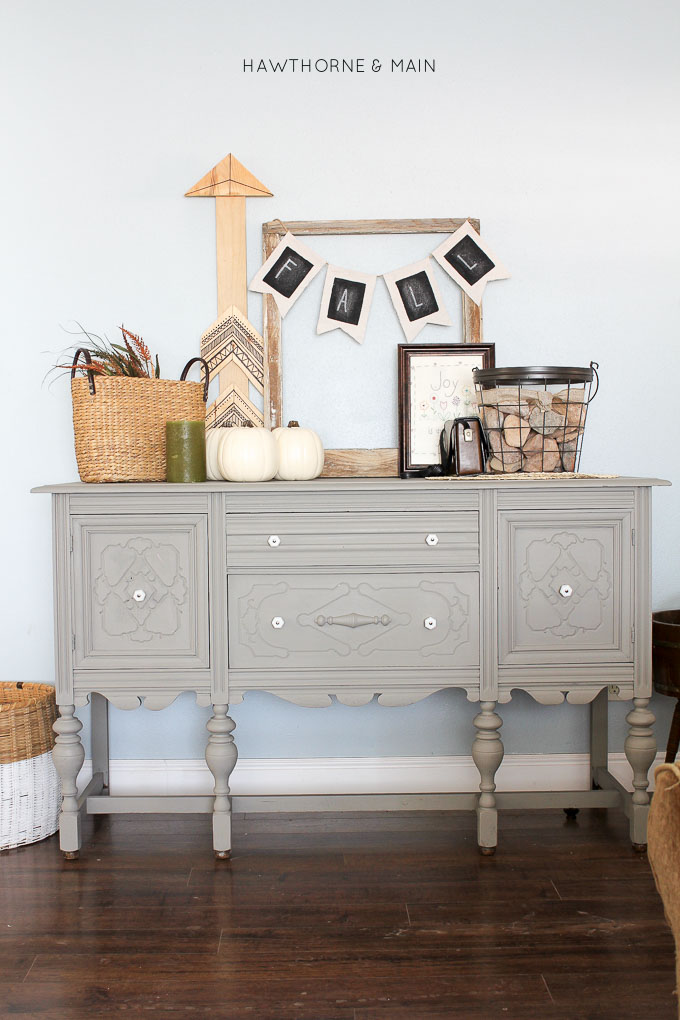 The tribal arrow is a recent project. The drop cloth  banner is still one of my favs.  The old window was a piece that I found down at the family farm, where my parents live.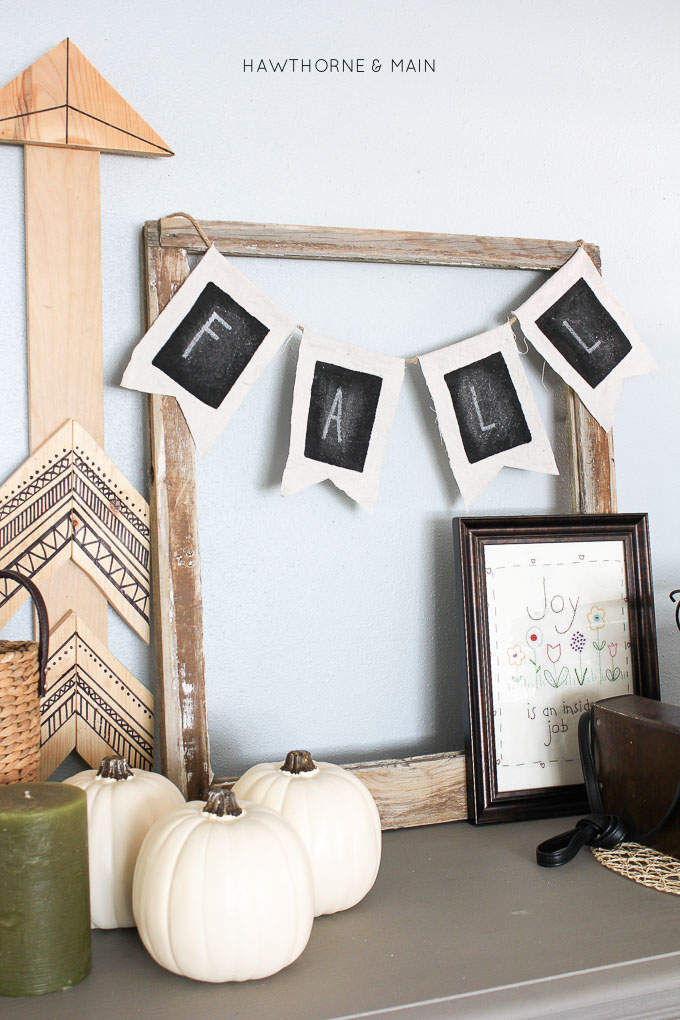 I picked up this rustic metal basket at Michaels the other day, with a 50% off price tag the price was right! I went outside and found some large rocks to put inside. I also added some natural IKEA placemats under the rustic basket.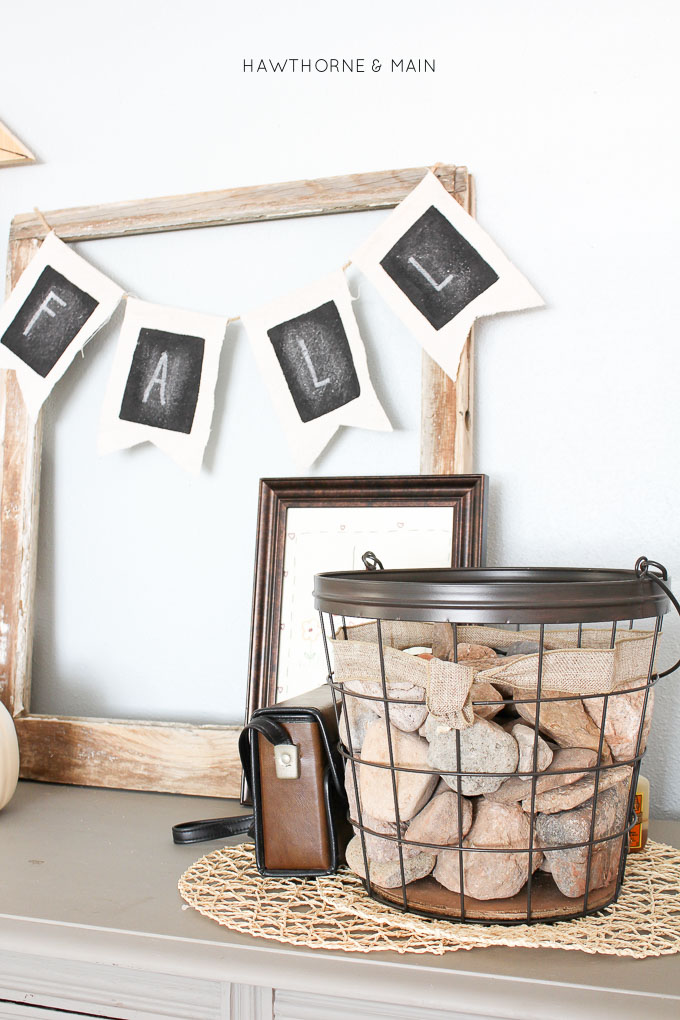 Well folks, if you made it all the way here then you have officially made it to the end of the tour!  Thank you for joining me!
What was your favorite part?
I am curious, when do you start to decorate for Fall?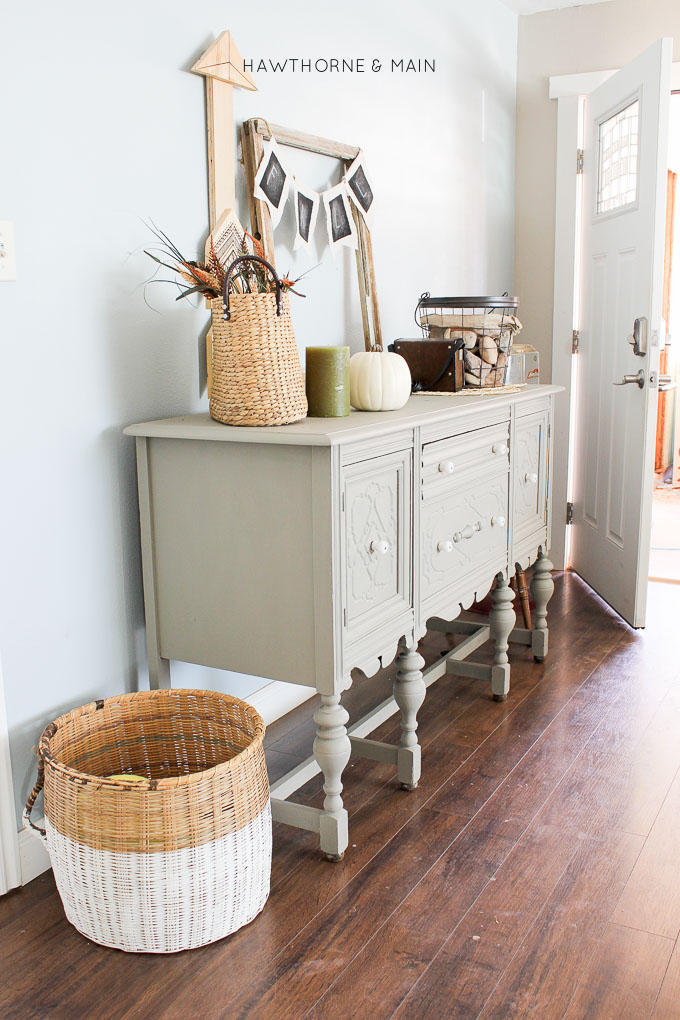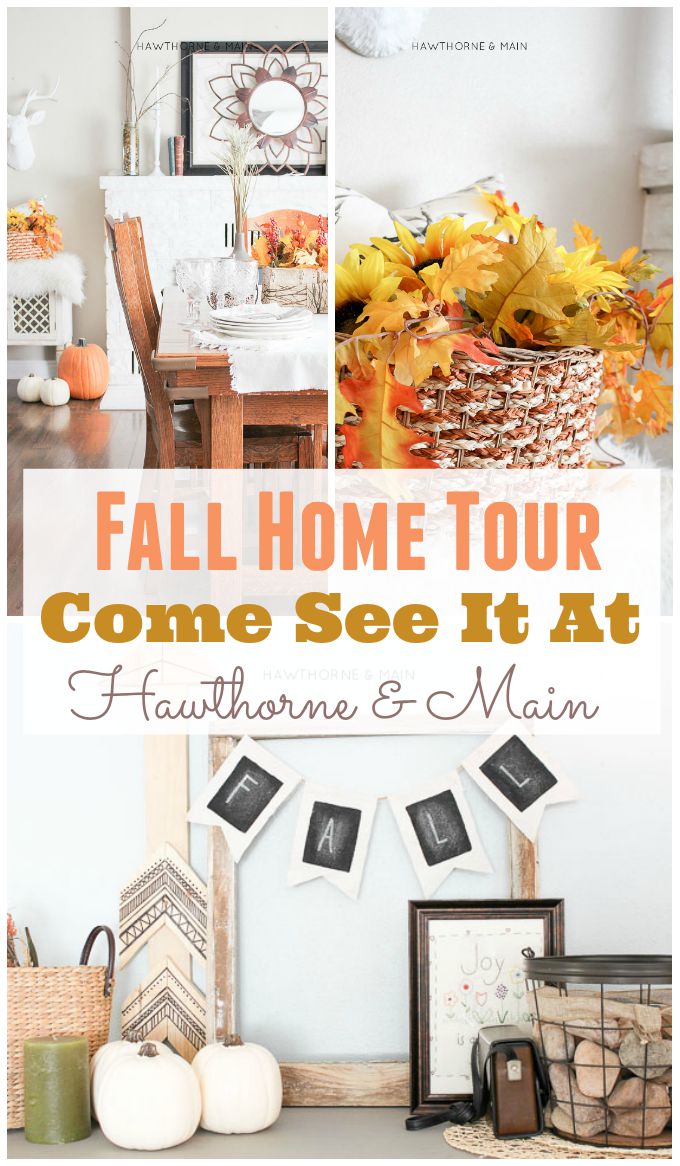 Want more AWESOME ideas...Check these out too!