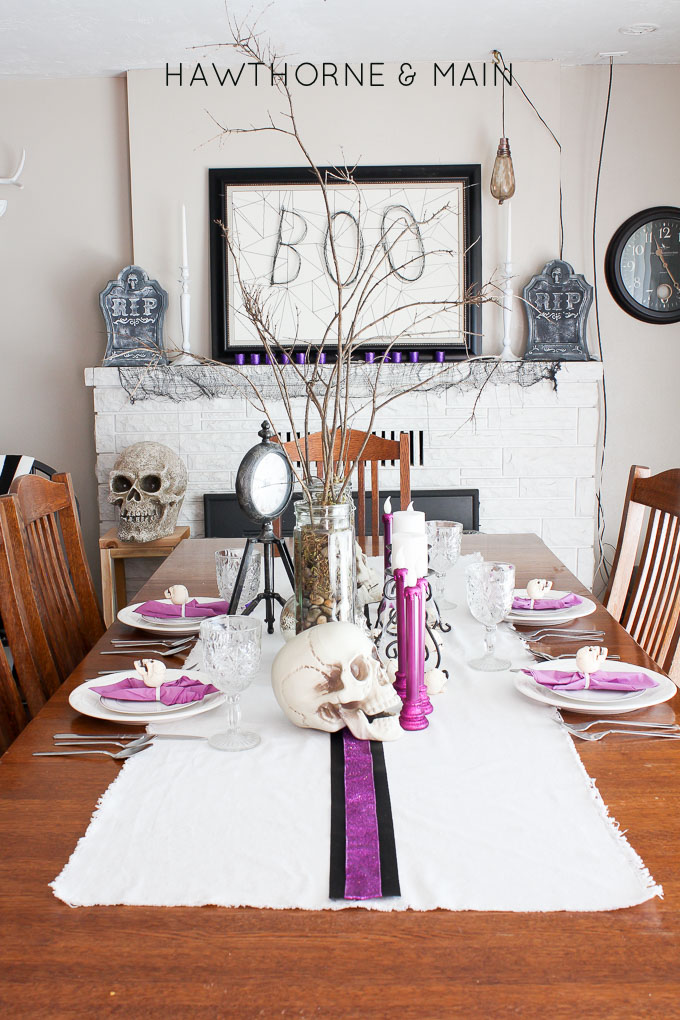 A couple of  months ago, I had the privilege of decorating my dinning room table with some fabulous decor pieces from Home Depot.  This was my first time participating in their Halloween Style Challenge and it was a blast.  I was so honored that they asked me to join in.  Welcome to my purple glam halloween dinning room, and mantel tour.
This post contains some affiliate links for your connivence. See my full disclosure policy.
The first thing I decided on having for this halloween dinning room was a simple table runner.  I knew that the rest of the decor was going to bold so I went with my favorite neutral fabric, drop cloth.
All I did was cut out the size of table runner that I wanted with scissors and threw it in the washing machine.  After it was washed I put it in the dryer.  Once it came out of the dryer it was all frayed and fabulous.  I trimmed a few of the excess frayed pieces off, and it was ready for the table.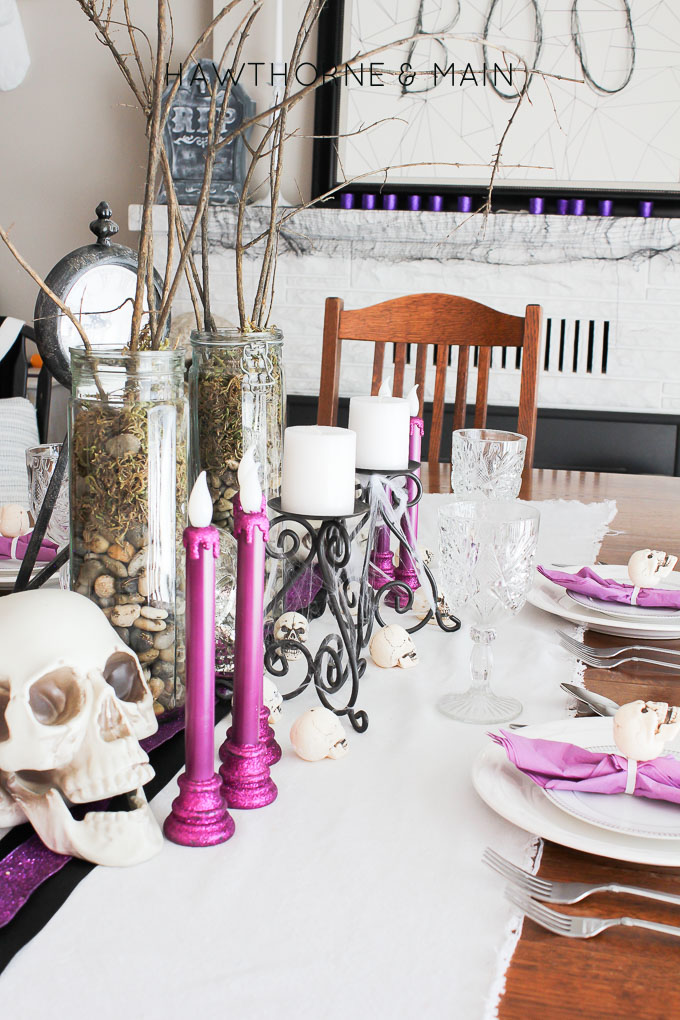 Also on the table, are a couple of life size skulls and a fun silver mercury glass skull. The purple plastic candles add some color to the table.  I like to bring nature into my decor, so I also have these river rock and moss filled glass jars.   And it wouldn't be Halloween without some fake spider webs.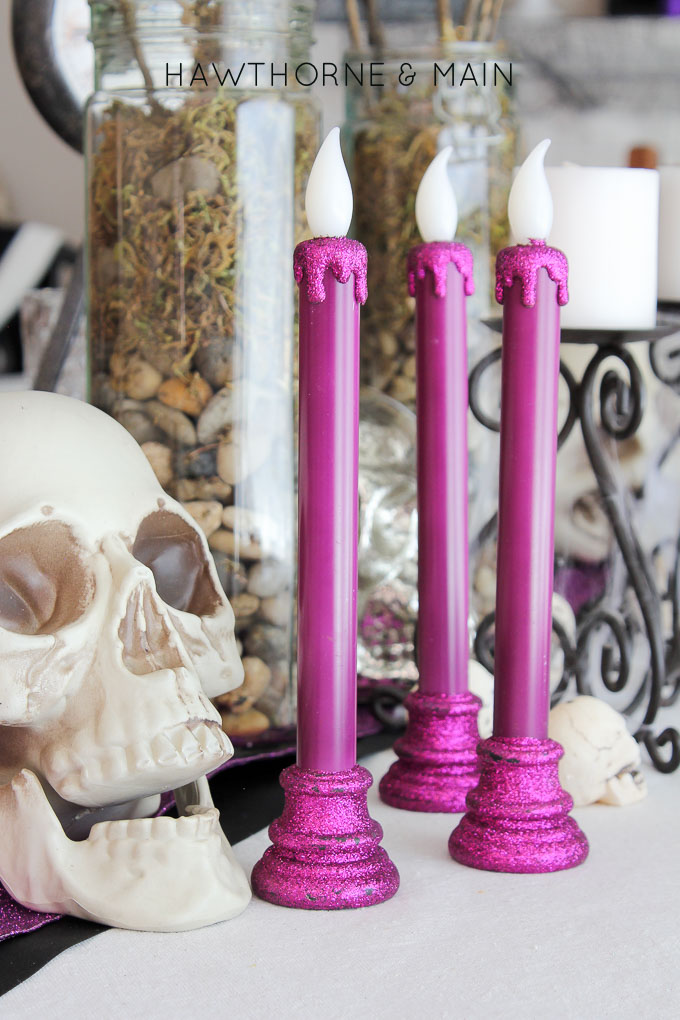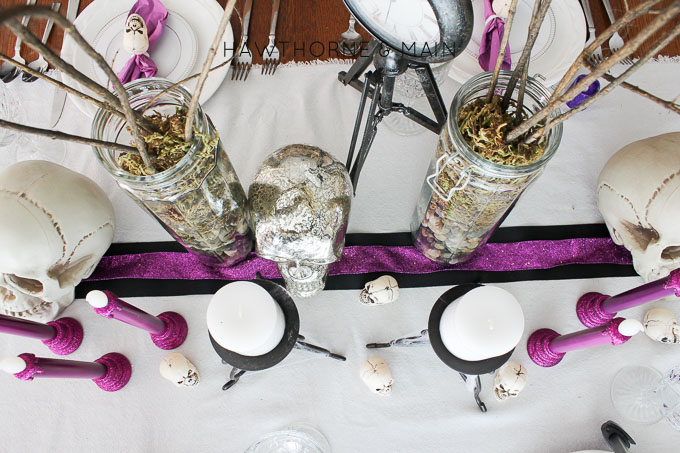 You may remember this gold dipped chair from last year when I updated our command center. I added my black and white Ikea Knit Throw
 to the chair, love this blanket.  The pillow I made myself with fabric from Joann.  The mantel has a couple of tombstone speakers on it and some more purple glitter candles.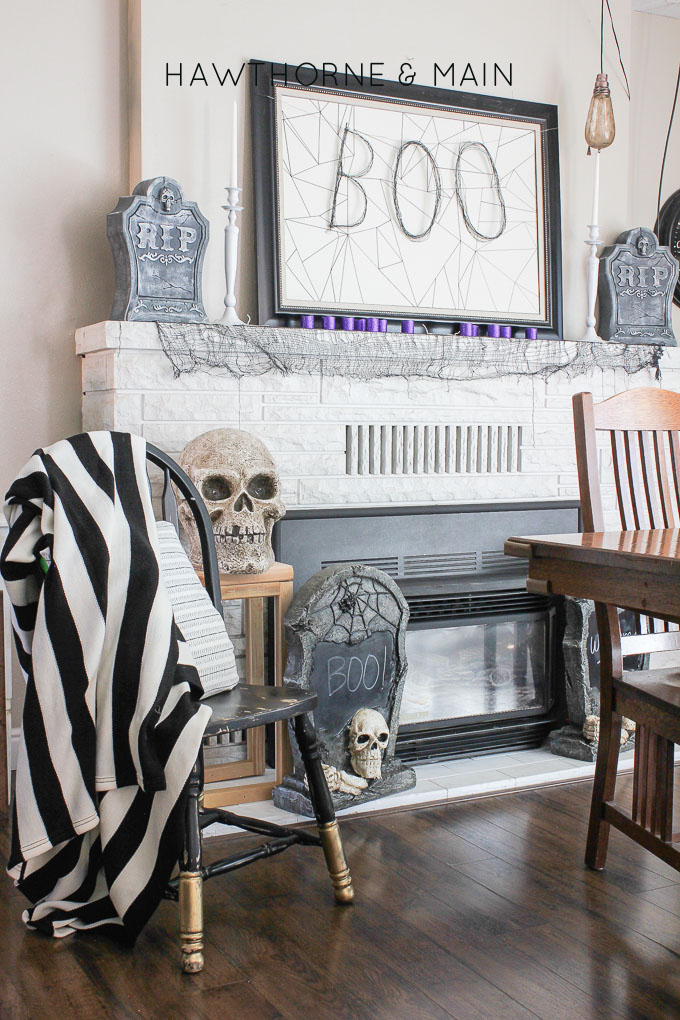 The black and white geometric wall art is a DIY that I did. Super easy.  I also made the metal BOO letters.  I used some craft wire to make the letters.  I went around and around with the wire, about 10 times, until it was sturdy.  I then took some flat black paint and sprayed the finished letters black.  I strung all the letters together using another piece of wire. Then I hung them on the picture frame.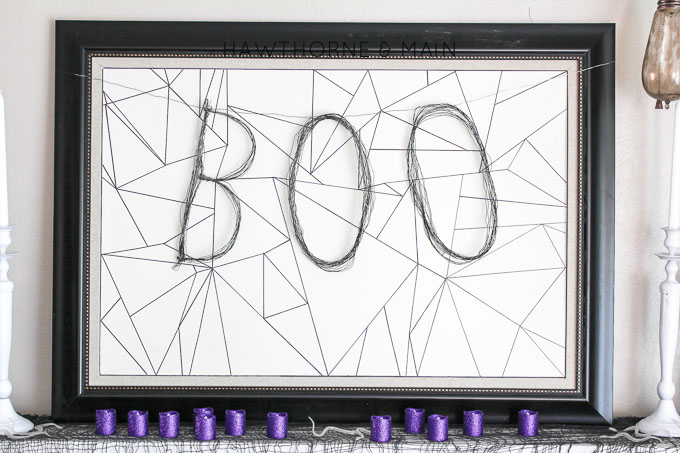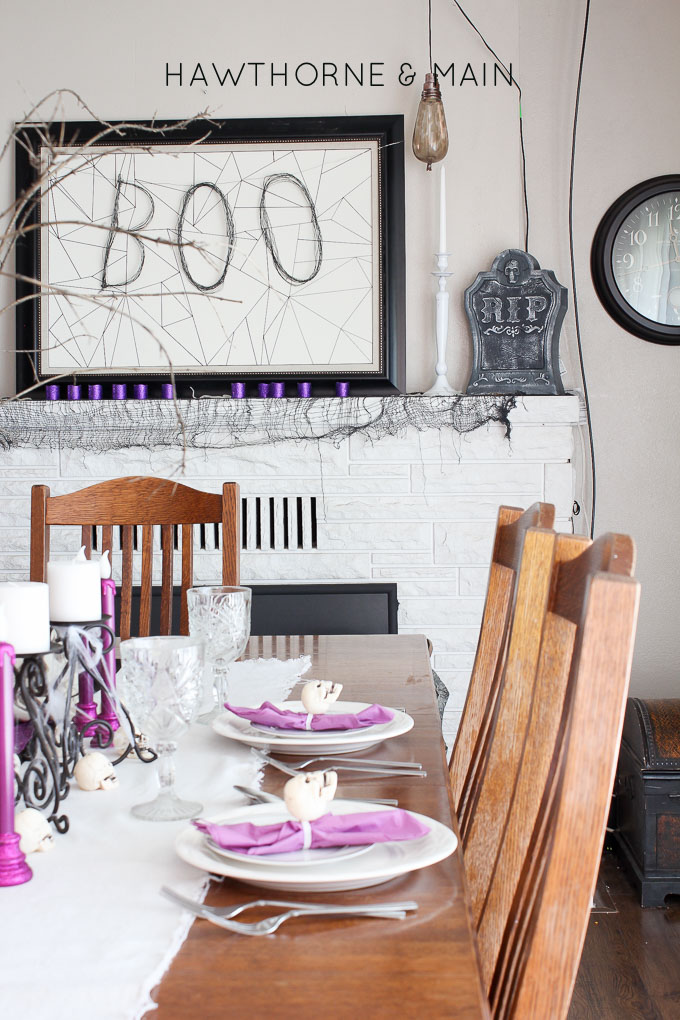 In front of my newly updated gas stove I added a chalkboard tombstone, it will be perfect for writing special notes to our trick or treater friends, and a giant skull.  This thing is huge. I cannot wait to decorate the outside of my house with these guys!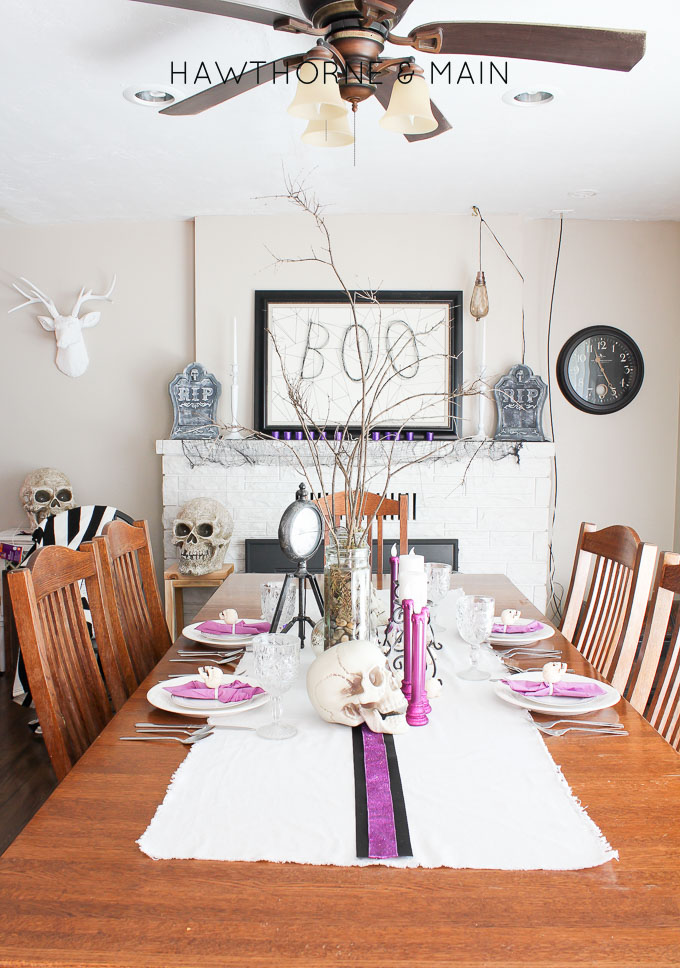 If you are looking for a some purple glam Halloween decor this year Home Depot is the place to go.  Here is a source list of everything that I used this year. Thank you for joining me on my halloween dinning room and mantel tour! I hope you enjoyed it.
SOURCE LIST:
To see my dining room table and mantel re-styled a little bit differently, head over the the Home Depot Blog.  I shared a little bit different take on this Halloween dinning room and mantel.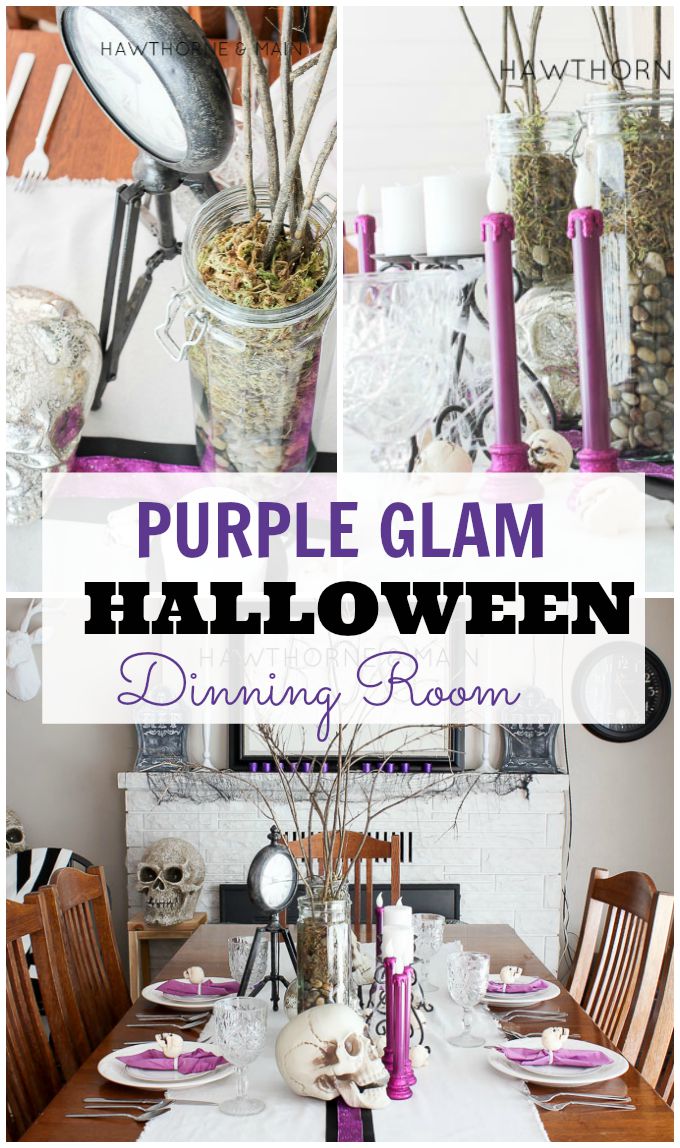 Want more AWESOME ideas...Check these out too!