I wanted to take a moment and show you a few progress shots of a room that we have been working on.
Do you remember a post that I posted called 8 tips to choosing the perfect wall color?  Well, I really really wish I could have read that post before I painted this wall.  Painting this wall got me thinking about better ways to decide on wall colors.
This room has had some major updates since we first moved in.
Let me first take you back in time to show you where this room started.
Warning** This post has a lot of pictures
I wish that I would have gotten a picture before I took off all of the wood paneling.  It was a beauty!
The image below is after we took off the paneling and right before we started to sheet rock.
To be fair this is our first home as home owners.
If you are a home owner or you aspire to be one, then you know what this means……
You can paint your walls any color you want!!!!
No more only white and tan allowed.
I sort of took this one a little bit far and painted this wall the most extreme shade of my favorite color.
I went to Home Depot and looked at all the different shades of turquoise, picked out the one I liked the best and bought a whole gallon of it.   I walked out of that store with the biggest simile on my face reaching ear to ear.   I was so excited to be able to paint my very own wall for the first time EVER!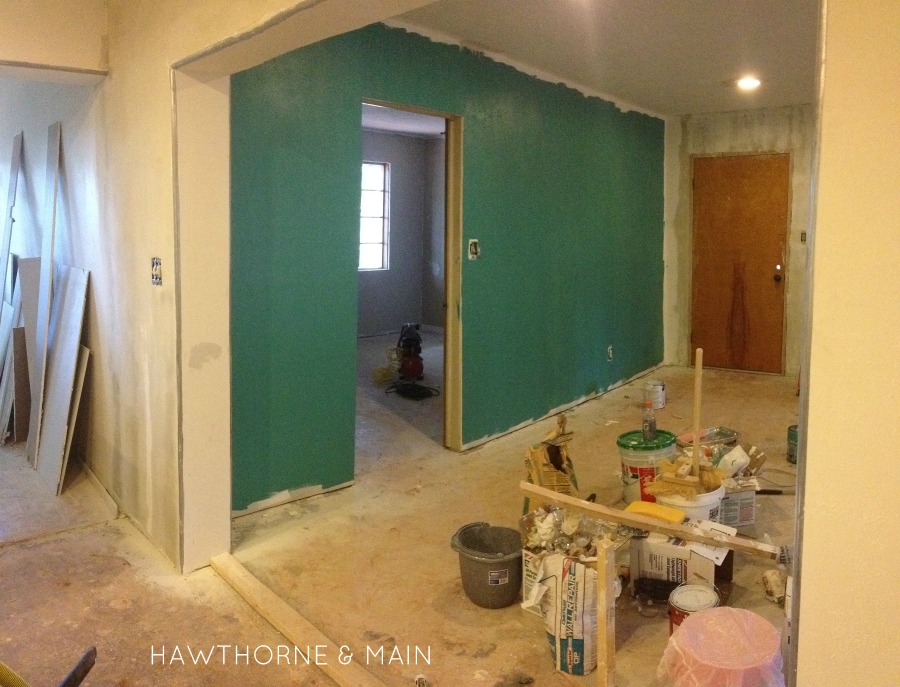 I started to put the color on and I immediately said to myself
"wow this doesn't quite look like what I had envisioned"
just as quick as I had that thought I started reassuring myself thinking
"oh once the whole wall is painted it will look better"
I finished the whole wall and if I would have only gone with my gut instinct I would have stopped a long time ago.
This color isn't bad.
But what I wanted was more of a blue turquoise and this one is more of a green turquoise. Does that make sense?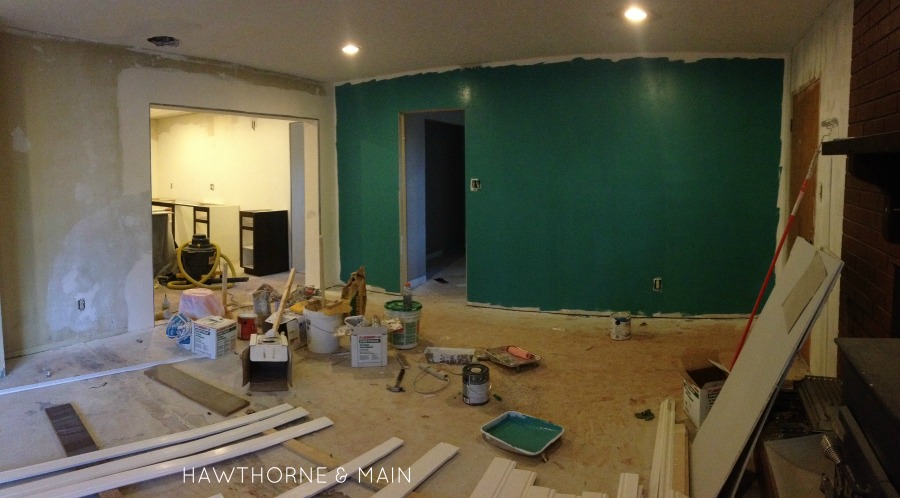 I let the color sit on there for maybe a week before going back to Home Depot.
This time I was sure I would pick out the perfect turquoise.  I held up the paint sample of my first paint job next to my new choice and it was clear that this time I had chosen the best color.
I still had my ear to ear grim walking out of Home Depot the second time!  There is something about new paint that makes me smile!
This color was a success and for a while it was very pretty.
I left this color on my wall for exactly one year.  During that year I did not add any decor to the wall except for this birdcage picture holder.  Every time I tried to add something it just didn't look right.  I also could not get a decent picture.
At this point I had written my post about choosing the perfect wall color.  I followed the steps outlined and I once again made a trip to Home Depot to pick out another color.
I think that I really just needed to paint that wall a fun bright color to get that part of painting out of my system.
For my next color choice ( and hopefully my last) I wanted a blue grey.  Something light, fresh and fun!
Can you guess which color I went with??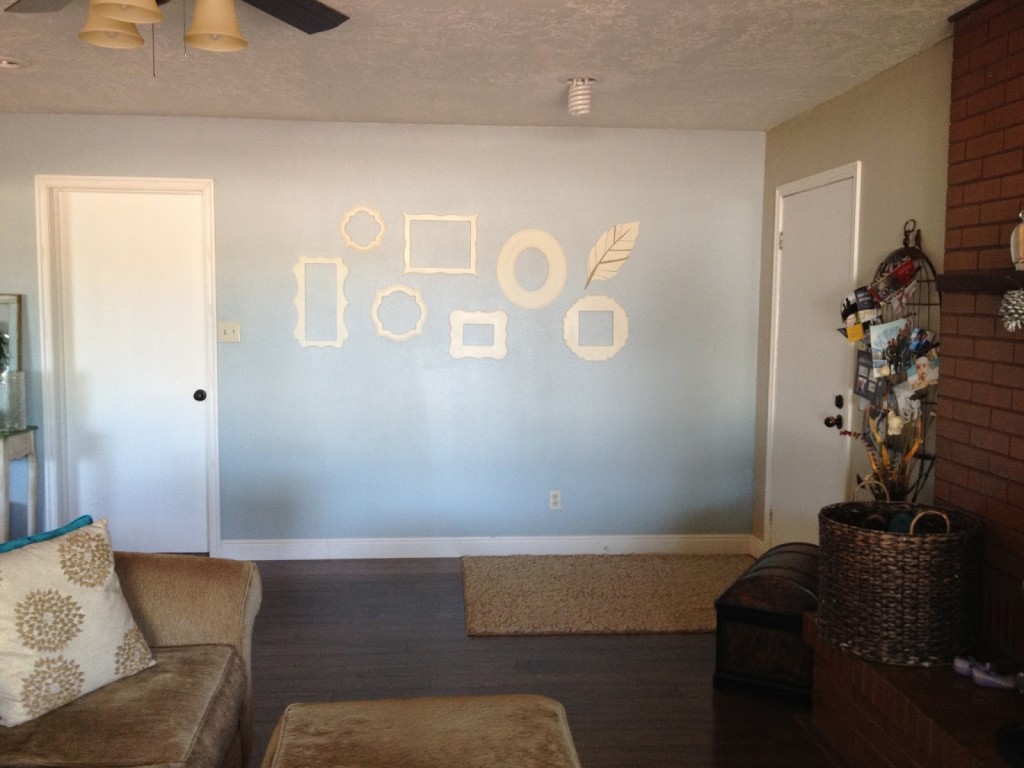 I really am very happy with this color.
Now that wall color problem was solved,  my next challenge was styling.
I have wanted a gallery wall in my house forever it seems.
I purchased a bunch of frames and painted them all the same color.  I threw them up on my wall, called it a gallery wall and thought that it was good.
A couple of weeks go by and I  was unhappy with how it looked.  I was doing some furniture rearranging and came up with this as my second solution.
This console table originally was holding our tv.  I had a different
stand for the tv so I didn't need this one anymore.
After moving the table over in front of the wall I thought it looked good.   I condensed the gallery wall plus I added a simple round mirror.
I then let it sit like that for a while, I liked it, but it still didn't feel right.
Enter giant mirror.
I finally love how it looks
Let me do a recap of this room:
new sheet rock
3 coats of paint
one console table
one big mirror
 and no gallery wall later
its done.
Once the rest of the room is complete I will get a full room shot for you!
Tell me, what do you think of my third color choice for this room?
In case you are wondering which color I choose, it is on the top row second one in from the left.
Thank you for stopping by!