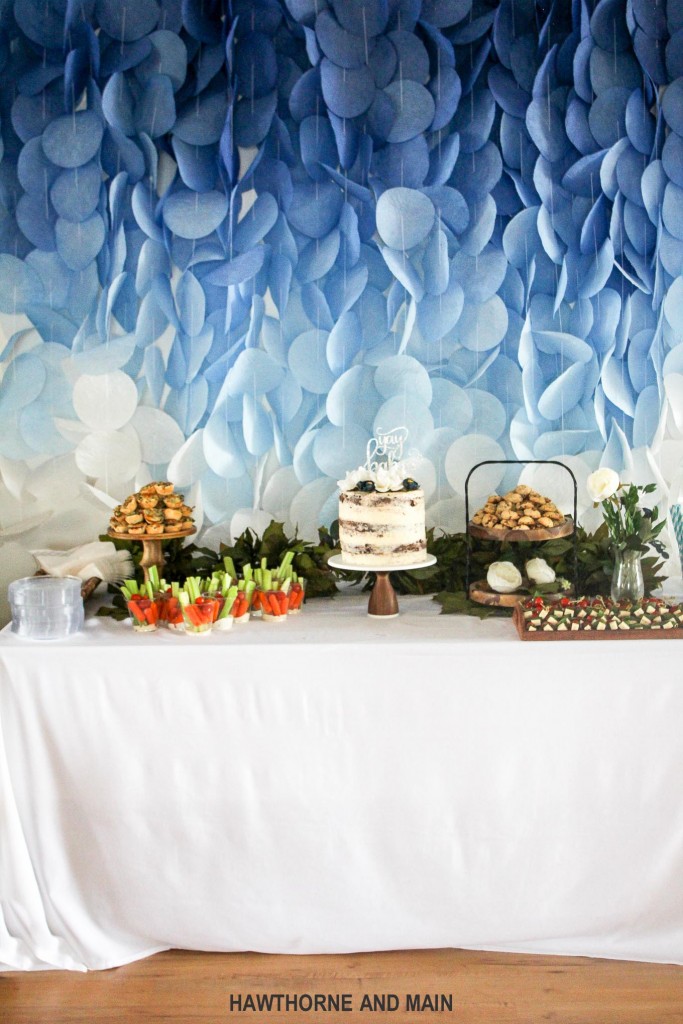 I love parties.  Everyone coming together for a cause to hang out and socialize… and of course eat good food.
The decorations, and patterned  paper plates, the  paper straws and cute little favors..I love it all.
Recently we had a fabulous baby shower in honor of my little sister as she will be having baby #2 in a few weeks. It was a wonderful day filled with laughs and hugs and oohs and aaahhs at all the fun gifts she received.  Here are some baby shower ideas on how to throw a stress free baby shower. I listed all of the sources at the bottom of this post.

This post contains affiliate links. For more info see my disclosure
Arrangement: 
When setting up the food table and deciding where you want people to sit, think about flow and how it will look visually.  As you enter the party we set the food in the back and set up some tables and chairs perpendicular so that as people entered the party  their eyes would be drawn up toward the food table.  Doesn't it look fabulous.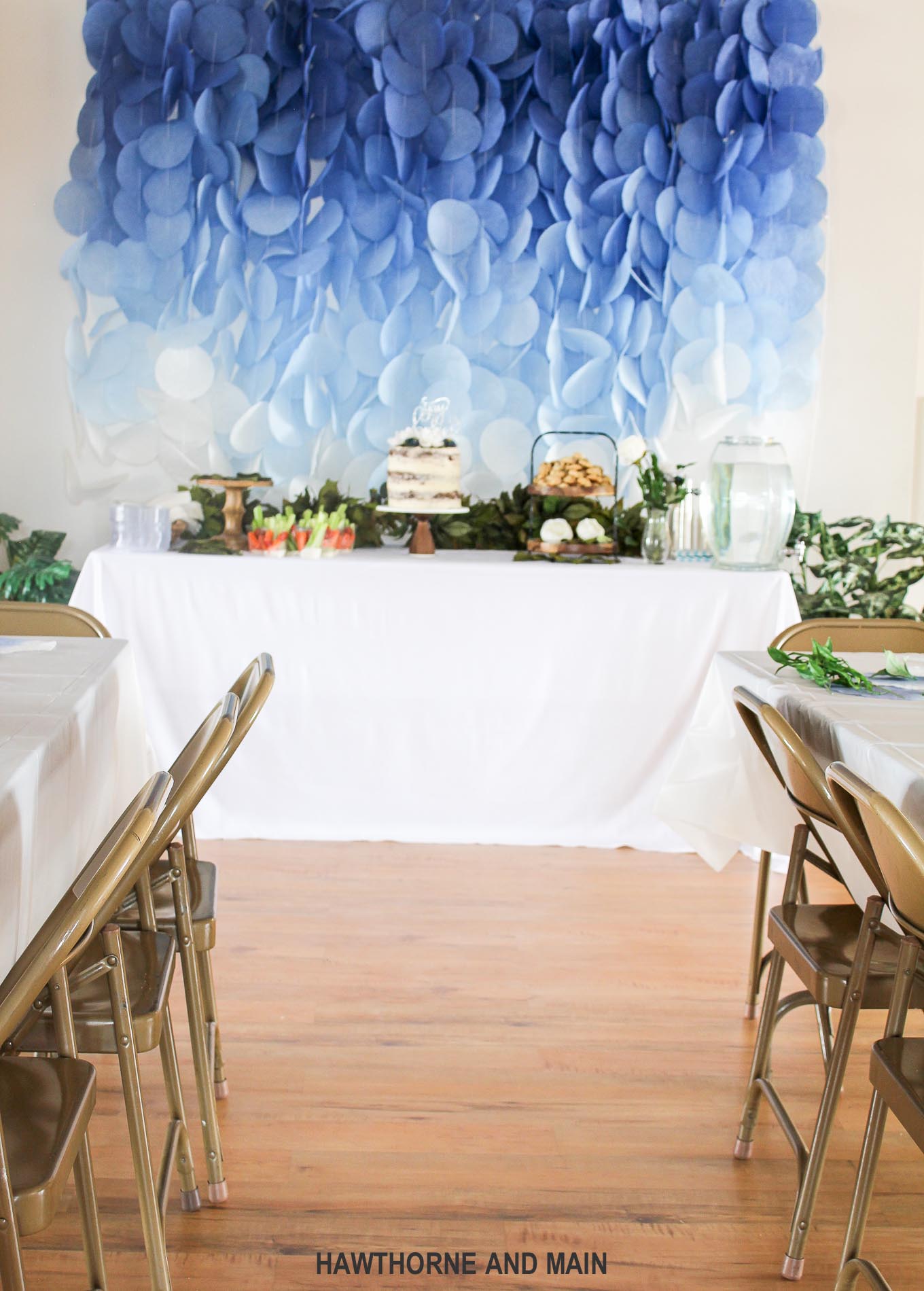 Invitations: 
This is where the first impression happens for your guests. They get a feel for the party theme and if you make cute invitations they will get excited about coming.  With the power of online you can find really great ways to make or buy invitations for cheap.  I got these invitation from MiniMoiPrints.  She customized them for me and in just a short time I was ready to print and deliver the invitations.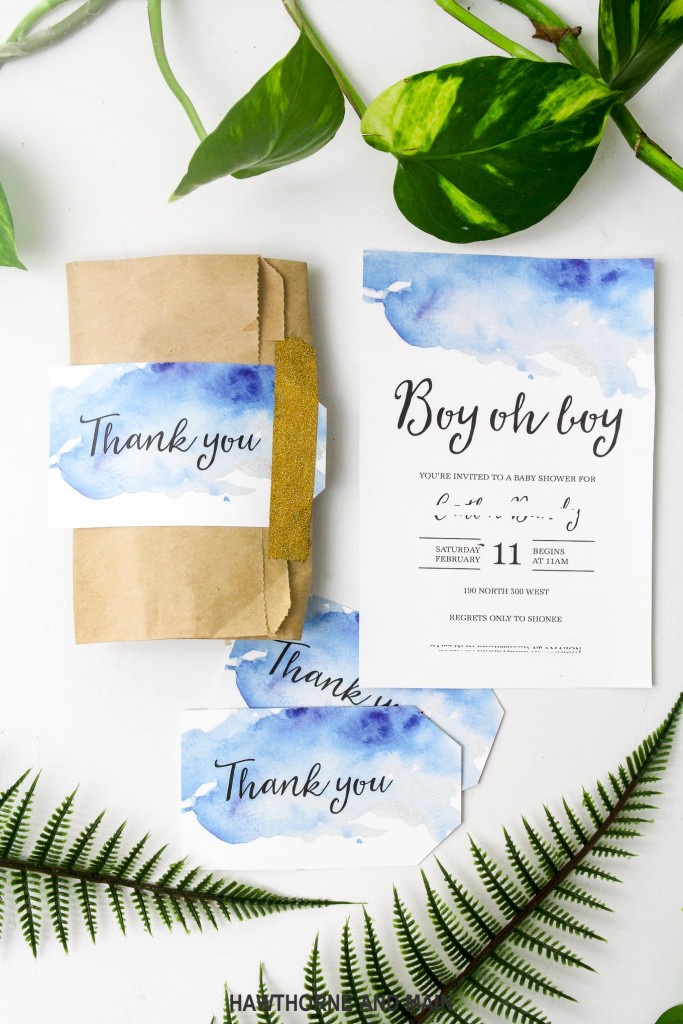 Flowers: 
There is something about flowers that makes a party more sophisticated.  We went with the artificial variety and you might not even tell if I didn't say something. They look so real and I love how well they went with the other decor.  I found these flowers from Simply Serra Floral and I cannot get over how amazing they are.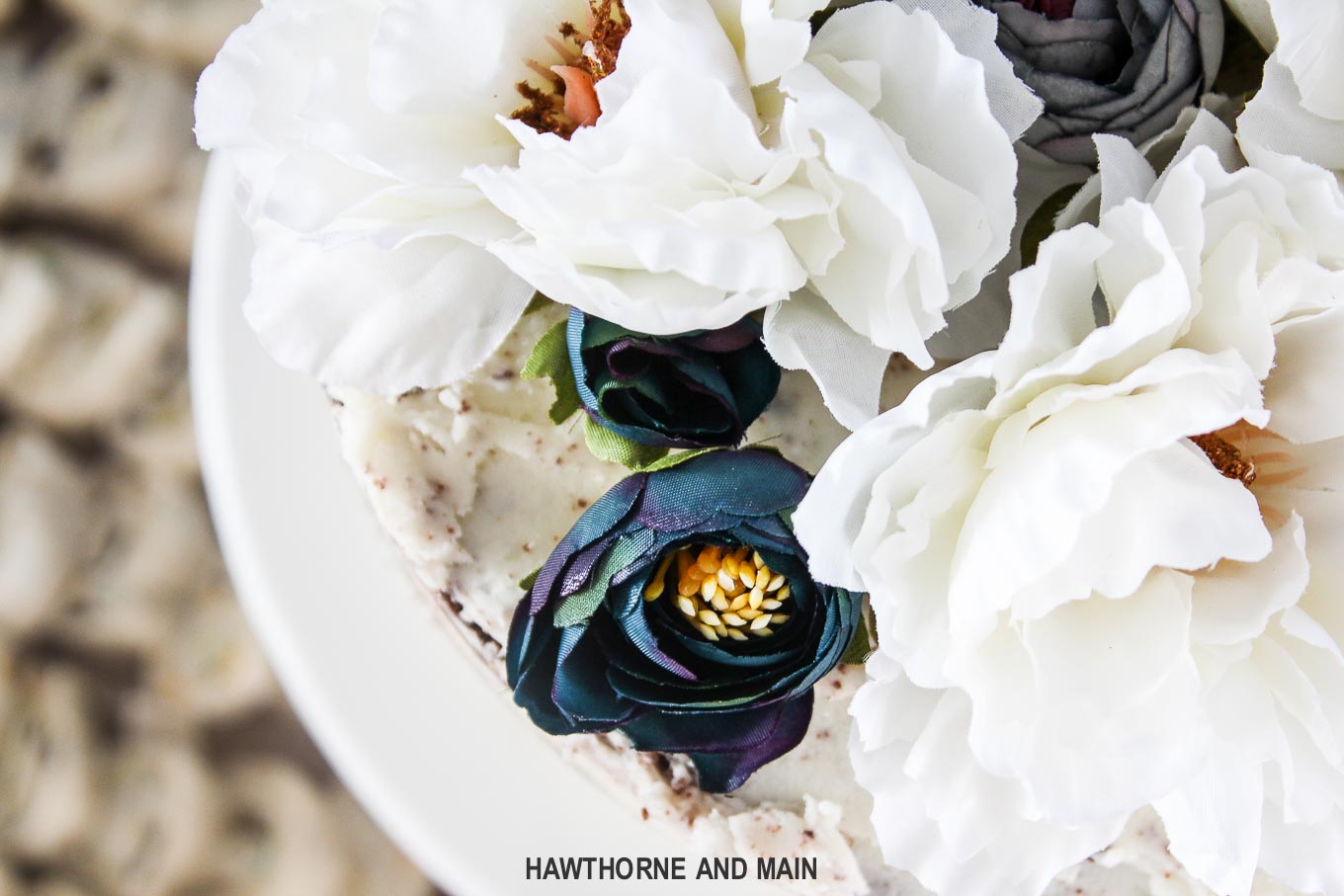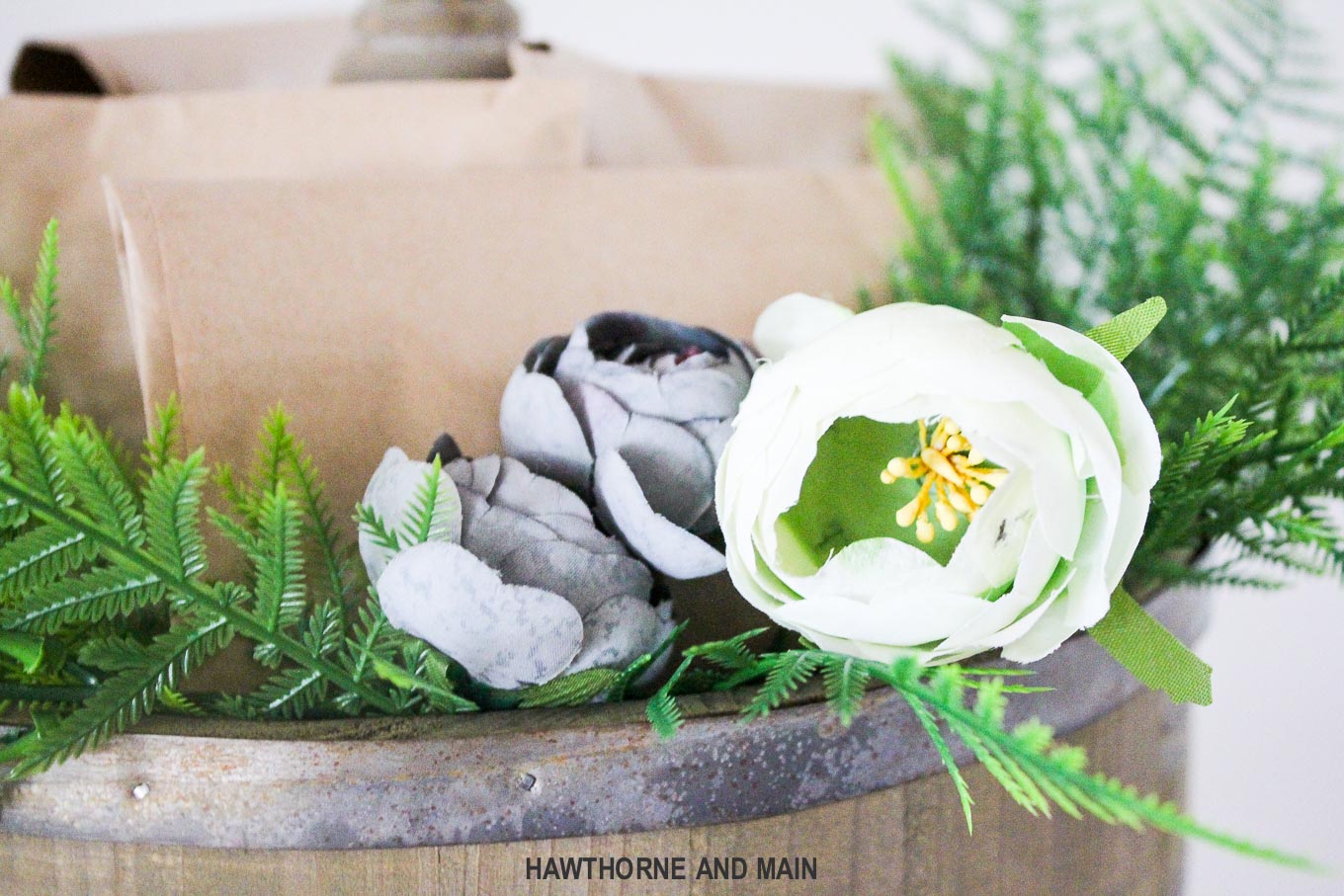 Cake: 
Most people like cake and even if they don't like to eat it they will still appreciate looking at a pretty cake….am I right?! The cake was definitely the center of attention at the food table.  I tried my hand at creating this naked cake….it was my  first attempt.  Although I would call it a success for the most part, I did learn a few things- would you be interested in a tutorial on how to make one?  Anyway….I added more flowers on top and the cutest little cake topper from Cuts of Confetti that says "Yay Babies"  It was the perfect touch to make the cake oh so perfect.
I splurged a little and went with a fancy cake stand.  This is a piece that will be in the family forever.  I couldn't resist the modern minimal design.  The stand is from American Heirloom.  I have to say that this cake was made for that stand, so pretty!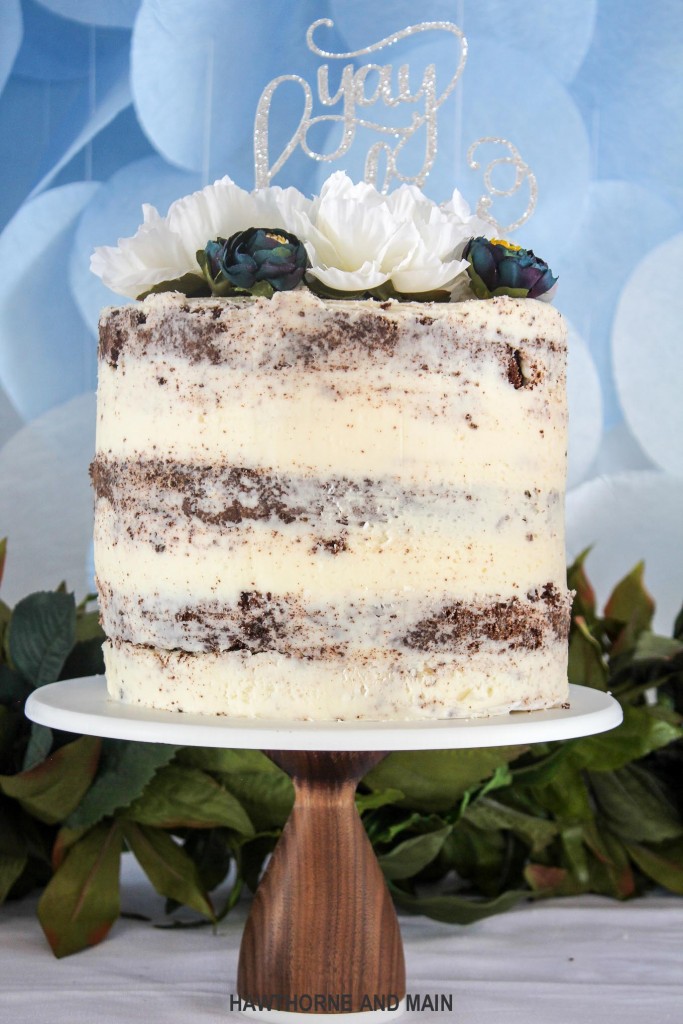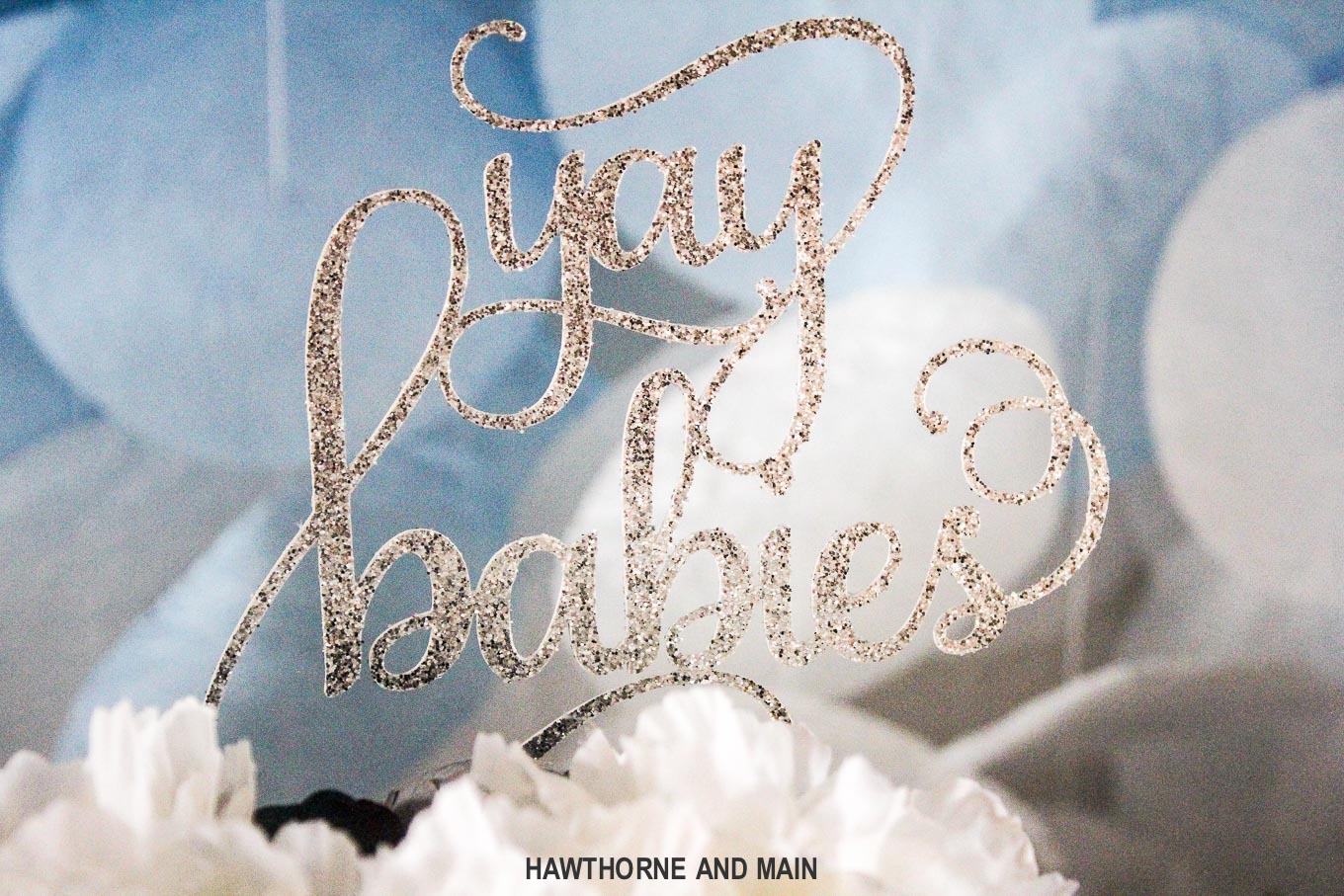 Did I forget to mention something…..that eye catching backdrop? I know!
Backdrop: 
Adding a backdrop is probably one of the easiest ways to quickly transform a party.  Whether you DIY one or purchase one, a backdrop is a great way to frame the table. It blends the wall with the table and makes it one.  This specific backdrop could be DIYed with coffee filters, but if you don't have the time, like me, then you can grab a custom design and color from KM Hallberg Design.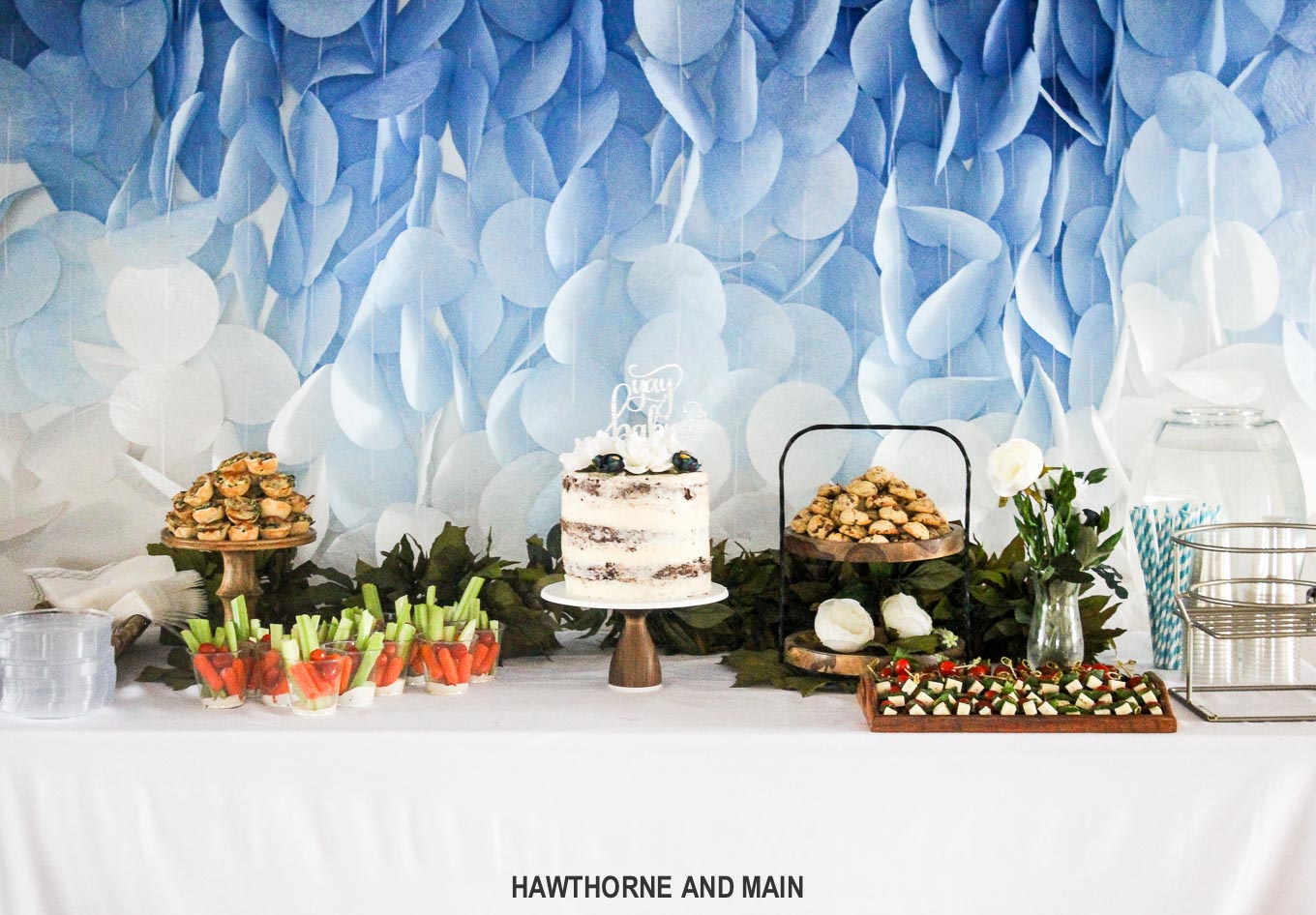 I know I mentioned good food but here is what we made for the party:
Spinach artichoke bites
Cream cheese tortilla roll ups (not pictured)
Mini chocolate chip cookies
Caprese bites
Veggie cups
To die for chocolate cake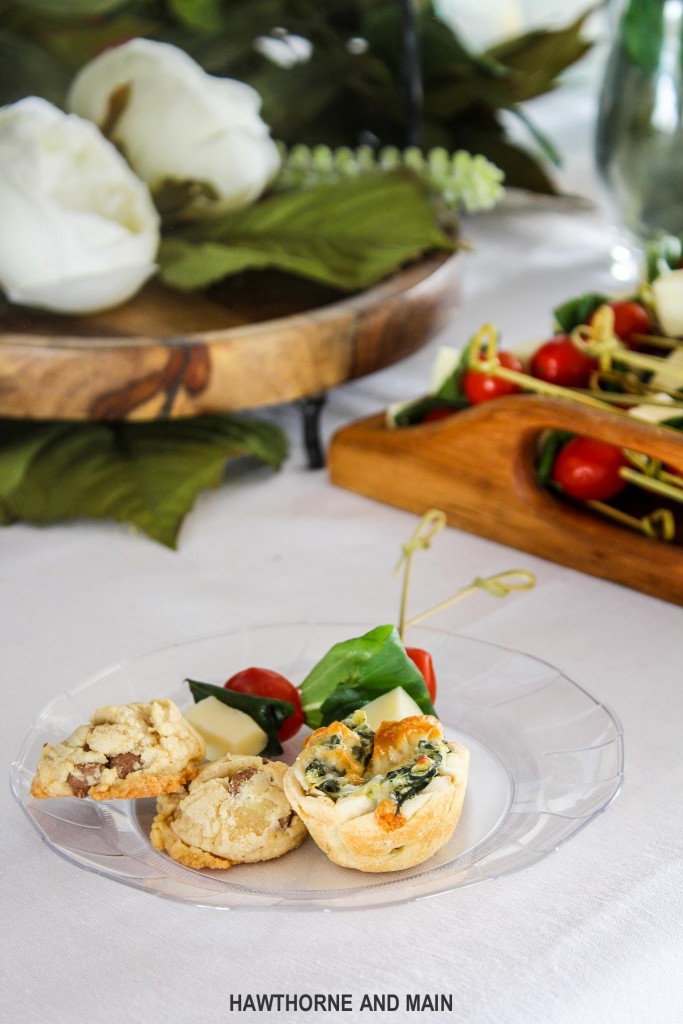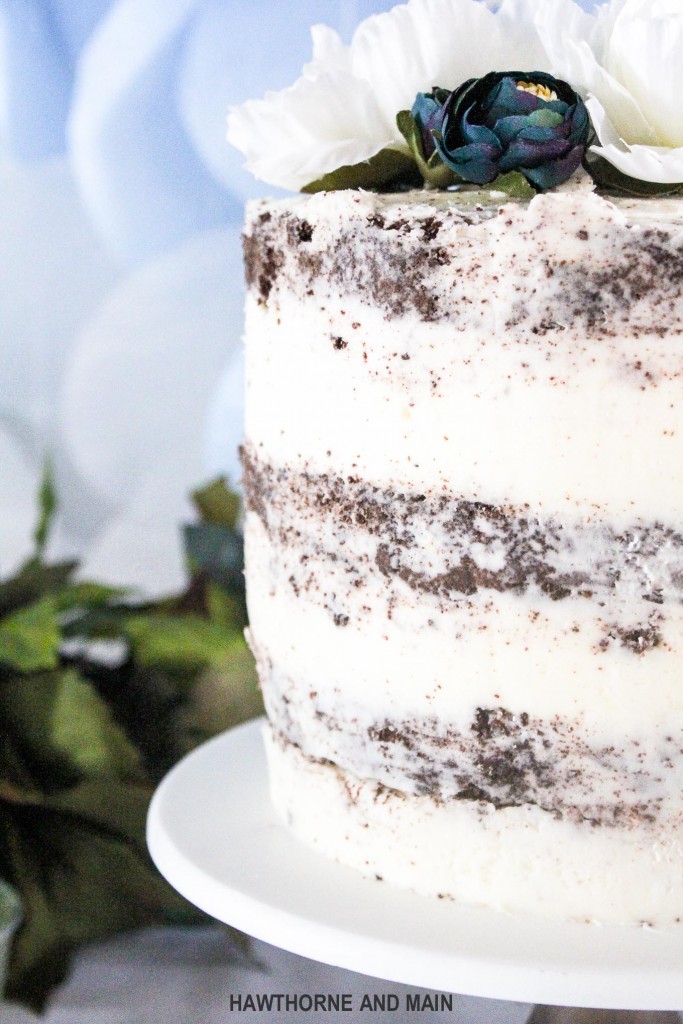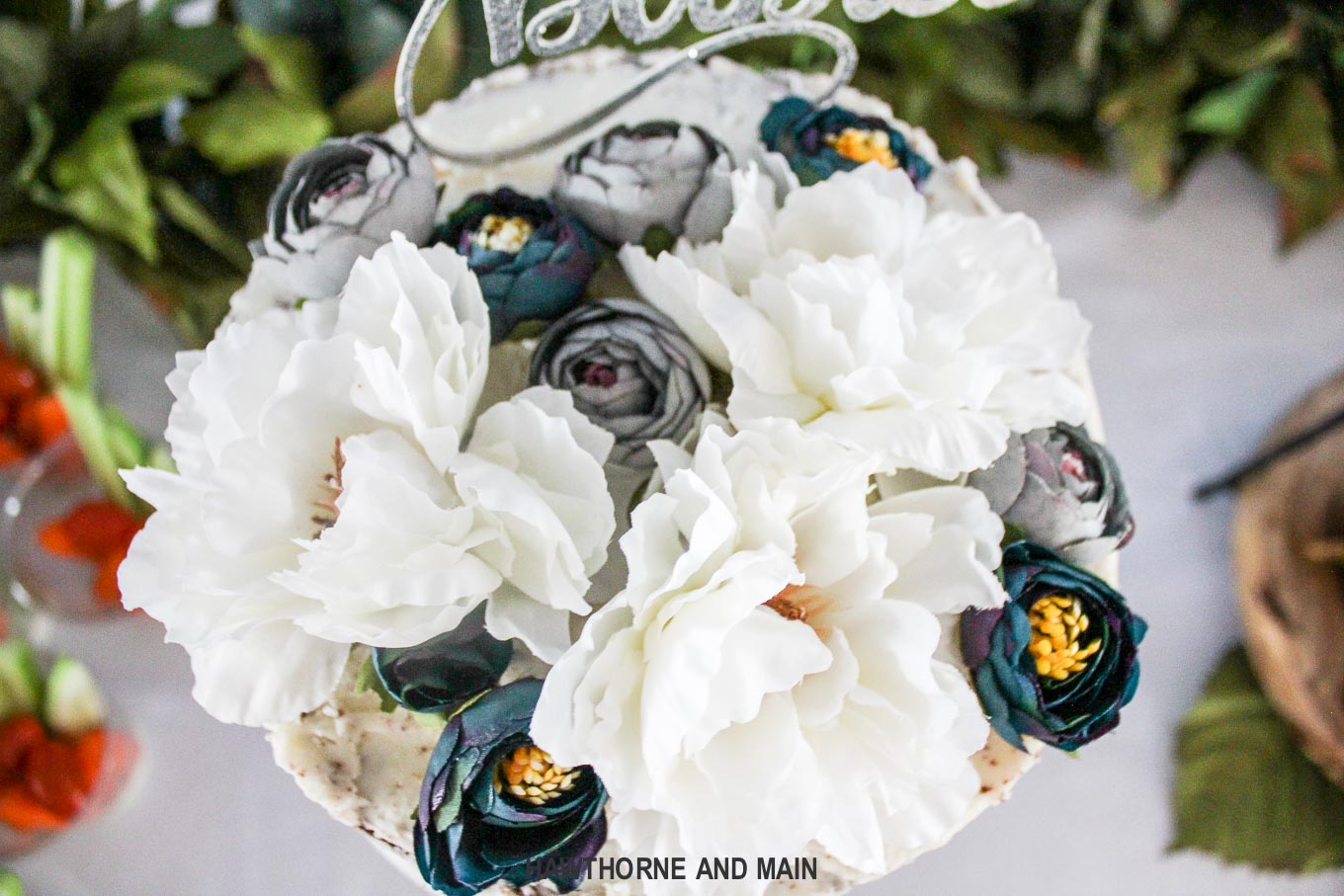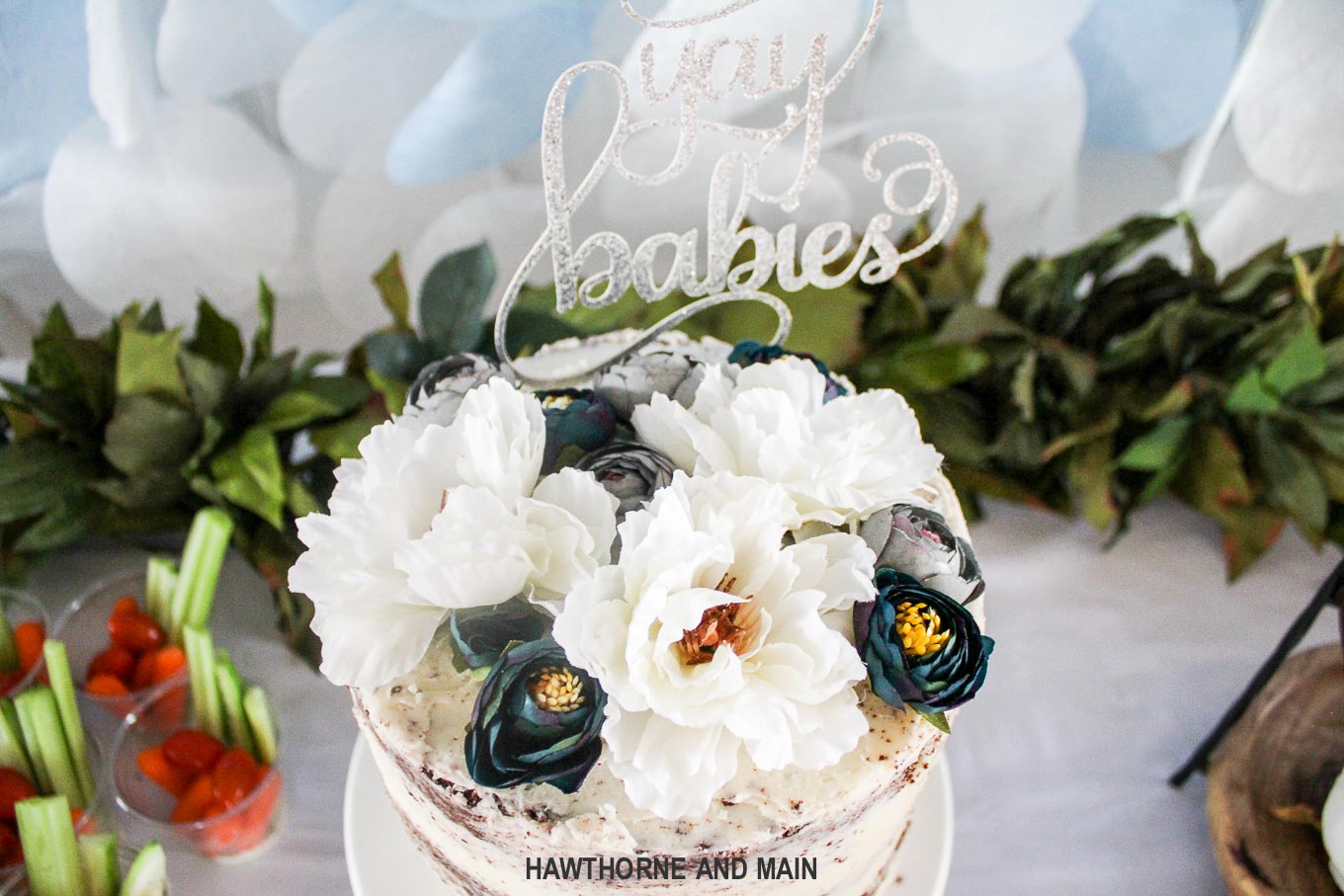 Favors: 
Now this has to be my favorite part…ok all of it is my favorite.  Giving your guests a little something to say "thanks!" goes a long way.  People love to be pampered a little.   It doesn't have to be a ton, but if you put a little thought into it, your guests will love you for it. I used more flowers to decorate the 3 tiered stand ( stand from painted fox) that held the favors.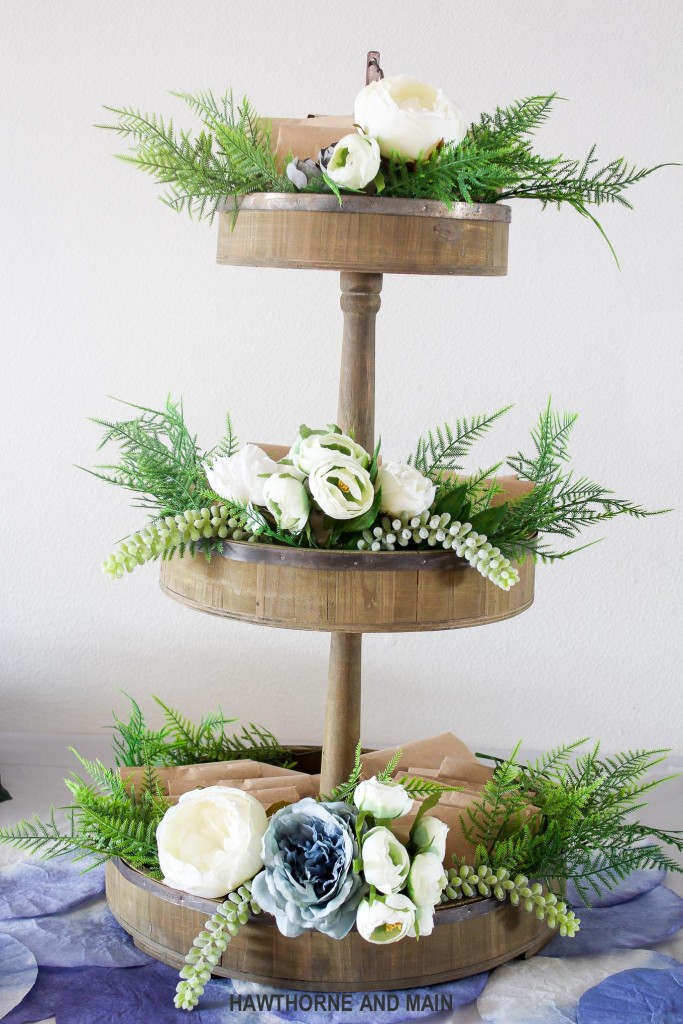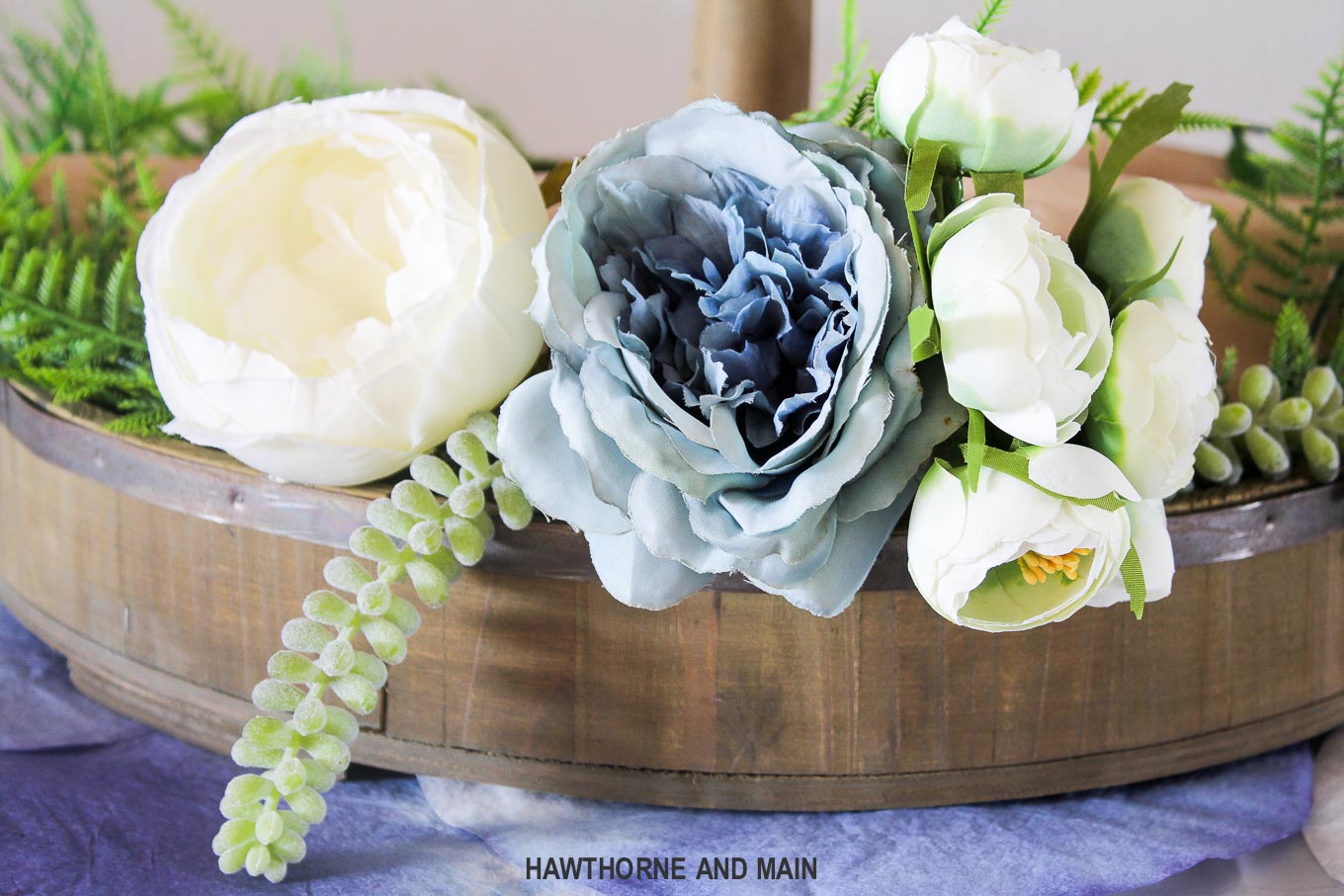 I found some brown bags and used them to hold all the favors. I then used a piece of glitter tape to tape the favors shut.  Simple, but they turned out great and everyone loved them!
For the favors we added a piece of yummy smelling soap from Four Sisters Farm Soap Company my favorite scent is the charcoal eucalyptus.
We also got the cutest  hair ties from Dream Again Designs the gold chevron are my favorite.  The final piece that we added into our goodie favor gift is this amazing lip butter from Crimson Maiden Apothecary  my favorite flavor is Vanilla, but the chocolate is a close second.
Everyone had a blast and I think my sister felt loved.
Have your thrown a party before….what is your favorite part?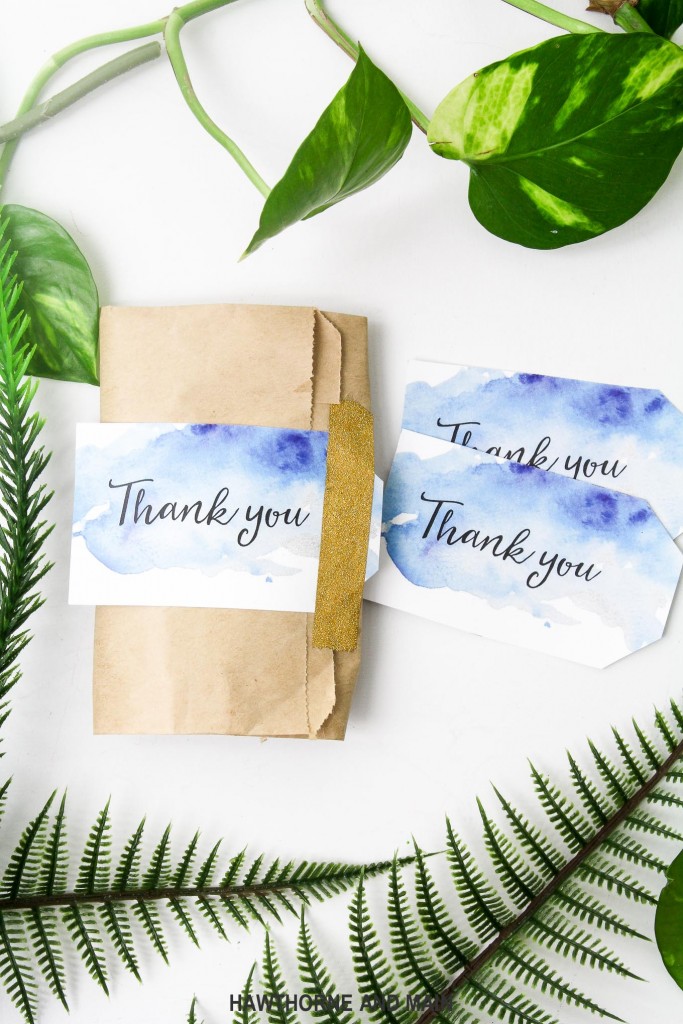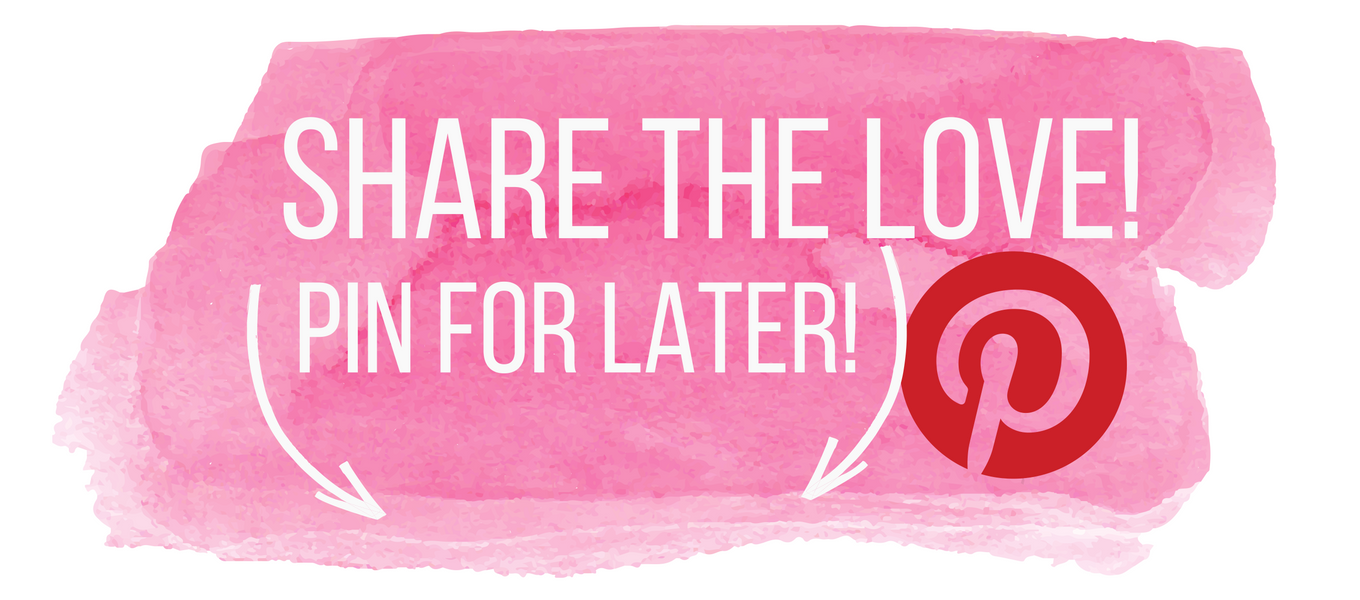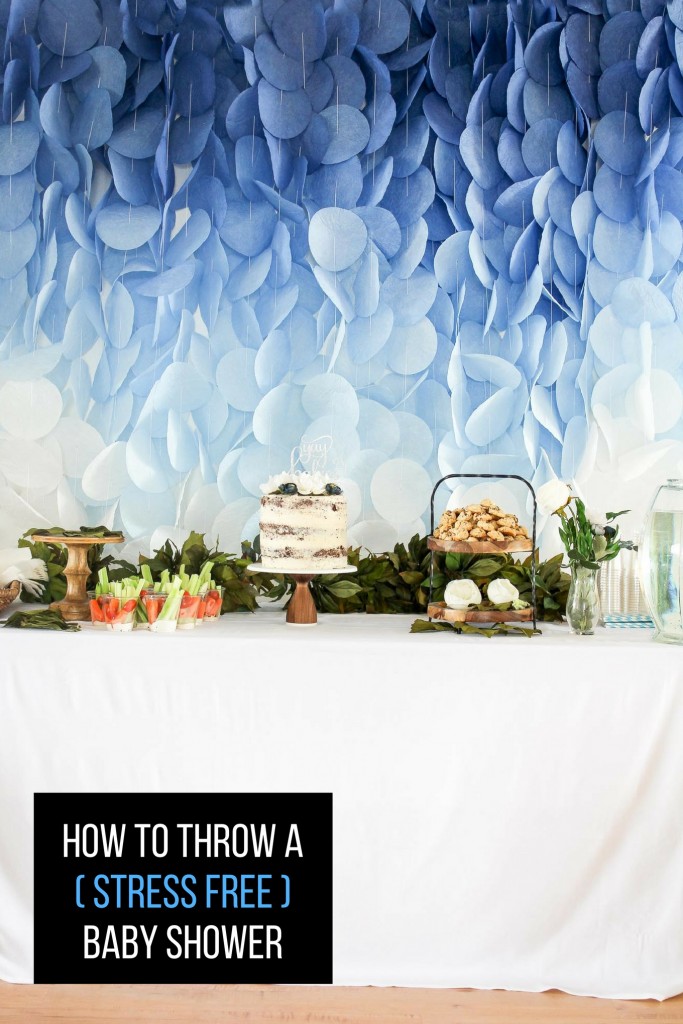 SOURCES:
Invitations from MiniMoiPrints
Flowers from Simply Serra Floral
Lip Butter from  Crimson Maiden Apothecary
Soap from Four Sisters Farm Soap Company
Hair ties from Dream Again Designs
Cake stand from American Heirloom
Ombre Backdrop from KM Hallberg Design
Cake topper (yay babies) from Cuts of Confetti
Want more AWESOME ideas...Check these out too!