I love holiday parties…..everything about them….  All of it….
Getting all dressed up….
Doing my hair so that it's not in a pony tail or messy bun….
Hanging out with family and friends….
Eating fabulously unhealthy food…… I did say all of it, right!
And….since I am pregnant during the holiday season, I sort of indulge a little more…. just to help the little one grow big and strong….. at least I can wish that the extra calories are going to her, and not my soon-to-be-in-the-gym post pregnancy butt…..hahah
Can I ask you a question…..?
How do you feel about hosting holiday parties?
Some love them, some hate them…… I get it.  For the record I looooovvvveee too host any party….
For those who might be on the fence or even a little afraid.  Let me show you how easy it is to create a dessert bar that will blow the socks off of your guests this holiday season.  Here are my 4 tips to creating a DIY dessert bar.
*A huge thank you to Pier 1  for partnering with me on this post! My favorable opinion of  all things that help me plan a fabulous party, are my own.  For more information, see my disclosures here.*
1- Select a Color Pallet:
Start by choosing 2-3 colors that work well together.  This will make your dessert table streamlined.  It doesn't need to be all matchy-matchy, but having a cohesive look will enhance the overall appeal of the display.
Here is a pro tip:
If you are having a hard time choosing a good color combination, find a pretty table cloth, scrap fabric, piece of art, or any other element of design that you like. Use this as your inspiration to pick out 2-3 colors that work well together.  Don't discount metallics either, I love the use of copper tones.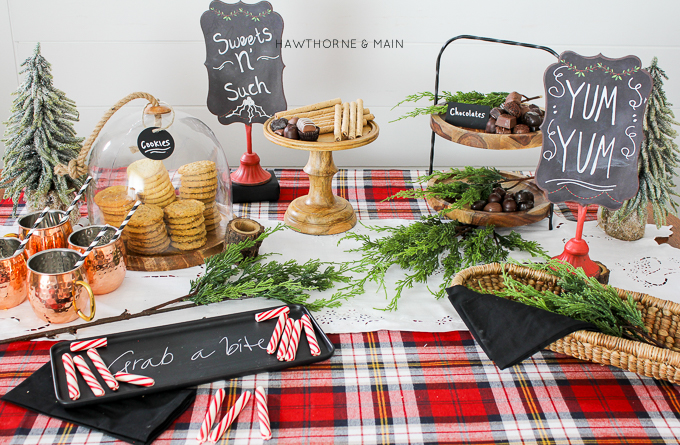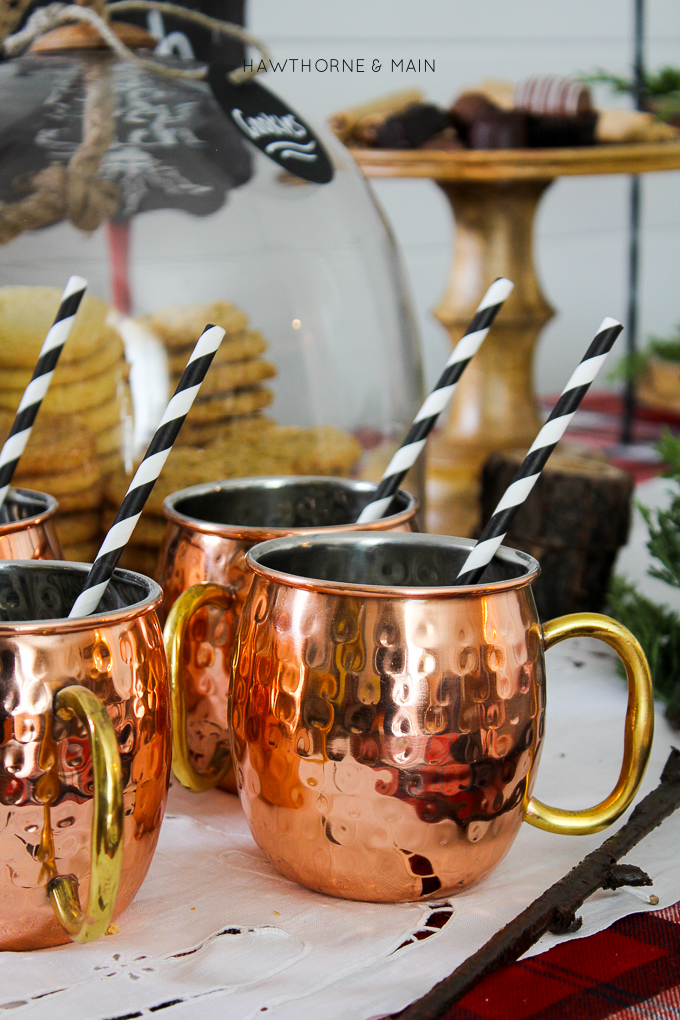 2- Stylish Trays:
Don't forget to use stylish trays.  This will make the whole display more visually appealing.  You can use porcelain trays, glass trays, wood cake stands, woven baskets , and even chalkboard platters.  Keep in mind you can mix and match different styles and materials.
I really love this wood 2-Tier server.  This will be used many times through out the upcoming year, I am sure!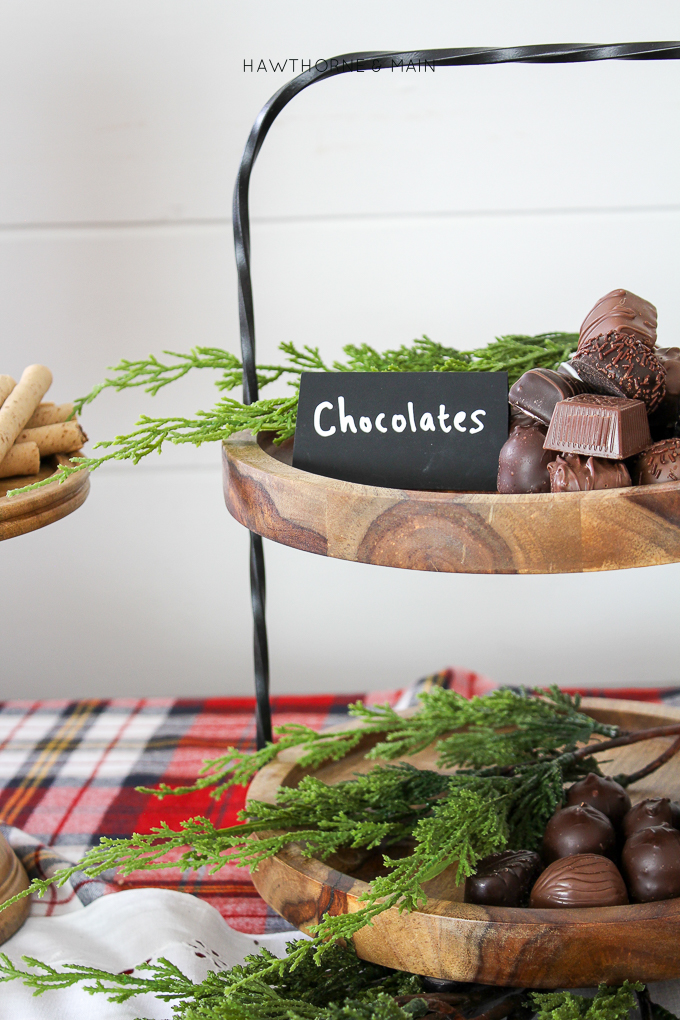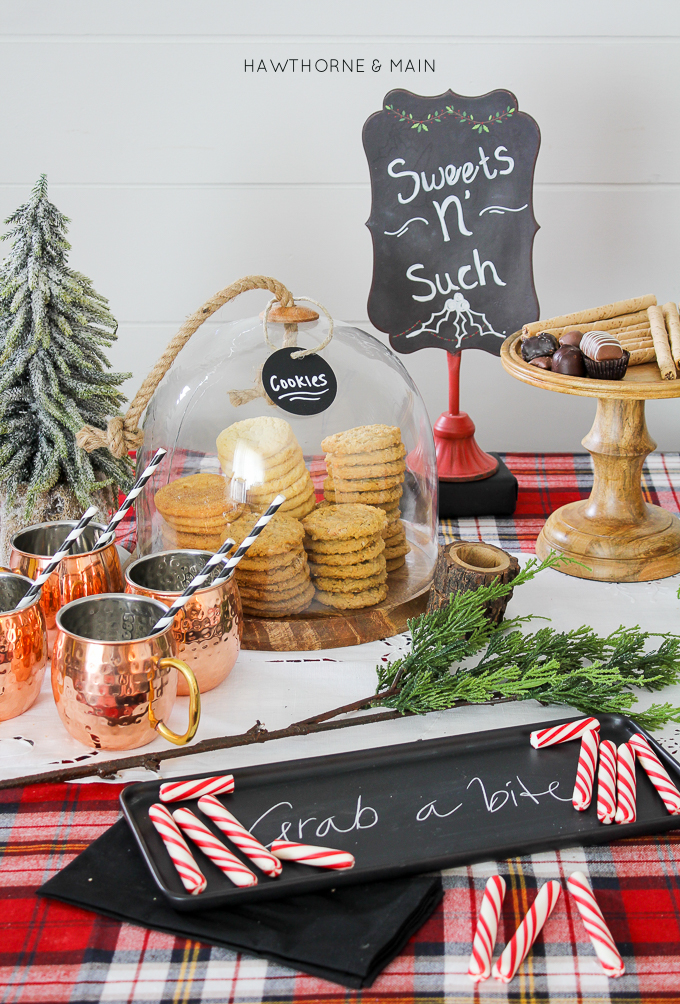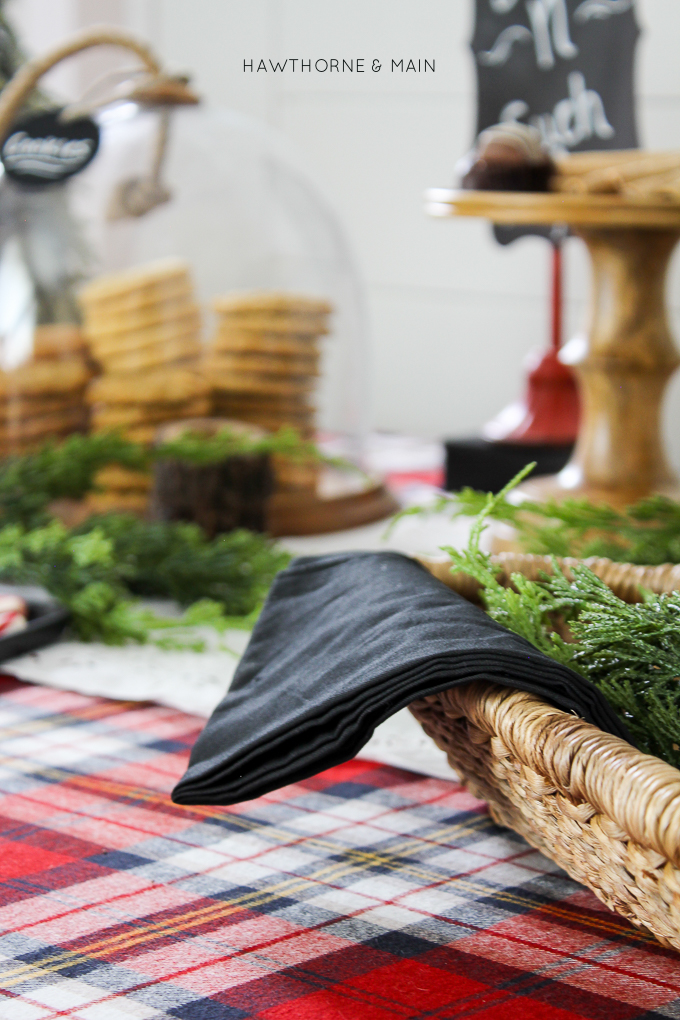 3- Use Layers and Height:
Use layers and height to add visual dimensions.  This is a key element in making your dessert table awesome!  Use cake stands for height and different plates and platters from dimension.  Don't be afraid to add a few decor pieces in your display too.  Adding a few elements of decor will pull the whole thing together. Greenery almost always looks good in a display.  Try a few of these juniper sprays.  I cannot believe how real they look.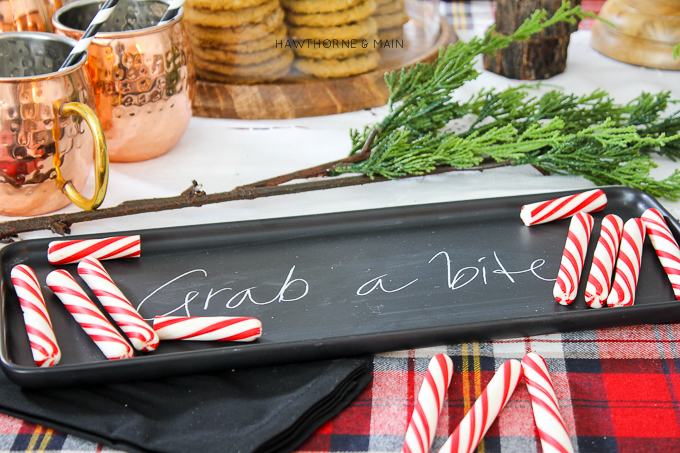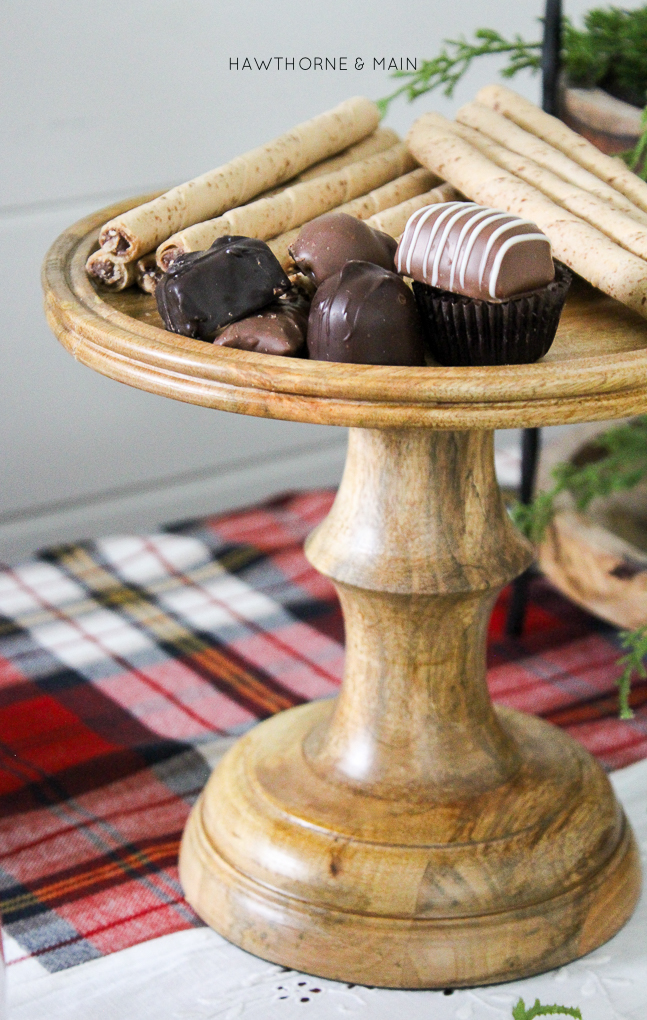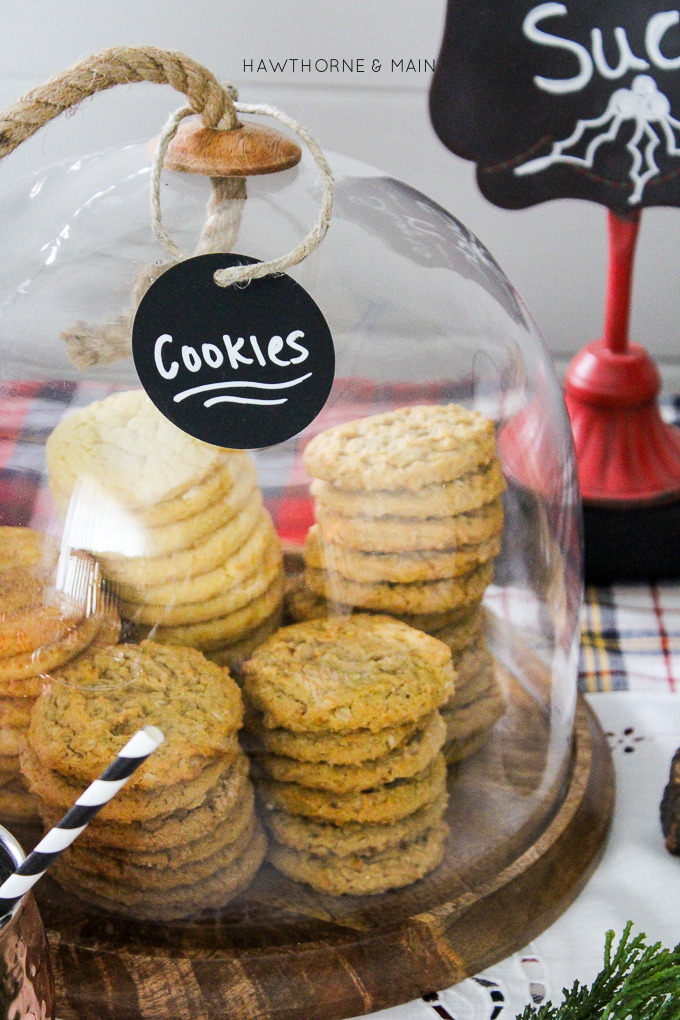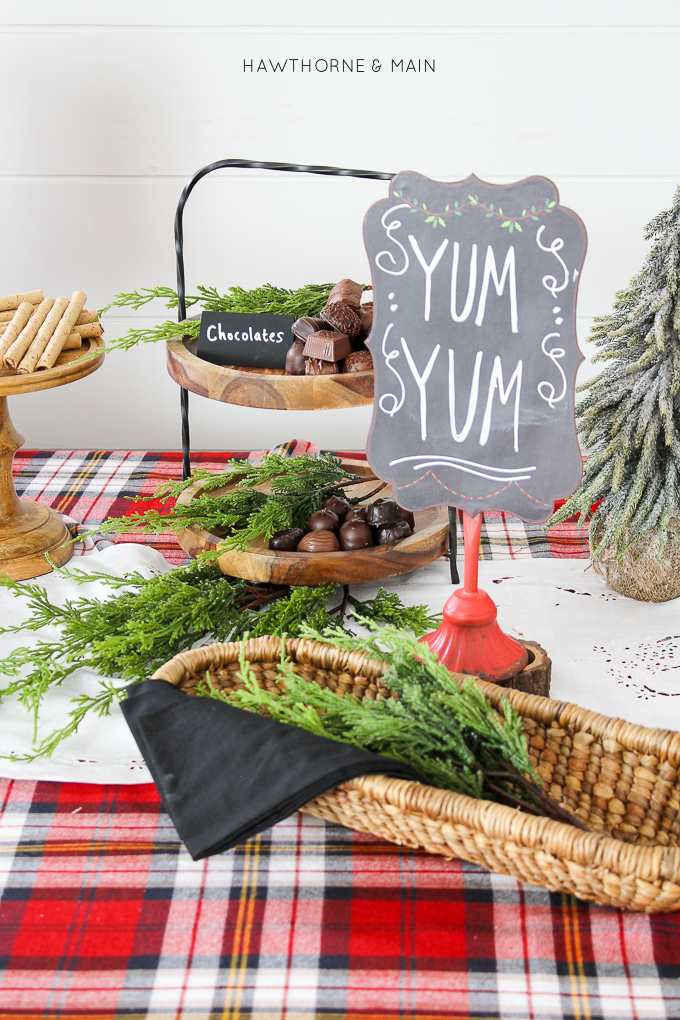 4- Personalize with Signs and Tags:
The easiest way to customize your dessert bar is to use signs and tags.  Chalkboard signs make it easy to create a custom message.  I also love to use chalkboard tags too.
Here is a pro tip:
Make your own DIY chalkboard tags.  To make them, all you need is a piece of chalkboard cardstock.  Punch out a circle using a large 1.5 inch circle punch, or make a card, by folding a piece of chalkboard cardstock in half.  Now, you are ready to make custom messages and labels.  An easy and customizable element that is sure to not go unnoticed.
Now, I am off to throw my hair up in a messy bun….. I'm not hosting a holiday party until next week.
**Also, check out the video at the bottom of this post with more ideas on creating a DIY dessert bar.
Now you can create a flawless dessert bar without breaking a sweat.  Pier 1's last day to ship and receive before Christmas is 12/17.
PLUS….
Pier 1 is hosting a Great Gift Event that runs 12/11-12/24.  Everyone will get up to 40% off Christmas Decor and Fragrances.  Head over to Pier 1 to snag all the deals going on right now!!
Resource list for items used: 
–Chalkboard Soho Platter

–Napa Wood and Wrought Iron 2-Tier Server

–Tristen Woven Bread Basket
–Holly and Berries Chalk Note Menu Board
–Moscow Mule Copper Mug- similar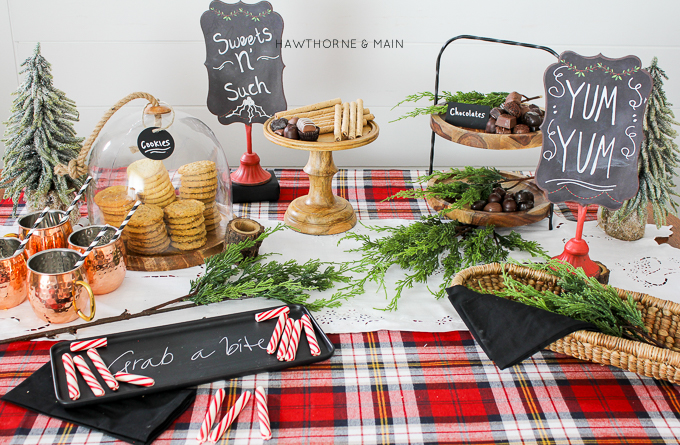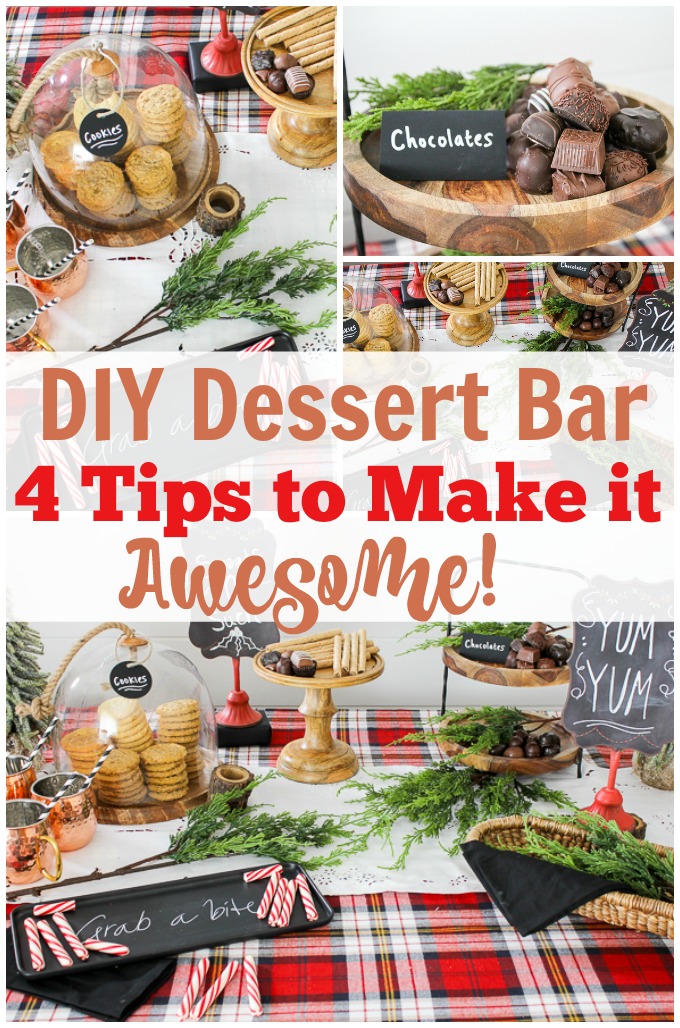 Want more AWESOME ideas...Check these out too!