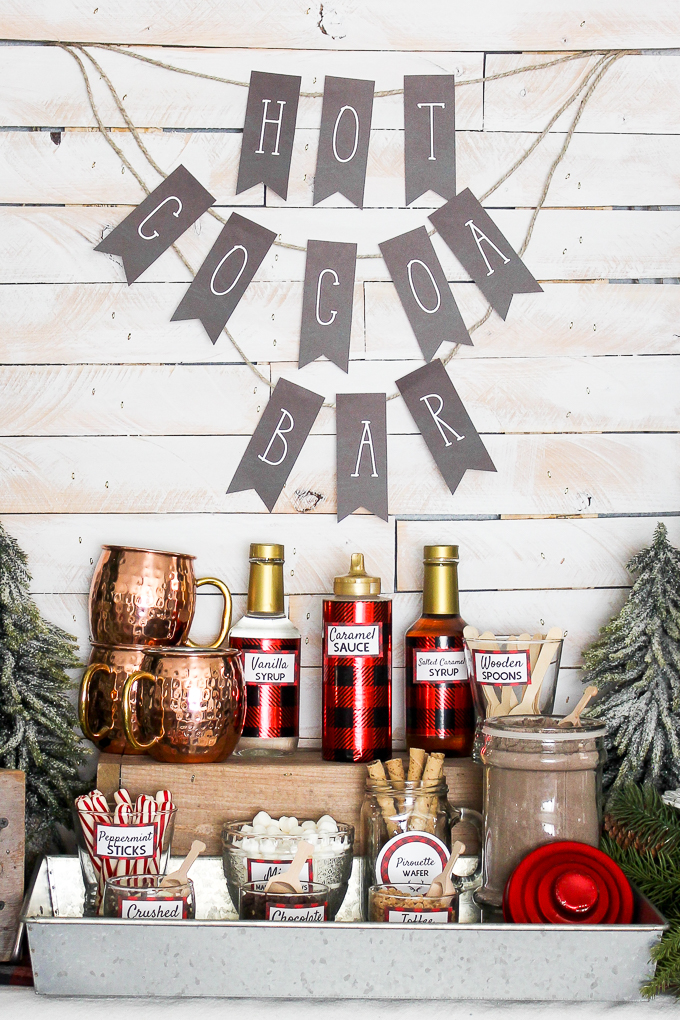 Remember when I shared with you all those pretty pictures of hot chocolate bars…
…..how I longed to have a place in my house that was all decked out with old fashioned peppermint sticks, and pirouette wafer cookies?   Warm hot chocolate settling in my tummy….
Well, I finally got mine set up and ready to rock n' roll.  I have already had 10 cups myself!
Let's take a look around! (snag your own printables from your next hot cocoa bar here.)
---
*Update, You can now grab this Hot Chocolate Bar Printable Package for yourself!!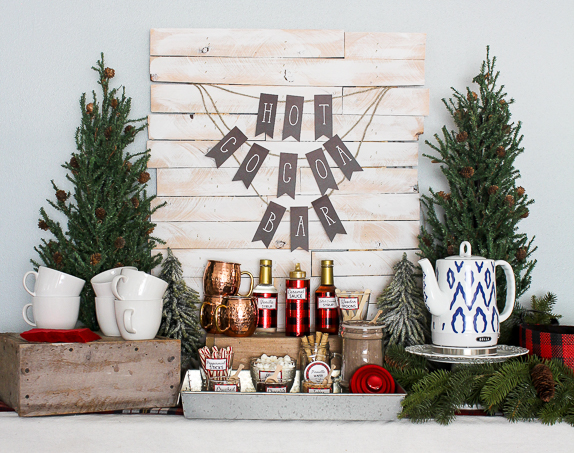 Right now it's sitting on the buffet table right as you walk in the side entrance.  It seems like the right spot, for now.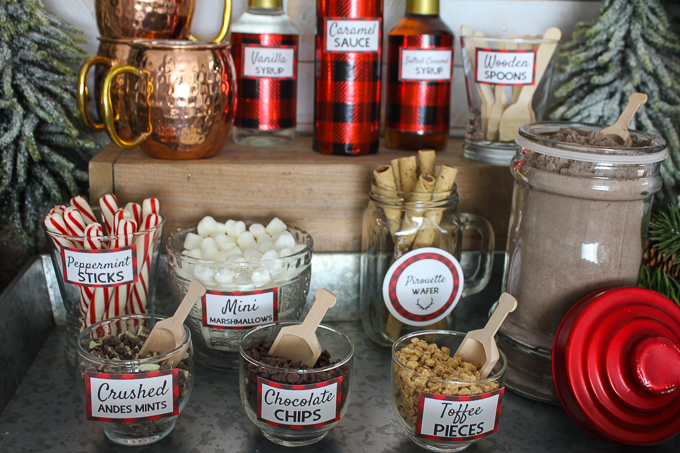 I found all of the glass containers at a local thrift store. Finding three that were all the same was a total score!
The hot cocoa mix itself is a homemade recipe, that I love! I was able to find some little wood scoops and wood spoons to add to the overall rustic feel of the bar.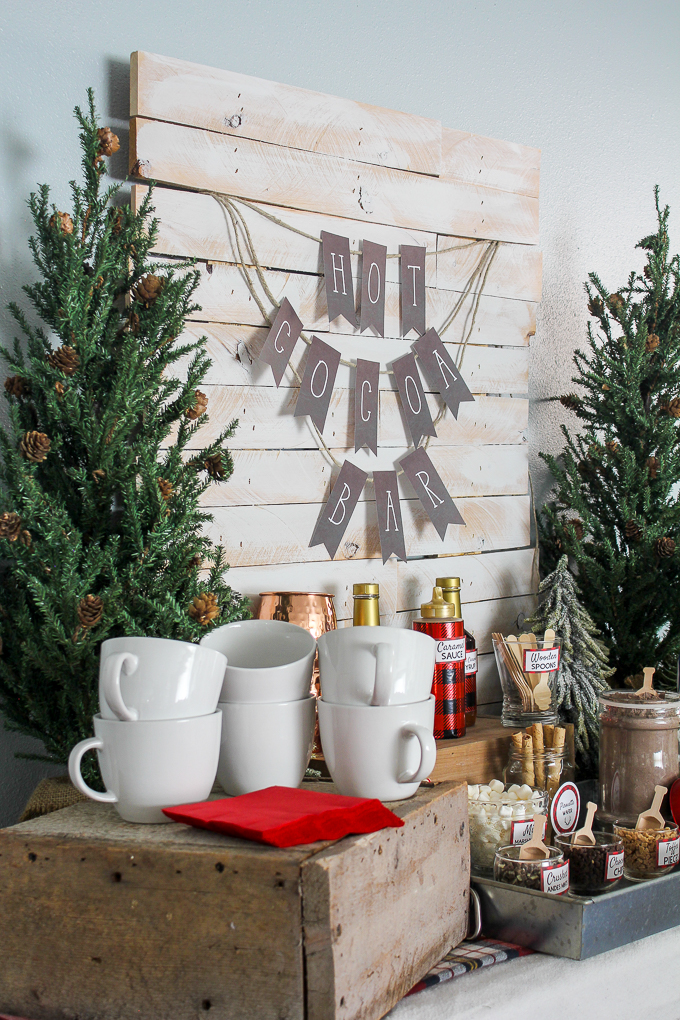 I have loved the galvanized metal tray that I got for the bar.  It makes it so easy to move the tray and clean up any spills.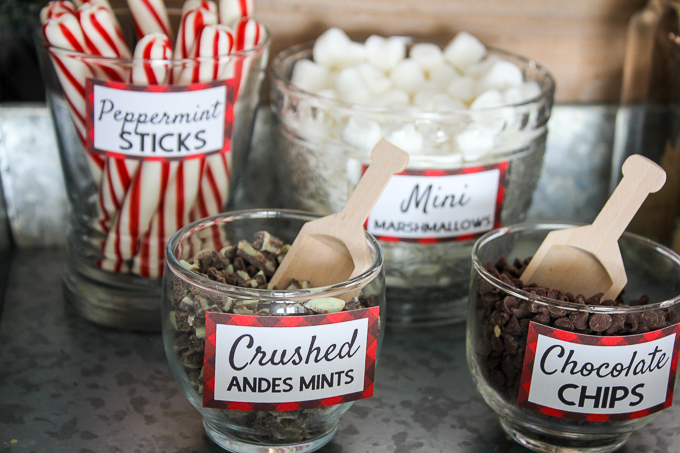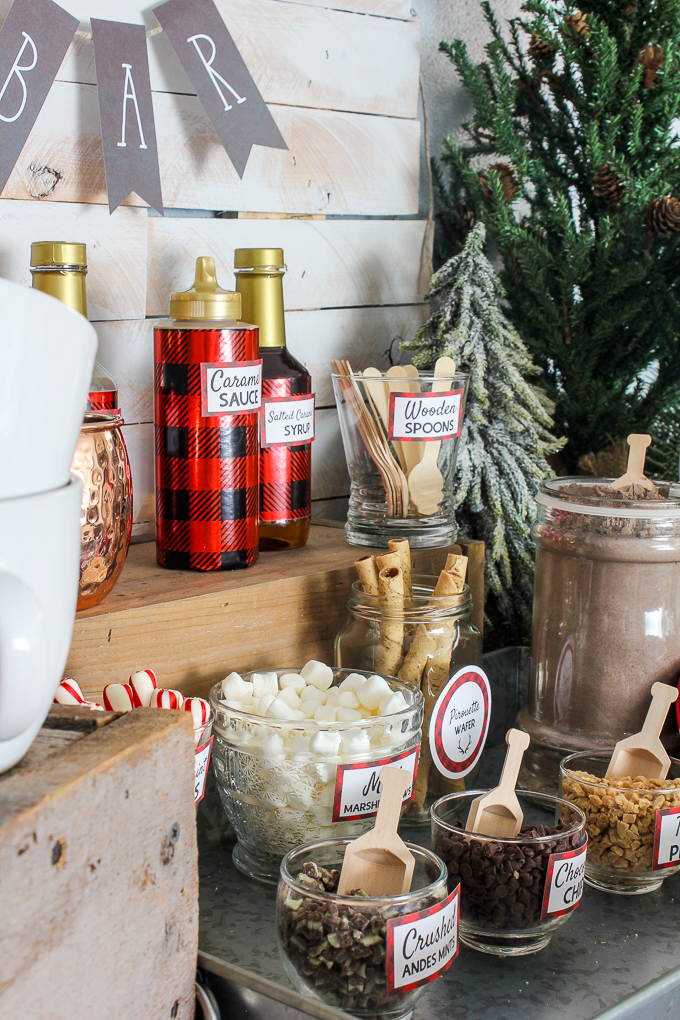 The sauce and syrups that I got, literally are the cherry onto of the hot cocoa bar.  So tasty! Let's no forget about those mugs! I love copper, it is so fun to drink out of a pretty mug! (similar)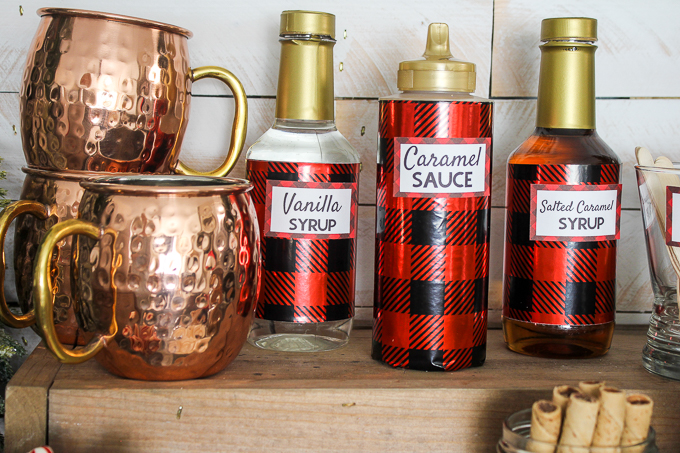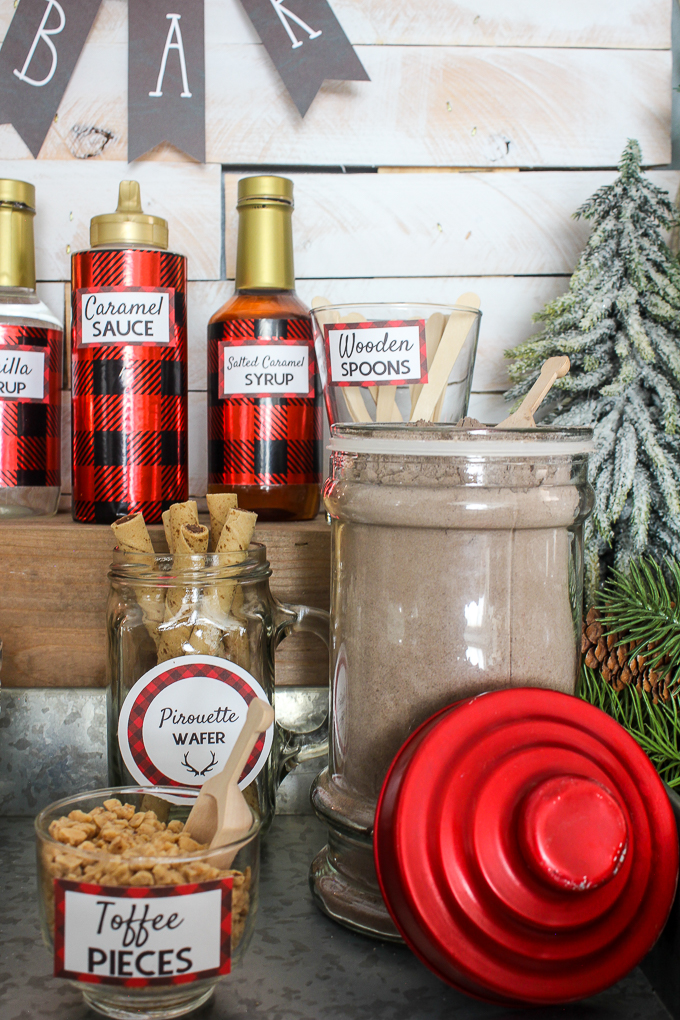 I have also fallen in love with the Bella electric tea pot. It heats up a whole pot of water in about 3 minutes. So fast and so easy!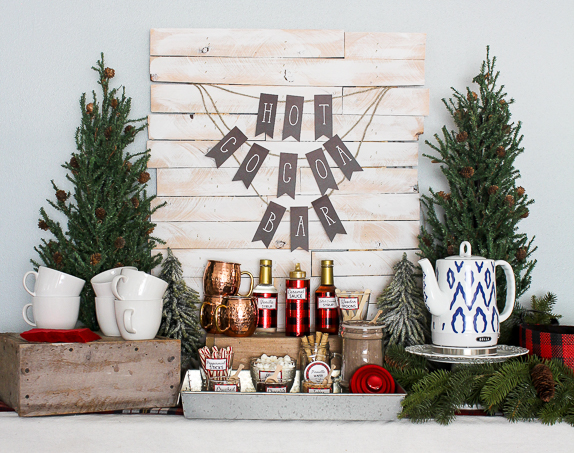 Are you planning a holiday get together this year?
Maybe if you haven't thought about it you should! After I got done making all of the hot cocoa topping tags, I realized, that others could probably use them too.
I have decided to offer this Hot Chocolate Bar Printable Package for a limited time! Yay!
---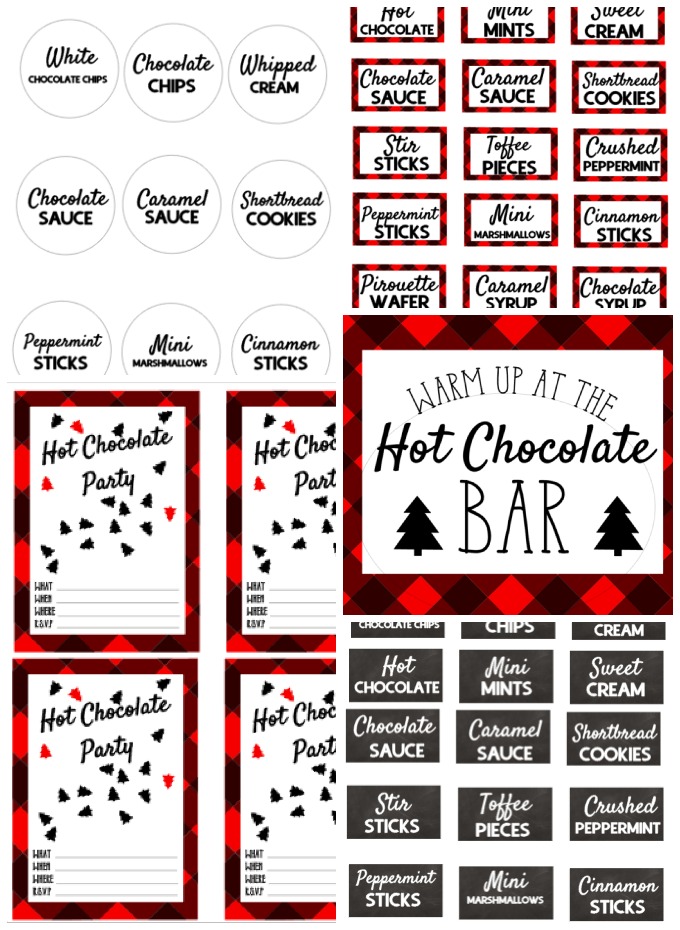 What's inside the package? 
– 6 Different Topping Tag Styles- (each having a whopping 36 topping options)
-8 Different Hot Cocoa Sign Printables.
-3 Syles of Party Invitations.
-2 Hot Chocolate Banner Options
-homemade hot cocoa recipe (that's to die for)
-Pro tips on styling the bar along with other tips and tricks.
-3 different cup sleeve designs
– Resource list of where to find everything you need for an awesome party.
-Over 35 pages of printables, to customize the perfect party.  
–Homemade Hot Chocolate gift tags, in case you want to give some as gifts! 
-Plus, much, much more!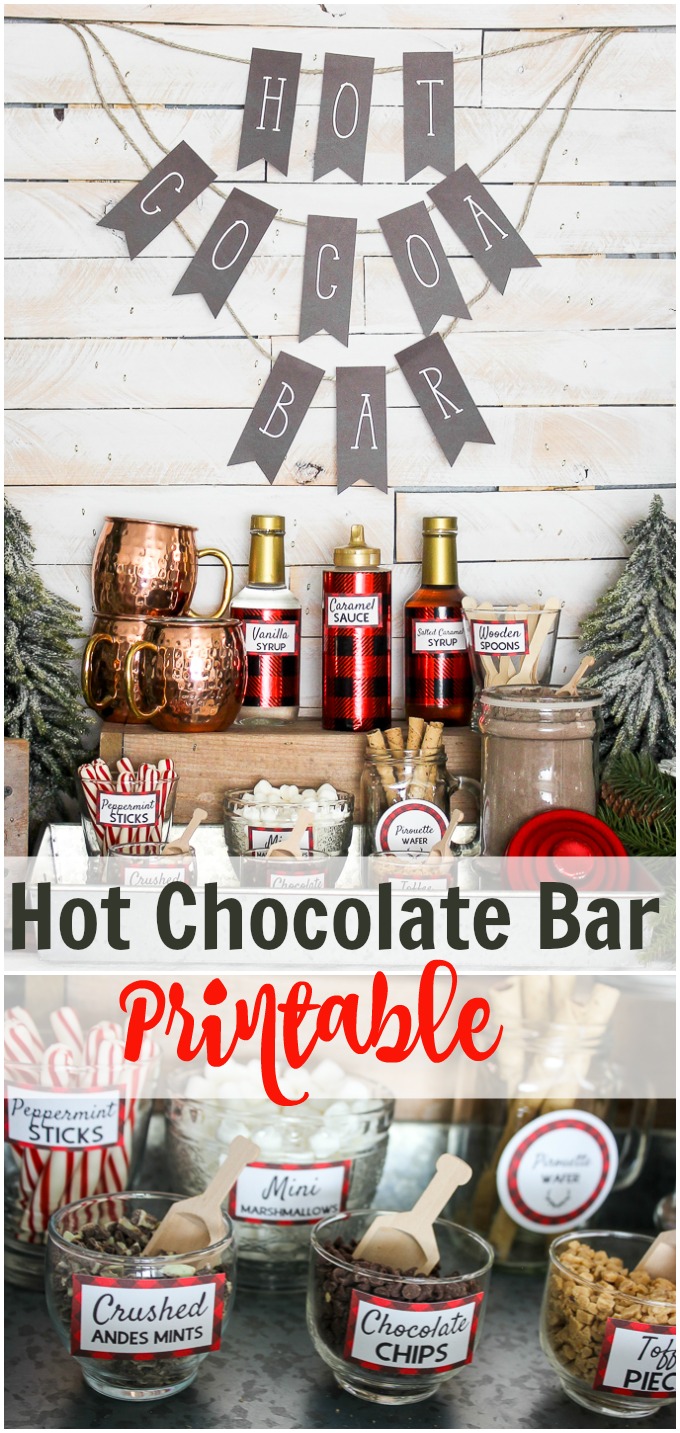 Let me make your holiday a little easier, everything you need to create the perfect Hot Chocolate Party is right here!!
Want more AWESOME ideas...Check these out too!