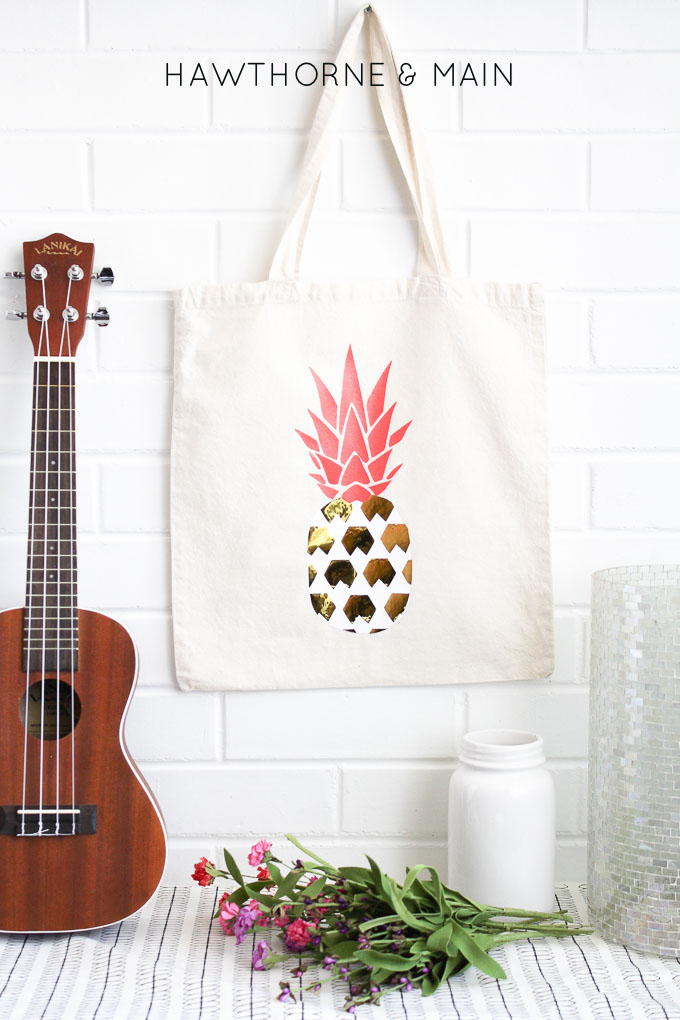 Hello everyone!
I was just remembering a quote, maybe you have heard it too!! It goes something like, "you can tell a lot about a person by their shoes."  Do you remember who said it!!?
Shoes certainly go with us everywhere…..But
I am curious, what does a tote bag tell you about a person??
I have a bag…..
It might have a few stories to tell and I bet it has traveled as far as some of my shoes…
My bag was handmade by me….(obviously)….I will choose the DIY route almost every time.
Luckily for me the bag that I made was washable…..and boy has it needed to be washed over the years.  Over time the bright colors have faded and the stitching has started to loose its strength.
I am curious though…..
What do you do with a pair of old shoes….?  For me…. I pause to remember our happy times together.  Then, after the soles are worn and the toes are all scuffed off I take them to the local thrift store or file 9, depending on how bad the shoes are.  I do my happy dance all the way to go pick out some new ones……is that bad?
Today we are not talking about shoes but rather my bag.  And like any old, worn wonderful bag it has lived a wonderful life but now it is time for something new!! Yes, I am doing my happy dance.
When I had the opportunity to work with Expressions Vinyl I knew immediately what I needed to do…..make a new bag!
SUPPLIES:
-Iron
-Towel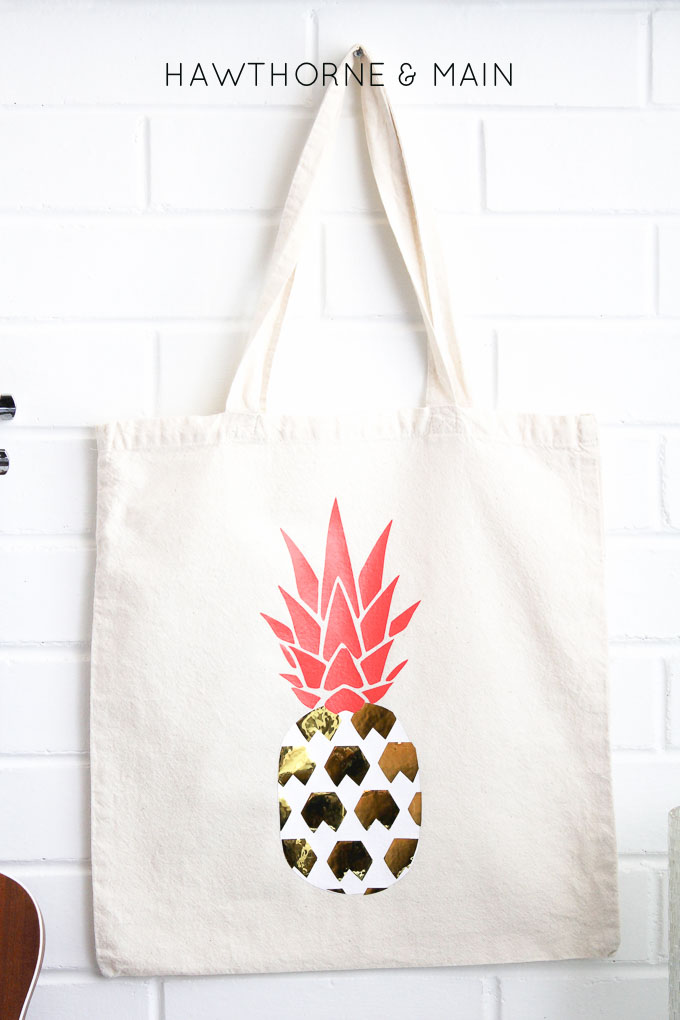 TUTORIAL:
To start find an image online of a pineapple top.  Save the image  and use your Silhouette Cameo
 or another cutting machine to cut out the top.
For the bottom part of the pineapple I made two layers.  The bottom layer was a piece of white heat transfer vinyl.  For the top layer, I used the gold vinyl.  To make the gold pieces I drew a hexagon in my silhouette software and used the drawing tools to cut out a notch in the bottom of the hexagon.
I then copied and pasted the modified hexagon multiple times in 5 rows tall and about 4 wide.  I then cut everything with the Cameo.  Once all the pieces were cut, I simple used my scissors to cut out an oval shape for  the bottom of the pineapple.
Using a hot iron (with no steam) iron the vinyl onto the bag.  Follow the directions for the vinyl product that you are using. Done!
I love my new bag…..
I am super excited to give this DIY pineapple bag a few stories to tell!!
Be sure to scroll down to the bottom to see all of the other amazing project ideas!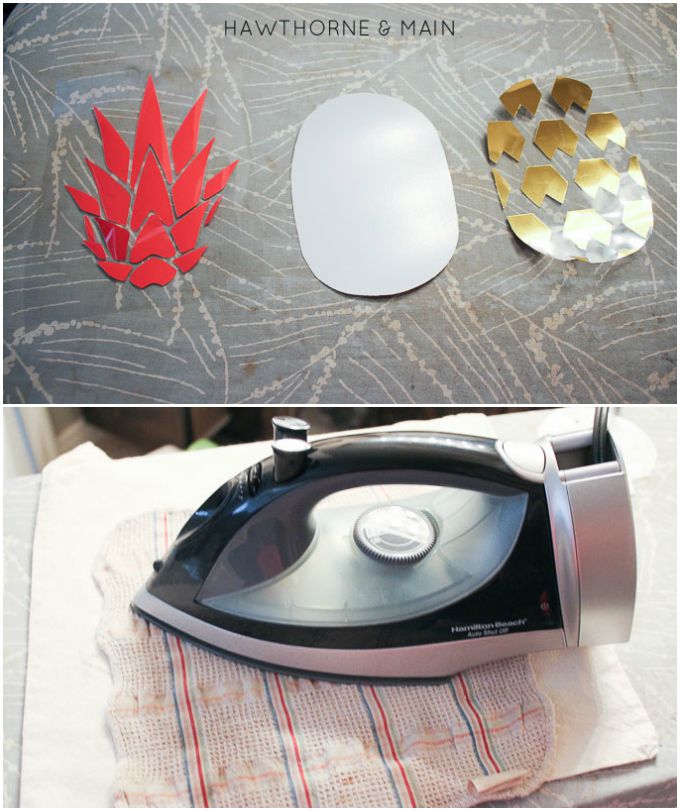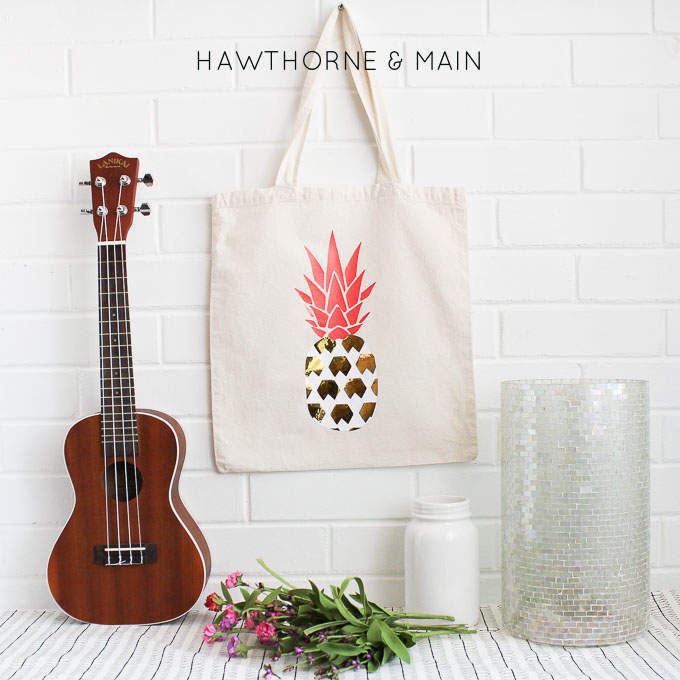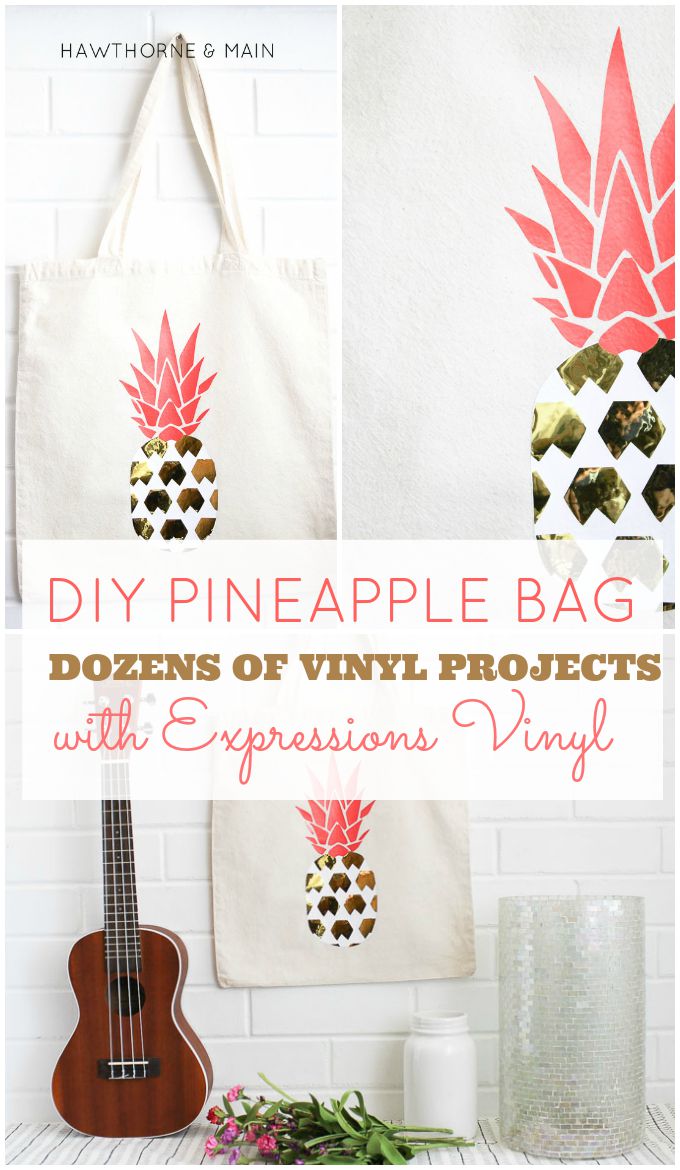 Want more AWESOME ideas...Check these out too!