I have been eyeing one of those awesome boxwood wreaths for a few years now.  I love how green and vibrant they are. To me green makes everything feel more cozy and comfortable.
The other day I was walking around one of my local craft stores and stumbled across this beauty.   It had been banished to the back of the store with all of the other clearance items and was priced at $9.97, originally $39.97.
The only problem, the boxwood wreath that I had been eyeing, was round, not heart shaped.
Still, I had an AHAA moment and snatched it up quick!!
I wasn't exactly sure how I was going to turn a heart shaped wreath into a round wreath but I figured for $10 it was worth a try.  I first started by disassembling the heart wreath.  I turned it over to find that it had pieces of wire holding it together, I untwisted all of the wire.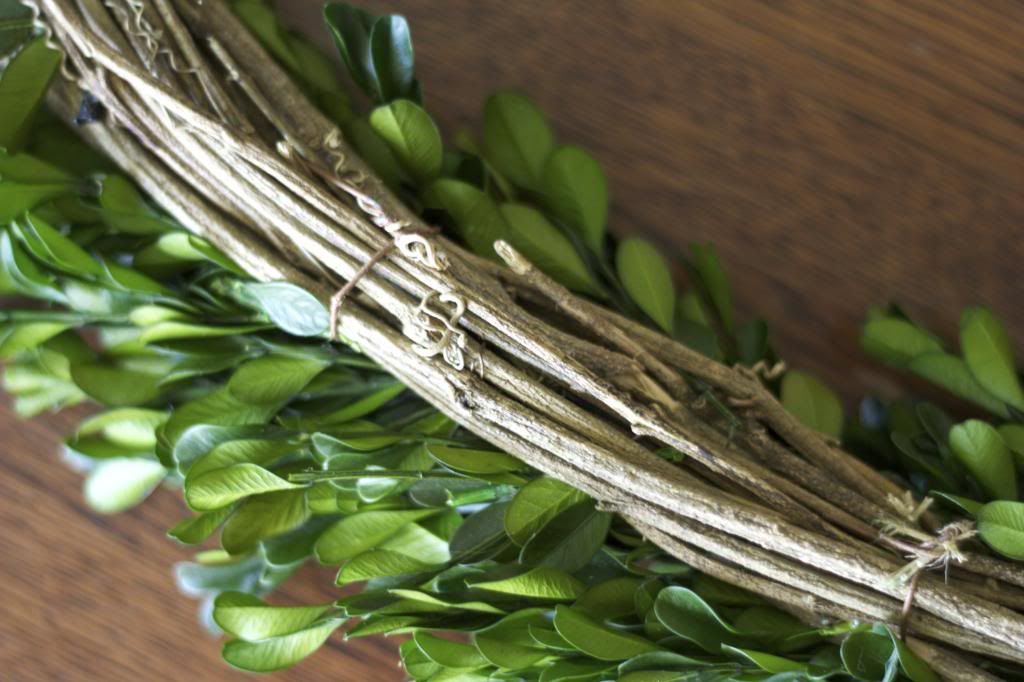 After untwisting all of the wire I found that there was an even bigger piece of wire in the middle acting as the main support for the wreath.
Luckily after I took off all of the small pieces of wire the large metal heart in the middle of the wreath came out easily.  At first I thought about bending the heart shaped metal piece into a circle to use as my base for my new round wreath, HAHAHA, that only lasted about 2 seconds before I realized that that idea was out the window.
That metal was way too tough for me.
I ended up deciding that I needed to find something else to use as my base.  I first looked here
and here
but last minute I decided to go check out a thrift store to see if I might be able to score something that would work, and guess what…..?
I found this grape vine wreath for $1.50.  I basically used the same strategy on this wreath as I did before on the heart wreath, by completely dismantling it.
Once all of the snow men, pine needles, and weird bows were gone this is what I was left with.  You can still see a little bit of the fake snow spray paint but since I knew I would be covering it back up I didn't worry about it.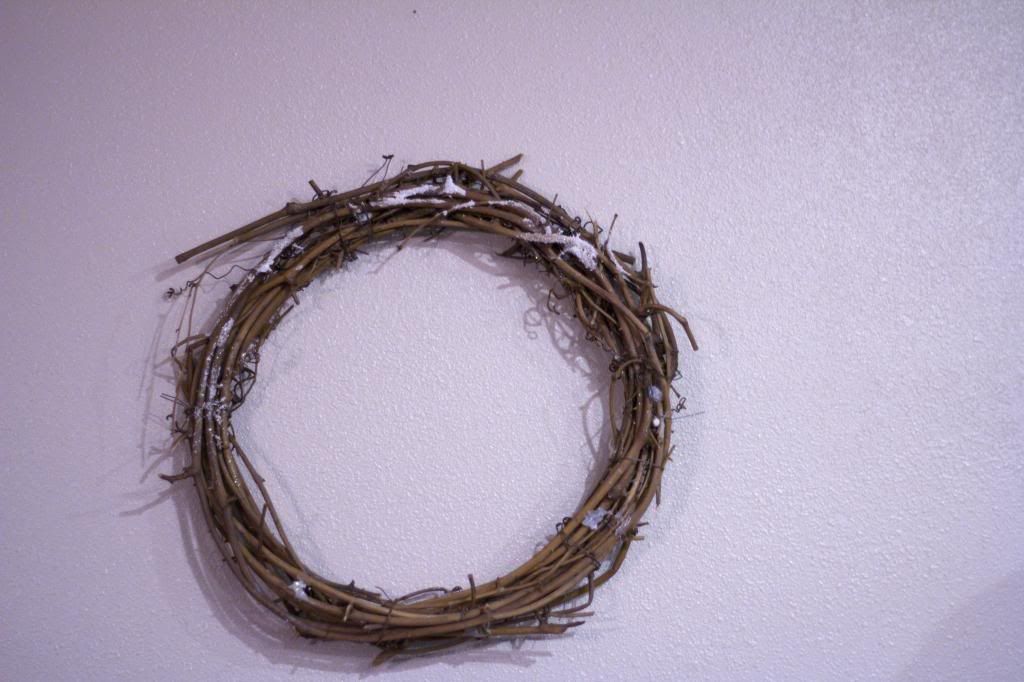 Now this next part got a little bit messy, but not bad.  I used the box that the wreath came in to help contain it all.  Basically what I wanted to do was get all of the boxwood leaves to come off of the heart wreath so I could then put them on my new round wreath.
To break it apart all I did was try to straighten out each half of the heart and sort of bend them backwards a little.
It actually worked really well and after a few minutes I had a big pile of leaves.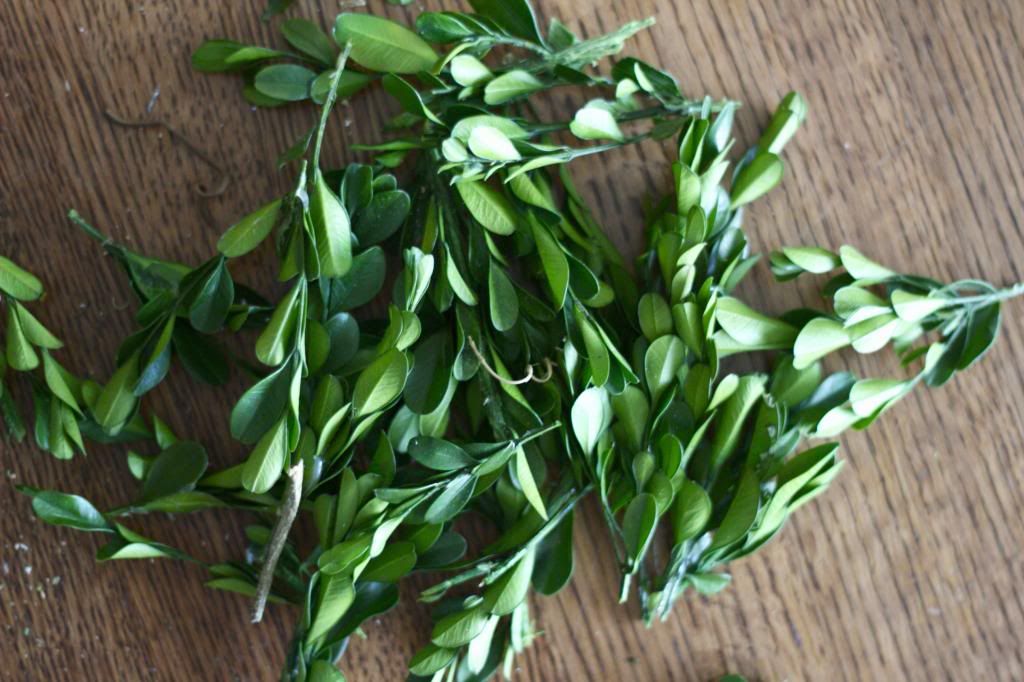 I got my hot glue gun warmed up and next I started to assemble my new wreath!!!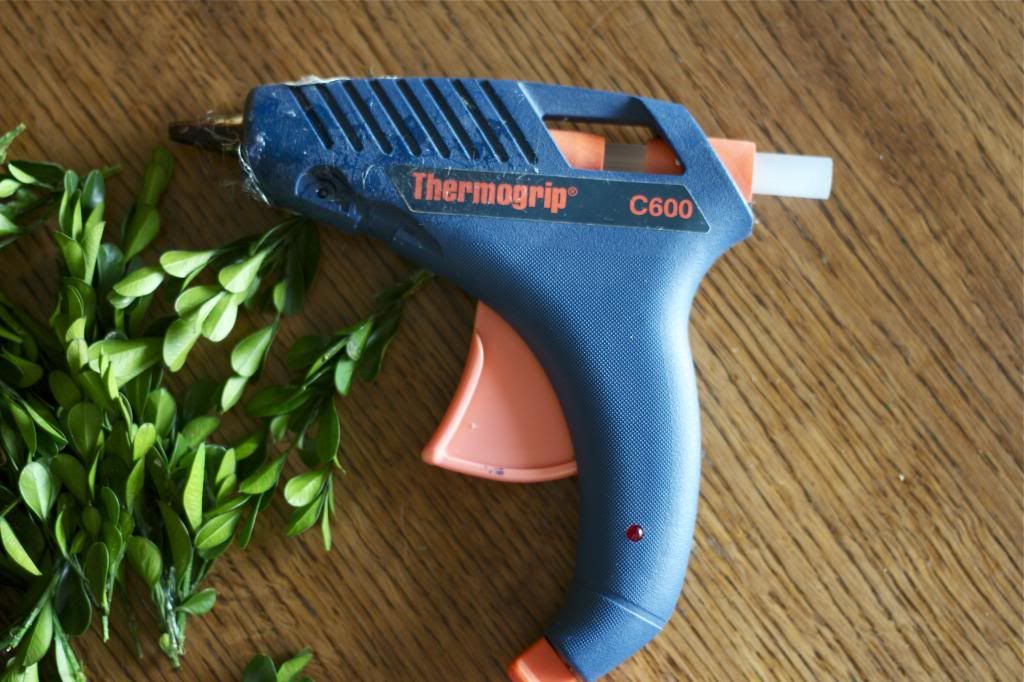 On my wreath, each leaf/branch ended being about this size which was a nice size to work with.
I chose to have my boxwood leaves go in the clockwise direction.  And it seemed to work best if I worked backwards, or counter clock wise to assemble it.
Working left to right I added glue to the wreath and then stuck the boxwood leaves directly on the wreath overlapping the previous leaves a little bit as to fill in the gaps so that I could not see through to the brown grape vine wreath.
This method worked great!! I am really happy with the way that it turned out.  Be sure to come back and check out where I put this in my house, I totally LOVE it!!
BEFORE                                                                                                 AFTER
Want more AWESOME ideas...Check these out too!