A little while ago I purchased a heart shaped boxwood wreath and refurbished it into a round wreath, here. I totally love it. Today I am going to share with you where it is residing in my home right now.
This mantle happens to be right next to the bookshelf that I did a makeover on a little bit ago, here. I don't particularly love the mantle as it is now, especially how the wood is warped. I am a little scared to put stuff on it because it can't sit flat. So, hopefully in the next little while I will get a new mantle made. Also, I have got to do something with that brick. I am seriously considering painting it but I realize once I paint it there is no going back, so I am still on the fence about it for now.
My future vision for this wall would include it being a lighter color. Luckily this room has a very large window to help brighten it up. A new mantle with a few more decorations would also be nice. The stove is going to have to stay in this room which isn't necessarily bad, the final decor will just have to tie it all together. I am content with this wall for now but I am excited to change that color!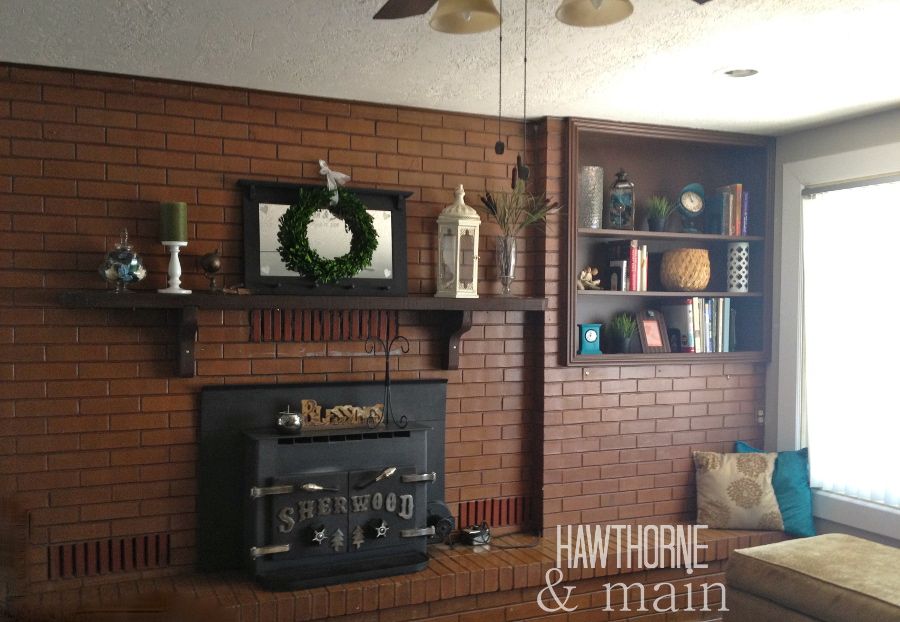 We would love to have you follow along with us!
Linking at
these
fabulous parties!
Want more AWESOME ideas...Check these out too!