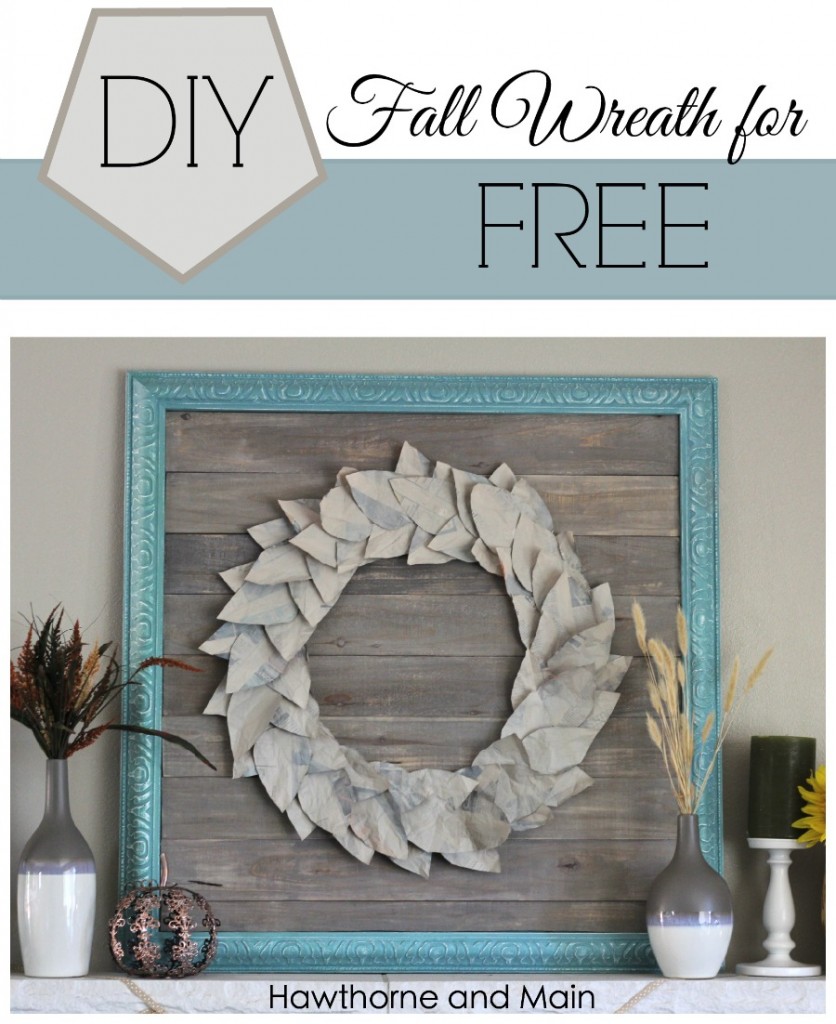 Fall is fast approaching! I love this time of year.  Everyone is back into their school and work routines after the summer.  Yet the hustle and bustle of the holidays has not yet arrived.  I love that the weather is starting to cool off, well in some parts of the world it is.  I made this super cute wreath for $0.
Yep!
I was so excited that it turned out so cute.  There are only a few supplies that you need and all of which I already had on hand.

TUTORIAL:
To start off you will need a box that is as big as the size you want your wreath base to be.  I think mine ended up being about 2 feet across.  For the outer circle I used my basket as a guide to draw my circle.
The inner circle I just eye balled and free handed it.  If yours ends up not being perfect like mine, it's ok,
it will still work out.  I used an X-Acto knife to cut around the lines.  Once I had my frame all done it was time to make the leaves.
I happen to be a part-time couponer and so I have A LOT of news papers laying around.  If you don't get the paper, chances are, one of your neighbors does.  Try going outside early on a Sunday morning and look down the street to see who has a newspaper sitting in their driveway.   Ask them if you can have it when they are done reading it.
In order to make the process of cutting out the leaves faster, I only used the fold of the paper.  Below is a picture of what I mean.  I kept the original fold of the news paper and just cut out a half tear drop shape, once opened it looked like a leaf.  You can totally customize how big or small you want the leaves to be.  My leaves are about 4.0 inches long and 4.5 inches tall.  I was able to cut out 4 leaves from each fold.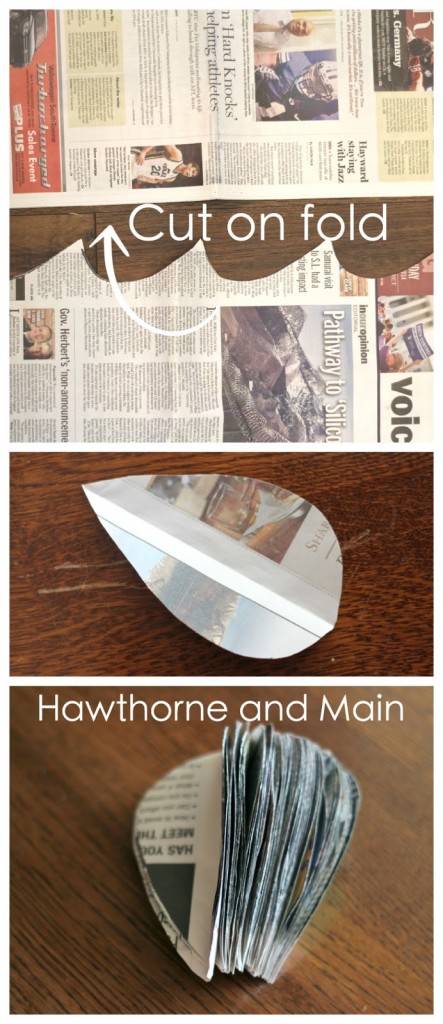 I really like the look of just plain newspaper but I ended up deciding to paint the leaves.  I had some left over paint samples from when we painted the inside of our house.  I grabbed one of those and added about 1/2 cup water to 2 tablespoons paint.
I basically wanted to make a white wash.
This is the same process that I used when I made my DIY Barn Wood.  The white wash made it so that I can still see some of the words on the newspaper.  It worked very well.  Once they were all dry I gathered them up.  As I picked up each one I gently crumpled it into my hand to give the paper some dimension.
Next I needed to decide how to arrange them on the wreath.  I ended up grouping three together like the picture below.  Once I made all of the leaf groups it was time to assemble.
I laid them all out on the wreath and used my double sided tape to attach them to the card board.  I overlapped each leaf group about half way.  I really love how this turned out!
It matches my DIY barn wood picture frame so nicely and it just has a fun fall feel.  Plus the thing was FREE to make, a total bonus!!!  What do you think of this FREE fall wreath?  I would love to chat with you on Instagram, Facebook or the comments section below.  Thanks for stopping by!