The weather is warming up here.  I love it….that is until it starts to get above 100, then it's not so fun.
We have been focusing so much on making the inside of our house pretty that I have been neglecting the outside….like bad…bad.
We finally got some new sod laid in the backyard, which has been so so so nice.
Now for a place to sit so that we can enjoy the new grass.
A huge thank you to Pier 1  for partnering with me on this post! My favorable opinion of  all things that help me get fabulous seating for my outdoor space, are my own.  For more information, see my disclosures here.*
Outdoor seating has never really crossed my radar….weird huh!   I guess I felt like I needed to have a pool or a fancy backyard with professional landscape to have a nice place to sit…..NOT TRUE.
Not true at all.
After finally getting some outdoor seating I have realized how nice it is to just go out and enjoy the sun or breeze….or sit and watch Miss A play.  I love it.
As soon as I saw the Bayan outdoor seating I was in love.  First off I thought it was real bamboo, to my surprise it's actually made out of rustproof strong aluminum.  Even up close it looks like bamboo.  These chairs also are very light, which is another bonus.
I have talked a little bit before about still figuring out my decor style, it's slowly emerging.  In all honesty it takes time.  One thing that I recently realized is that I really really like color.  For so long I have been stuck in this neutral rut and I am finally breaking out and getting more color in my life…..phew
I originally was eyeing the Ivory cushions because it was in my comfort zone ….then I took a step back and reassured myself that I could try something new.  I am so glad I did,  I love the blue!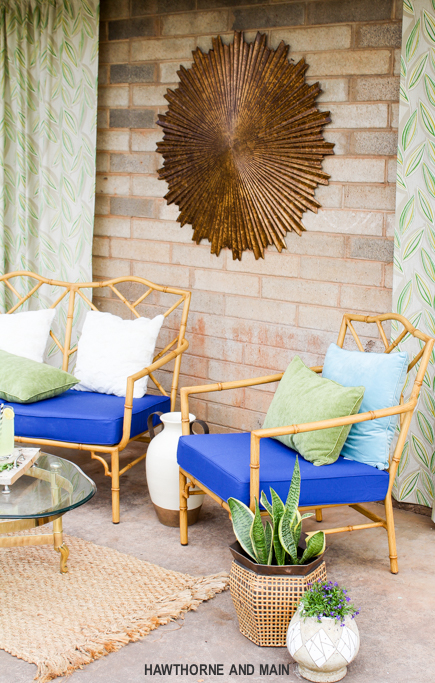 The love seat and the arm chair are both pretty deep, I would definitely recommend having a pillow behind your back for more comfort. I am loving these fuzzy white pillows.
Cozy up on these chairs with a cool glass of lemonade and you are set!!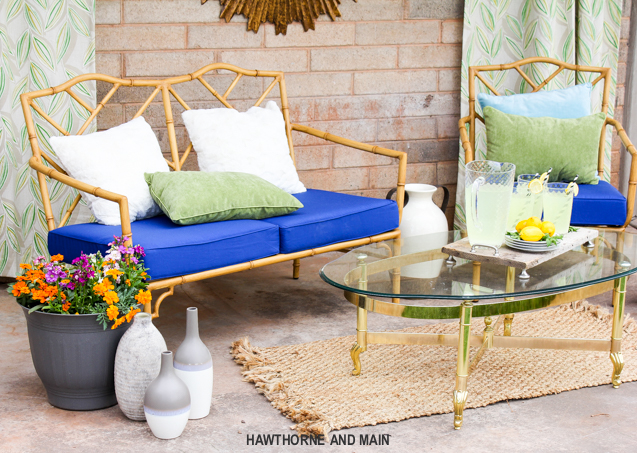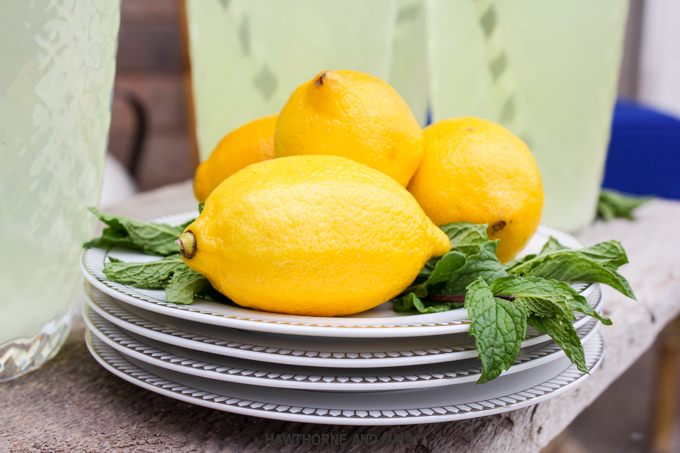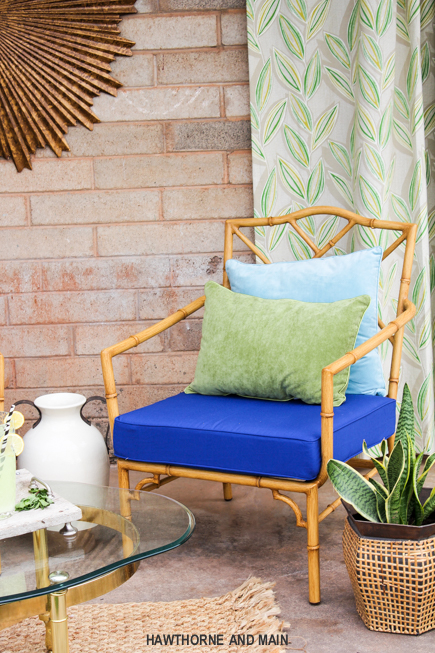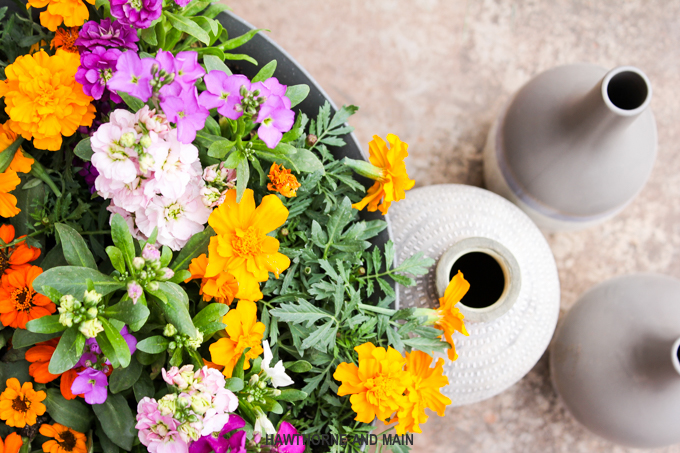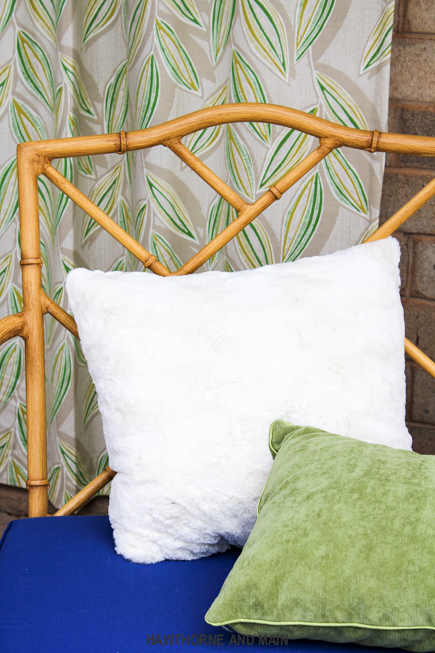 I cannot tell you how nice it is to finally have a place to sit outside.  It has made all the difference.
I am off to sip on some fresh lemonade and enjoy my new green grass.  Check out all of Pier 1's outdoor seating options.
Pier 1 love to feature your pics.  Follow Pier 1 on Instagram and use the #Pier1Love tag for a chance to be featured, so fun!  Scroll down to see my entire source list!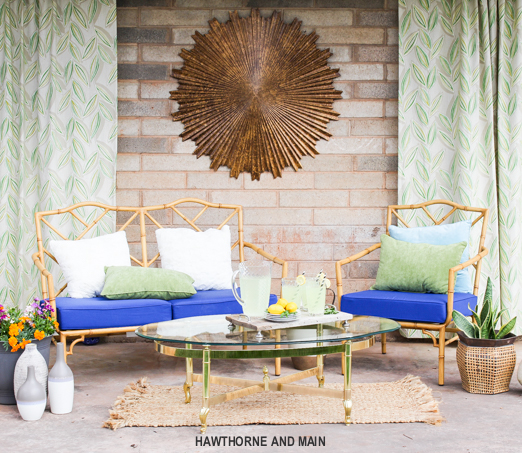 SOURCE LIST:
Bayan Deluxe Love Seat
Bayan Deluxe Arm Chair
Cabana Deluxe Seat Cushion
Golden Burst Wall Decor
Fuzzy Ivory Pillow
Lindon Lumbar Pillow
Calliope Pillow
Farmhouse Vase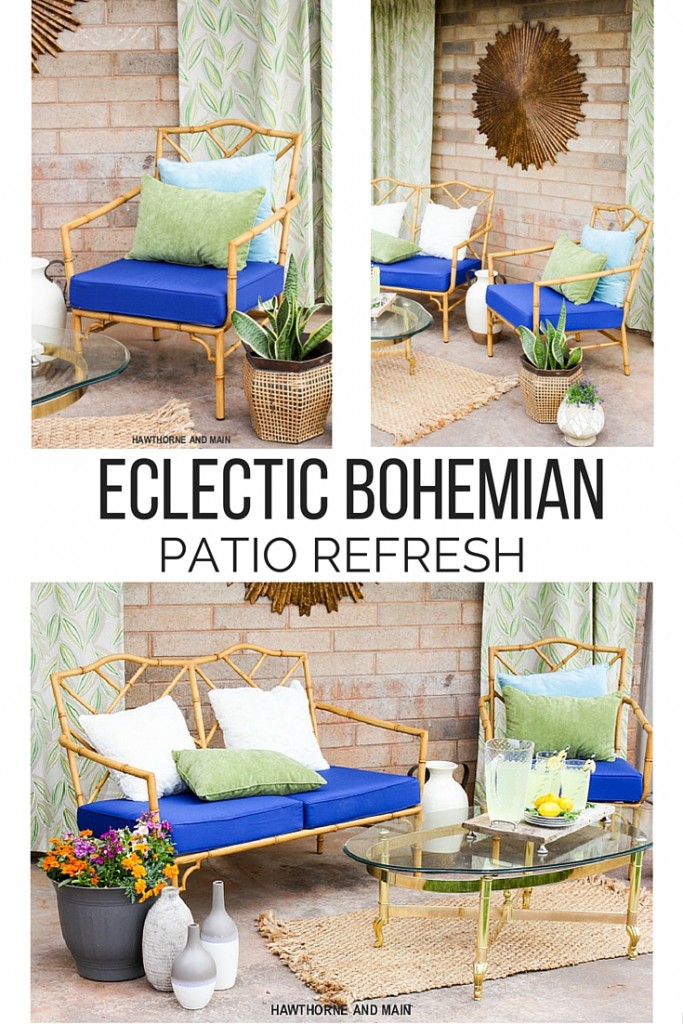 Want more AWESOME ideas...Check these out too!