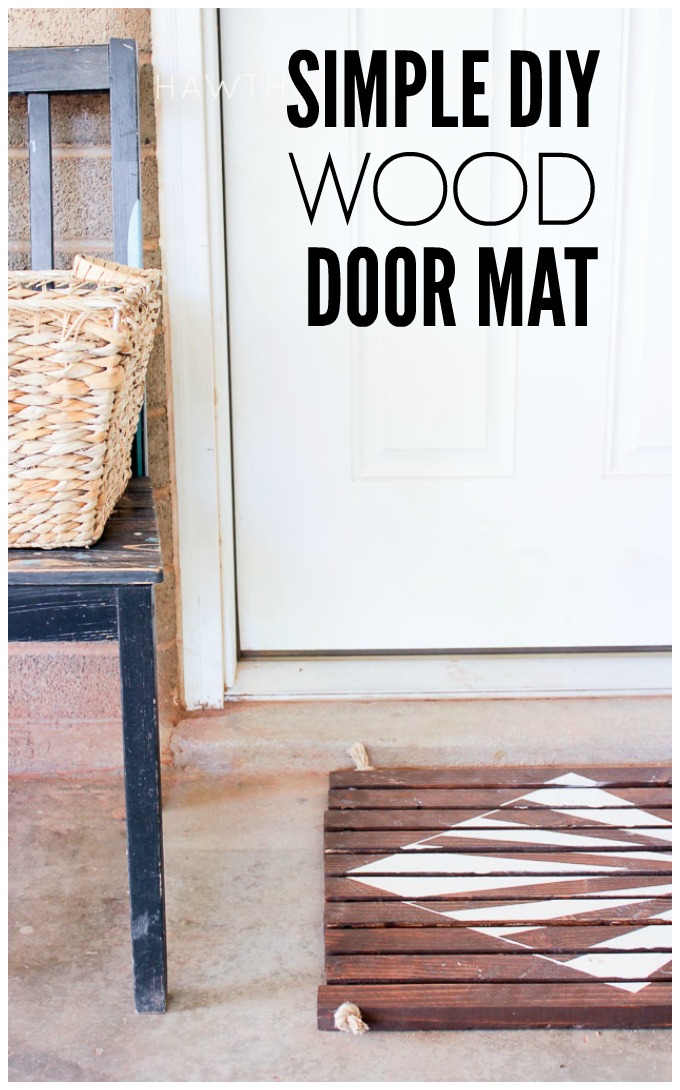 Have you even been dumpster diving……or even road side picking? It really is so much fun…
You know the one, you are driving down the road and it's almost like the clouds part and rays of light start shinning down.  You do the full head turn as you drive past to get a really good look at it.
You quickly flip the car around….paying no attention to traffic laws and start to do your happy dance in your seat as you pull up to it.
You can't hardly believe what you just scored!!
Well…… I just had an amazing score like this the other day.
Which, might not be so amazing, other than the fact that people don't really leave stuff curbside here.  Like….never…. ever…..  I don't get it.
I have very few finds like this so I have to be extra excited when it does happen! I cannot wait to show you what I picked up!!
In other news…
There has been an enormous amount of new homes being build by my house.  I cannot believe the amount of good wood that they throw into the dumpster.  The other day we asked them if we could have some of the wood, they were happy to let us have whatever we wanted….I was doing my happy dance, again.
So, although the wood wasn't exactly an amazing find, I was still able to make this cool simple wood slat door mat all from discarded wood. yay!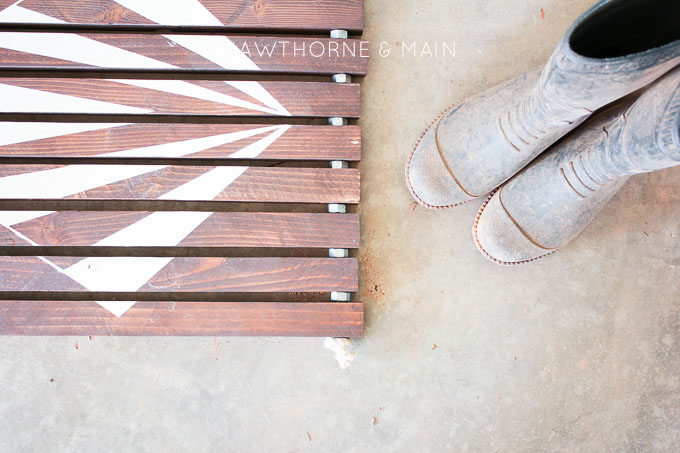 SUPPLIES:
– 10 Wood piece cut to 22.5 inches long
– Drill with a 5/8″ drill bit
-Rope
-Wood Stain
-White Paint
-18 Nuts
-Ruler
-Chalk
-Table Saw (optional)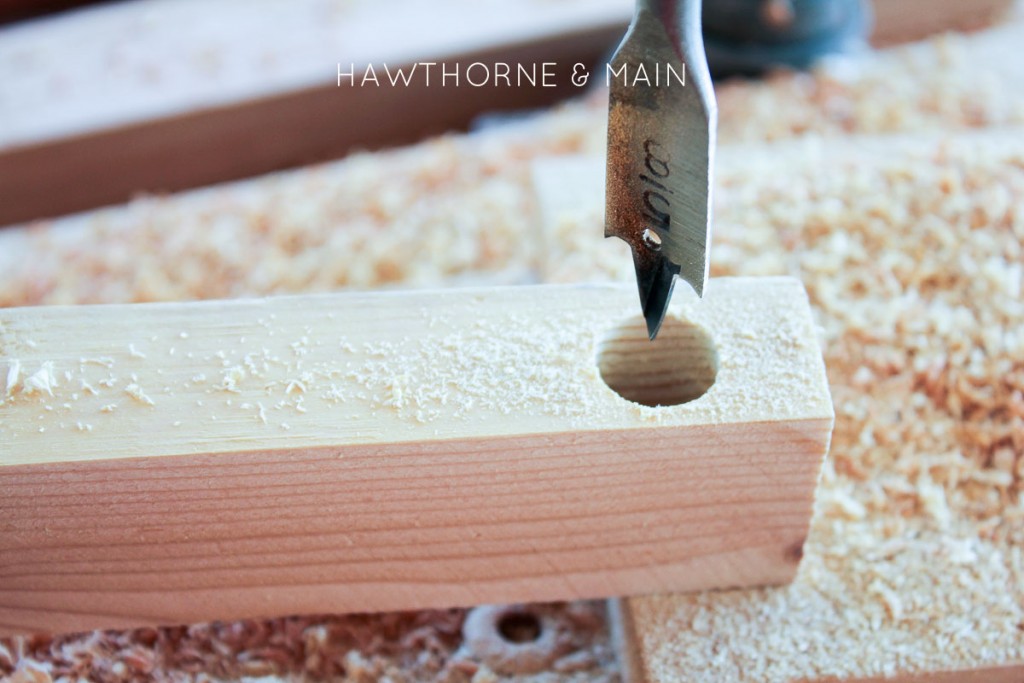 TUTORIAL:
To start, I used our table saw to rip the boards down to about 1 inch thick by 2 inches wide.
** If you are purchasing new wood, then you could use 1×2 's or 2×2's and not have to worry about cutting them down to size.
Once all the boards are cut to width and length, mine are 22.5 inches long, start to drill your holes.  Try to get the holes in the same spot for all the boards.  Since you will be attaching the boards together with rope there is some room for error, so don't get too upset if they aren't perfect.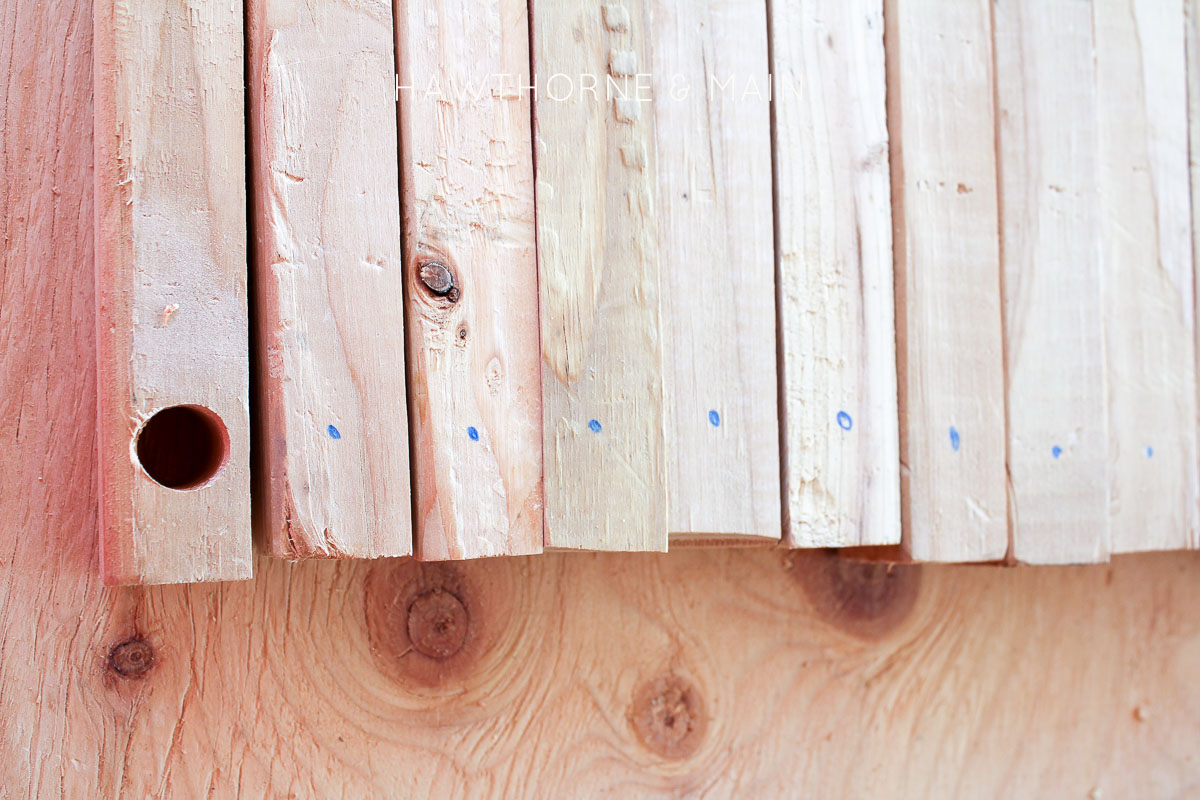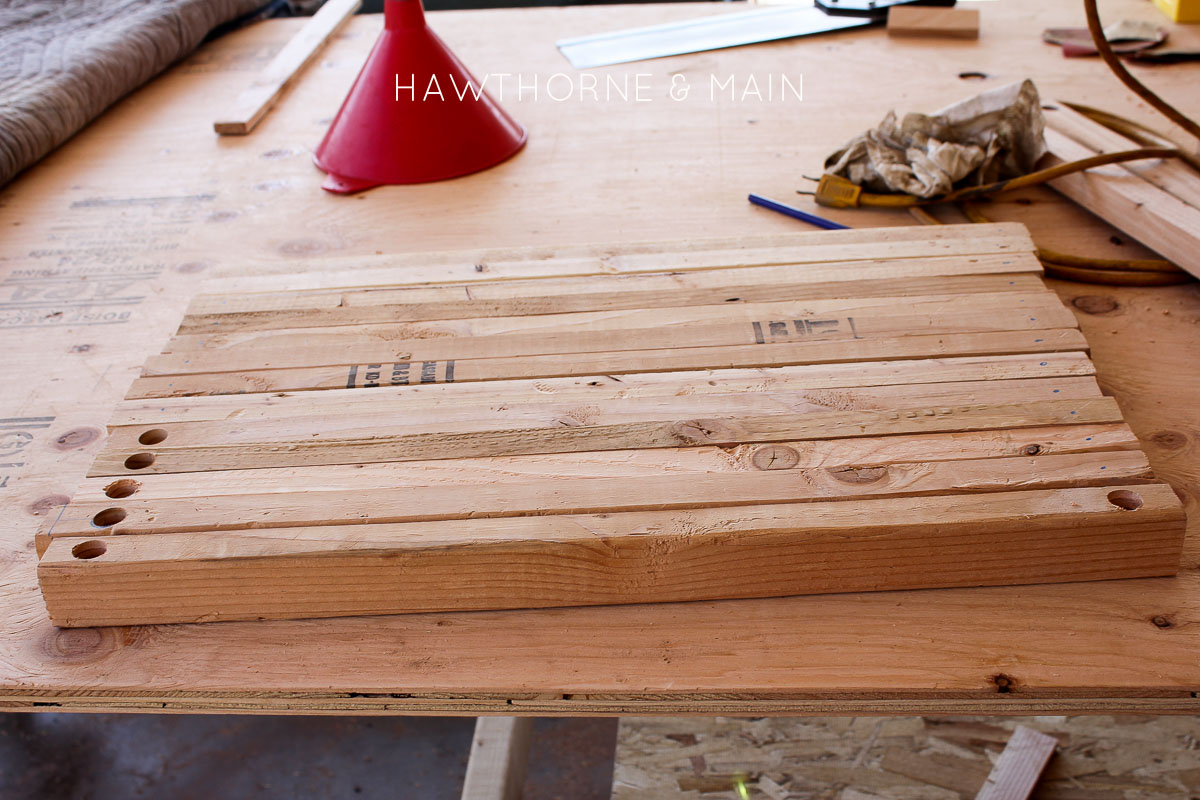 Once all the holes are drilled use some wood stain to stain all the wood pieces. If this will be in a place where weather can get to it is a good idea to stain all sides to protect it from water.  For even more protection you can add a poly coat.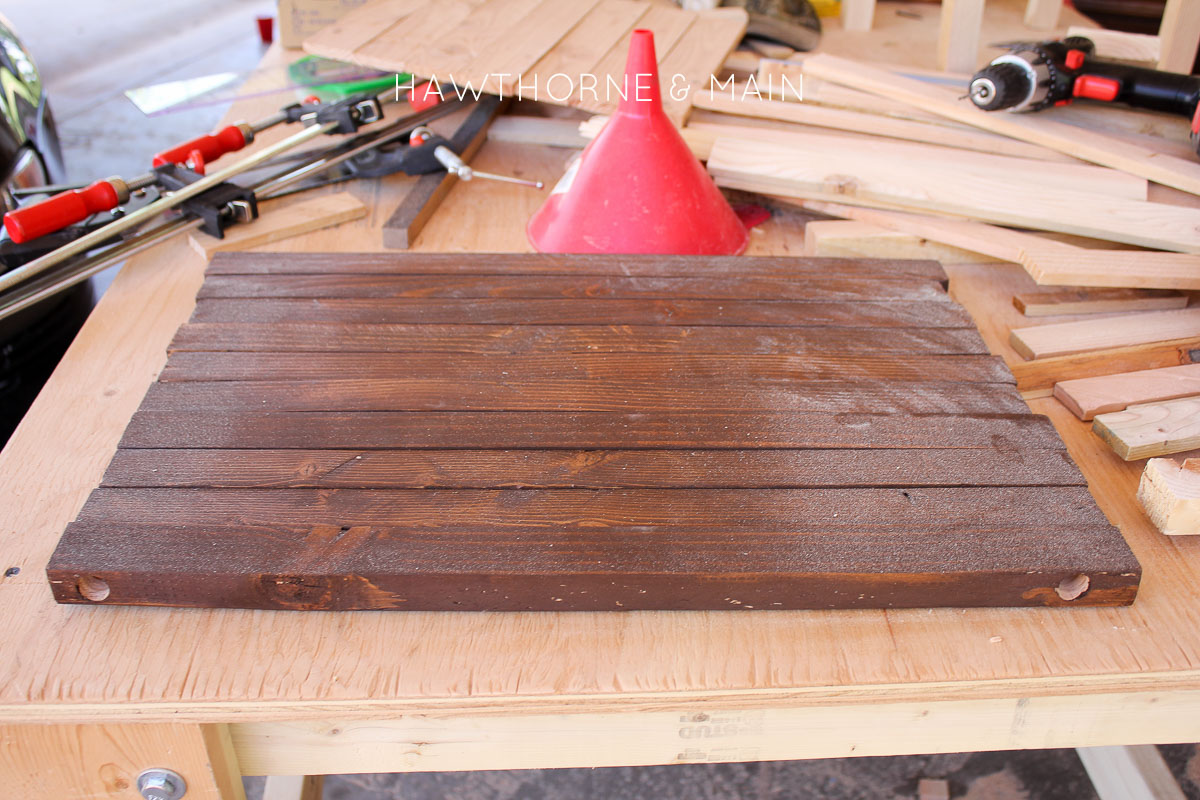 Now for the fun part, adding a design!!
I went for a simple geometric design. I did not plan out ahead of time what I wanted to do I just went for it.  I am sort of like that with all my projects.
I used my ruler and a piece of white chalk to mark my lines.  Once I had my design all marked out I used some frog tape to mark the lines and added some white paint with a foam brush.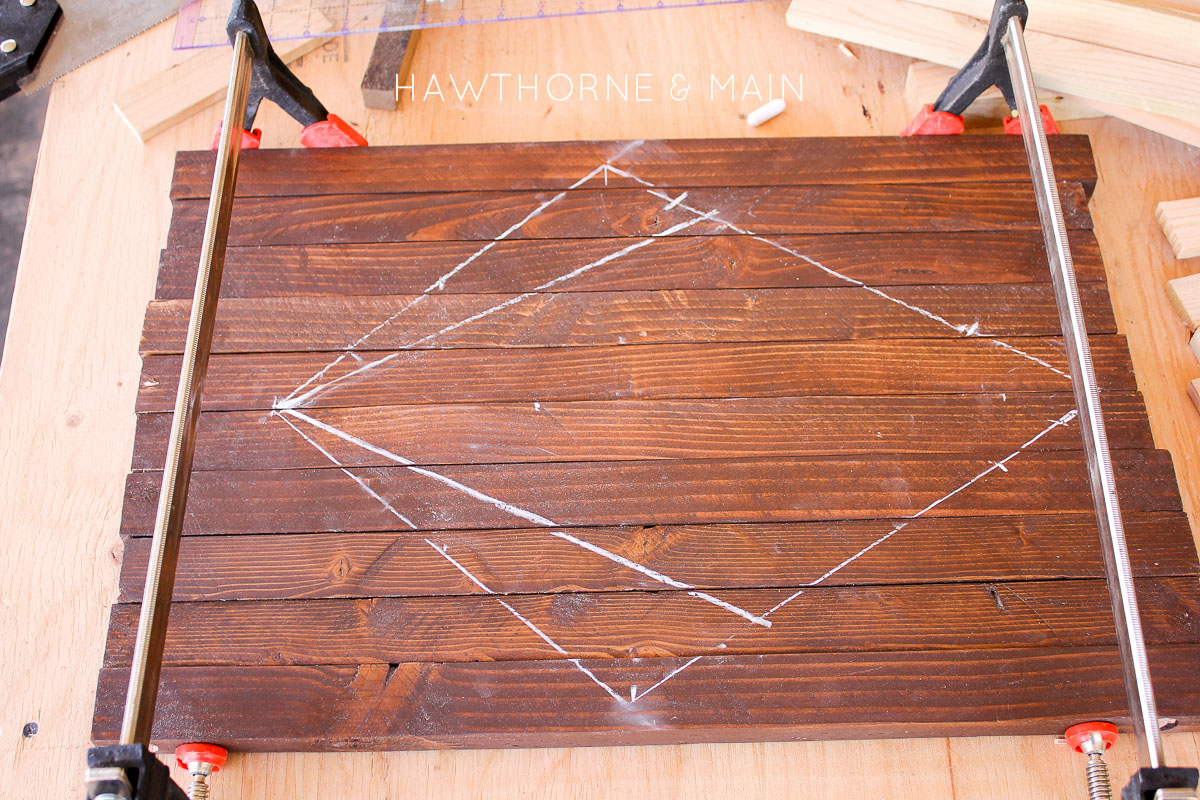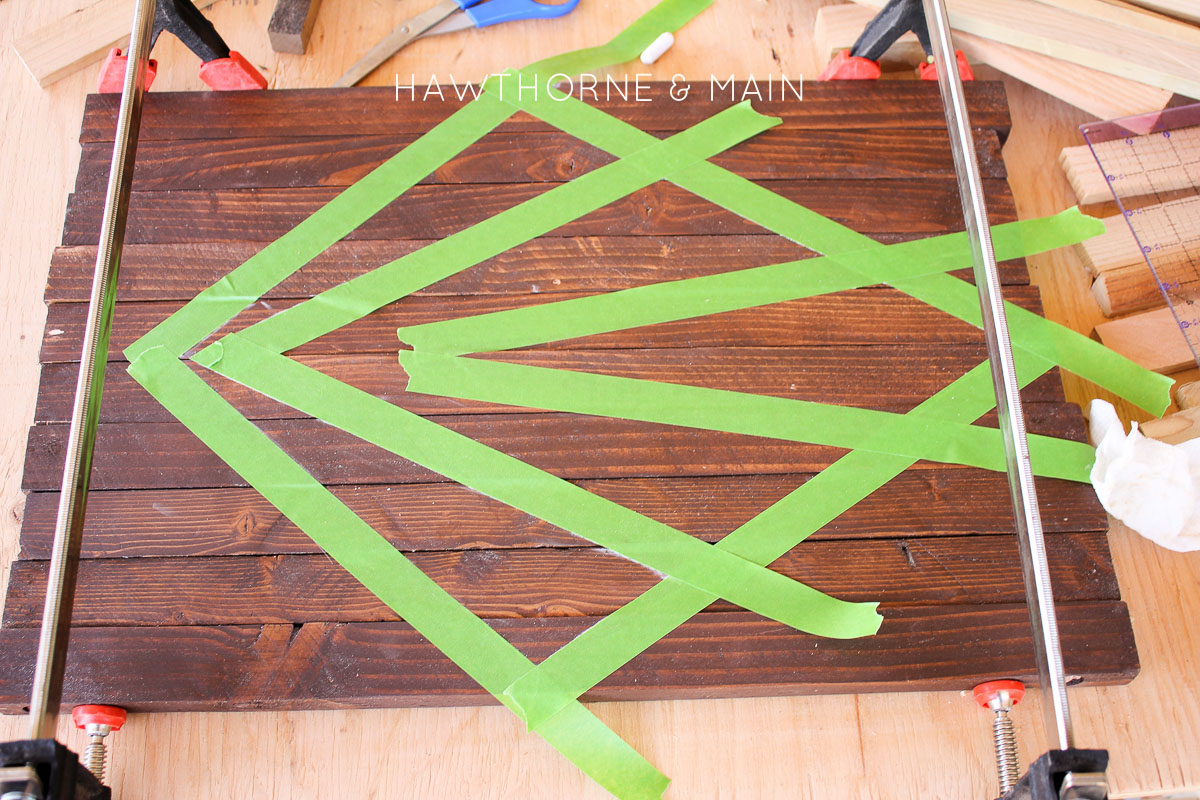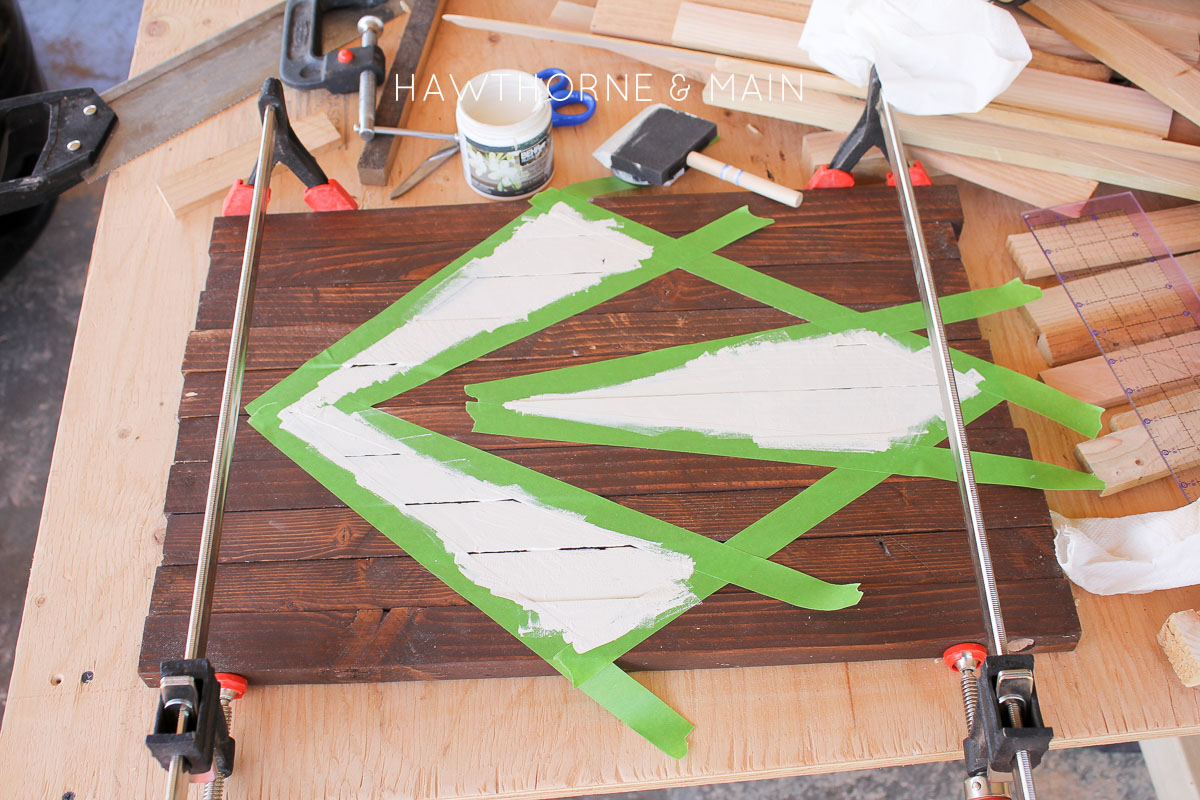 If you are someone who wants more specifics, I went ahead and added a rough sketch of what measurements I used.
*Keep in mind that your wood pieces will probably be slightly different in size so make any necessary adjustments. 
Here is a rough sketch, with pretty close measurements. They may be slightly off. I didn't think to take measurements until the entire thing was put together with the nuts and rope in place…. sorry 🙂
The cool things about this project is that you can get creative!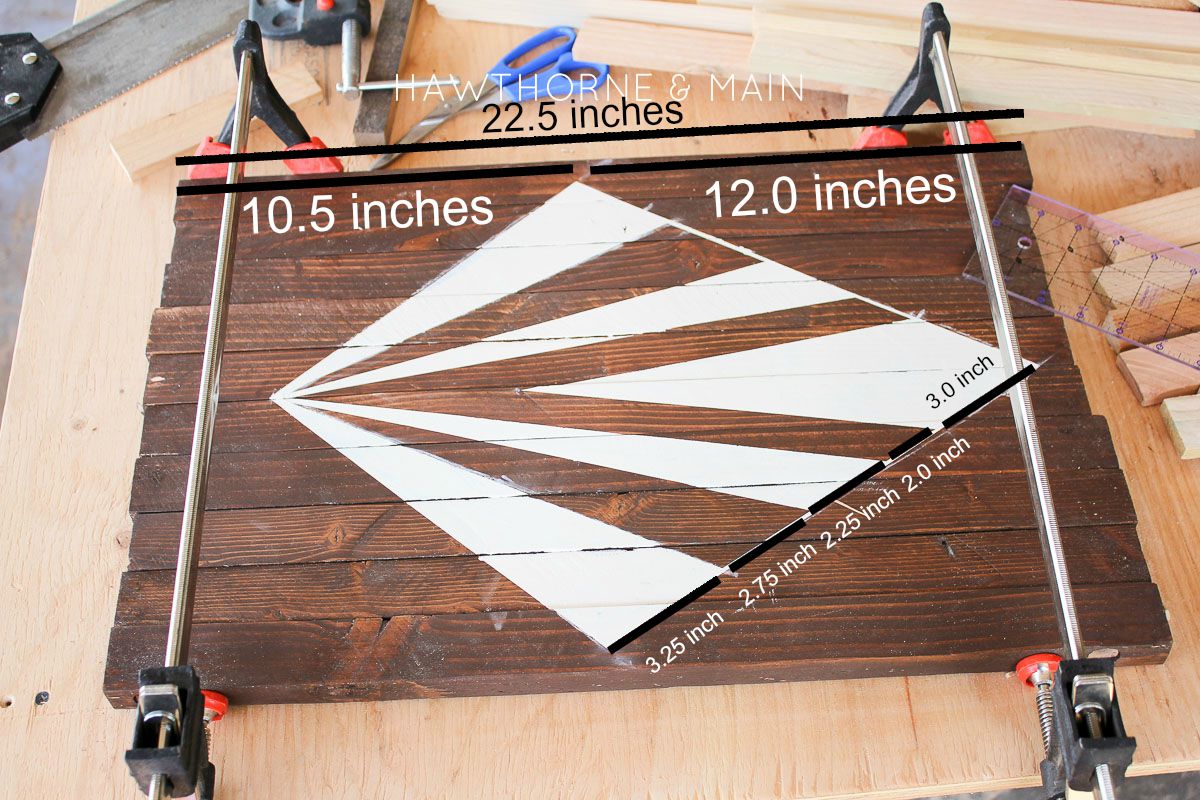 After all the wood pieces have been painted and allowed to dry, string the rope and nuts through the holes, adding a nut between each board.  Tie a knot at each end of the rope.
FINISHED
We have been using this door mat for a few weeks now and I have to honestly say that it has greatly helped the amount of dirt that gets into the house.  I just looked under it and there was a bunch of dirt under it! Yay! It works!
Another win for the dumpster diver….Have you ever picked anything out of a dumpster or from the side of the road? I would love hear about your finds!!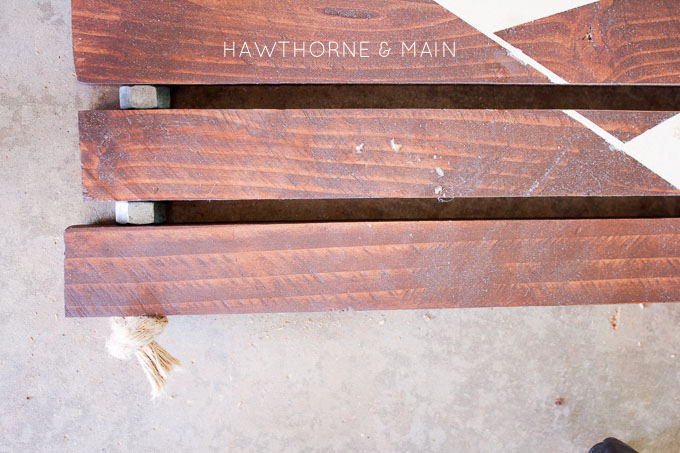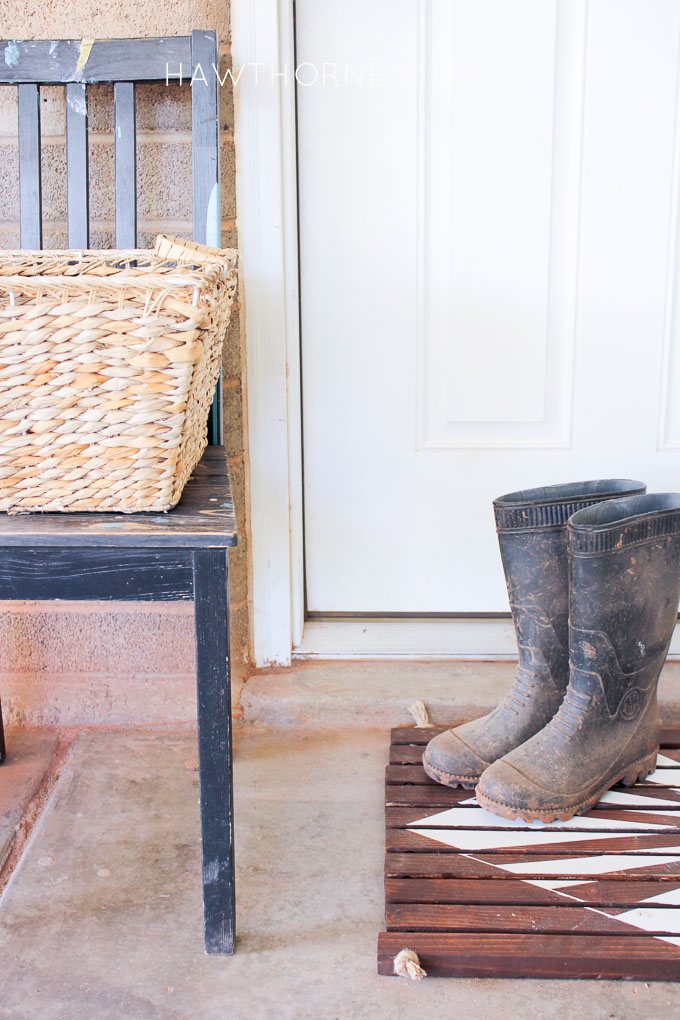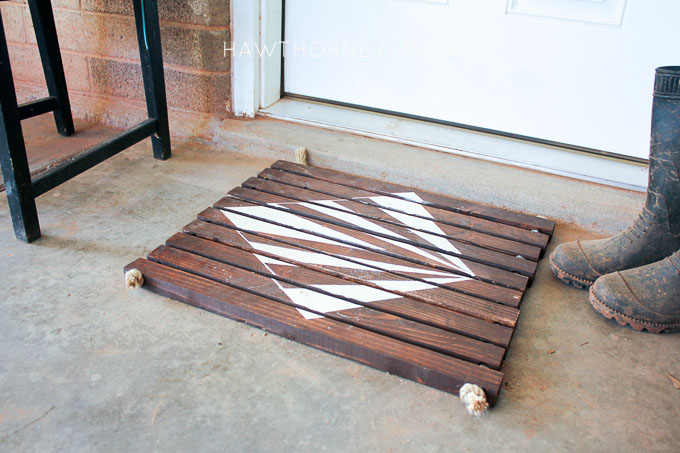 Want more AWESOME ideas...Check these out too!