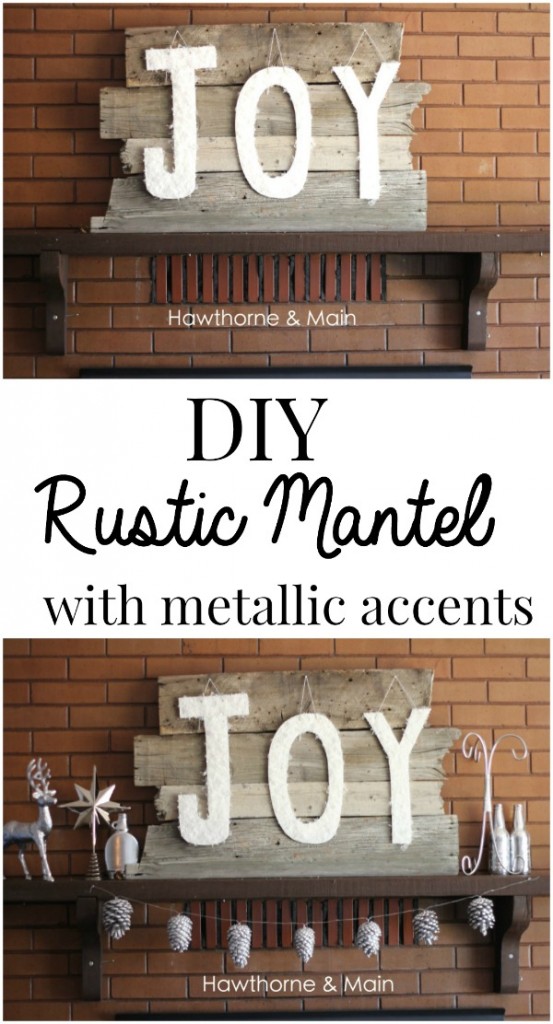 Happy day everyone!!
Did I ever tell you that my house actually has two mantels….. that's right two. Our house has had multiple additions.  I don't even know how many.  I just know that whenever I go up into the attic, which I try not to do very often,  I have to pass through multiple walls which indicates multiple additions.
I did not decorate this mantel for fall this year, the one that I did decorate is more in the center of the house.  It's a natural gas fireplace. 
Right now that is what we use to heat our house, which is a story is for another day.  Luckily where we live we don't have to deal with really really cold weather.
The other fireplace, the one I will show you today, is an old wood burning stove with a loud blower.  This fireplace is at the very end of the house.  We have used it a handful of times.  It's not efficient at all, we need to get something else over there.
I am not a fan of this existing mantle and so that will be changed out in the future.  For now I try to work with it.
Last year was our first Christmas here and I only decorated the white mantle.  But I wasn't blogging yet so there aren't any pictures.  This year however, I decided to decorate both. 
So there will be a few mantel posts coming.
Even if you don't have a mantel…. I have seen people decorate the top of their pianos, dressers, console table or even an entertainment center.  Really, any long flat surface can be decorated like a mantle.
Sit back for a minute and let me show you around my rustic mantle.
 I knew from the beginning that I wanted this mantle to have a simple look.  This room can get kind of visually busy. My command center is in here plus there is the bookshelf.  I am also working on a gallery wall too.Not to mention that brick….
It's just a busy room.
If you have been following along at all previously here at
Hawthorne and Main
  or on
instagram,
I was able to pick up some old barn wood from our family farm.   I have been using it lately for a few projects. Look at that giant pile!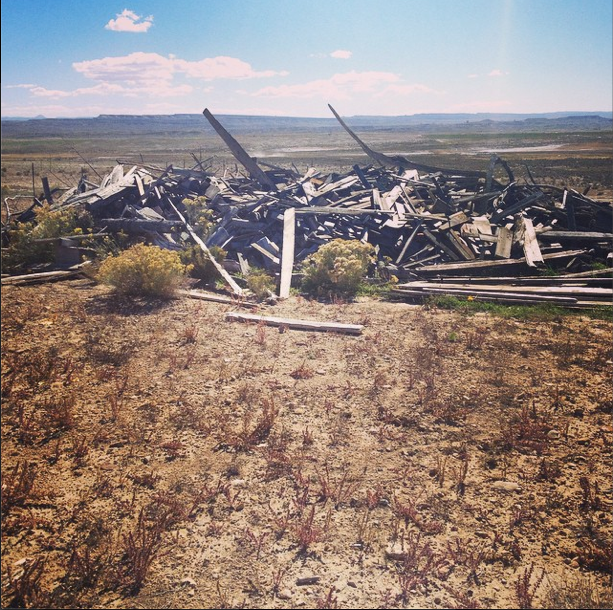 I started out by making a barn wood sign using 4 boards.  I also made these JOY letters
and hung them from nails.  You can find the JOY letters tutorial over
here
. I originally thought that I would leave it like this- very simple.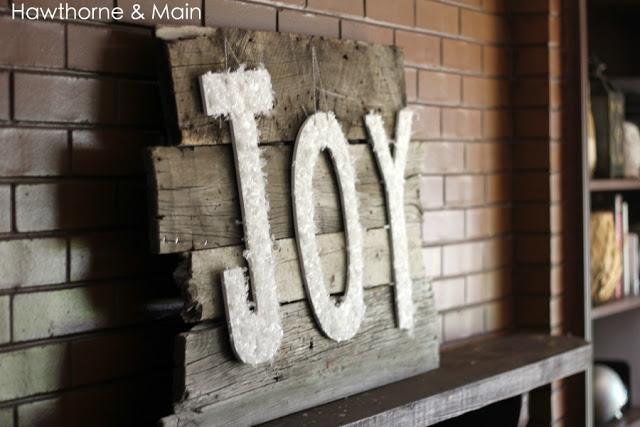 Then I remember I had picked a bunch of pine cones last year that I never used.  One thing led to another.
Before I knew it they were silver and hung like a garland.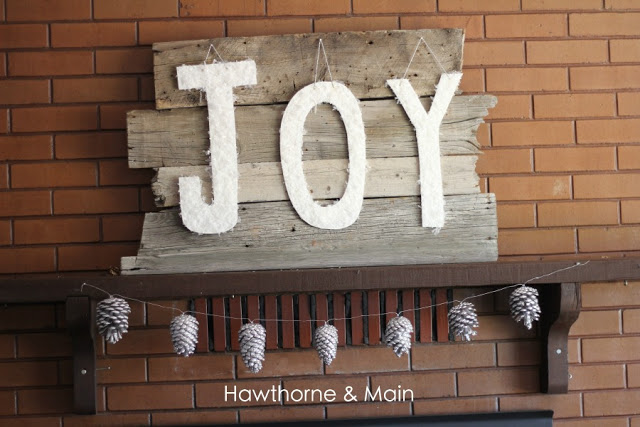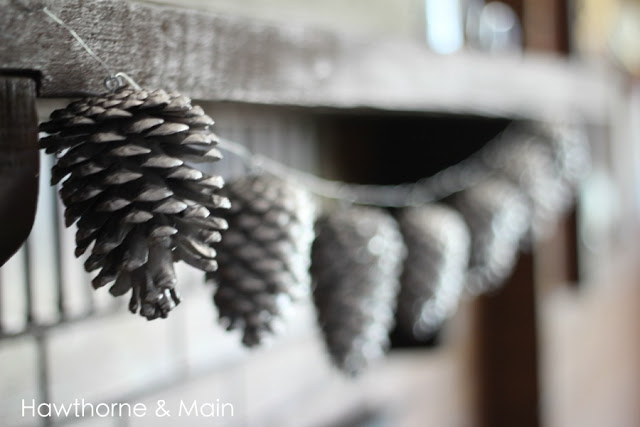 I then decided that I wanted to add a little bit of bling around the joy sign to match the pine cones.  I dug through my Christmas box as well as under my sink to find some accessories. With the help of a can of silver spray paint it all came together!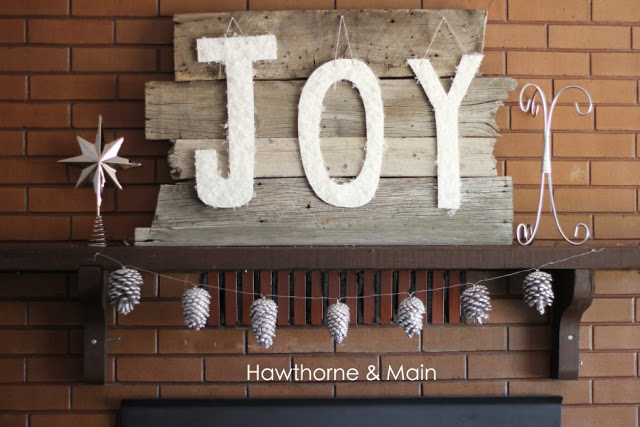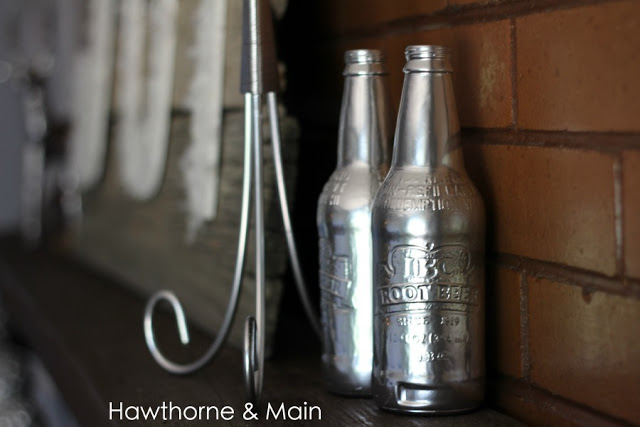 Finished!!
Have you ever decorated with all metallic before, what do you think of my rustic mantel?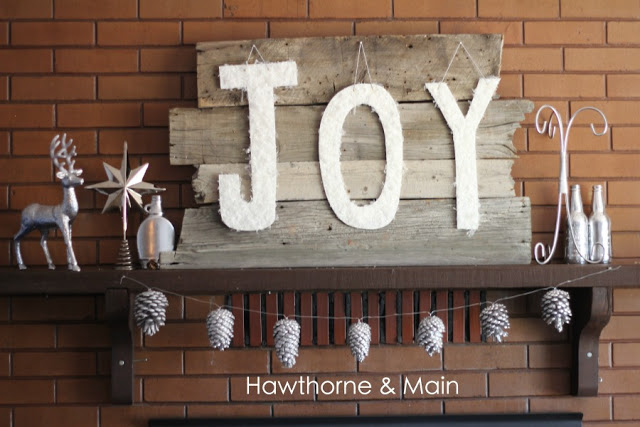 Thanks for stopping by today!
Want more AWESOME ideas...Check these out too!