Continuing on with our Christmas series, I wanted to show you how I decorated my green table this Christmas.  I really think this mini Christmas vignette turned out nice!  To see more about how this green table came to be head over here or here.
I have always loved to decorate with old things.   But I also love to decorate with new things.  Finding my own personal decorating style has been a work in progress.  I think I am becoming more in tune with what I like and don't like.  Plus, I am also trying to find better ways to mix the old with the new.
The old pieces that were used in this vignette are:
the old window- found at the family farm
old books- thrift store
green table
The rest of the items are things I already had on had or that I purchased recently.  I have absolutely loved this green table makeover.  I was so so worried about the green but I have been very pleased with how I have been able to decorate it no matter the season or the holiday.
Part of getting to know my decorating style is realizing that I like color.  I have always known that I like color.  The hard part is adding color to my home without having it look childish or too miss matched.  I will not claim to have gotten it all perfect yet, but I feel that I am heading in the right direction.
One example of adding too much color is when I painted a giant wall in our home turquoise.  I love turquoise.  The problem was, first of all, I should have chosen a different wall to paint that bright of an accent.  Second, I also went with too shiny of a paint.  There were just so many problems with that wall.  I am the type of person that unfortunately has to learn things the hard way…..
Luckily, that turquoise wall is no more!! I will put a post up about that wall soon, then you will understand!!
Let me show you around my little happy green table!
Since I decorated my mantel this year rustic with silver accents I wanted to add a touch of silver to this vignette. I spray painted a root beer bottle silver and added the silver bells.
l love the glittery, snowy feel that comes from this white vase filler. It compliments my snow covered JOY letters.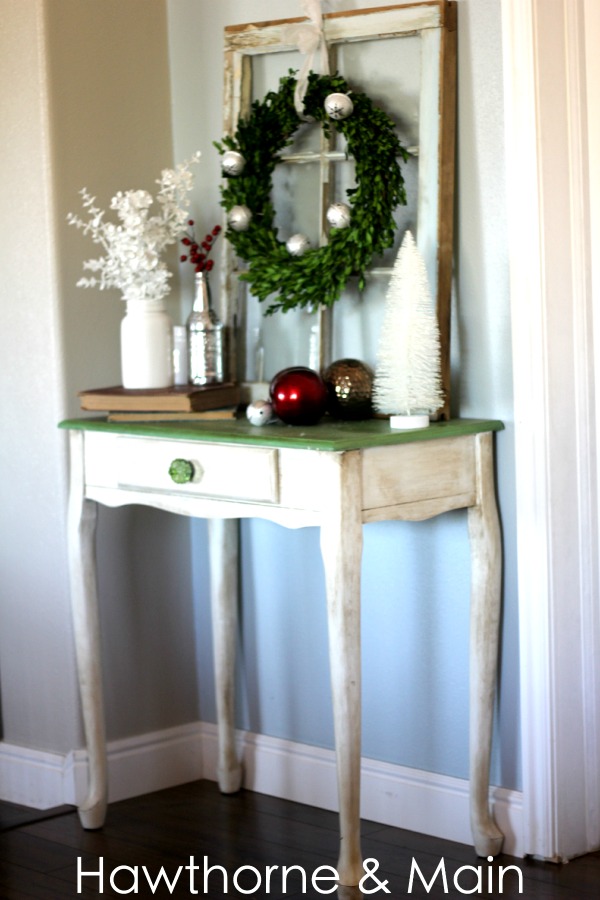 Thanks for stopping by today!
How is your Christmas decorating coming along?
Do you like to decorate with old or new things?