I finally got my mantel ready for this wonderful fall season!!  You may remember when I showed you how I distressed this blue picture frame, and how I made DIY barn wood.
If you haven't seen those yet, you should go check them out!  Well, I really have liked how that whole project turned out.  I decided that I would try to incorporate the barn wood picture frame into my fall decor this year.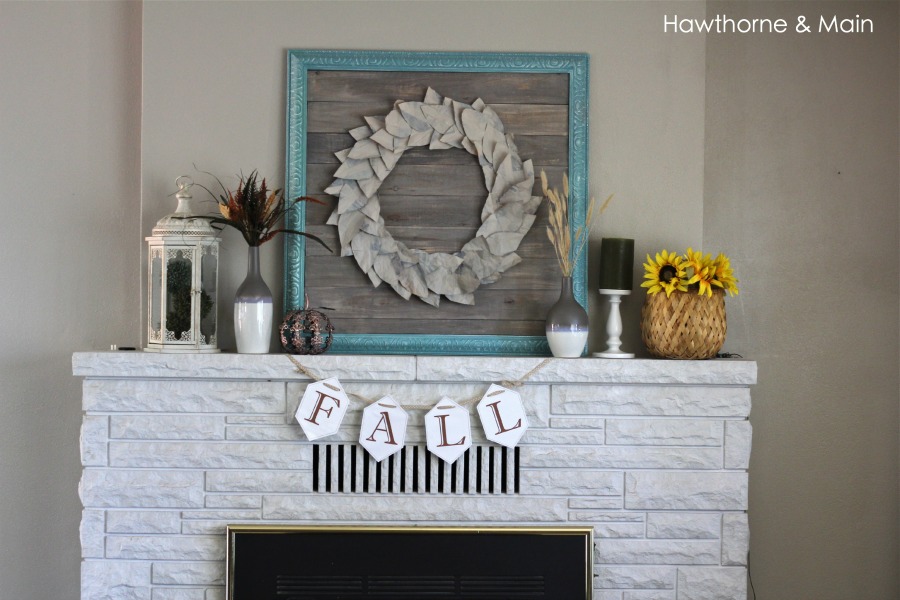 Have I ever told you how much I LOVE the end of season sales.  I talk a little bit about it over here.  You seriously can find some great stuff at such a discounted price!!  Some of it will have to go in a box and used next year but a lot of what I get can be used year-round.
I got both of these grey/white dipped vases from Target for like $3 each!  They were originally around $20.  Even if they had been a color that I didn't want to use I would have still grabbed them up. These would be so easy to repaint or makeover some how. One of the main focal points in the off white/grey wreath.
Can you believe that I made that wreath for FREE?? You gotta go check out the tutorial over here.
This little natural wood basket has made its debut before, like, over here and here.  I found this lovely basket at a thrift store and I just love its shape.
I picked up some fake sunflowers and added them to this basket.  I felt like this mantle was turning out all grey, which isn't necessarily bad but I wanted to add a little bit of color.
Now it has blue from the frame, yellow from the flowers and green from the candle and moss balls.
I am such a sucker for lanterns.  I have to watch myself because I find that whenever I see a cute one I feel the urge to buy it quick!!  I then have a memory come to me that reminds me that I already have about 5 at home that are looking for a place to reside.  I got this lovely lantern from Pier-1 last year and I love it!!
Awhile back I showed you a super simple DIY Centerpiece.  In that center piece I used some moss balls that I got from Joanns.  Since I am no longer using that centerpiece I took those moss balls and added them inside this lantern.  It helps give it a little bit of color!
Aside from loving all lanterns, another thing that I love is metal crafts.  ( I realize most lanterns are made out of metal…..)
If it is a craft or home decor item and it's made out of metal, chances are I will LOVE IT.  I think I got that from my mom, lets just blame her  😉  She also has a love for metal.
This cute little metal pumpkin came from Joann's THIS year.  If you hurry there might be a couple left.  I love that they come in a few differnet sizes.
Last but surly not least, the fall banner is also a DIY FREE printable.  Head over here to grab your own FREE copy!!
Thanks for stopping!! What do you think of my fall mantle? Are you geared up and getting ready to decorate for fall? I would love chat in the comment below!