Have you ever opened a magazine and felt like a light shined down on you.  You say to yourself "YES, yes I can!"
That was the exact feeling I got when I open my Christmas Pottery Barn magazine and saw this mantle.
Ideas were swirling though my head and I just knew that I was going to pull it off…..almost….I won't go into too much detail about my craft fails….lets focus on the positive, shall we!?
To see the giant ornament go here, and to see my traditional mantel go here.  Also check out my plaid christmas home tour.  
Today I am going to show you how I made these wonderful DIY Wood Stars! These are for real easy!
SUPPLIES:
-1 inch board- I used some scrap wood that I already had
-Scroll Saw
-Rust-Oleum Carrington wood stain
-Staple Gun
-Wood Glue
-Drill
TUTORIAL:
To start print out the star image.  Cut out each star point to match the pieces below.
Use one of the pieces of paper as a stencil and trace out a bunch of them.  Use the scroll saw to cut them all out.
Be patient with the saw, especially if you are new to it.  It's not hard but does take a little bit of practice.
After they are all cut out use some sand paper to remove the really rough spots.
Using gloves apply the wood stain.
After the stain has dried take and sand the edges slightly to give them a rustic look.
Now the fun part!
Take the wood glue and glue each star together.  Before the glue hardens add staples to both sides of the stars.  This helps hold them together.
Drill a small hole at the top of one of the points on each star for hanging.
Finished!
If you decide to make these stars let me know!! I would love to see them.  I think these stars would look good year round, not just for the Holidays!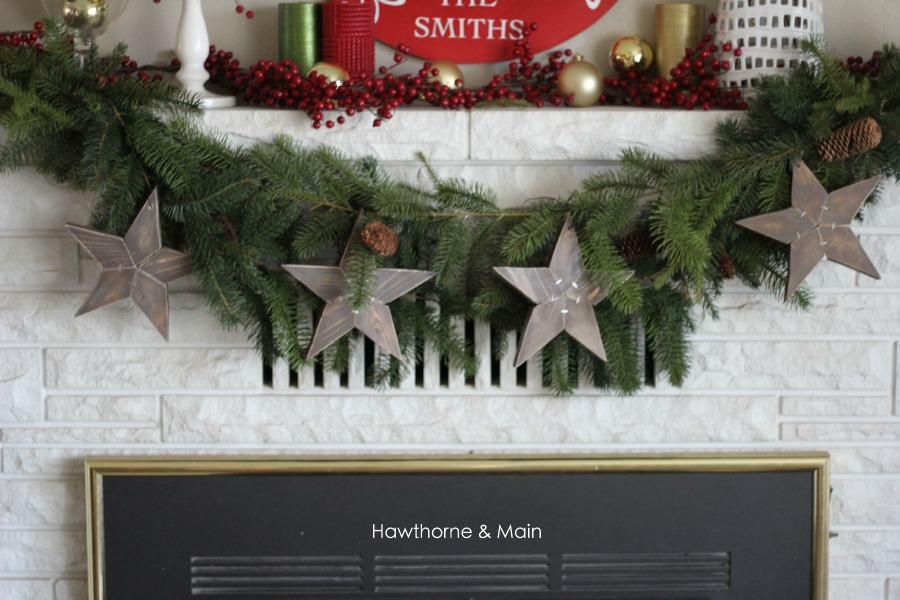 Thank for stopping by today!
To see more projects check out my gallery wall here, or click the image below!