Because of that move, my daughter no longer had a dresser.   I was forced to go looking on craigslist for a dresser that I could make over.  Darn… 🙂
Think 10 coats of paint, or more.  The last coat being a flat thick black color.  With a $40 price tag it was hard to pass it up.
Of course we headed out the door just as the sun was setting.  We were going to a part of town that I had never been to but I was confident that, with Siri, all would be well.
I get to the road where I am supposed to turn, Foresight road, and I am so proud of myself for finding it. We take a right and head up into the hills of homes and windy streets.
I try to navigate on my own but my efforts are futile.
I call the seller on the phone and try to explain my location as best as I can in the dark, not knowing the area or any landmarks.
She asks me if I drove past a golf course.  I tell her yes as well as the name.  She replies "Oh boy,  you are way lost."  Great!
She then puts her husband on the phone and he tries to direct me back. Great!
With his help and sheer luck I don't know how I made it, but I got back on Foresight.  By now we have been in the car for about 1.5 hours.  Come to find out that Foresight road is right off a round about.  I took a right on the round about but was supposed to take a left.
After I took a left I easily found their place..
Have you ever been to a town home complex where there are only about two gates and they are both in the middle of the complex?  This is exactly how it was.
Remember how I told you that I was driving my car and trusty trailer?
Ya, I took a right into the complex and hit a dead end, no exit, on a narrow street.
Here I am in the middle of this complex…baby crying…NO EXIT
I am driving my car and trusty trailer. AWESOME
Backing up skills. NONE
I literally try for 15 minutes to pull forward a few feet and then back a few feet, back and forth, back and forth.  The whole time the trailer is going the wrong direction and I am sure by this time that I have become the Friday night show for the complex.  Remember that scene in Austin Powers? yep!!
Plus, I told the guy "I'll be right there."  With a little less pride, I called him again to let him know I was having some backing issues and that I would be there as soon as I can.
I was so embarrased.
After 15 minutes of sheer panic because I couldn't get the car turned around I remembered that the trailer is very light.  I always drag the trailer up to the the car before hooking it up!
I jump out of the car and unhook the trailer.  Jump back into the car to turn it around.  Then back out to re-attach the trailer.  WOW!!!
Relieved to finally get the car and trailer straightened out, I make it to their house.
They graciously helped me load up the dresser.  I didn't even want to look at them because I am sure my mascara and eyeliner was running down my face from sweating for the past 1.5 hours.  All from the anxiety of being lost, baby crying in the back seat and the backing up incident.
The ride home took 15 minutes.  The entire trip…2 hours.
I did get some awesome knobs out the whole deal.  I actually used three of them for this project!!
Not only do I still not know how to back up the trailer but if you have been following me for any length of time then you might have picked up that I am not an organized person.  I really really want to be….  I am trying to be better….. It is so hard….
I seriously have issues.  I try hard to be organized but my life gets crazy and my priorities for keeping a neat house are the first to go out the window.  As I have said before, if everything had a place to go it would be easier to put stuff back.  Here I am again tying to get a small but significate part of my life organized, my jewelry!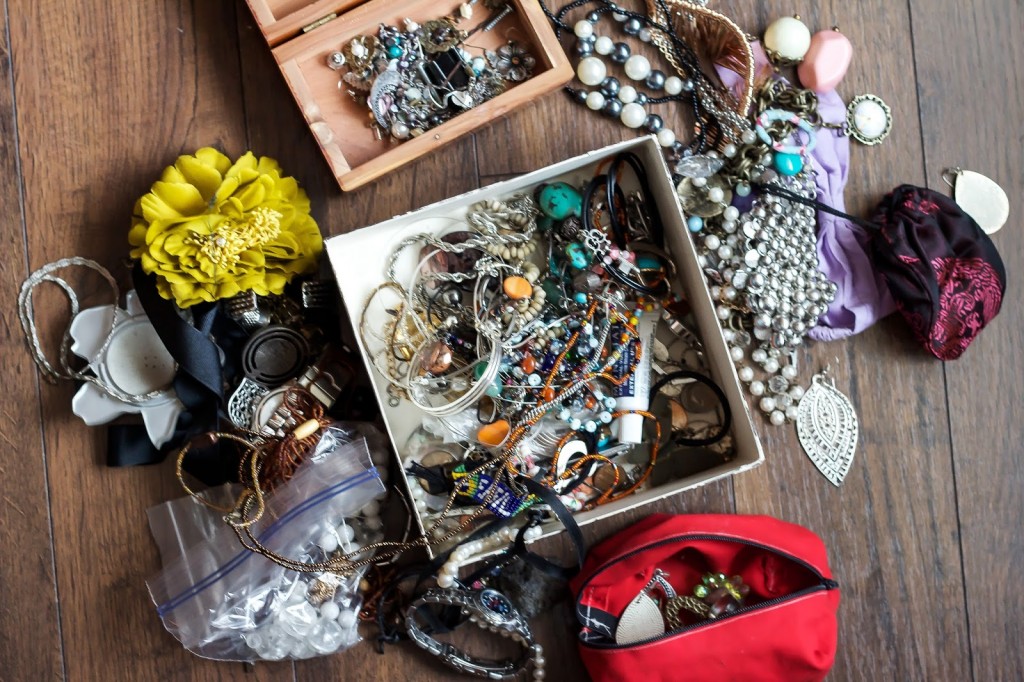 Supplies:
-1 Piece of barn wood- it doesn't necessarily need to be barn wood
-1 large package of screw in hooks
-3 knobs
-peg board tray
I dug through my pile of wood and found this awesome looking piece.  I love this one because it was already the right size. The wood was worn nicely and rustic on both sides, perfect.  I removed all of the nails using my hammer.  I have to laugh every time I remove nails for this old wood.   I seriouslywonder  what they were building that required the use of so many nails so close together.
After the paint dried I added the hooks.  This old wood is pretty soft.  I was able to easily screw in all of the hooks with out pre drilling.  This made screwing all of these many many screws nice!!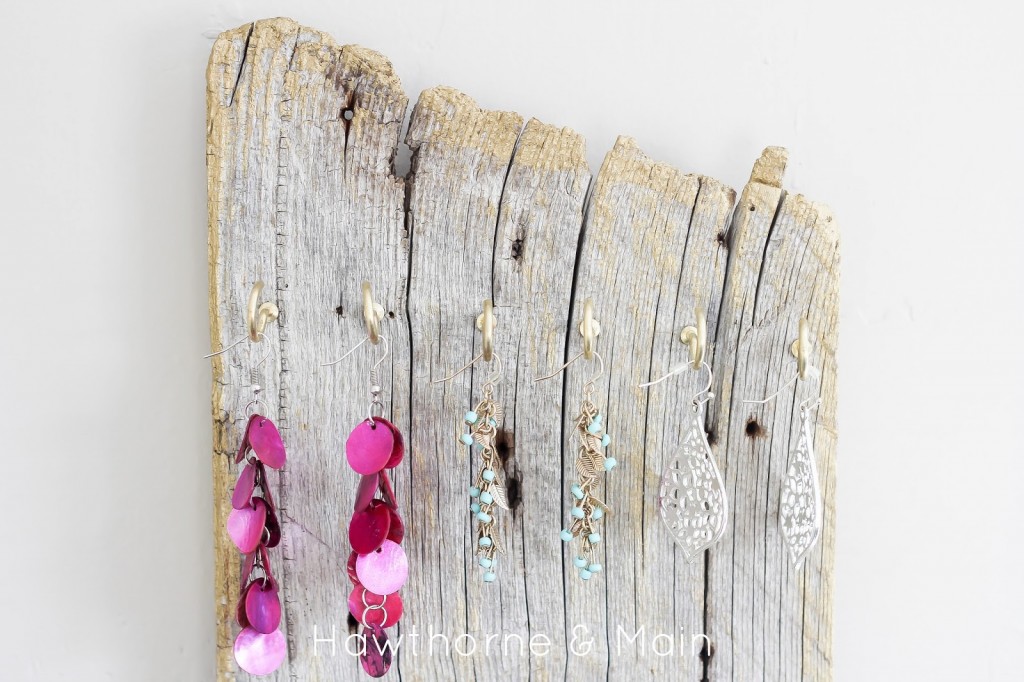 Here are the infamous knobs that I referred to earlier.  Its a good thing that I really like them.  The trip might not have been worth it otherwise!
I pre dilled a hole and attached the knobs.
Don't tell my hubby but I sort of borrowed one of his peg board storage cups from the shop.  I spray painted it bronze and screwed it to the board.  This little cup was not in my original plane.  I am so glad that I added it.  It is perfect for rings, and other odds and ends!
I love love love how this turned out!! Pretty huh!! Would you make one of these for yourself!? I would love to chat in the comments section on Instagram and Facebook!