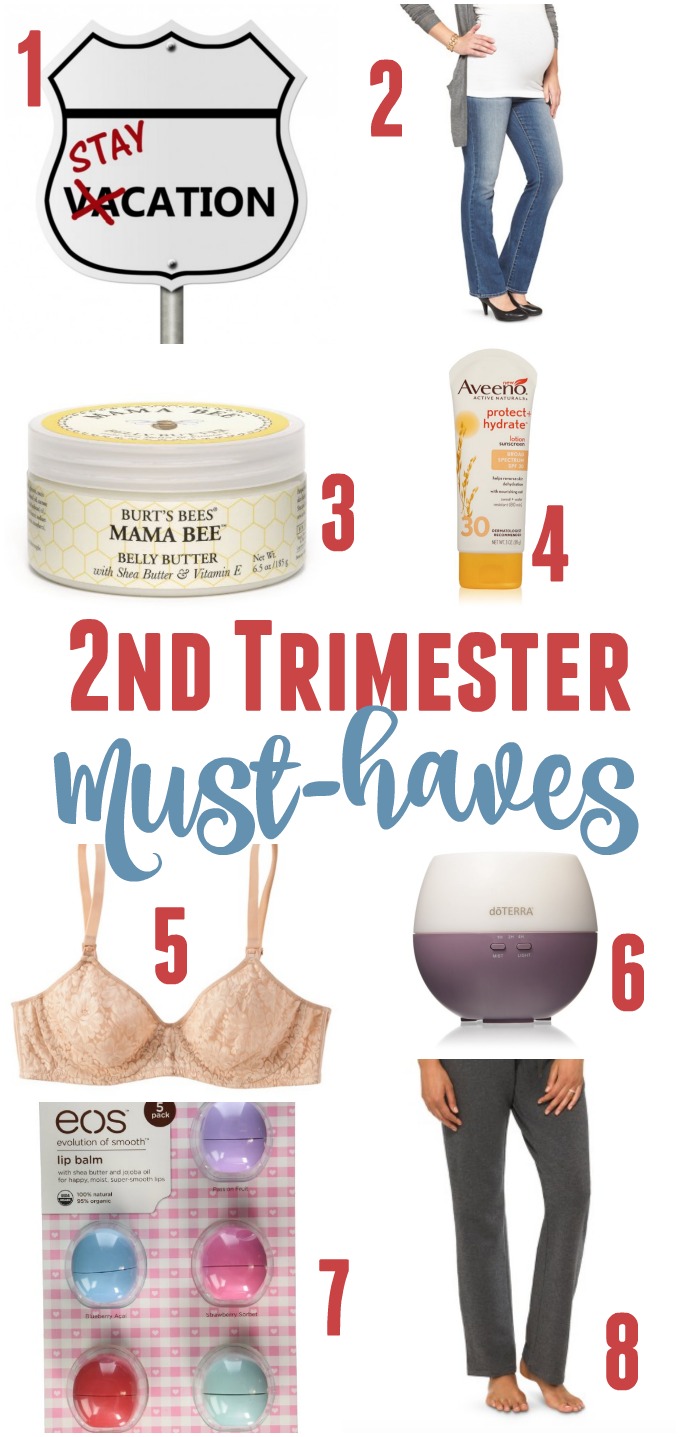 I had my big ultra sound this week….  The one where they check to make sure that the baby is developing properly.
It was nerve wracking the first time I had that ultra sound and it was just as scary the second time.  I will love this baby no matter what, but, having a healthy growing baby does put my mommy heart at ease a little. Luckily the ultra sound went normal and everything looks great!!
The time is flying by! I cannot believe that I will soon be venturing into my third trimester….yikes. I have so much cleaning, organizing, planning and a bunch of other nesting things that I am sure will come up one over the next 4 months…
I wanted to share with you some of my go to products that I have been using the past few months.  Here are my second trimester must-haves.
1- Staycation
When our first was born, I was so excited to finally be having a baby that I was not interested in going on any trips.  I was soooo ready to be a mom…..This time around I am nervous about having the offense and defense equal and so a little break full of relaxation is in order.
Some might say that going on a mini vacation before baby comes should happen in the last trimester. For me, I want to go and enjoy myself before I am a whale and I have to be rolled around.  We plan on visiting a large city that is within 2 hours of our home, staying a few nights enjoying the city. It doesn't have to be elaborate or expansive. Although both would be fun!  Just keep it fun.
2- Good Jeans
A good pair of jeans has literally been my life saver.  I would recommend trying on a few different styles.  A style of jeans that you love before pregnancy might not be the best fit during pregnancy.  We all know that a pregnant woman's body changes…..  Personally I go with a boot cut fit.  I don't like super tight clothes when I am already bulging at the seams, but I do know a bunch of girls who look super cute in skinnies when they are pregnant.  It just goes to show that you gotta try them on!
3- Burt's Bees Momma Bee Belly Butter
I will count my blessings.  I did not get one stretch mark with my first baby.  Some say that it is genetics, some say its about good moisturizer.  I have no idea why some women do and some don't.  I did use this belly butter every day.  I have started to use it again as my belly is starting to really show now.
We all know how harmful the sun is. I wish that I would have listened to my mother when I was younger when she warned me of skin damage that was sure to show its face later in life…..alas, I have not worn sun screen like I should.  I feel like a pregnant woman's skin is beautiful and glowing. It's true. This is a good time to start getting into the habit of applies a daily sunscreen moisturizer.
5- bra
Have a good bra is key to having your girls not hurt. The first few months of pregnancy they are always super sensitive and kind of hurt.  I found this really great bra that is supportive and comfortable.
6- oil diffuser
I have been using oils for a few years now and cannot tell you how much I love them.  I am a recent convert to oil diffusers, however.  I have to say that if you are a fan of oils and you have not yet tired the diffuser, it is a must.  It helps to make your home feel and smell fresh but it also can give you the benefits of using the oil just by breathing in the air.  I love it.
7- Eos
Even though I try to get enough water, it seems I am always lacking.  This chapstick is by far my favorite. It comes in the best flavors and feels so silky smooth on my lips.  A definite must-have if you have chapped lips.
This one is probably my favorite. I just picked up these pants the other day and pretty have been living in them ever since.  The cooler weather has me wanting to curl up and sleep for 2 months.  These pants are the bomb, super cozy!
I am super excited to meet this little girl! I cannot believe that we will  be having another rambunctious dark haired girl running around the house soon.  It almost doesn't feel real.  If you know any pregnant ladies be sure to give them this list. Have a great week~
Want more AWESOME ideas...Check these out too!