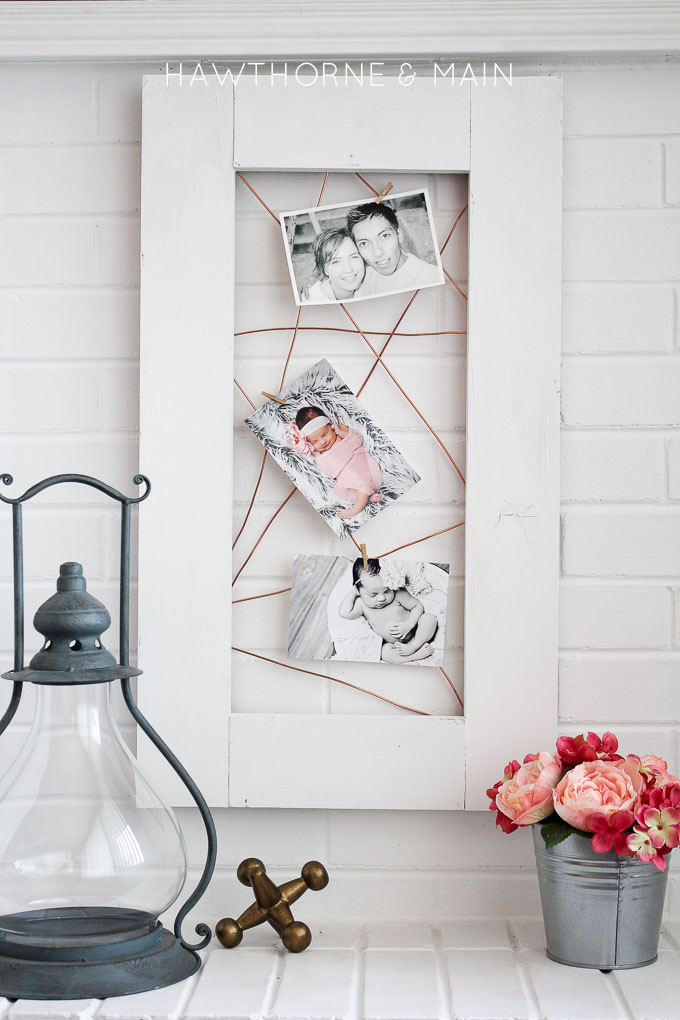 When was the last time you printed a picture?
What I mean is…
When was the last time you went to your local photo shop or even online store and actually got a picture printed?
I am notorious for always having a phone full of pictures.  For example, a couple of months ago I had my daughter in this self survival swim class, which was amazing by the way.  She was progressing and swimming so well.
I thought to myself, I need to get this on camera.  I need to document the amazing feat that she is performing.
I whipped out my phone and started to record.  About 10 seconds into the recording my phone pop up with this message, storage full, recording stopped.
Oh, great!
I remember the last time I got pictures printed.  It was mothers day. I got a card printed at Walgreens with a picture of Miss A on it for her Grandma.
I will just say it…..I can take a lot of pictures, but I cannot for the life of me ever remember to get them printed and displayed.
I aim to change that, who's with me?
With the age of the internet it is fairly easy to get pictures printed now days.
I have made a pact with myself to get more pictures printed and displayed.
If you are anything like me, and I hope you are,  then I also hope you will make this commitment too! And, when you do decide to finally get those pictures printed here is a simple copper wire photo display that will make showing off your recent pics easy.
SUPPLIES:
– Wood frame
– Copper wire 12-15 ft  (depending on frame size)
– Staple Gun
– Paint
– Pictures
– Cloths pins
A few months ago I had a pretty good craft fail, actually it was a build fail…. it was sad…
…….it took a while but I eventually got over it.
I had made this frame for that project, after the disaster it sat outside and got dirty and old looking.  I came across it the other day and decided to give it a new life!  After a good wash and some sanding it was back and ready for action!
BEOFRE PICS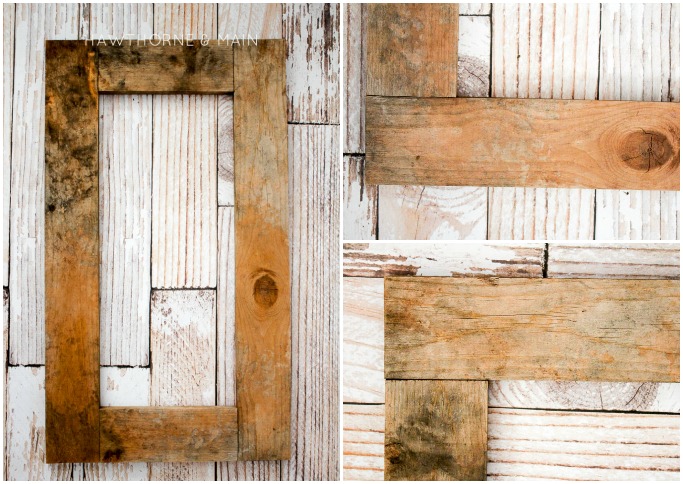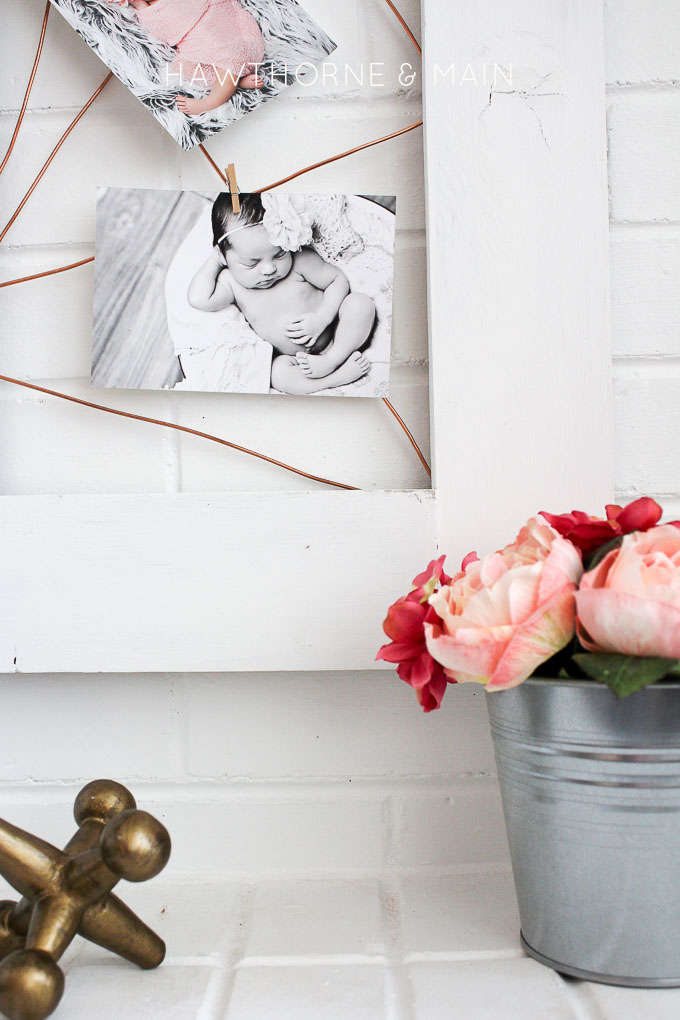 TO START:
Find a wood frame that is sturdy enough to withstand adding multiple staples into it.  I originally had this really cool frame that I got from a thrift store.  As I started to add the staples the frame started to fall apart.  Find a strong frame.
Draw on a piece of scratch paper a rough sketch of how you want the wire to look in the frame.  It doesn't need to be perfect and you can always change your mind. Just draw a couple of different ideas on how you want the wire to look.
Starting in the top hand corner staple down one of the ends of the wire. Take the wire and staple it to the other side of the frame.  Continue going back and fourth until all of the wire is gone or you are happy with how it looks.
Try to pull the wire taut before you add each staple.  This way the wire won't be sagging in your frame!
Be sure to leave enough wire at the end to staple it down to the frame.
Add your favorite type of picture hanging hardware and you are all set!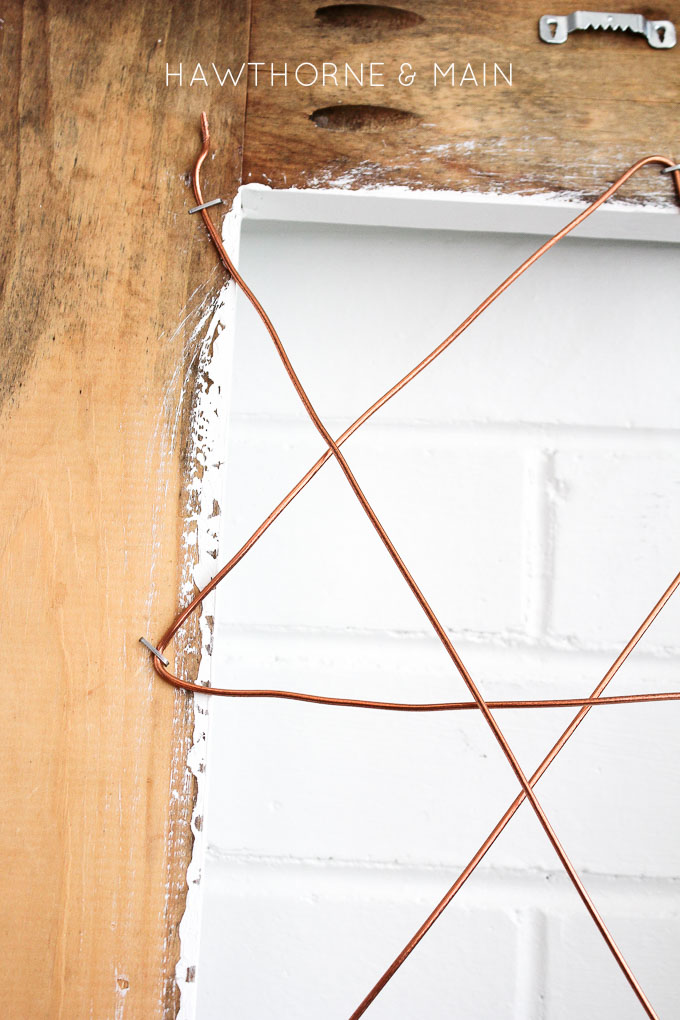 I love the contrast of the bright white against the copper wire! Copper is such a great metal to work with and I am seriously loving this project!!   Grab your paper clips and hang up your pictures.  This would also a great place to display holiday cards.  You could even decorate it for a special occasion or holiday!!
So, I hope you will join me in my quest to take all those pictures that we all take on our phones, cameras and tablets and actually get them printed, so we can enjoy seeing them.
P.S.
In case you are curious about the pictures in the image below. The top picture is of me and Mr. Main.  I used to sport really short hair. This picture was taken in 2004, a long long time ago.  We were still dating at the time. Can you believe that this picture was one of the very last pictures we took with our "real film" camera! Its amazing to me that any of our pictures turned out good back then!
The bottom two pictures are of Miss A when she was one week old.  Love her!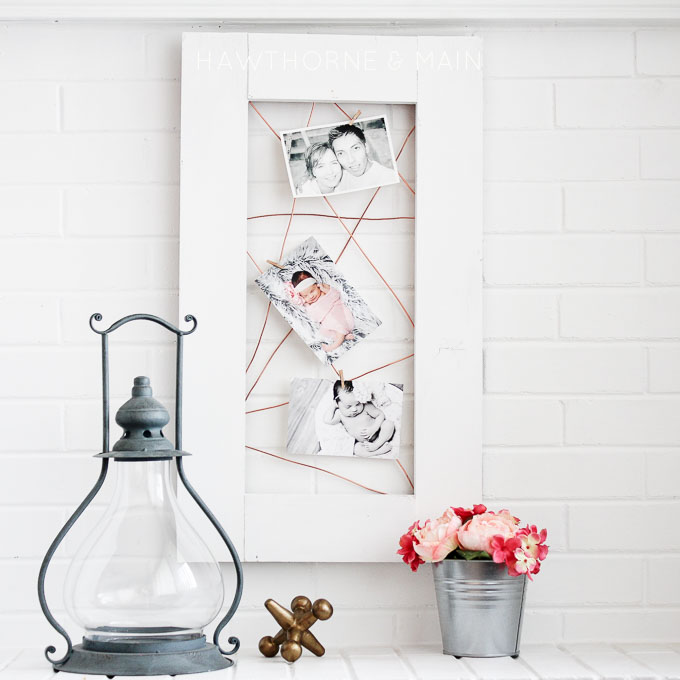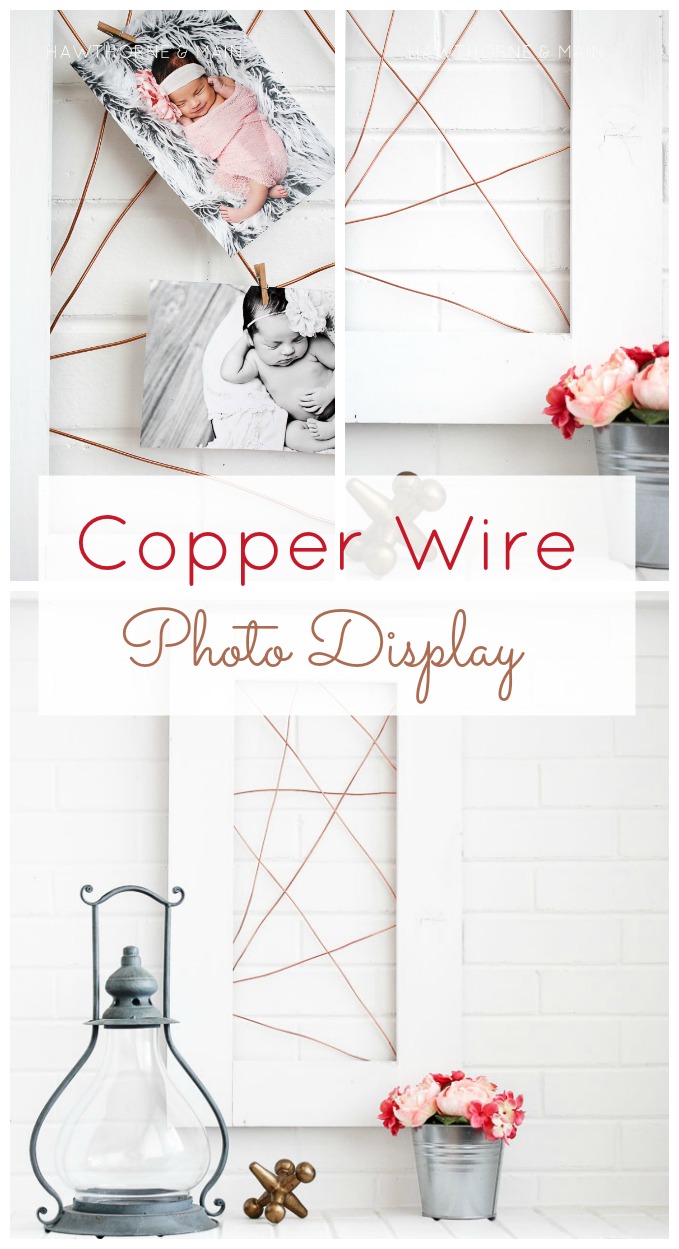 Want more AWESOME ideas...Check these out too!