*A huge thank you to Wayfair for sponsoring this post! My favorable
opinion of entertaining must have's is 100% my own. For more information, see
my disclosures
here
.*Hey everyone!!
Today I am continuing on with all things Christmas!!   I have been a busy bee working over here trying to get my house all ready for guests!  My main area of focus, as usual, is cleaning…… 🙂
I really really need to be more organized!!  Anybody have any tips for me…..?
Do you like hosting Christmas or entertaining guests?  I agree that it can be somewhat stressful. Personally I love to have people over to my house.  It makes me happy to have a house full of people. Especially during the holidays!
When I thought about what goes into being a good hostess and  having a fun holiday, three things came to mind: atmosphere, food, and company.  If you have a warm welcoming atmosphere with good food then I am sure your company will have a great time enjoying themselves.
Let me ask you a question…..
Have you ever been traveling and you arrive at your destination, maybe it's late at night, only to realize that
you forgot your toothbrush, toothpaste, contact lens solution or makeup
remover??
I know I have….
Today I am going to share with you something new that I have started this year at my house whenever guests come to stay.  This can be used for the holidays or any time of year whenever you have guests.
A couple of months ago I  made this really fun cart on wheels.  At first I was unsure as to where I would use it in my home.  It has been moved a few different times as I try to find the best place for it.
Fast forward to last month,  we found out that everyone would be coming to our house for Christmas…… for some reason I knew right then what I wanted to use this cart for.
This little cart is now affectionately known at our house as the "guest cart."  My goal was to add things to it that would help people feel more comfortable in our home.  Everyone has different needs so feel free to put stuff on your cart that you think your guests would most likely benefit from.
This cart has 3 shelves but you certainly could make this work with one, two or three shelves.
Lets start on the bottom shelf.
I grabbed these towels a couple of weeks ago and I love them.   Let me think, we have been married for about 10 years and we have never bought nice towels, ever.  It was definitely time, and these towels are fabulous!!  The bottom shelf has one towel for each guest that will be staying as well as a hand towel.
On the middle shelf I have a treat box.
It seems that everyone has different meal times and snack times.  During the holidays it seems we eat all day long.  But… if you have guests over at other times of the year it would be very nice to have.
Although I try to make my guests feel welcome to dig around in my cupboards and pantry to find something to much on if needed, I wanted to add something right on the cart that was quick and easy.
This little box was originally white with blue flowers.  I gave it a quick makeover with some bronze spray paint and voila!  In this box I added: crackers, chips, cookies, juice and of course some chocolates!!
Now for the top shelf.
This shelf has the water, mints, and gum visible immediately.   It seems for me, whenever we are traveling my biggest complaint is a dry
mouth and chapped lips. I don't know why, maybe its because when I
travel I get so caught up in traveling that I forget to drink water.  I want our guest to stay hydrated!!
Next to the water I have a big glass jar.  I filled the jar with anything and everything one might forget when traveling.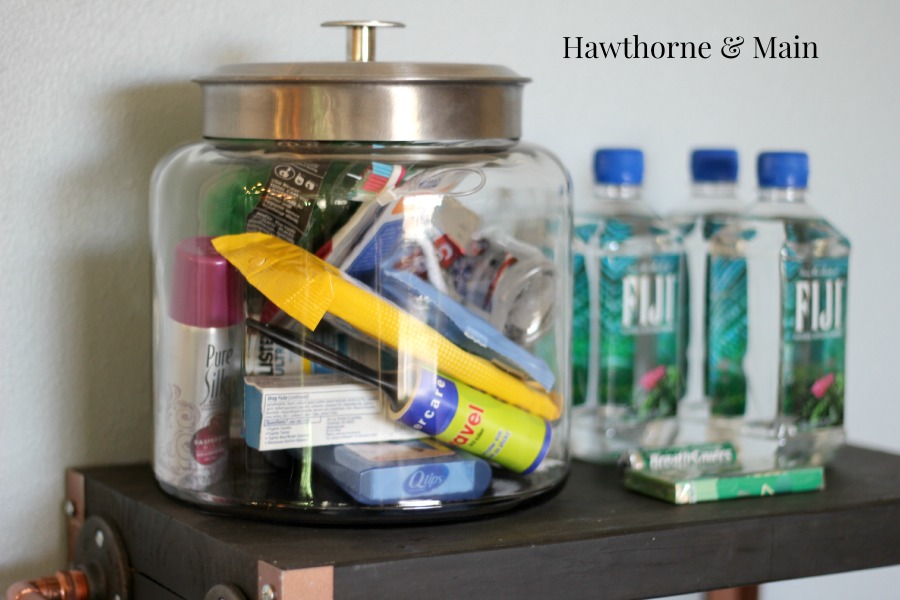 Glass Jar Items:
toothbrush
toothpaste
hairspray
comb
contact lens solution
contact lens case
lotion
shampoo
conditioner
mouth wash
chapstick
loofah
razor
q-tips
lint roller
Tylenol
deodorant
hand sanitizer
band-aids
What other items would you add to this jar??
Below is a link to the exact jar that I used for my guest cart.  I really love this jar.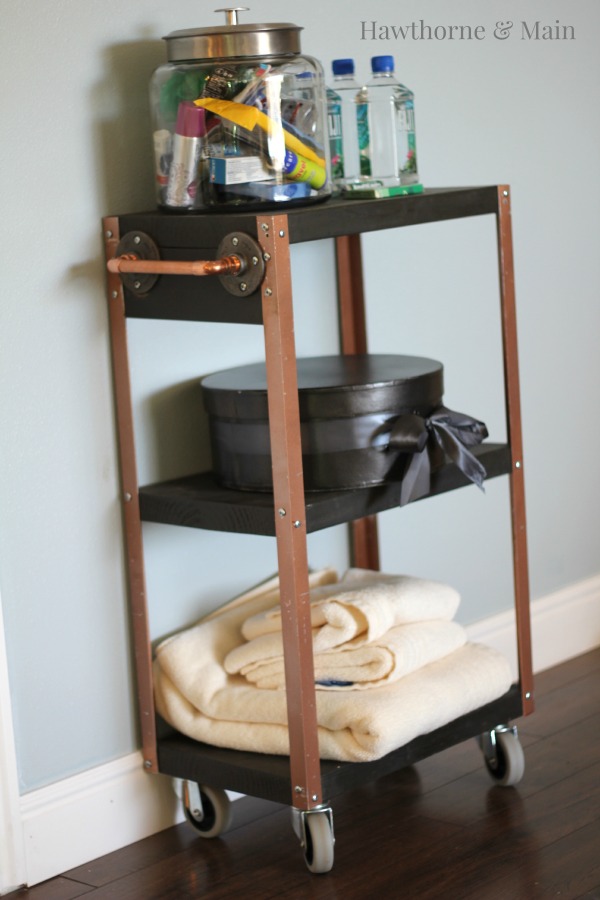 *** As I mentioned earlier, I did make this cart. After finishing it, I added up the cost and it actually was around the same cost as buying one already made…..  Sometimes a DIY project is cheaper and sometimes it's not.
I found some really great looking guest carts that I think are worth looking into if you are interested in making one of these for your guests!  There are so many more options over at wayfair.com.  Head over there to check out all of their carts!
PLUS,
Wayfair has been so awesome and they are offering a giveaway for $500!! Now you can have a happy little guest cart at your home to help your guests feel more comfortable!! Scroll down to the bottom to enter!!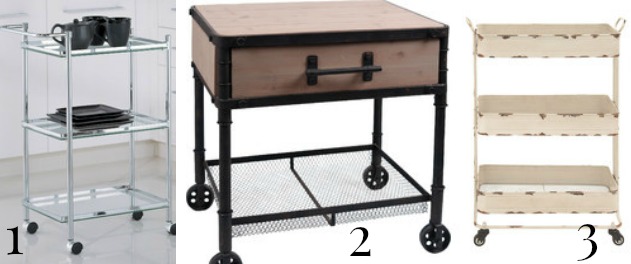 Serving Cart #1
Serving Cart #2
Serving Cart #3
Thanks for stopping in today!!
Are you going to be hosting any parties this holiday season?
What other items would go great in the guest jar?
I would LOVE to chat about it in the comments section below…
Want more AWESOME ideas...Check these out too!