Be sure to follow us on Pinterest and Instagram to never miss a thing!!
We have lived in our house for just over two years…..
I have said time and time again that I thought that we would be further along in our remodeling process. but alas, everything takes so much longer than you think…..especially when you live in it and try to remodel at the same time…
I think back when we did our kitchen remodel….we were not living here and it got done so fast…. Maybe we just need to move out for a couple months…haha jk
None of the bedrooms have really been touched yet….other than getting a fresh coat of paint and carpet.
I still have Miss A's newborn pics up on the wall in her room…
I was looking at them the other day, smiling, remembering how small she was. She came out through c-section with her head all cone shaped….. She was the best baby ever….. I think I was blessed because it took us so long to get her here. You can read our infertility journey to get more info about that!
It was at that moment that I decided I was going to makeover her room….
This is pretty much how I decide on my next projects….I am right in the middle of about 5 other things, I drop everything and jump in.
I have been scouring Pinterest to see what style, decor, and overall feeling I wanted to have in her room. I will share with you guys the before pictures soon. For now I want to show you some of the rooms that I have come across that I think will help me figure out what to do in her room!!
I love love love the black wall. Her room is particularly bright. Even though this house was built in the 1950's they must have loved windows because this house has the biggest brightest windows. I love it!! I also really like the overall colors in this room!!
How fun and bright is this room? I think the think that drew me to this rooms the amazing kids table, so pretty, and they book shelf. I would love to be able to display her books in a decorative functional way!
What I love about his room is the mixture of prints. The pillows on the bed are all different prints and they look so good together. I hope to add a few different textures and prints to her big girl room!
If you thought the black wall was a good idea, how about a chalk board wall. Chalk boards are so popular right now. What a great way to help with kids creativity!! I also love that pillow, and the rocking chair!!
This room is so fun! It is very bright from all of the windows. Again I love the mixture of prints, they all seems to go together so well!!
Check out that ceiling!! I love a good accent wall, but what about adding some design to the ceiling!! I am also loving the wood treatment to the wall!
I am still not sure what type of bed I will be getting for Miss A. She is still currently in her crib and doesn't seem to be minding it. I do like the design of this set of bunkbeds.

I never thought about adding a big mirror into a kids room. This is a nice way to make a room feel bigger and add more light.
Love this accent wall. It is simple yet interesting. All of the colors in this space blend so well together. The walls are simple. The color comes from the fixture and all of the rooms contents. Just lovely!

If you don't want to use wall paper on the walls maybe think about adding fabric. This little closet is amazing. I actually love the rest of the bedroom too!!
I love the floating book shelves in this room. And I really like all of the bright wicker furniture… Again the mixture of prints and patterns brings this room all together!

Love that rug……nuff said….and the chair…
These floating shelves are awesome!! I love the natural wood color with all of the colorful accents!! And since I love the decorate with green that dresser is pretty cool too!!!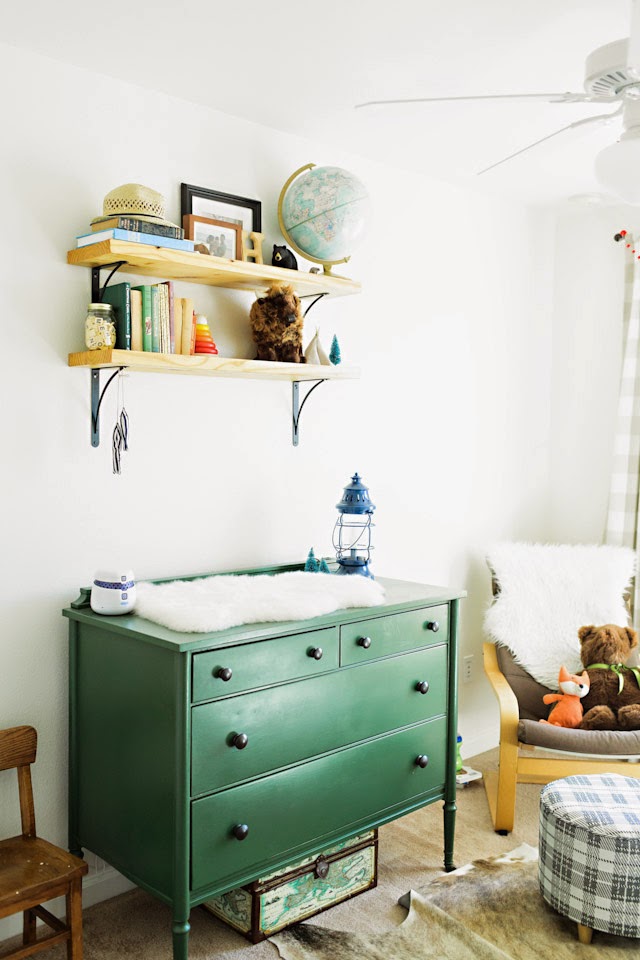 Besides this amazing floor I am drooling over that armoire….I love to mix old and new and room is pulling my heart strings!!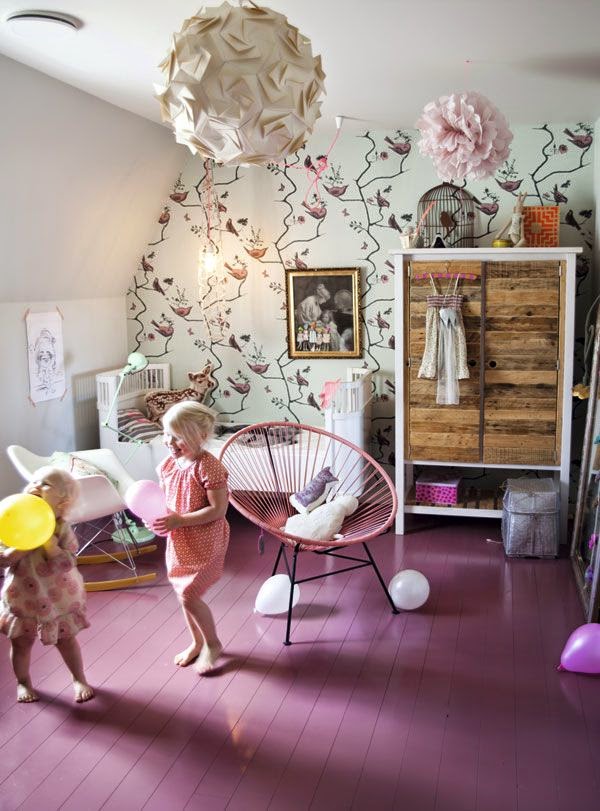 Here is another fun accent wall!! I love the triangles and even that awesome triangle hanging piece in the corner… Plus I love that rug!!

Pretty and pink!! What I love about this room is that it is feminine but it doesn't scream girly…. Girly is cool. I sort of like rooms that have a feminine touch but not overboard pink. Plus did you spot those super fab cloud hanger!!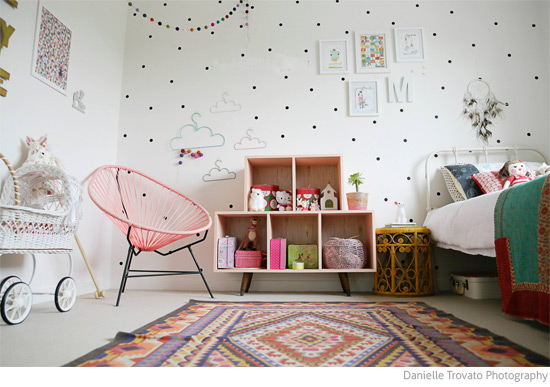 Well there you have it!! A fun roundup of amazing eclectic big girl rooms. Which one was your favorite. Be sure to stay in touch as we work our way through our big girl room makeover!!
#mc_embed_signup{background:#fff; clear:left; font:14px Helvetica,Arial,sans-serif; }
/* Add your own MailChimp form style overrides in your site stylesheet or in this style block.
We recommend moving this block and the preceding CSS link to the HEAD of your HTML file. */