Earlier this week I shared our big project with you… I am still a little nervous to be taking on such a big project by ourselves.  We have had some help along the way, for things that we felt were clearly out of our expertise….but, once the foundation was poured the the framing done we have been hacking away at it bit by bit…
…….well into the wee hours of the night.  I think that once this thing is done I will sleep for a week straight….haha
A huge thank you to Wayfair for sponsoring this post! My favorable opinion of  all things that help me decorate The Suite Pecan to make it look oh so fabulous are my own.  For more information, see my disclosures here.*
Today I wanted to give you a quick peek at some of the design elements that I want to have for the main living space of The Suite Pecan.  The front of the suite will be the kitchen and living room so I want to keep it simple yet functional.
I am going to be going with very bright and light colors for the whole suite.  Like I have said before, it is small, I am hoping the lighter tones will help make it feel more open and less….small.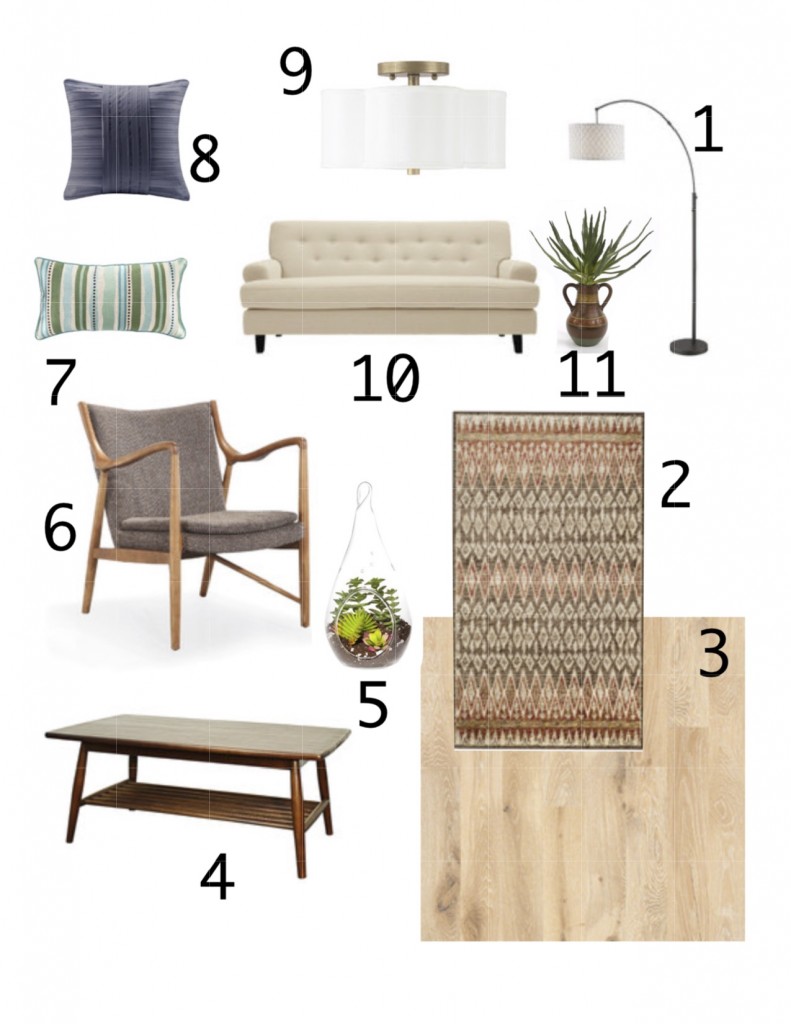 Here are a few wants and why I choose these specific elements for The Suite Pecan.
1- Floor Lamp–
Love this lamp because you can push it into the corner but still have it reach out into the space for added light.  Good lighting makes all the difference!
2- Area Rug–
This rug is just pretty. I am really loving the tribal trend right now.  Having a rug will help to define the living space from the kitchen area, even though they are pretty much the same space.
3- White Oak Flooring–
How do you guys feel about light colored floors? Going along with the light color scheme, I think these floors will help aid in making the space feel open and bright.
4- Coffee Table–
Loving the clean lines and simple mid-century design of this piece.  I don't want anything too bulky in here.  I also chose this piece because it has a shelf on the bottom. This will be perfect spot to add a few baskets to gain more storage.
5- Hanging Plant–
What better way to save space than to have hanging plants.  This way no floor space is taken up but you are still able to have some living plants.
6- Arm Chair–
Love this chair.  It's not too bulky.  I want the furniture to be able to be moved easily. This way if more space is needed for a get together the furniture will be easy to move.
9- Semi Flush Mount Light– I love that this light is not flush. I think it will give a little bit more dimension to the space.  Plus, I love the simple design of it.
10- Hathaway Sofa–
For this space a simple, non bulky sofa is necessary.  This sofa looks so comfy and it's pretty.
11- Floor Plant –
Another easy way to bring life into the space.

Want more AWESOME ideas...Check these out too!