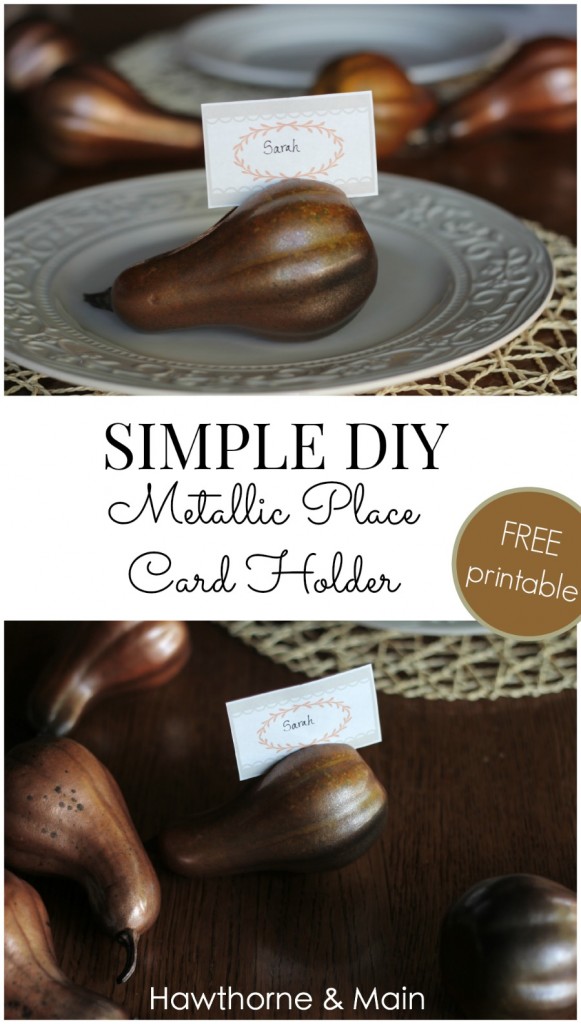 I am so excited to be apart of this super fun Thanksgiving Blog Hop!! There are some really great projects as well as recipes to help make your planning and preparation for Thanksgiving run a little smoother.
I personally think that adding a simple DIY place card, with holder, gives the table a fun touch.
People like to see their name written out and I think it can make the day a little bit more personal and special.
Today I am going to share with you how to make this these super simple DIY metallic place card holders. These literally could be used for any occasion which is another reason why I love them!!
Plus I have included a FREE printable for the place cards too!

the Hawthorne and Main blog uses affiliate links, to learn more check out our policies page
 I decided to settle on trying to use some sort of fake fruit.  I really wanted to use pears but I looked high and low in my town and could not find ANY! I ended up using these squash and I love the end result.
Here is the before picture, a pretty common squash.  I got this at Walmart in their fall section by all of the fall wreaths and pumpkins.
 It has a Styrofoam core with some sort of plastic on the outside!
SUPPLIES:
Hammered Copper spray paint or this
would work too
Oil Rubbed Bronze spray paint
latex gloves
utility knife
fake fruit that is made out of Styrofoam
Place cards-see below for FREE printable
I started out by putting on my gloves.  I have made the mistake of not using gloves in the past when using spray paint.  I ended up with painted hands for a few days!
This is how I sprayed on the color.
I held onto the squash stem and lightly sprayed the entire squash except the stem with the copper color.  I sprayed it just enough so that most of the yellow was gone.  Once that was dry I sprayed the stems with the oil rubbed bronze and I also added a few speckles of the bronze to the squash to sort of give it a metal look.  I also lightly dusted the entire squash with the bronze paint.
Really, I just played around with the colors until I got it right.
Some ended up more copper colored and some ended up more bronze.  I like they they all have a similar look with a few variations.
Once they were all dry I laid them out on the table.  I looked to see how they would lay naturally on their sides. Once they were in their natural place I used my utility knife to cut a slit in the side of the squash. This way I could add my place card into the slit.
That's it!!
 Now I know that things are starting to get a little bit hectic with the holiday season fast approaching but I hope you will give these a try.
In case you can't get around to making these fabulous holders I have also included a FREE printable for a foldable version of this exact same place card below.  You can even print them both out if you would like!  Scroll down to the bottom to grab your FREE copy!
Have you ever used place card holders before? What do you think about them?
I would love to chat on Instagram,  Facebook  or in the comments section below!
Now it's time to head over and check out all of the other awesome stuff my blog friends have come up with! Follow the links below to be directed to each one!!
Home Made by Carmona / Elizabeth Joan Designs / Hawthorne and Main /
Dwelling in Happiness / For My Love Of / Bumble Bree Blog / Melanie Gets Married / Not a Trophy Wife /Anderson and Grant / Latte Everyday / Renovar Design
Here are some other DIY projects that you might want to check out!