I love all things rustic modern….that warm wood with modern touches just makes my heart skip.  Sometimes it can be hard to have a vision and put it all together into a cohesive space that feels right….I have been there so so many times.
I still feel like my style is being honed and refined….which actually is a good thing. I am a person that is constantly growing and changing.  My house is an extension of me so it's always changing and growing too….well, not really growing but you get my point.
Here are few rustic modern decor ideas that I rounder up.  Which piece would you love to have in our home?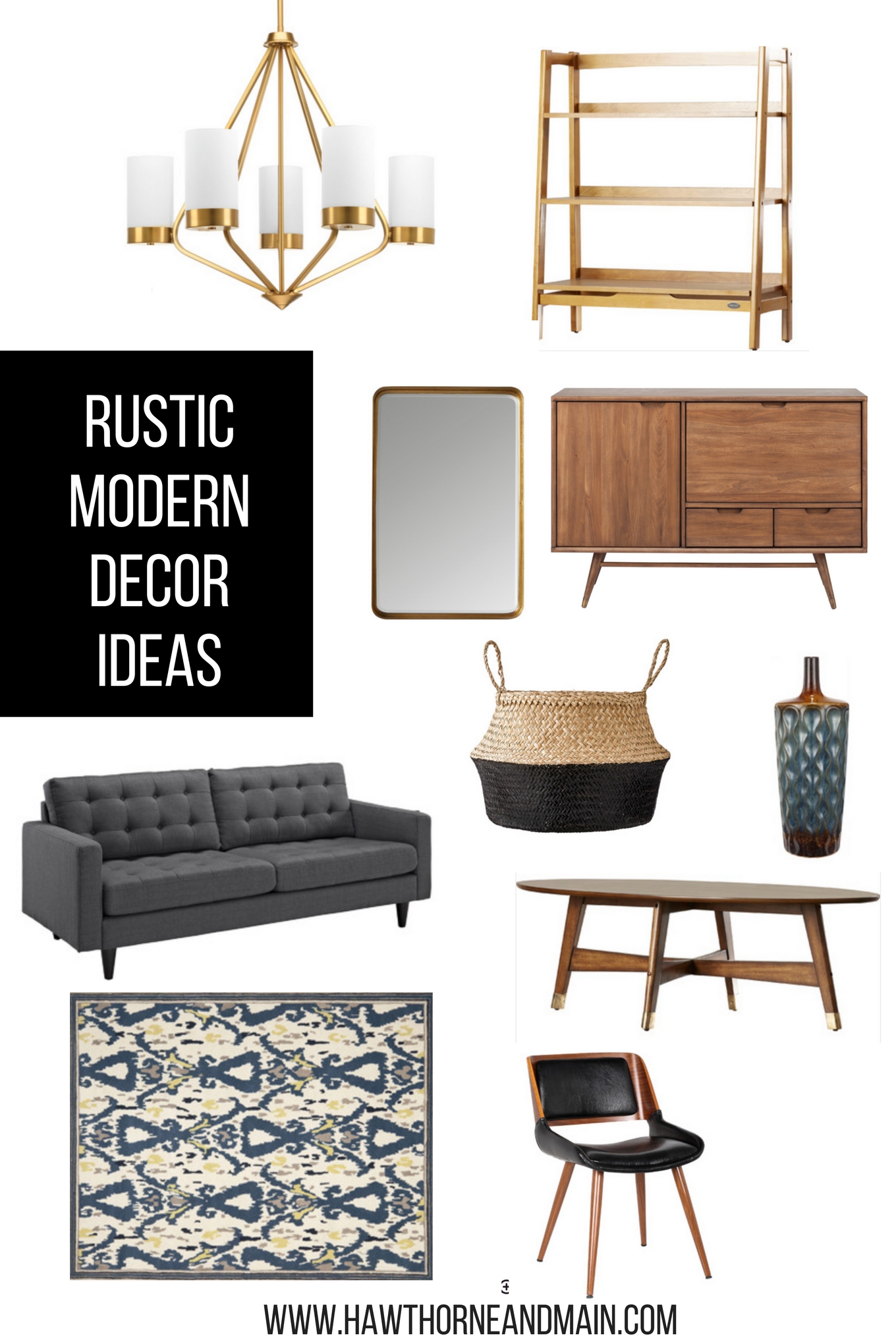 Rustic Modern Decor:
Terrain Steer Skull Busts
I love the authentic feel of this steer head. They seem to be so popular and on trend right now.

Ranchero Coffee Table
This coffee table is trendy but will still stand the test of time. The sturdy design makes it a great option.

Ivan TV Stand
A sleek design with well thought out storage. This piece is sure to please.

Auriga Hand-Loomed Mariner Area Rug
The warm inviting blue in this rug is a great addition to any space. I love the watercolor effect in the design.

Elevate 5 Light Shaded Chandelier
This piece is sure to be the show stopper of any space. The brass and white mix so well together. This piece is sure to please.

Empress Sofa
This piece comes in so many colors it's hard to pick one! This classic design is sure to go with any space.

Rosarito End Table
Loving the brass accents on the feet. A perfect little side table for any space.

Easmor 70″ Etagere Bookcase
Beautiful way to storage and show off your books…did you see that drawer too? A bookcase with a drawer, love it!

Seagrass Basket with Handles
Keep those clutter items out of sight. Whether it's toy, or books or blankets, this basket will keep any space organized.

Antique Gold Rectangle Mirror
You can never go wrong with a good mirror. They add light and make a space feel bigger and brighter. Loving this shape.

Ceramic Vase
The texture and color of this vase are perfect. So welcoming and great for any space.

Basil Side Chair
Great chair if space or design is a priority. The minimal design is a nice touch.
Want more AWESOME ideas...Check these out too!