It's reveal day….I am scared and excited and a little sick to my stomach all rolled into one.  It's the same kind of feeling that I got when I was a kid… the morning before a field trip…ya.  I have worked really hard for the past 6 weeks to transform our outdated laundry room into a space where I can actually enjoy doing laundry….well, maybe 🙂 I cannot believe that today is the day to show it to you.
If you want to take a quick walk down memory lane…and who doesn't…you can see all the before pictures over here.
I tried to narrow down the images…when I finished editing all the GOOD ones, I counted them up and there were 44…YIKES!  I tried and tried to narrow them down, but I just love them all.
The barn door was one of the first things that we added to the space. I still love it.  The only thing that has me a little hesitant is that it does not provide as much sound protection as a regular door…I guess that is why we have a bathroom fan…..hahah.
SERIES LINKS:
week 1- before pictures and inspiration board.
week 2- everything you need to know about LVT flooring
week 3- How to Decide: DIY barn door hardware or purchase hardware
week 4- How to install and undermount sink
week 5- Black and blush geometric accent wall
week 6- Reveal ( you are here)
Laundry room Source list—-all the sources.
If you didn't notice the barn door right away, thats ok….it's probably because you are looking at the amazing floors.  Love the new floors.  These were a breeze to install and I think my new favorite flooring is this click together LVT planks…see the full tutorial here.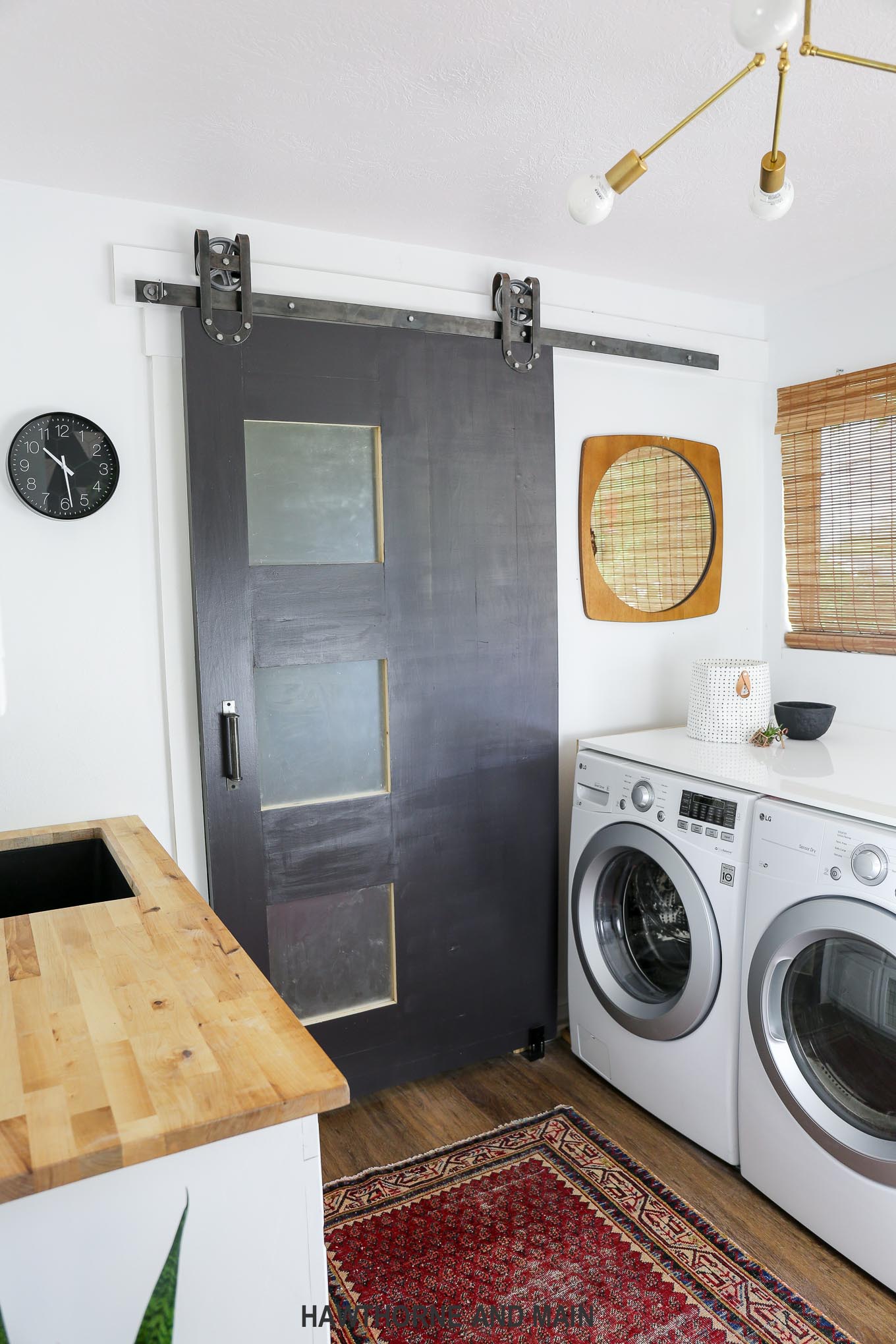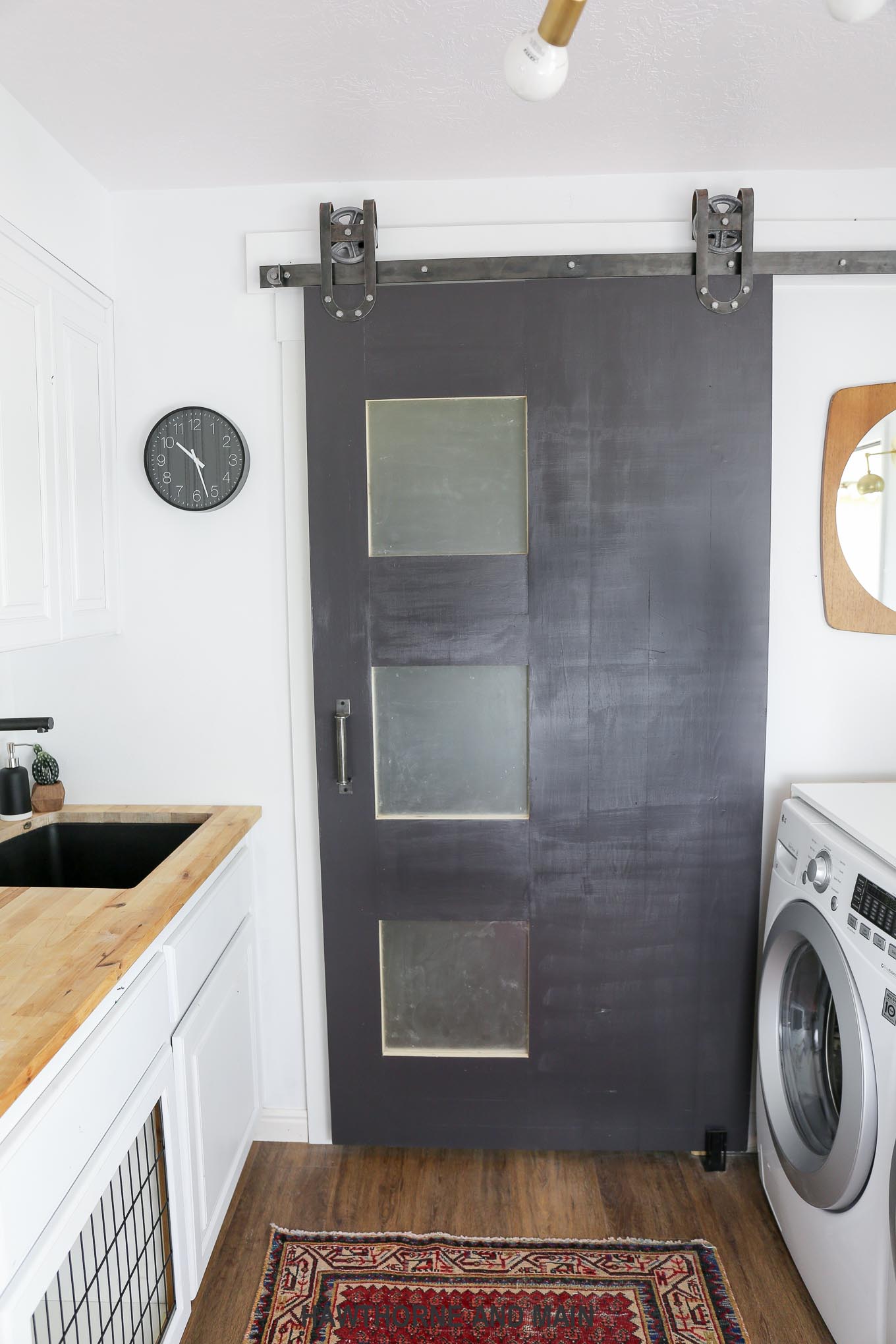 The laundry room sink and faucet are also one of my favorite things. ( I sort of love it all) We converted the left of the cabinet into a crate for Mazie…I guess we will save it for our next dog. I could not bring myself to cover it up with a regular door.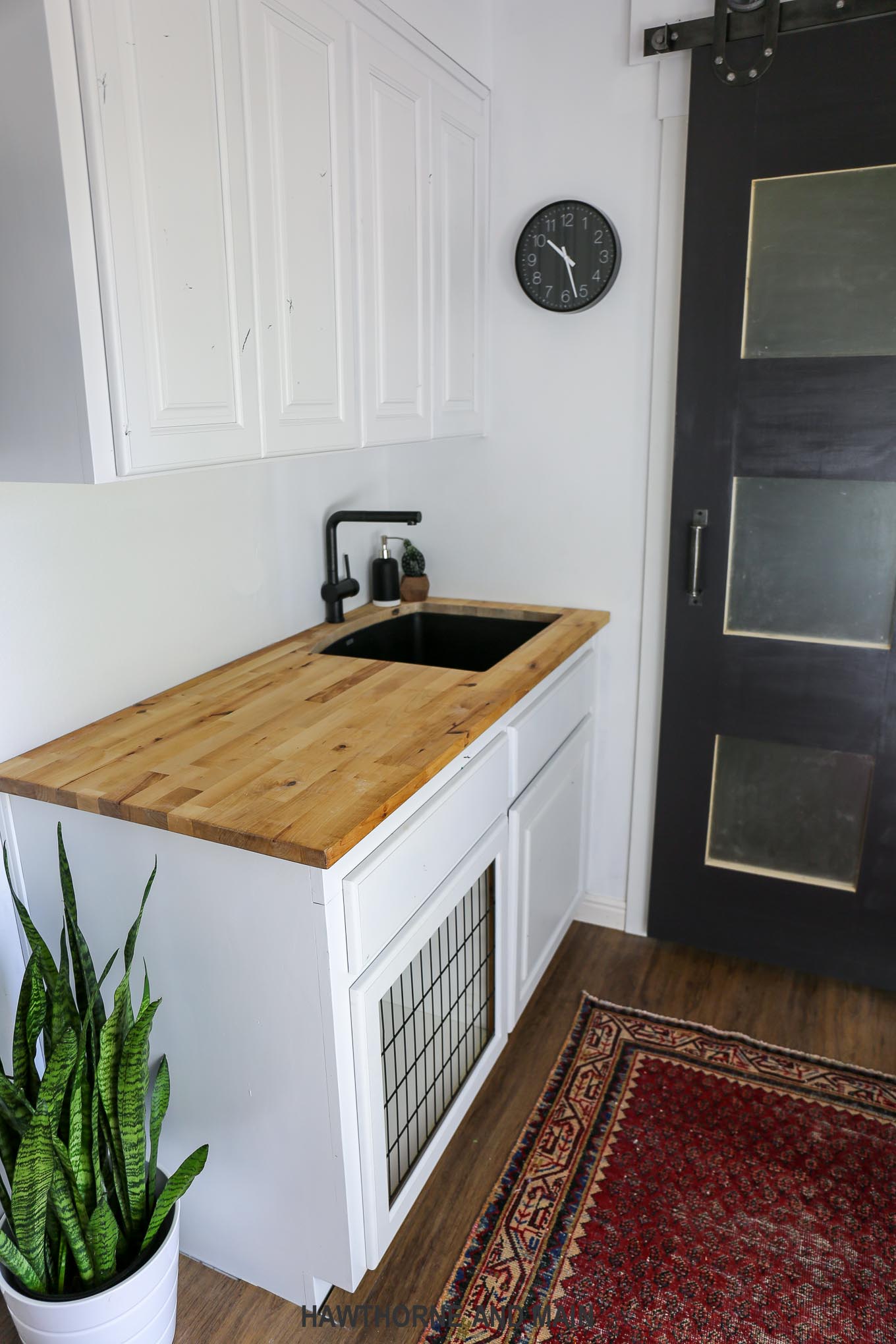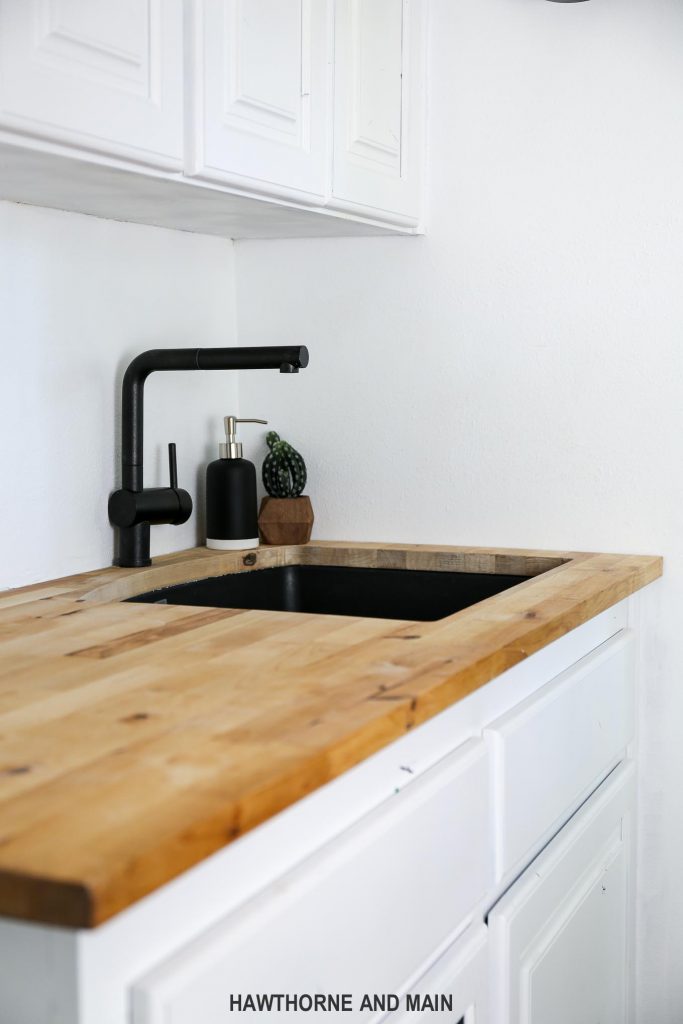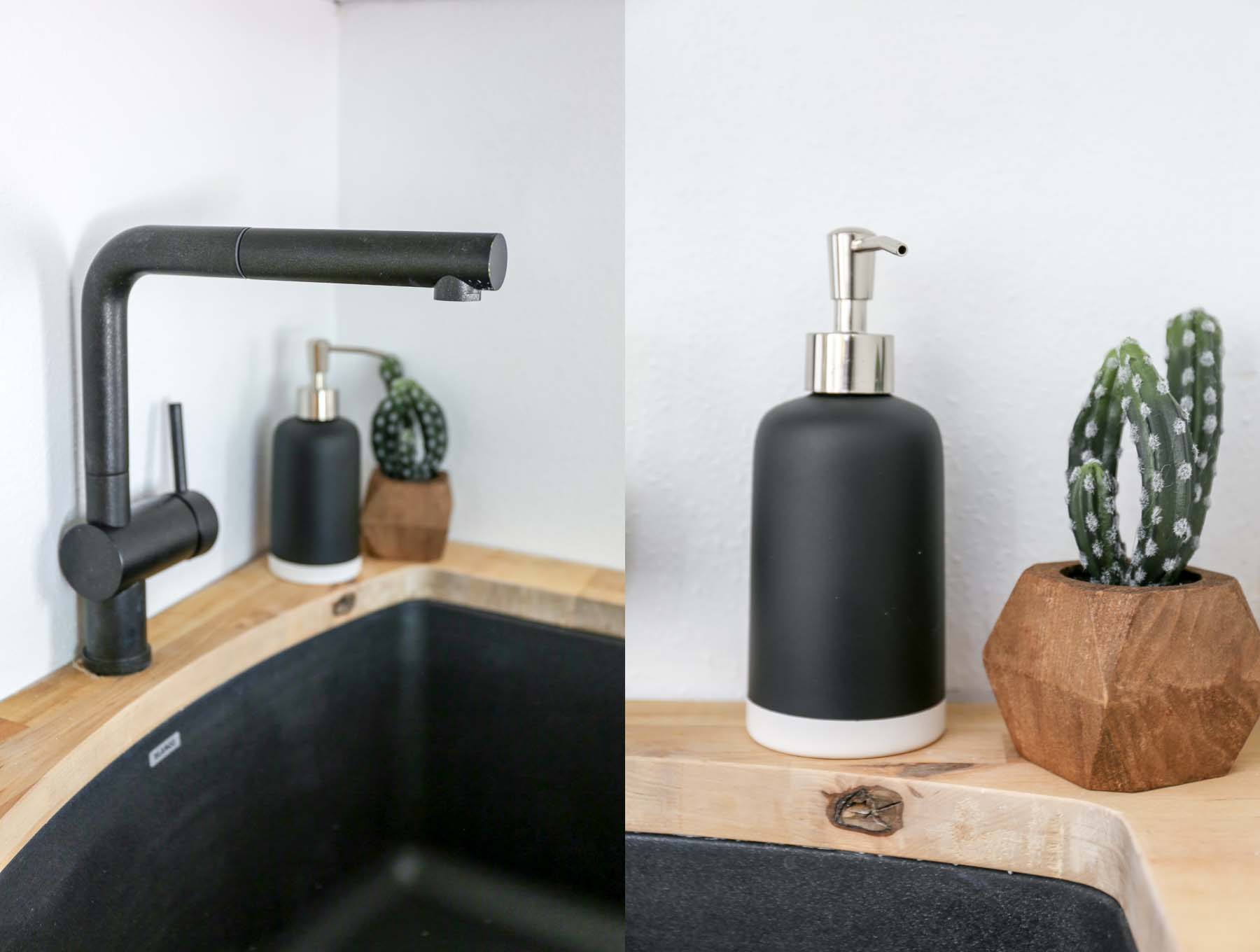 I was originally going to leave the wall behind the barn door blank…since it will only be visible when the door is closed, but the added mirror really made it feel finished.  The extra pop makes it perfect.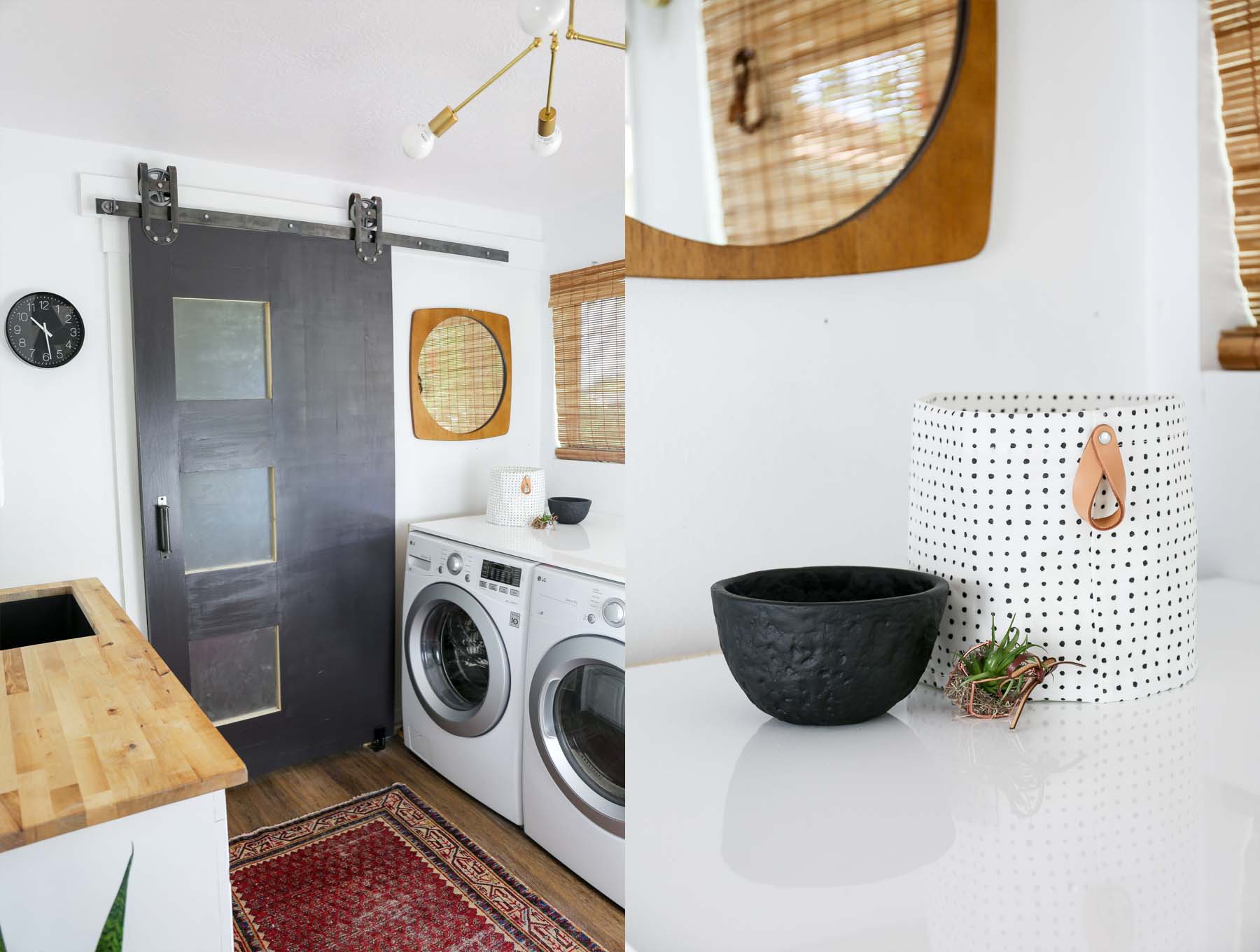 The accent wall….
…I had planned on doing some sort of spin on a black shiplap accent wall.  I just wasn't feeling it though.  I was deep into a rabbit hole on pinterest and came across an image of some tile.  The light bulb went off and that was the inspiration for this wall.  I have to say, I love the mix of both the black and white sharpie markers!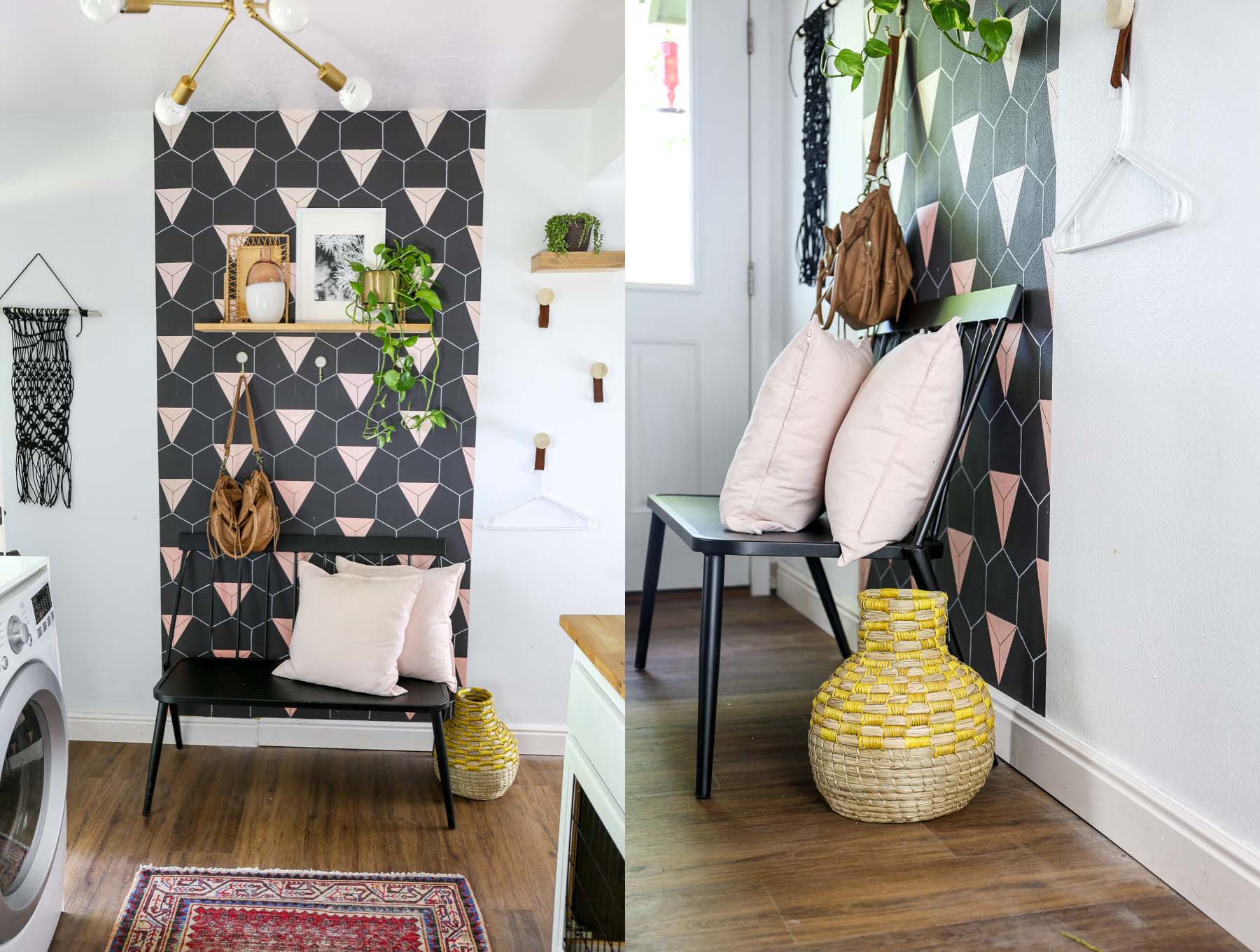 I added my new favorite letter board and added a very practical phrase.  This space looks nice and clean now…just wait 5.0 seconds and it will be a wreck.  I strive for happiness over perfection!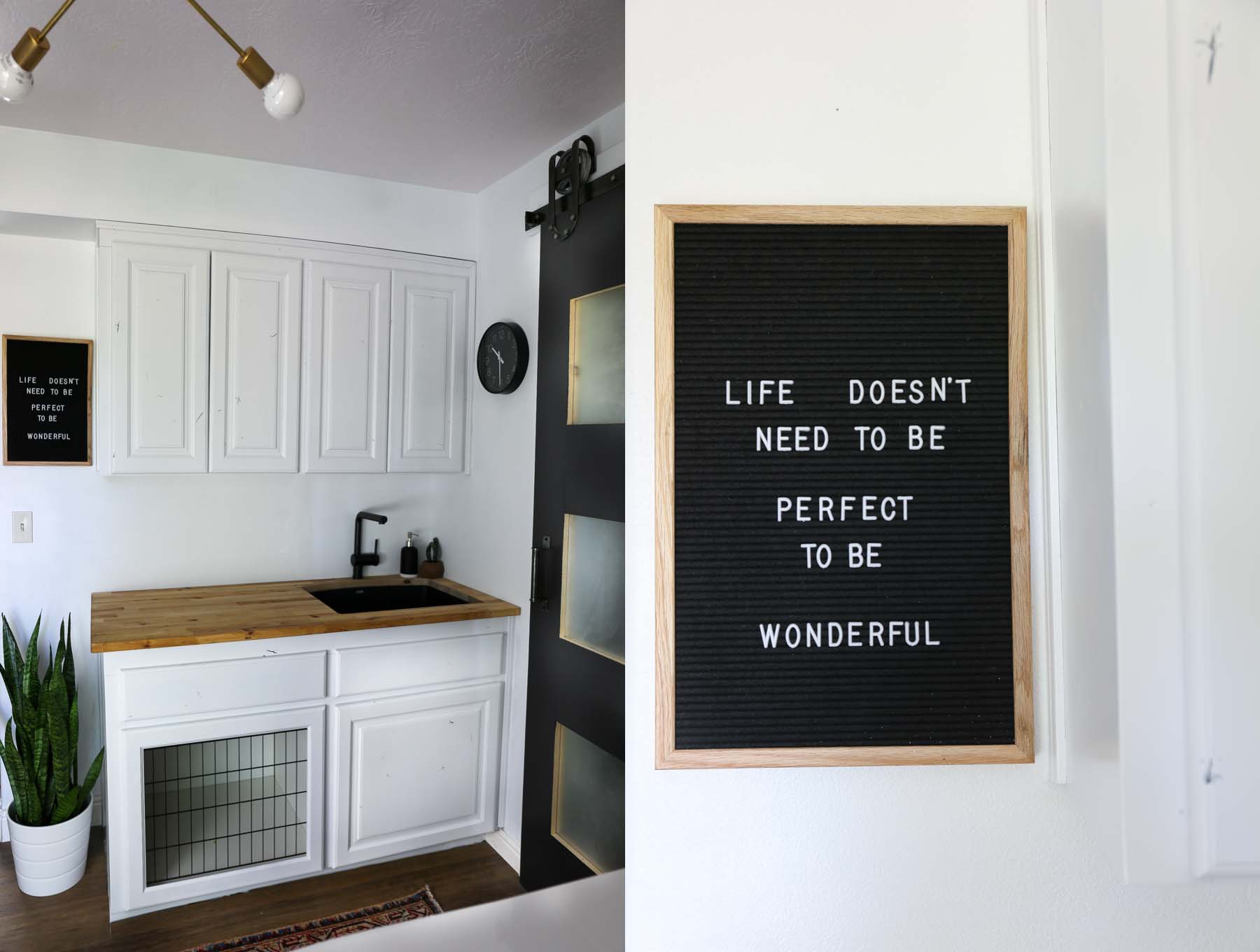 I used this tutorial to make the shelf for this space. I was debating about adding a shelf because I didn't want it to be TOO much, but I like it.  The print is from a picture I took while we were staying in Hawaii a few years ago.  I had to add some of my favorite plants because green makes everything more beautiful.
Hoping they stay green…and don't turn brown.  The odds aren't exactly in my favor.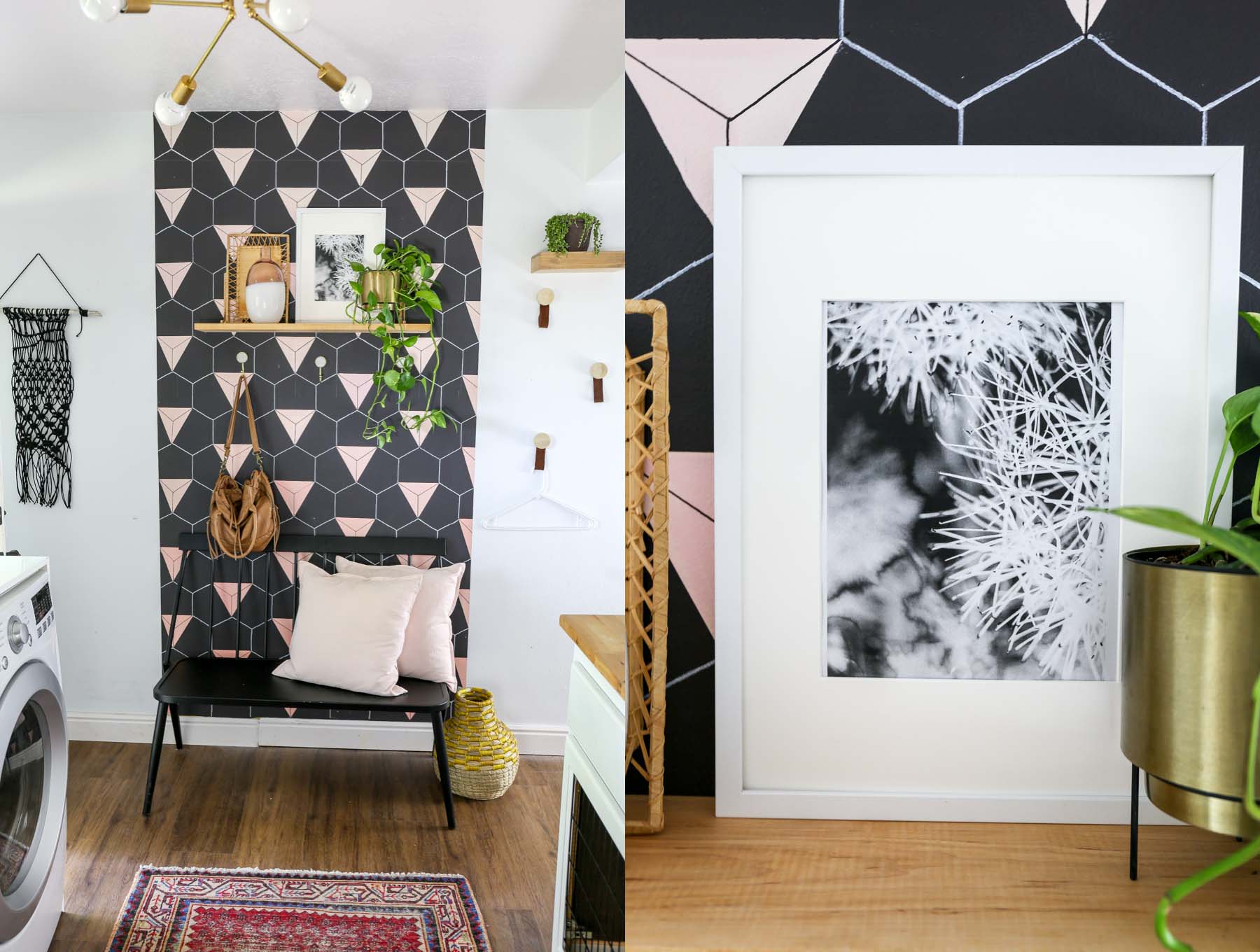 I have been trying my hand at macrame.  This one looks more intricate than it is.  I'm pretty happy with how it ended up looking.  The drift wood was found on the shore of our local reservoir.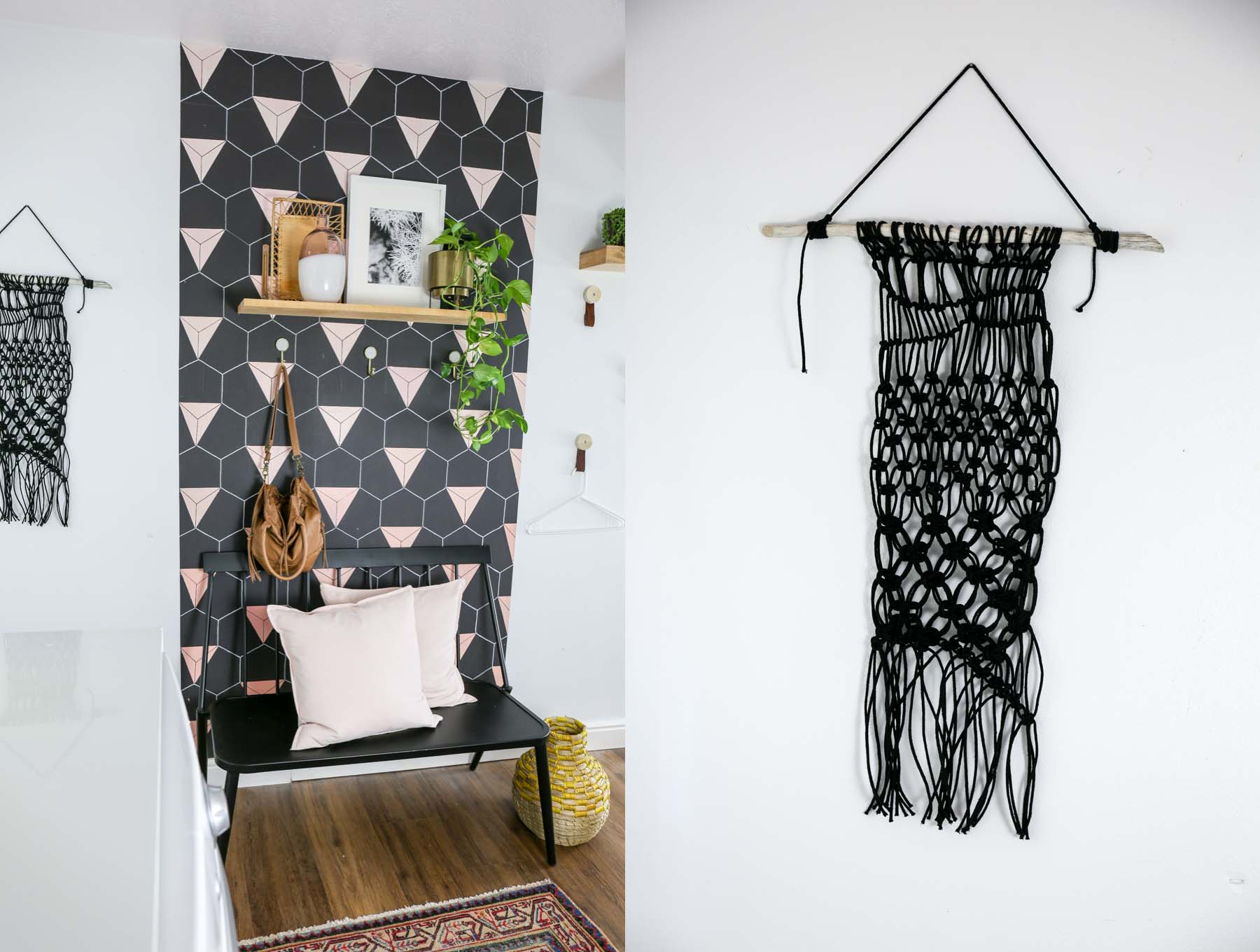 I picked up these coat hooks from target and I think they work well here.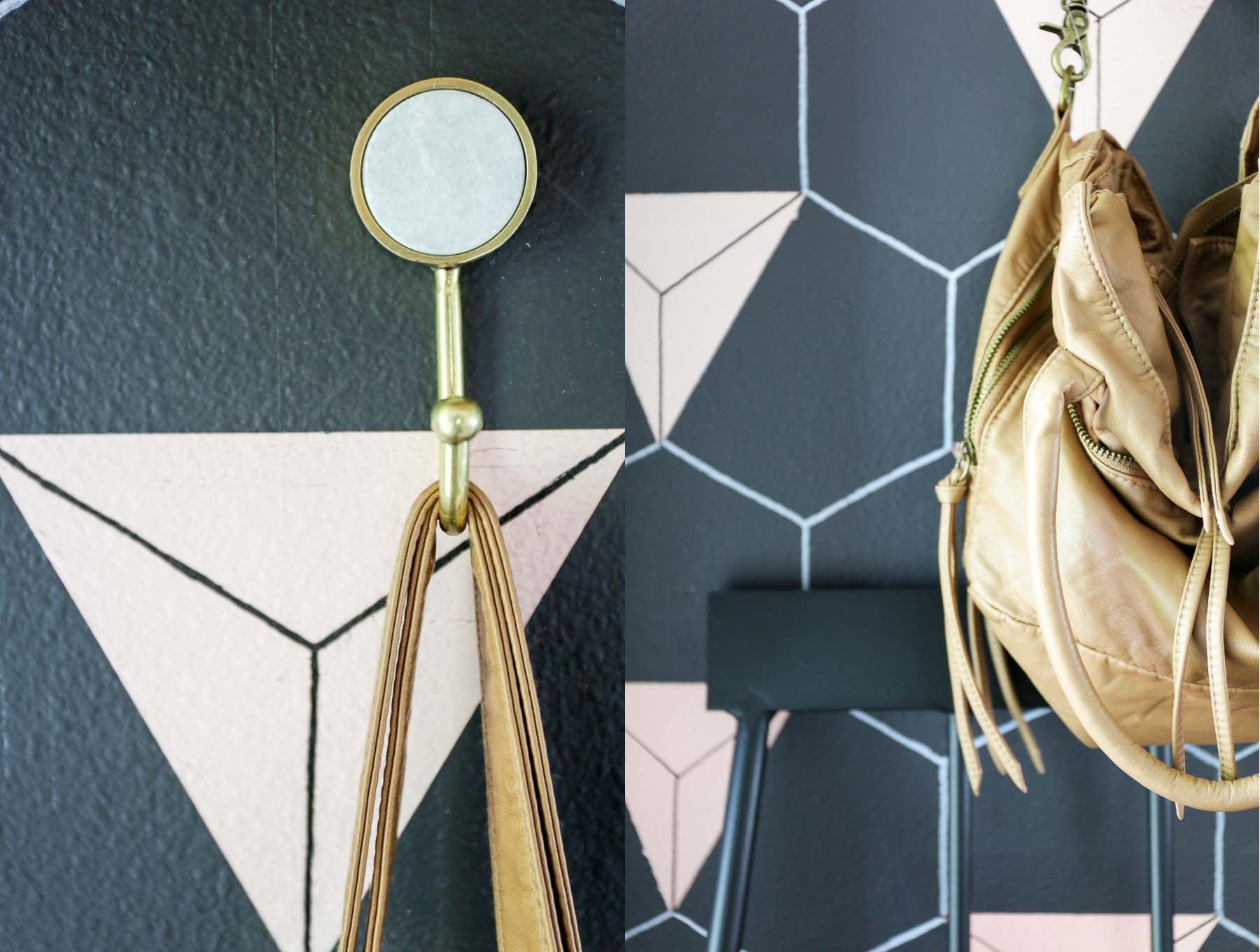 If you look up you will see my first ever DIY light… It was a big-ol-pain-in-the-butt…but now that I have successfully finished one, I think I can make another one a lot faster and easier.  The main problem was having to make a couple different orders due to not having the right parts…gggrr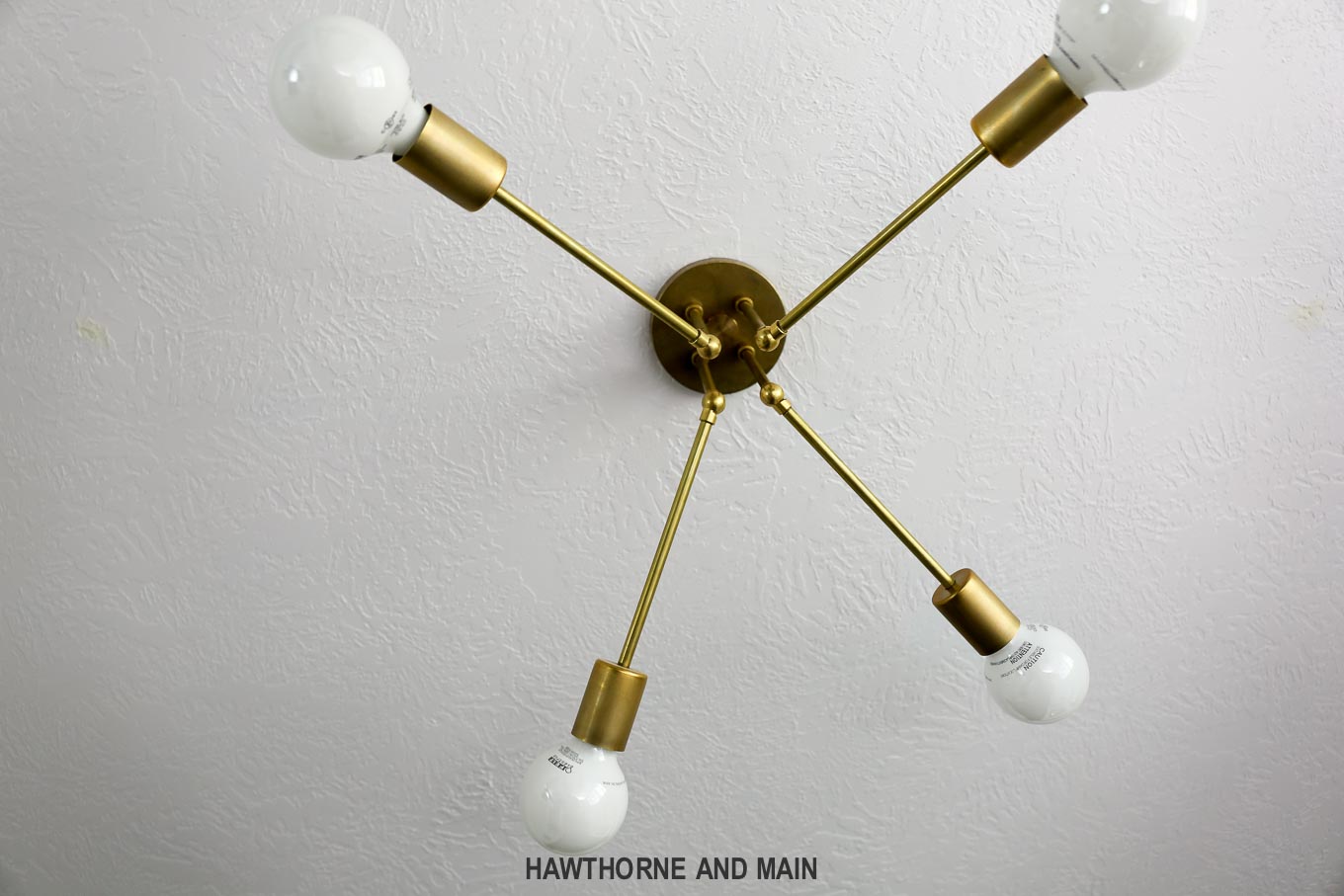 I cannot believe that this is the same place.  It feels so fresh and clean and happy now.
What DIY questions do you have….what projects are you working on?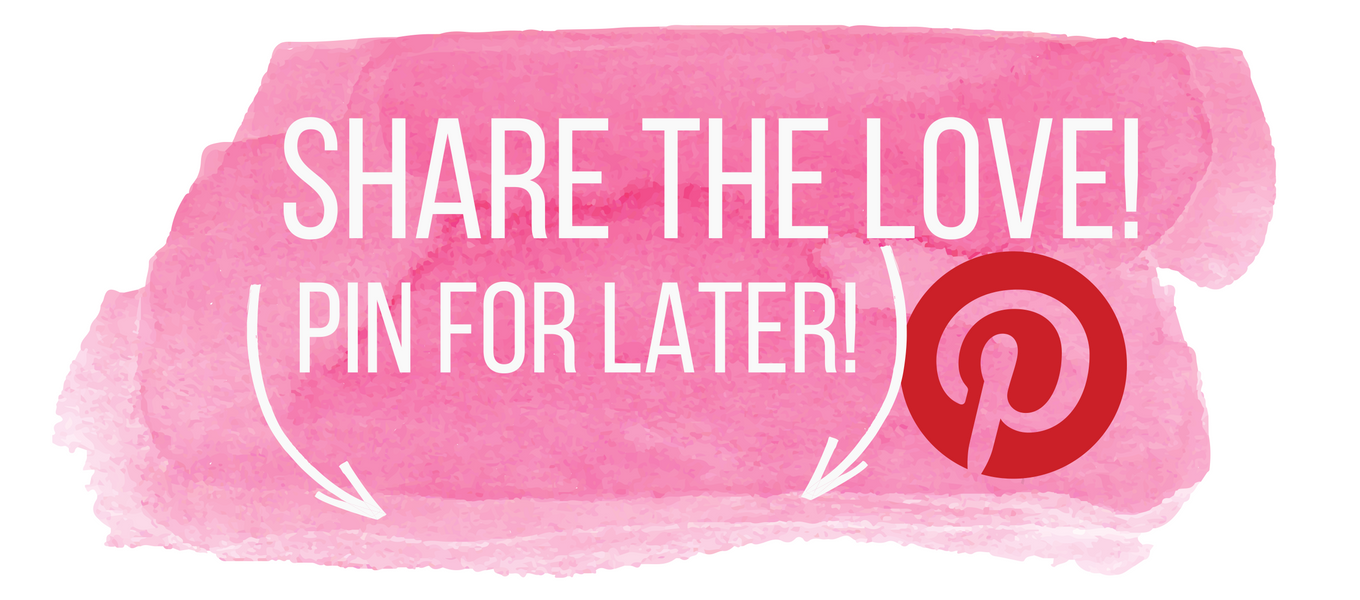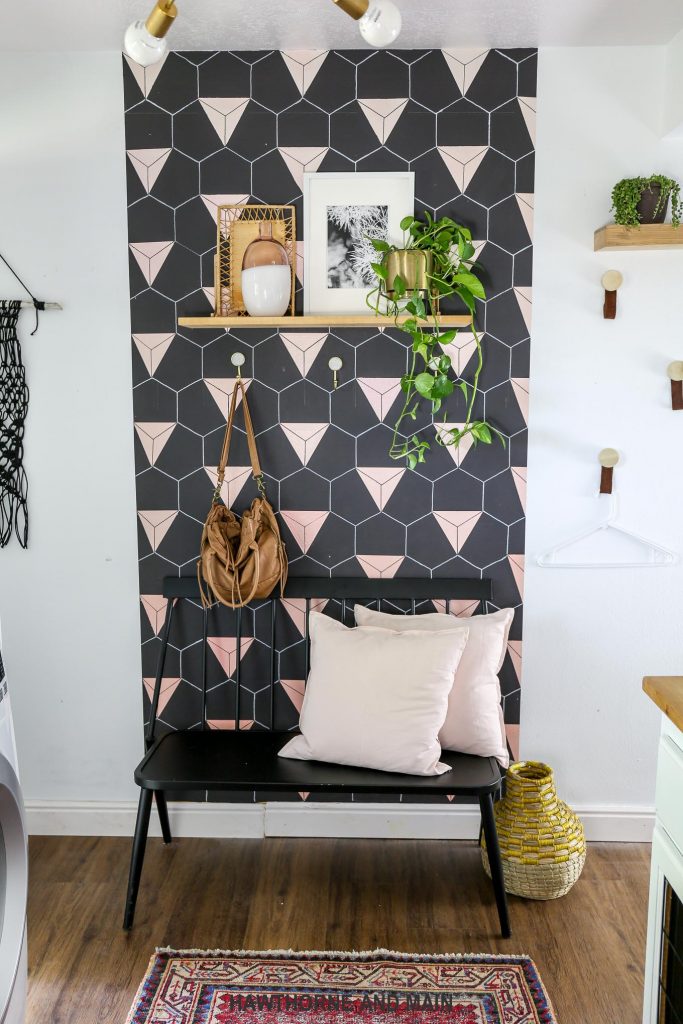 A big thank you to our sponsors!
Behr Paint
Metroflor
Artisan Hardware
Blanco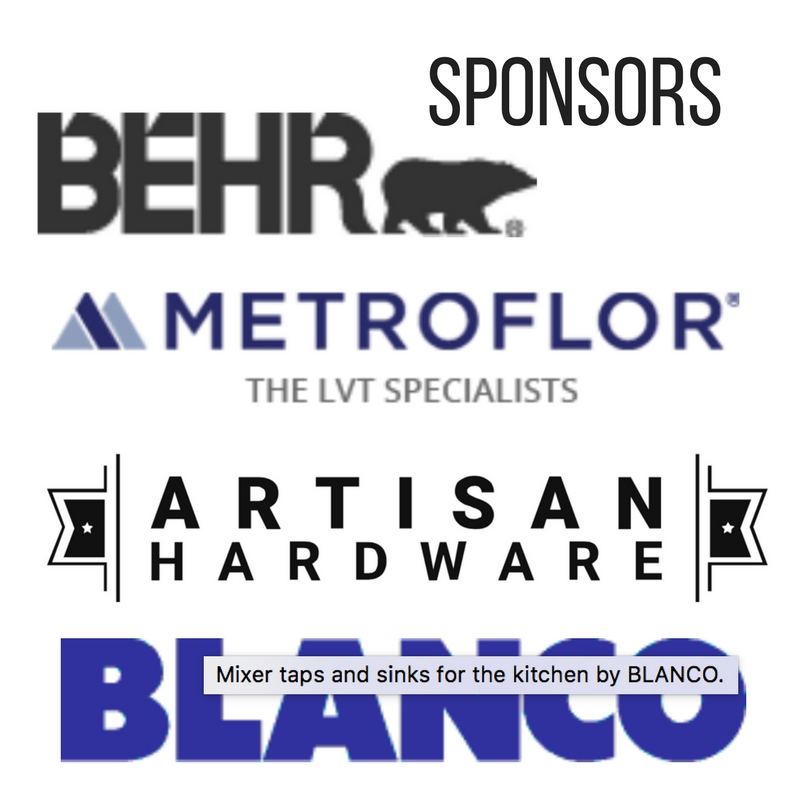 Check out how everyone else did!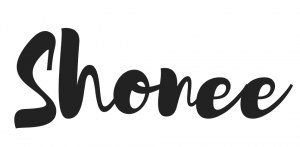 Want more AWESOME ideas...Check these out too!