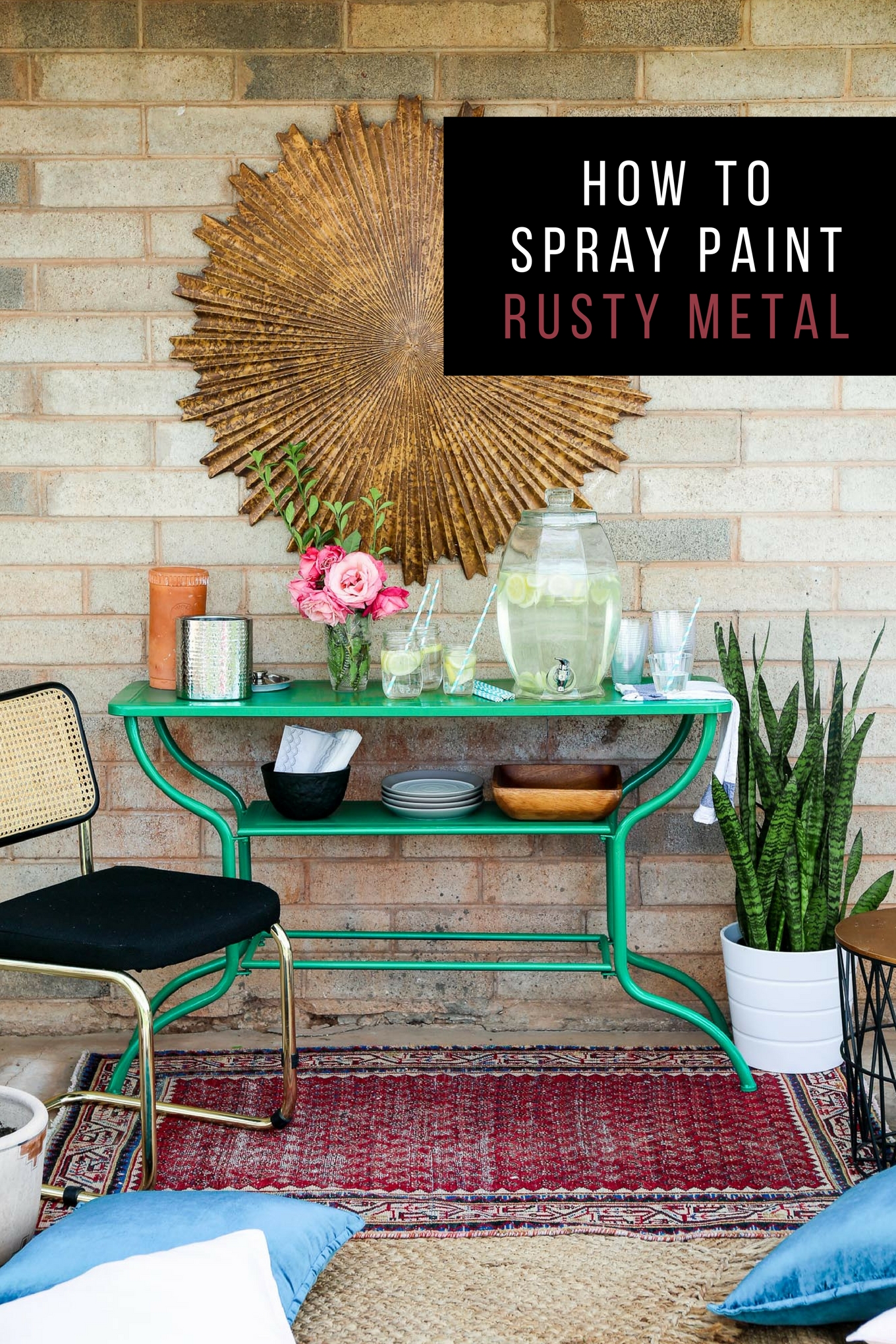 Thrifting is one of my all time favorite things to do.  I have learned a few things over the years about what is a good find and what to leave behind.
One of the best things I learned is to never pass up a good piece because of it's color.  Here is a great example of what I mean.…did you see the before picture?
Color is an easy fix.
Instead, you want to look for the integrity of the piece.  Is it solid? Does the style of the piece fit well with your home's style?  If the piece is damaged…how much time, energy and resources will it take to restore it?
Don't worry about the color….look past it.  Envision what it could be!
I have a thing for old metal…it just makes my heart beat a little faster.  When I saw this metal table from across the room I did the classic try-to-walk-as-fast-as-you-can-without-running-and-drawing-too-much-attention-to-yourself…..because you don't want someone to catch on to the great find and get there first. Who know's what I mean??  All this piece needed was a couple coats of my new favorite paint… to be fabulous again!
Metal might seem a little bit trickier to restore and change the color, but if you follow these tips then you will soon be on your way to a fresh new piece you can love again!
Check out the before picture….
This post is in collaboration with Rust-Oleum.  All opinions of my favorite, easiest to use, spray paint are my own.  See my disclosure for more info.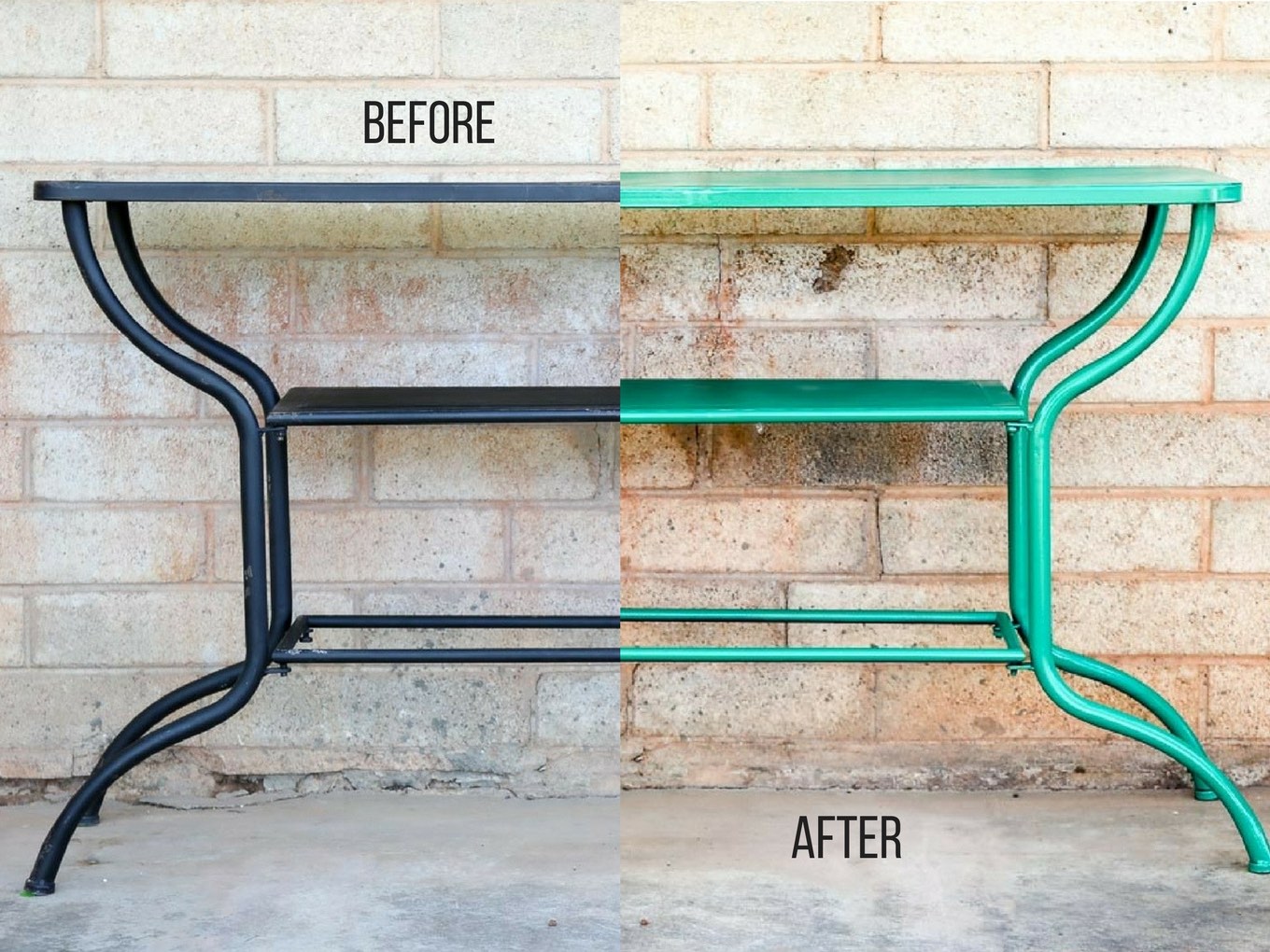 Tips on how to spray paint rusty metal:
1- Remove Any Loose Rusty Metal.
If the piece has rust or flaky pieces of metal, it needs to be removed.  Get a heavy duty wire brush to aid in removing it. Use the wire brush to scrub the rusty spots and make the piece as clean as possible.  Once you have removed the large pieces of rust, use some sandpaper to finish making the metal smooth and free of loose debris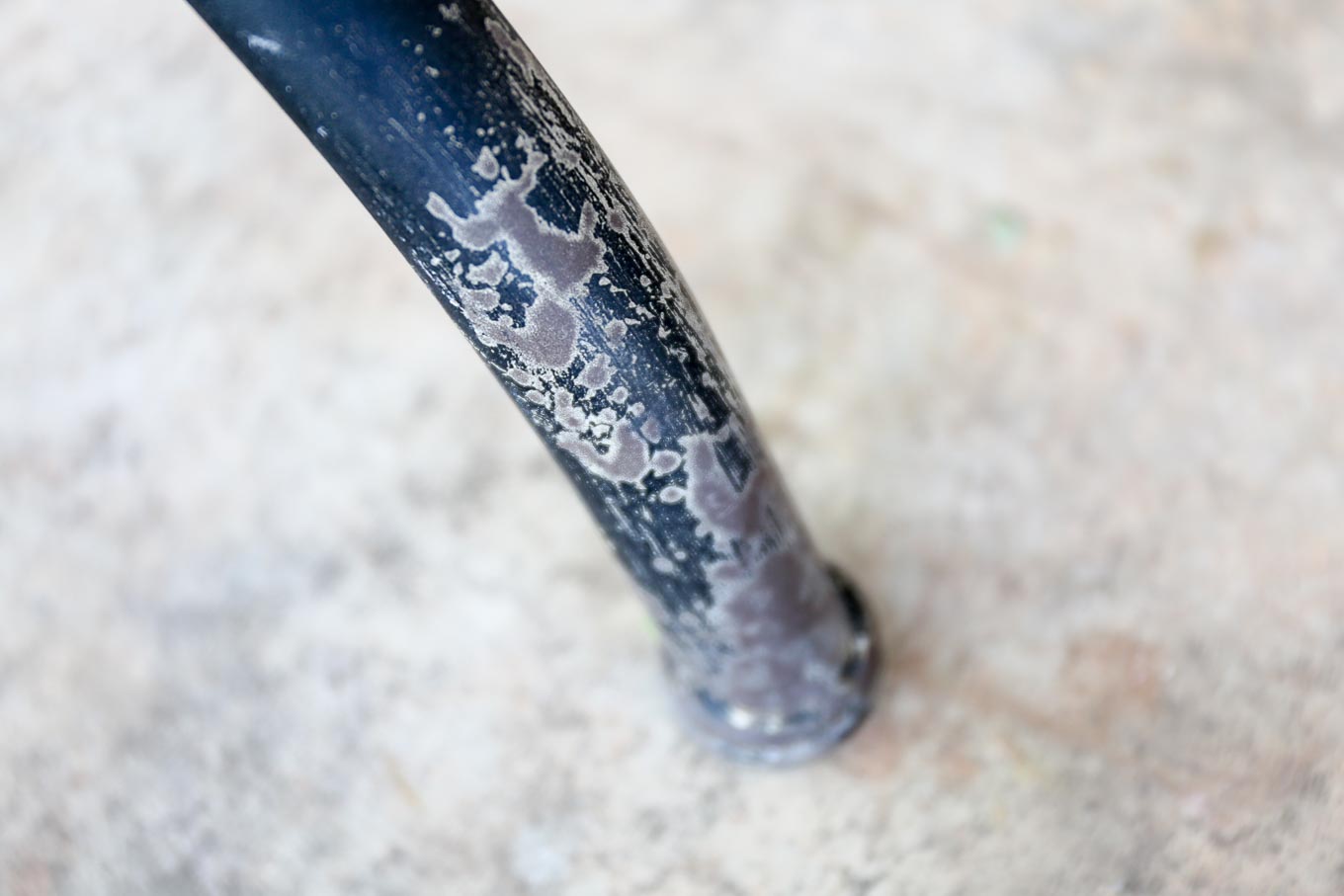 2- Clean with soap and water:
Use a clean wet cloth and some mild detergent  to finish cleaning the metal.  Make sure it is well rinsed and completely dry before moving to the next step
3- Apply Primer 
When in doubt use primer. This is a good rule of thumb whenever you are painting anything.  I really like his primer for metal.
4- Apply Spray Paint
I used the the new Rust-Oleum Stops Rust spray paint, in the color Rich Jade for this piece.  It is by far the pretties green I have ever used…so pretty!
This spray paint can be picked up at your local Home Depot.  This paint stops rust and goes on so smooth.
Here are a few reminders when using spray paint:
-Multiple thin coats are always better.
-It's so exciting to see the color go on…don't ruin it by applying paint too fast and have it drip…
-Check for hard to see spots.  This piece had a few hard to see spots…that would have driven me crazy had I not made sure everything was adequately covered with paint.

The picture above is after the first coat…it was tempting not to spray it on thick but I resisted.  For this piece, I ended up doing three light coats.  I let the paint dry for about 15-20 minutes between coats.
We now have the perfect outdoor table that is ready for entertaining and I could not be happier with the transformation.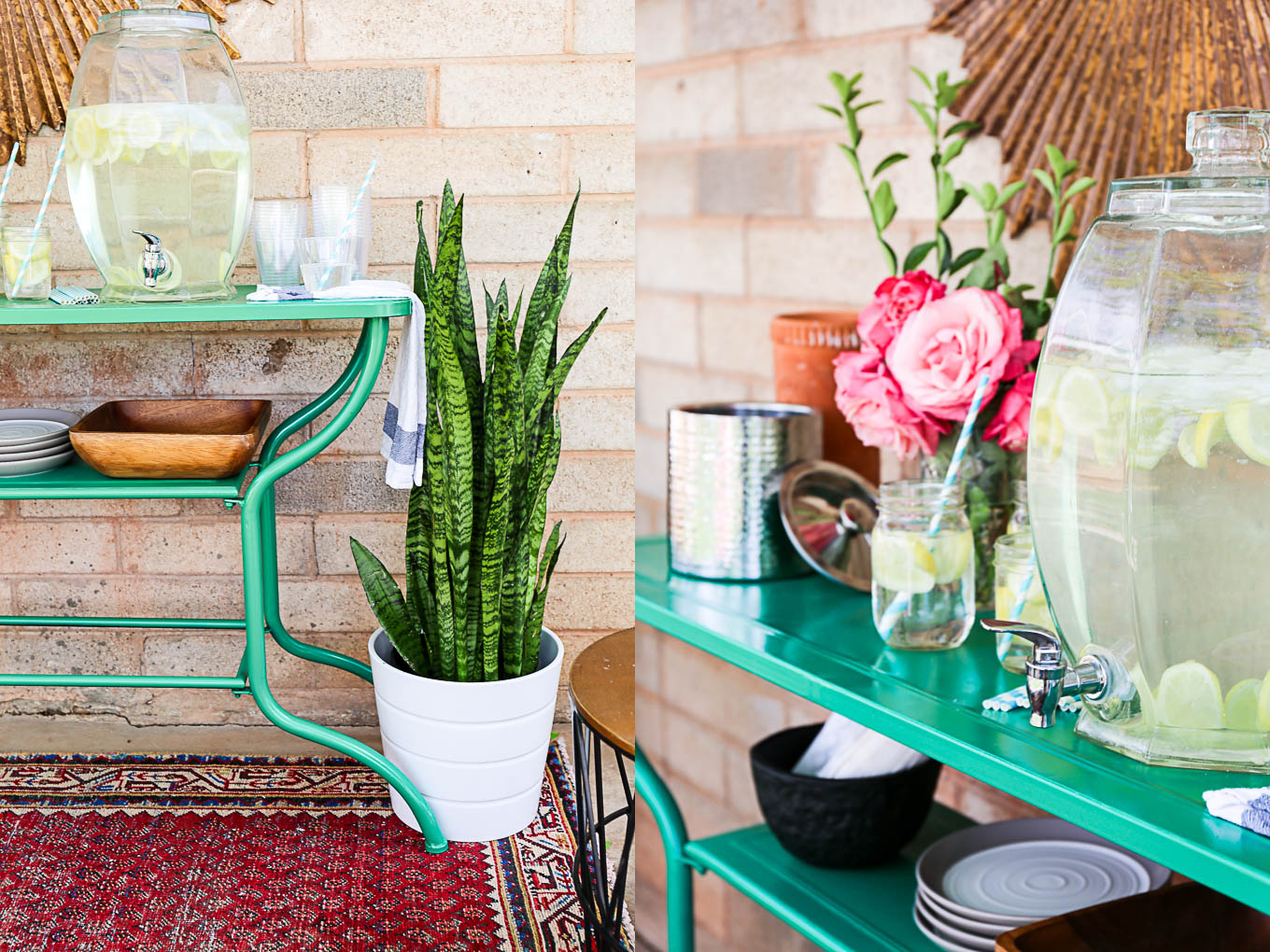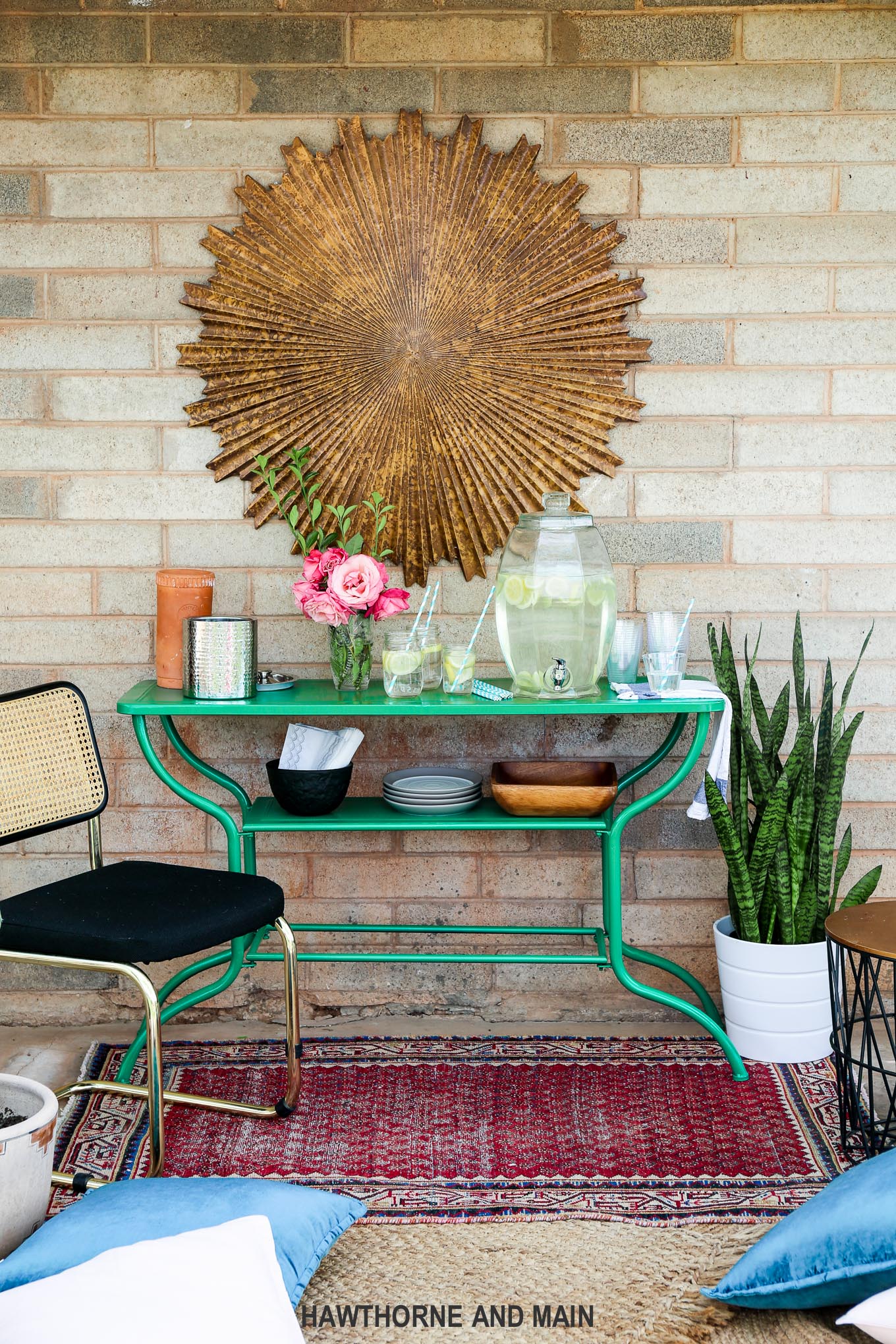 Do you have an outdated piece that could use a fresh coat of paint?
I have good news for you! 
Rust-Oleum is hosting a super fun contest.  Take something rusty and make is pretty and usable again by using any of Rust-Oleum's Stops Rust products.  Enter for a chance to win a $100 gift card and some Rust-Oleum paint. Share your photos on Instagram and Twitter using both tags, #stopsrust and #inwiththeold, between now and September 1,2017. Make sure you're following Rust-Oleum on Twitter @RustOleum and Instagram @rustoleumusa  Please check out all the rules here.
So excited to see what projects you have been working on!


Want more AWESOME ideas...Check these out too!