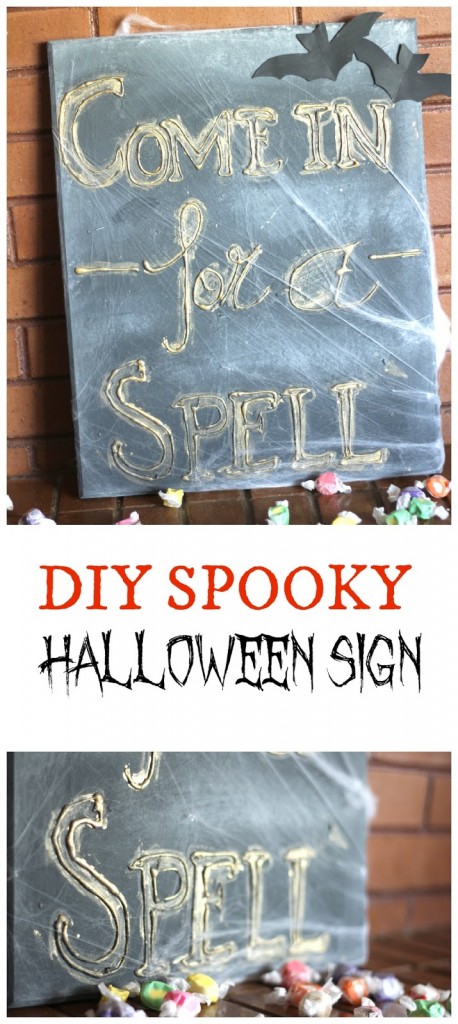 I have had so much fun decorating for Halloween this year!  I know that Halloween is fast approaching but I wanted to share one more project with you, a DIY spooky Halloween sign.  I have tailored it for Halloween but really this technique can be used for any holiday.
To start you will need to find a piece of board.  I found this wood sign at the thrift store that worked perfect.  Any flat board that you can find or already have would work too.
I sanded the sign a little bit to make sure that the paint would stick good.
I then drew my letters right onto the board.  You could also use transfer paper to get an exact design but I just free handed mine. You can see that I had a hard time getting the "C" right 🙂
Once I had drawn out the letters I got out my hot glue gun.  I used the hot glue to outline all of the letters.   Once the letters were drawn I painted the whole thing with Annie Sloan Chalk paint in Graphite.
I them used some old white ASCP to make some of the areas lighter.  I did this while the graphite paint was still wet so that the colors would blend together well.  I literally just started dabbing a very small amount of the white on the board until I got the look I wanted.
After the black and white background was done to my liking I took a small paint brush and painted accents on all of the letters.   I used Martha Stewart's gold acrylic paint.
After it was dry I draped it with spider webs and added a couple left over bats from my Halloween Mantel.  This would look perfect hanging from a door or even sitting on a mantel or console table.  There are some many possibilities.