Here are the supplies you will need:
-Glass Jar
-Paper Bag
To start, get a glass jar that you are ok breaking. Try looking for one at a thrift store. A jar that has some dimension or design to it will look best.
After the cement is mixed pour it into the glass jar.
Cut your copper wire into shorter lengths, varying them in size of 6-12 inches. Curl the end of each wire piece before you stick it into the cement. This will ensure that it will stay put. See the images below!
Let the cement fully dry before you move to the next step, overnight is fine.
After the cement is fully dry put the jar into a paper bag. Take it outside and use the hammer to break off the glass. Be sure to wear eye protection, we don't want any accidents here!!
After all of the glass is removed it should look something like this. The holes in my cement are from not mixing the cement enough. The more you mix it the less air holes you will get!! It also helps to tap the glass jar a few times after you pour the cement to help get rid of the air bubbles.
Now it's time to decorate!!
Using some painters tape, tape off any areas that you would like to paint. For this one, I tapped off the bottom and spray painted it with a champagne colored spray paint. I then tapped off two triangles on either side and painted them white. Get creative!!
This is a super fun way to display cards or photos. What a great gift for those with desk jobs!!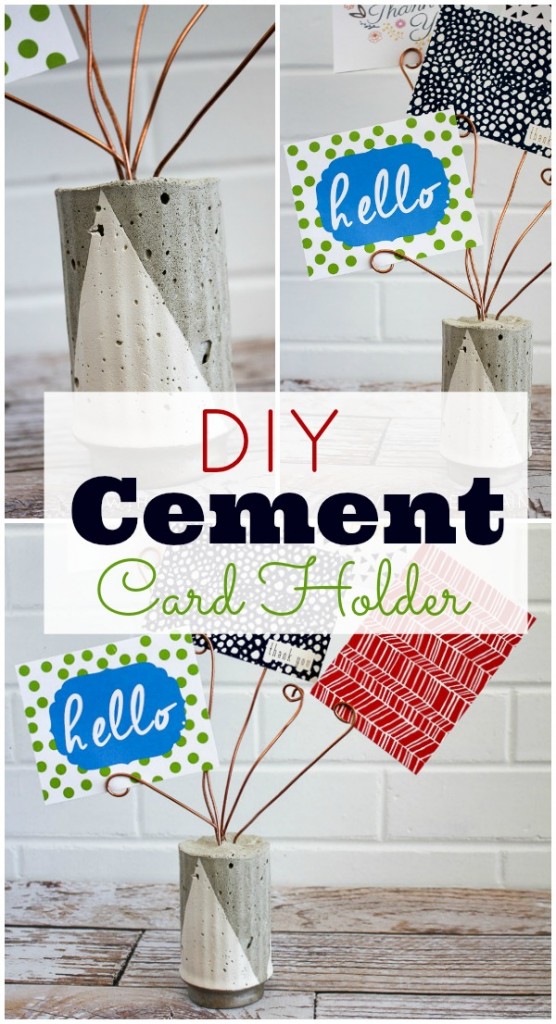 #mc_embed_signup{background:#fff; clear:left; font:14px Helvetica,Arial,sans-serif; }
/* Add your own MailChimp form style overrides in your site stylesheet or in this style block.
We recommend moving this block and the preceding CSS link to the HEAD of your HTML file. */