What a busy few weeks we have had.  Did you hear… we enclosed the carport and now we have a garage! Yay!
It was hard….a ton of work…but I love how it turned out.
You all know how much I love photos and this post is no different!  I feel like it's the only way to really show you the space, since you can't stop by my house and take a look.
Let's first take a quick look back 6 weeks ago to what it looked like BEFORE….
This post is sponsored by Rustoleum.   All opinion of products that make my life and my garage floor look amazing are my own.  For more info see my disclosure.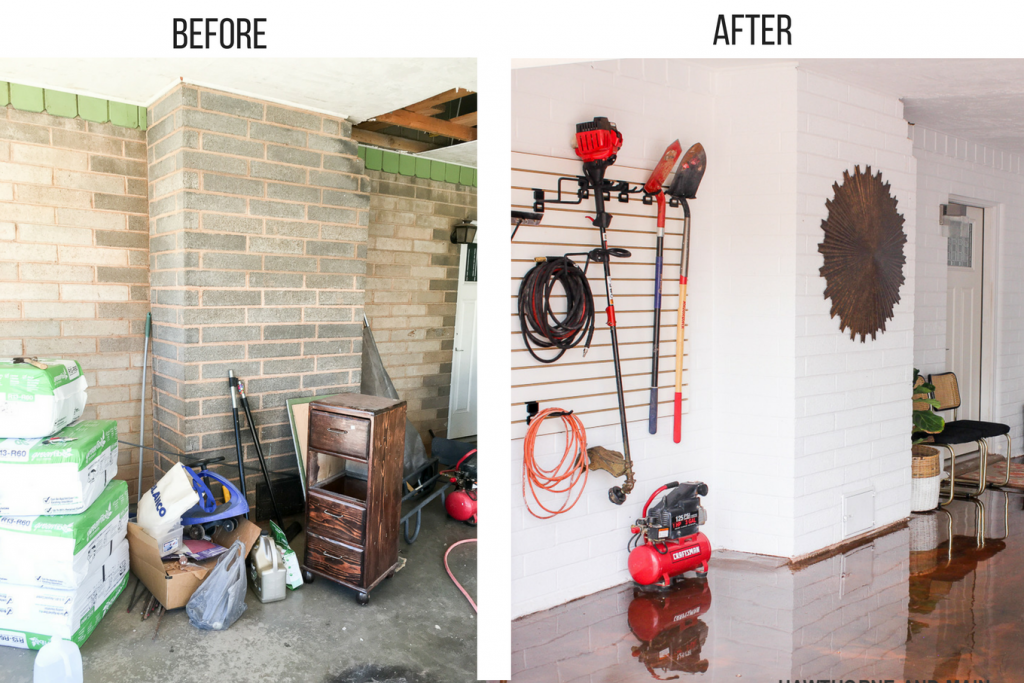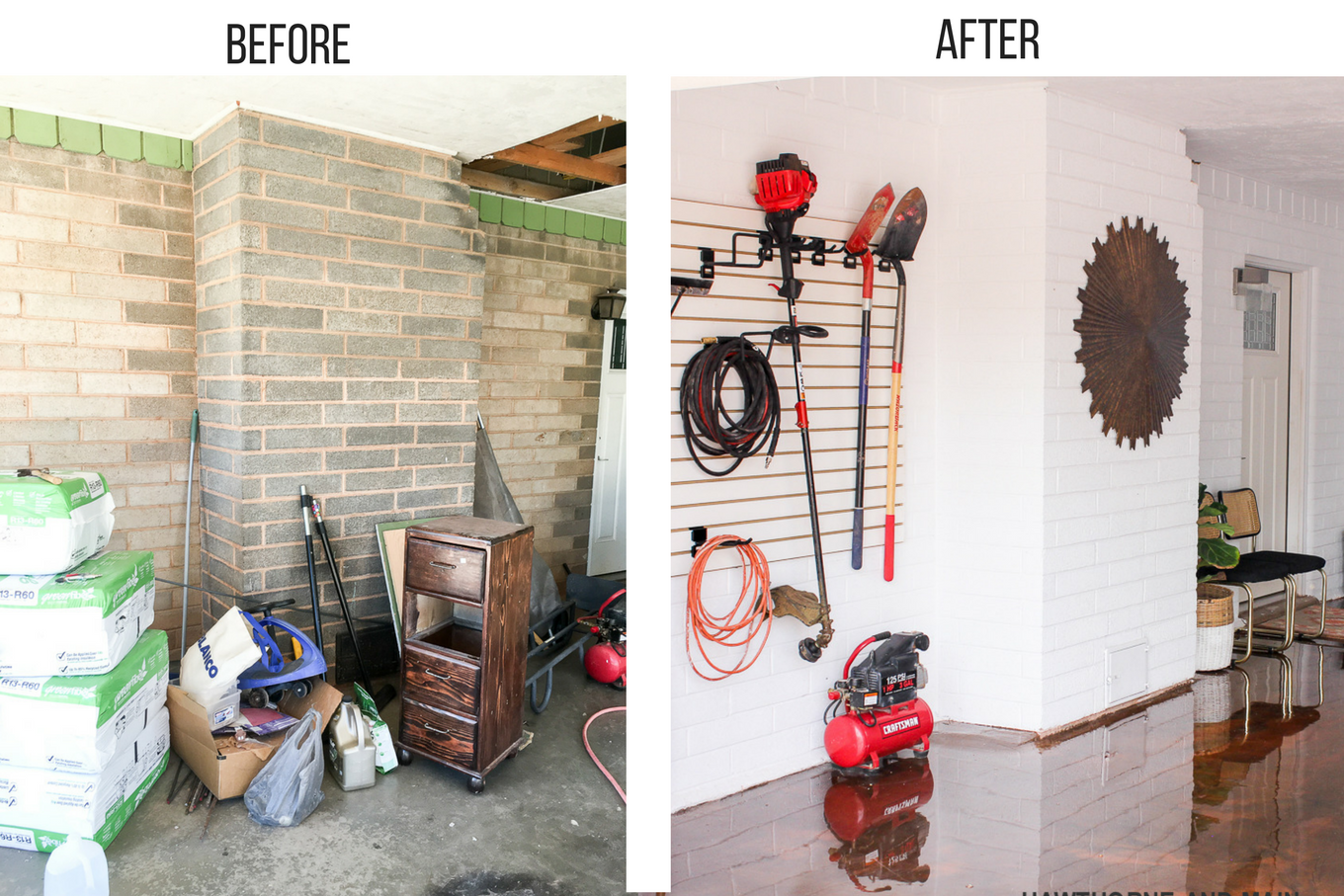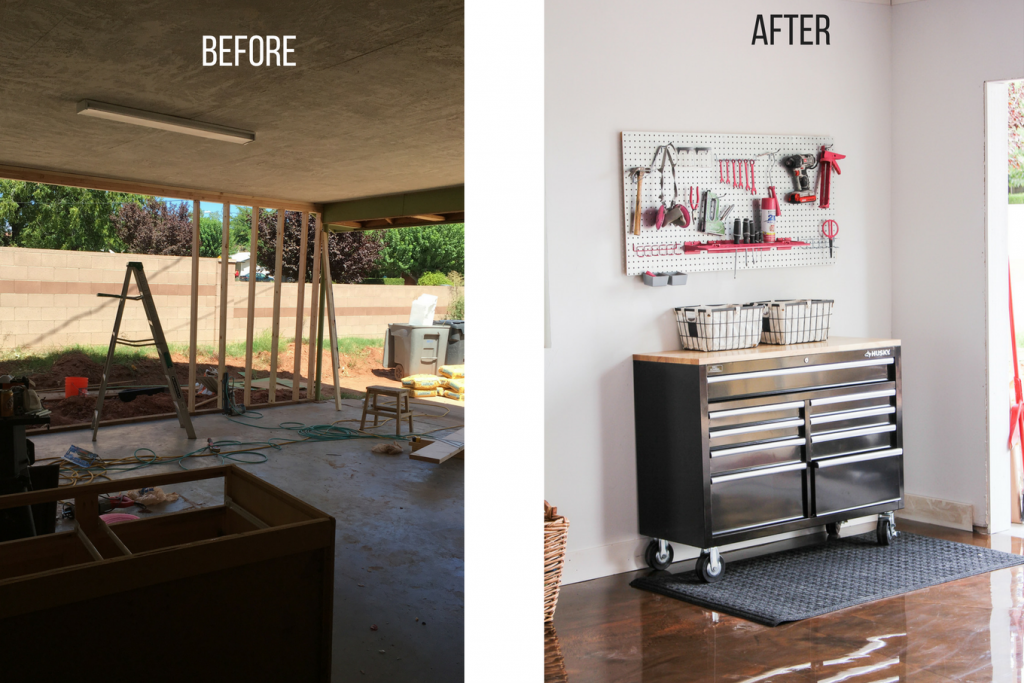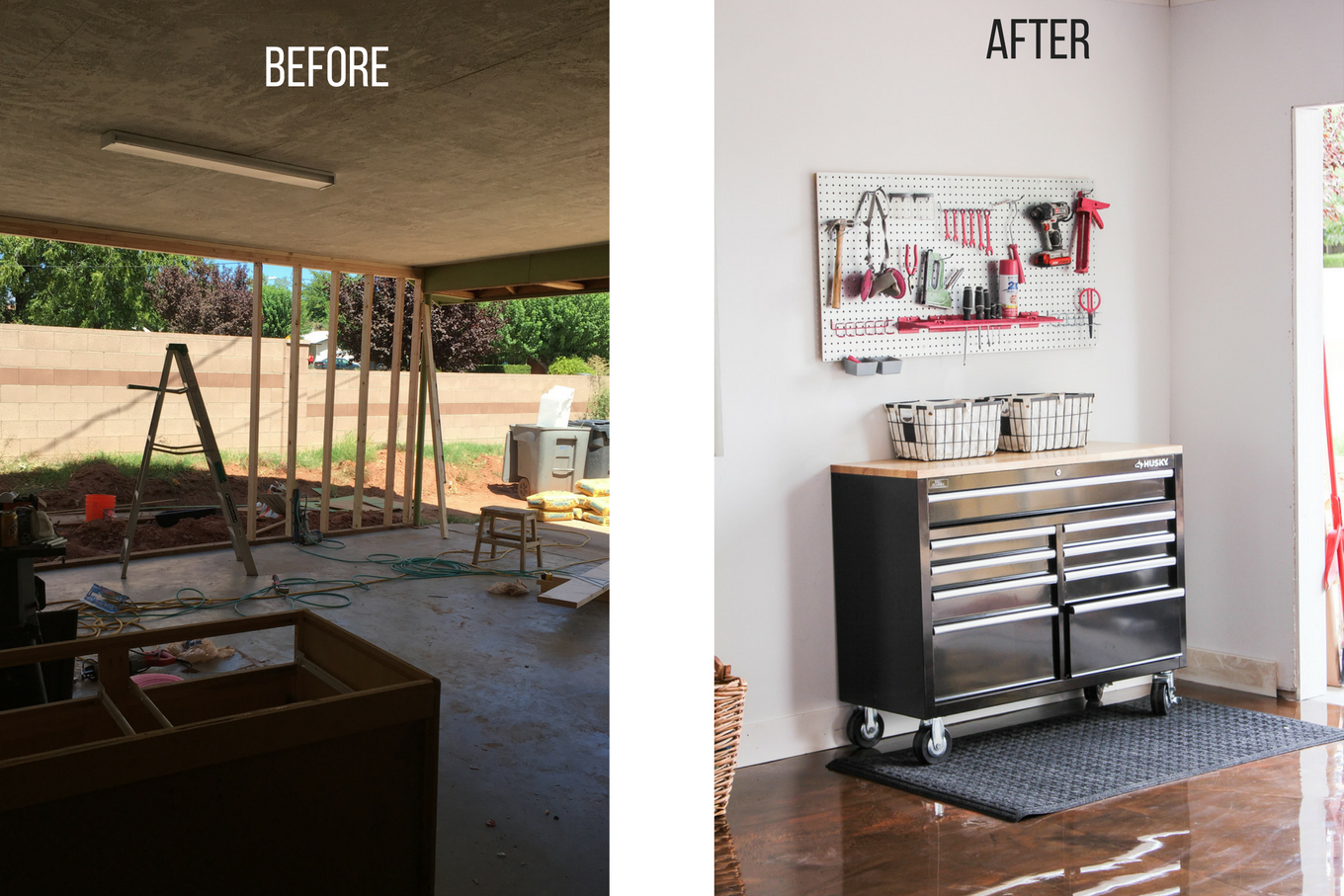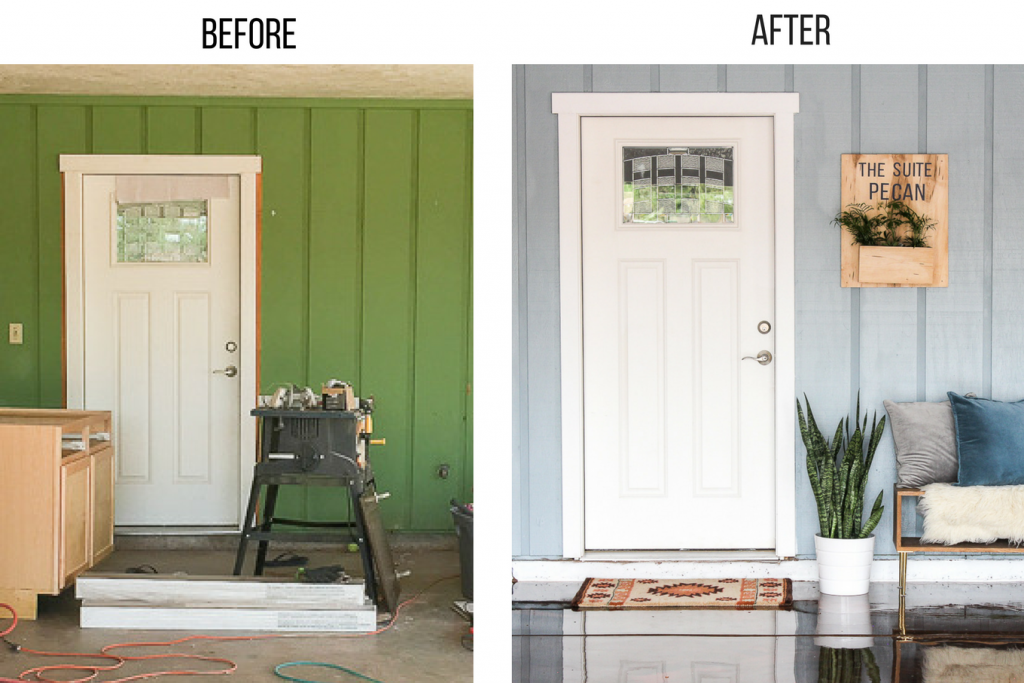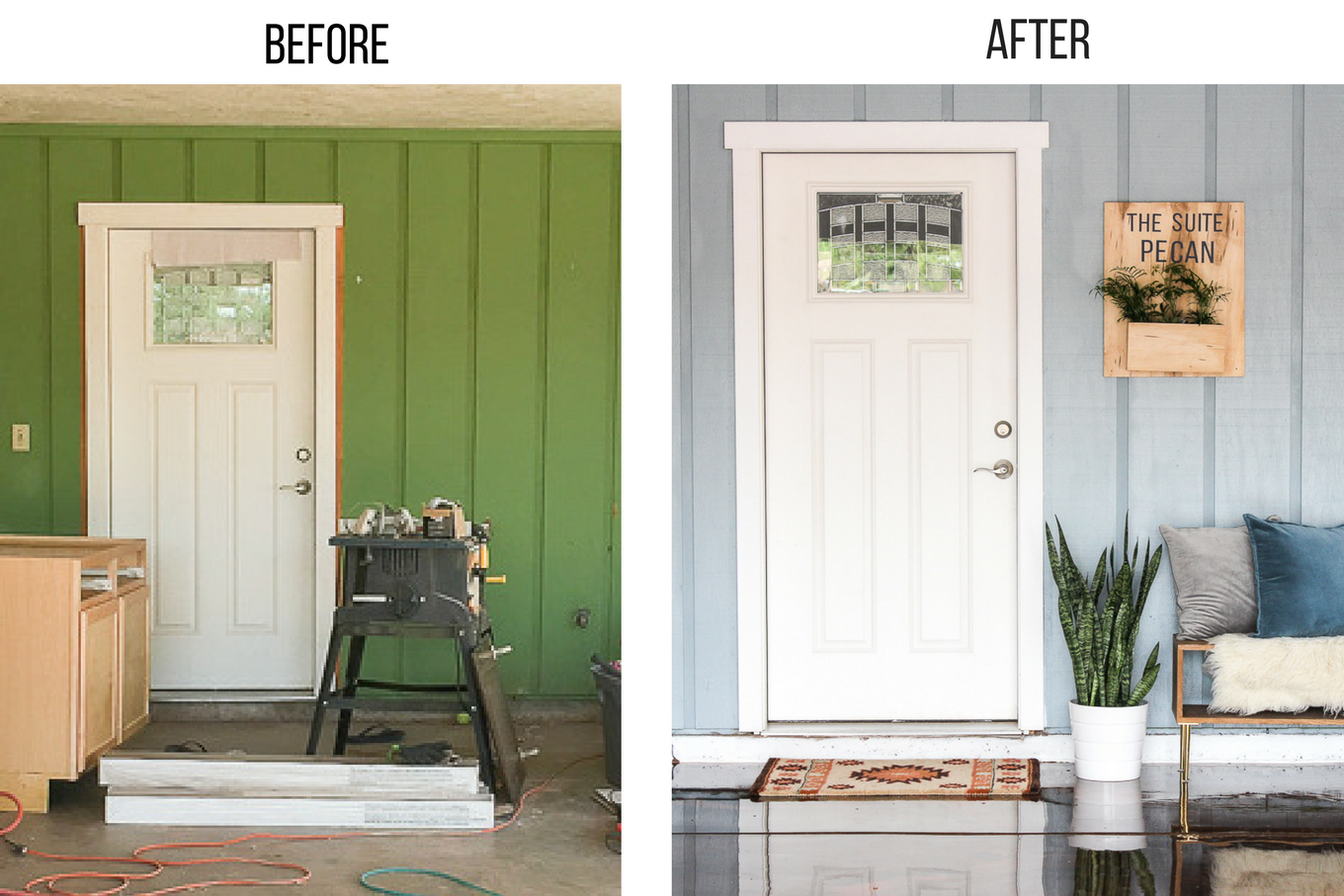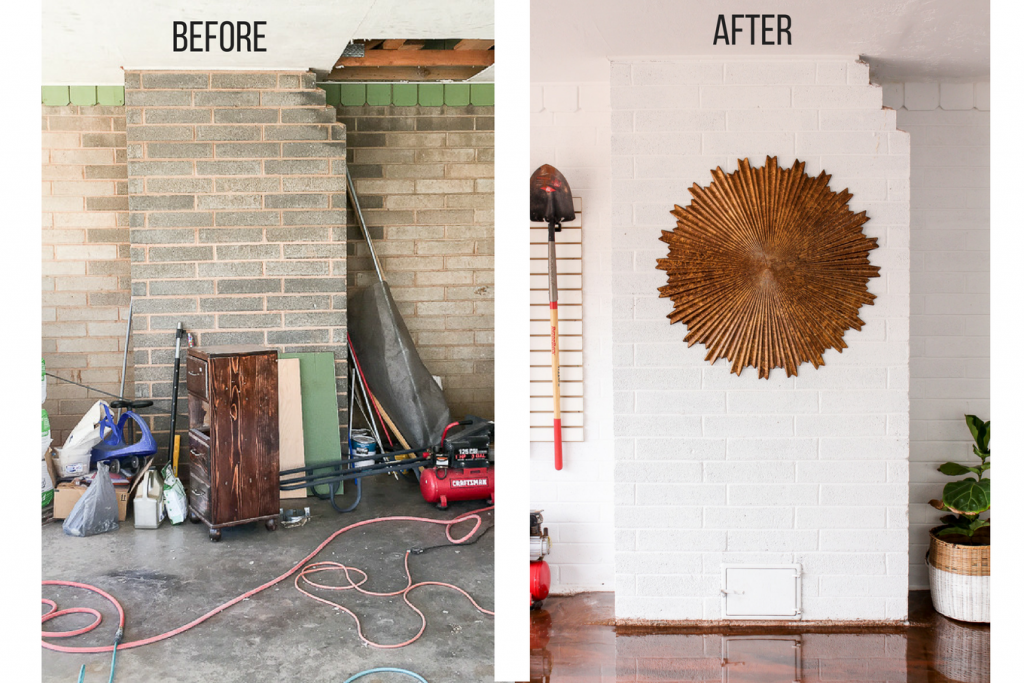 Amazing right! The first thing that probably caught your eye was the beautiful floor….yes, yes.  Please, keep reading.  I will give you all the details…plus a GIVEAWAY at the end.
---
My work area in the past has been the dusty old carport that really had no coverage from the elements, like wind and the hot sun.  Now, I can keep paint projects and wood out of the elements.
Since both Mr. Main and I like to work outside we thought it would be fun to have a his and her's side.  I will admit that my side will probable be the messy side 🙂
And, since pink is sort of my color I grabbed my favorite pink paint and went to town on some tools and other organization pieces.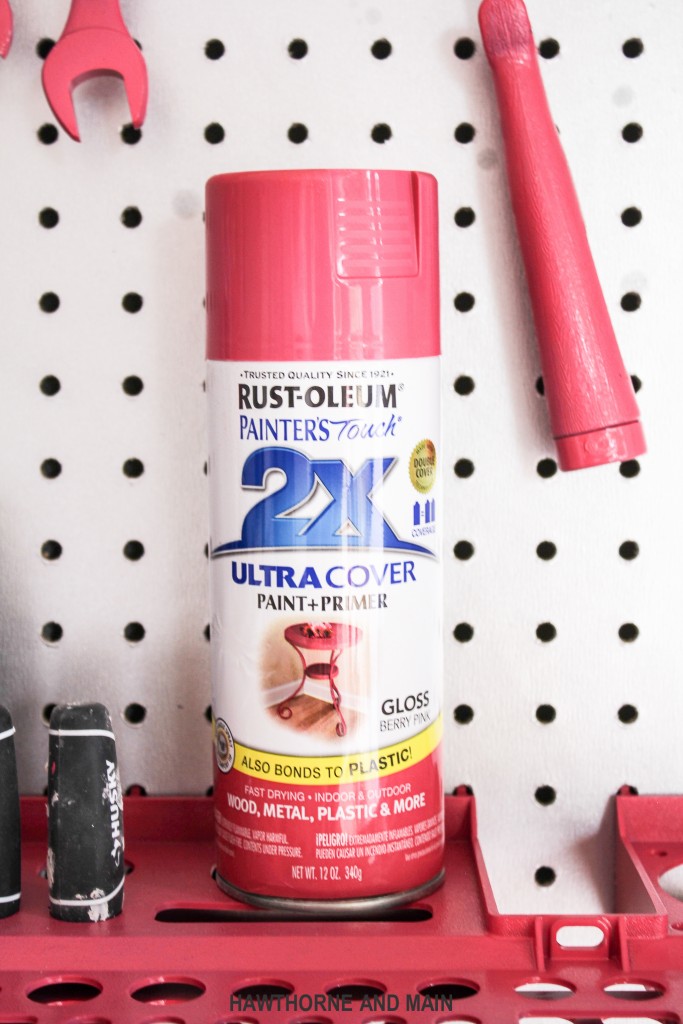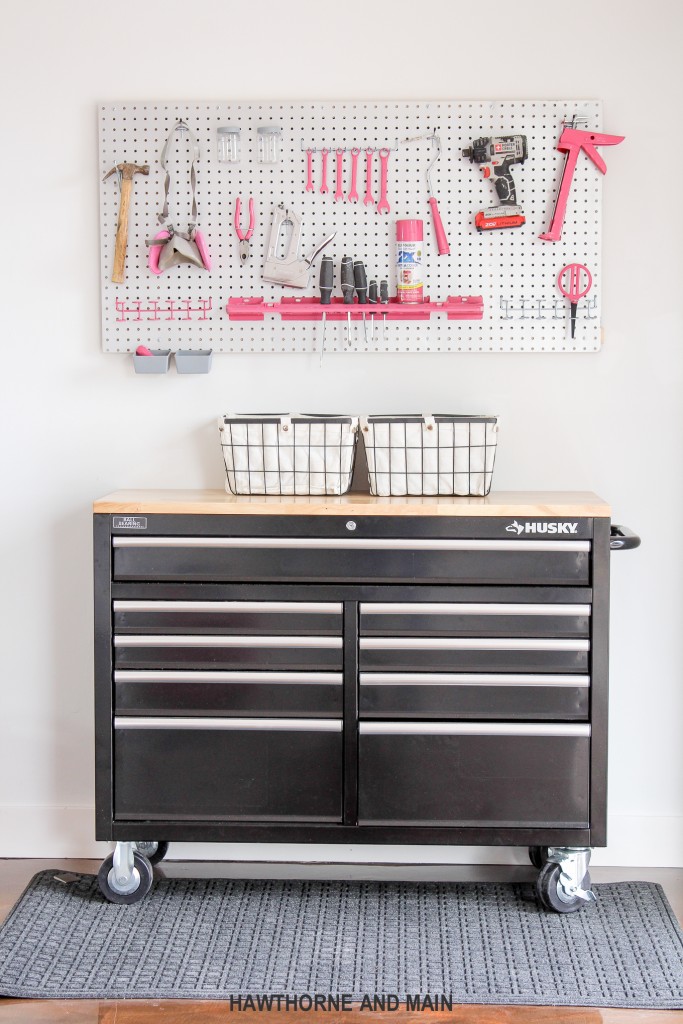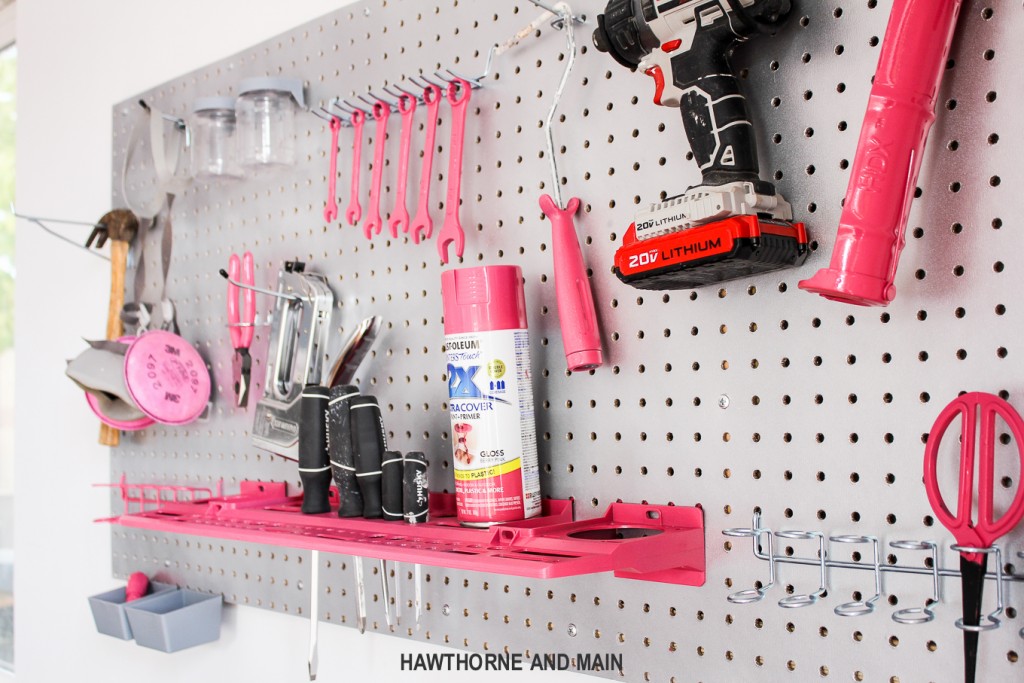 The peg boards were originally white. They could have probably blended well into the wall if we would have left them white.  I was originally eyeing some metal peg boards.  But with the help of some silver spray paint we got that metal like finish, without paying a lot.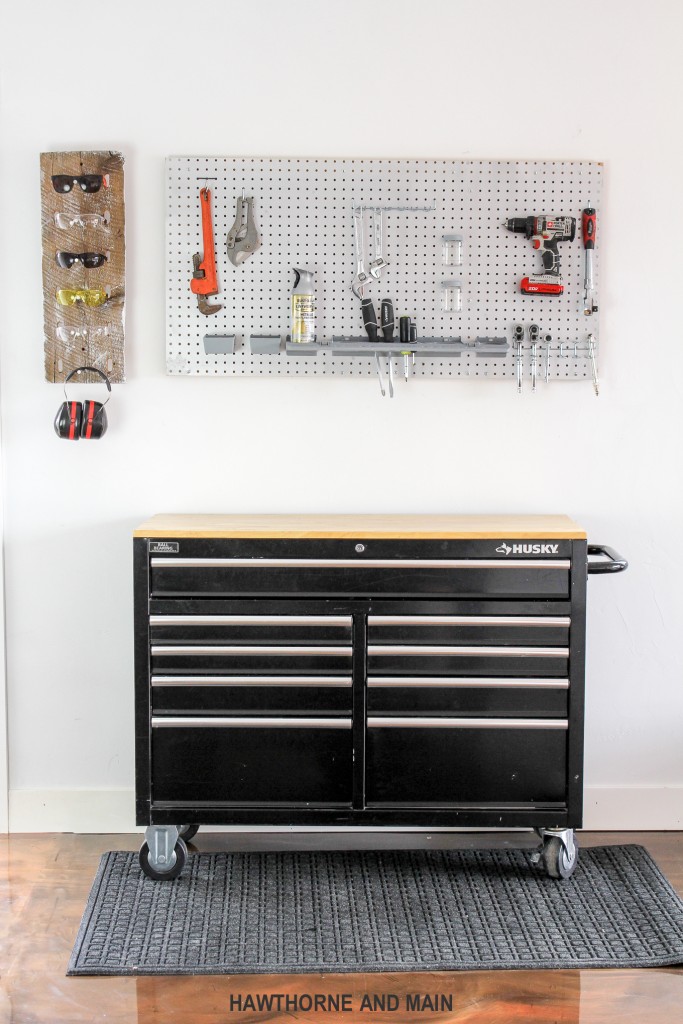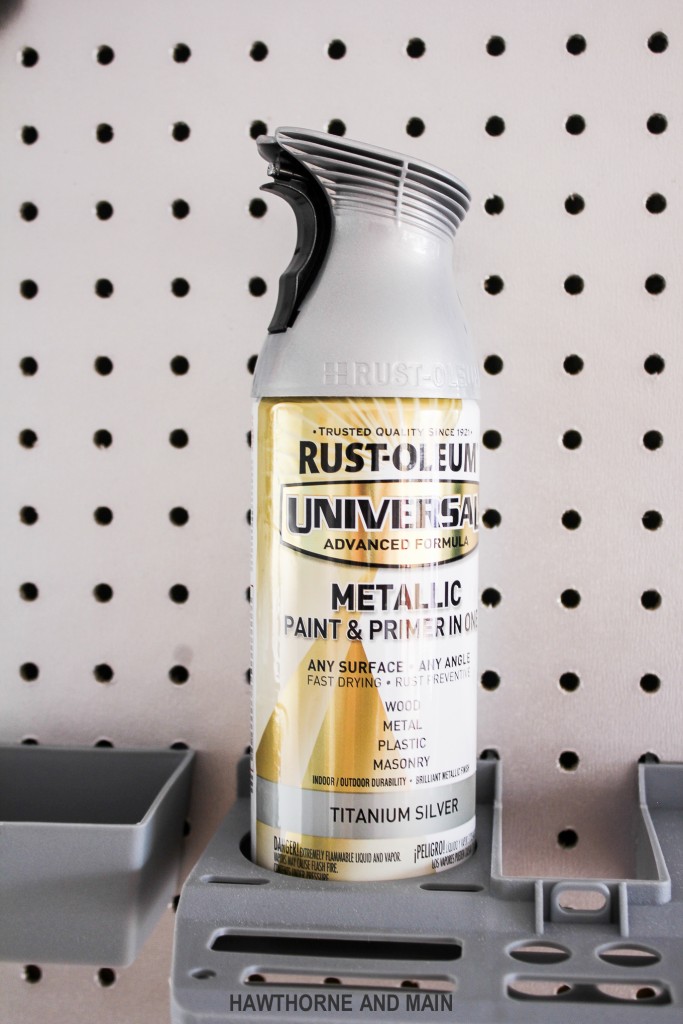 I cant wait to finish getting all of our tools up on these boards.
Here is our his and her's work benches.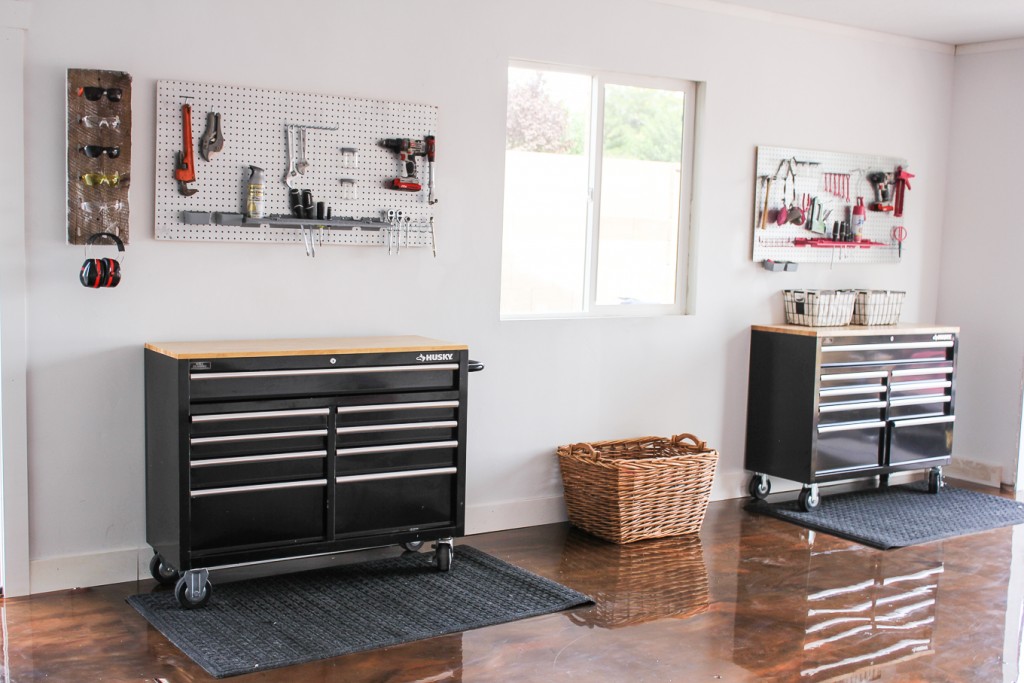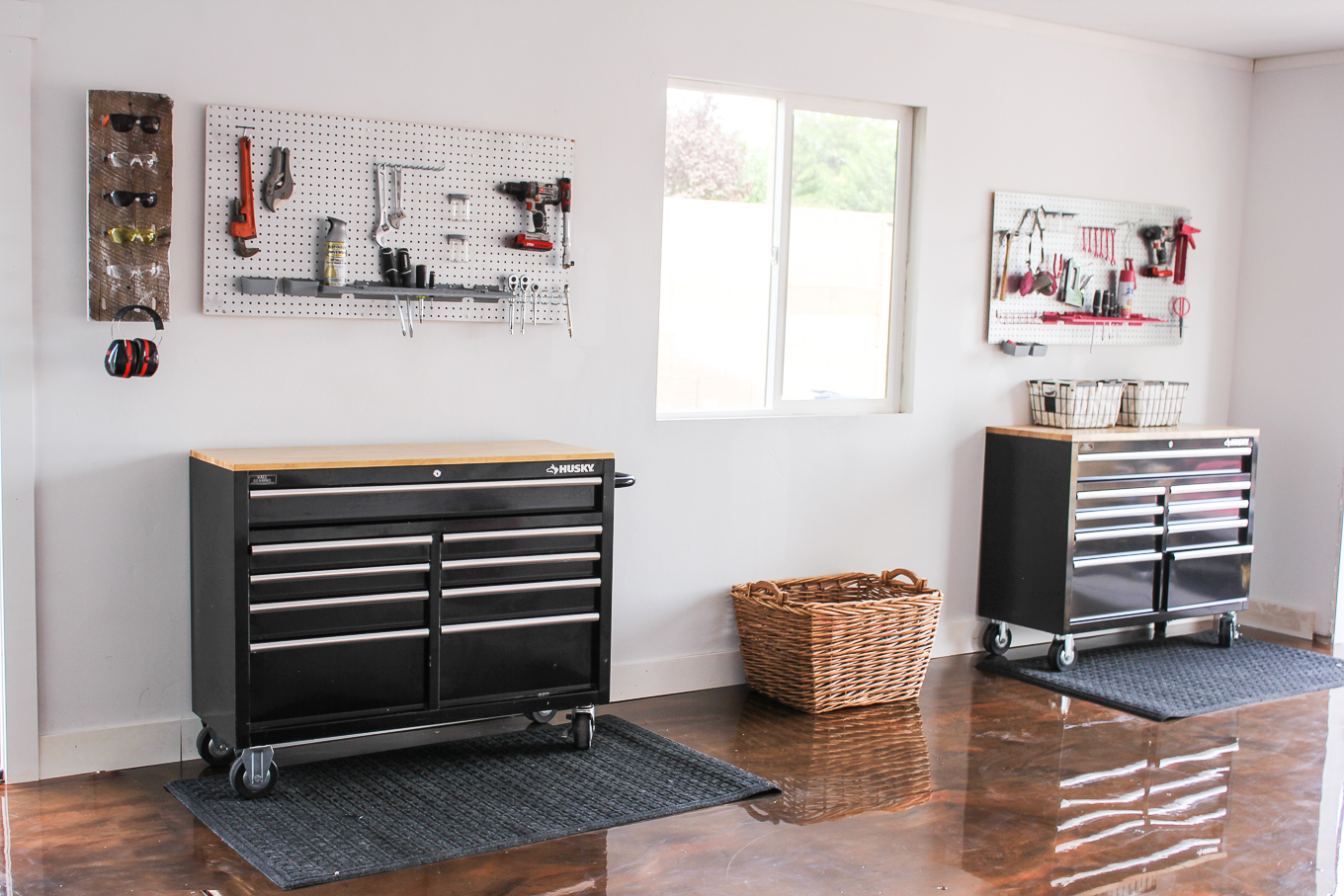 The opposite wall we hung a shovel and large tool organizing board.
This medallion was hanging in the backyard by the patio but it matched so well with the floor I had to bring it in.  It looks so nice against the clean white walls, don't you think?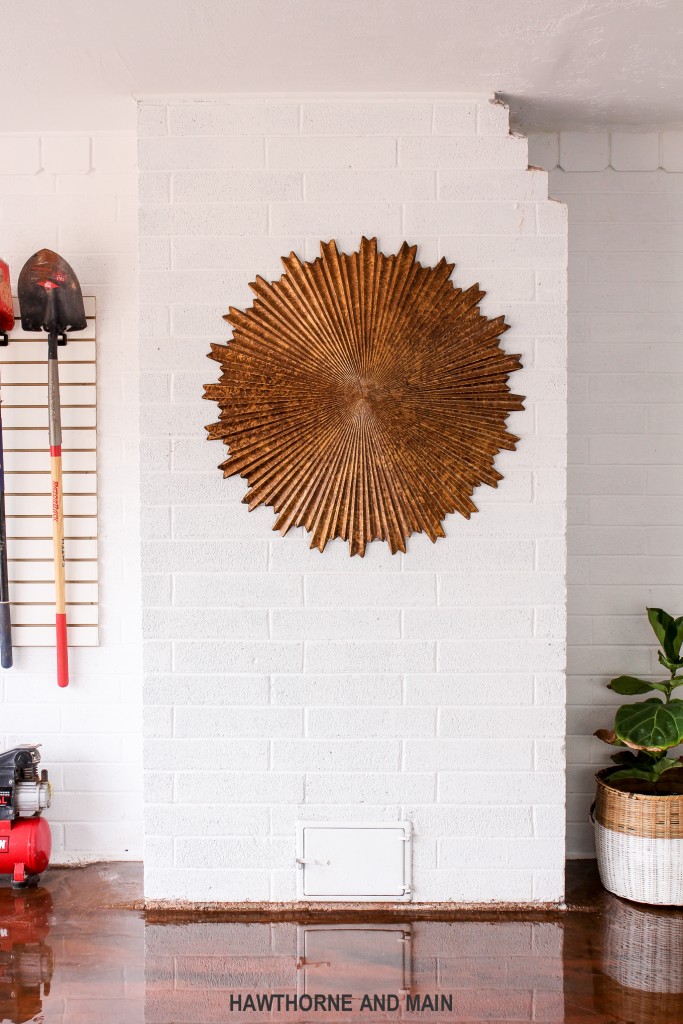 This is the first time that I am showing the entrance to The Suite Pecan.  It looks so nice and inviting now.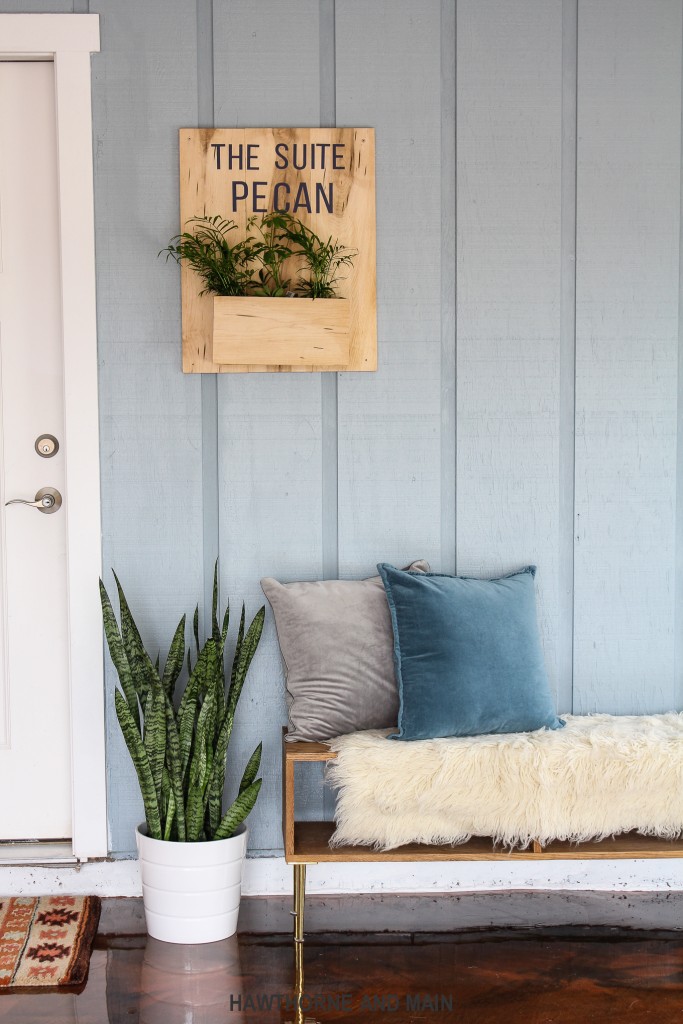 So now that you have seen the new garage….let's talk about this floor! Amazing!
Generally people pick one color for the floors.  We sort of like to do things different around here, it's fun to experiment and try new ideas.
We used Ameretto and Earth Brown for this application.  I love the two toned marble look.
Once you pick up the garage floor kit, gather a few additional supples and follow the directions on the box. Before you know it you will be ready to install.  I would also like to mention that we found these videos quite helpful. I highly recommend watching them.
How pretty!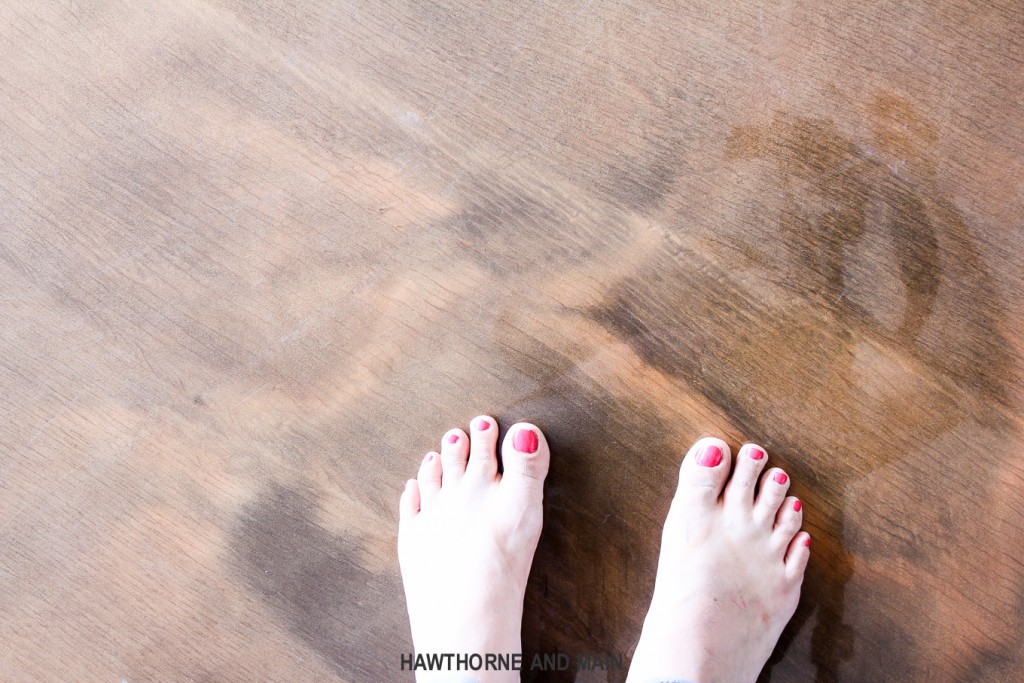 We followed the direction in the videos and on the box, except we used two different colors.  We also poured the mix on the floor in a random pattern, so that the colors would look more marbled.
The only other difference was that we used a roller that was 3/8″ nap  instead of the one provided in the box.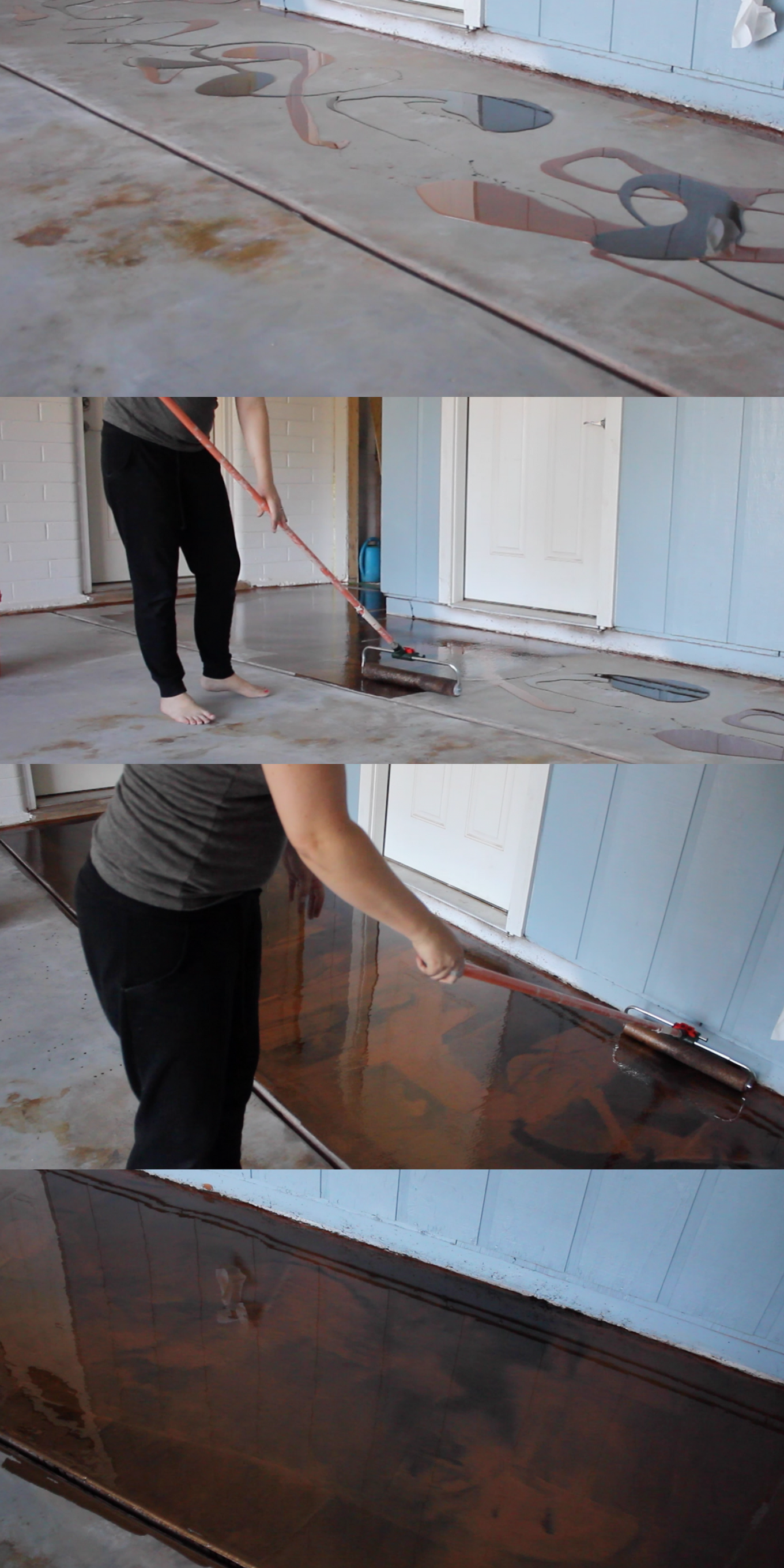 I was so so nervous to pour this floor.  It's so permanent and I didn't want to mess it up.
I have no idea why I was so worried. 
The product was a breeze to use and apply.  Even the most novice DIYer can use this, and have it look amazing.
Here is one last image, I love it.
Before you go, click below to enter the giveaway. I would love to see you create a fun retreat of your own!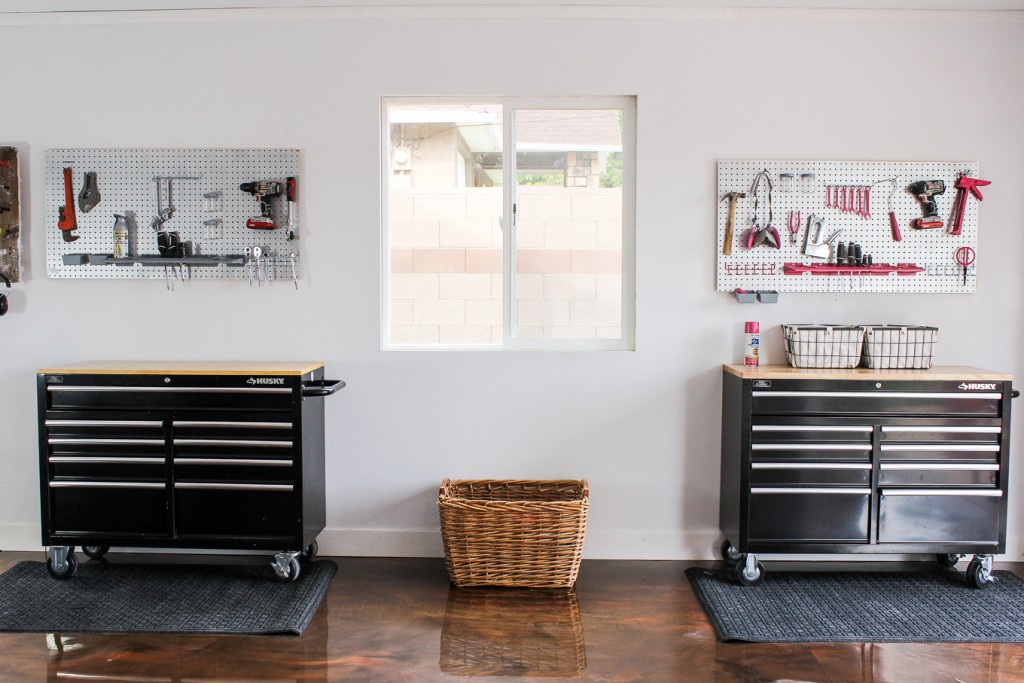 Want more AWESOME ideas...Check these out too!