Anyone else drooling at all the amazing color and design over at Anthropologie, I just love it!  As I was perusing over all the awesome stuff I came across this beauty, and decided I had to give it a try.
 Now as a preface, I really have not had much experience with jewelry
making.  I remember one year a bunch of girls got together to make those
chunky beaded watches, maybe you remember them, but it was too much for
me.  I got frustrated and never ended up making mine.  This time, I was motivated to figure this one out.  I headed out to Joanns to pick up
my supplies.
Once I picked out all of my beads (which took forever) I was completely clueless as to what tools and other metal fastenings I would need to assemble
this necklace.  Luckily a woman who teaches a bead working class at
Joanns was there that day and she hooked me up with all of the
essentials.
The main essentials that you need to make this necklace are:
–Beads
–Metal wire to string beads onto (honestly I don't know the difference between them all I just
grabbed one and luckily it worked great)
–Head pins
–Eye Pins
–Jump Rings
–Clasp (lobster clasp)
–Crimp beads
–Small needle nose pliers/cutters
My local craft store was so helpful in helping me find the stuff I needed, I suggest if you are new to bead working that you go talk them.
I ended up getting 4 different kinds/size beads:
1 strand of big quartz beads for the bottom 4 beads
2 strand medium size white beads
1 strand medium glass beads slightly smaller than the white beads
1 strand mini crystal beads for each end of the necklace and for the dangelies
The
original Anthro necklace has beads that are smaller and more uniform
throughout the entire necklace.  I thought it would be fun to try bigger
beads for the bottom part.  In order to ensure that both sides of my
necklace would be the same length once I got it all put together, I put the same exact number of beads
on each side. I just mixed up their order a little.  Super simple.
The small white bead that hangs down between the 4 big quartz beads at the bottom of the necklace is hung by using an eye pin.  I attached the dangelies to the white bead by using a jump ring.  Then, the small clear beads are attacked to the dangelies using a head pin.  As, I mentioned before this was really my first time working with beads and I was surprised at how
fast this came together.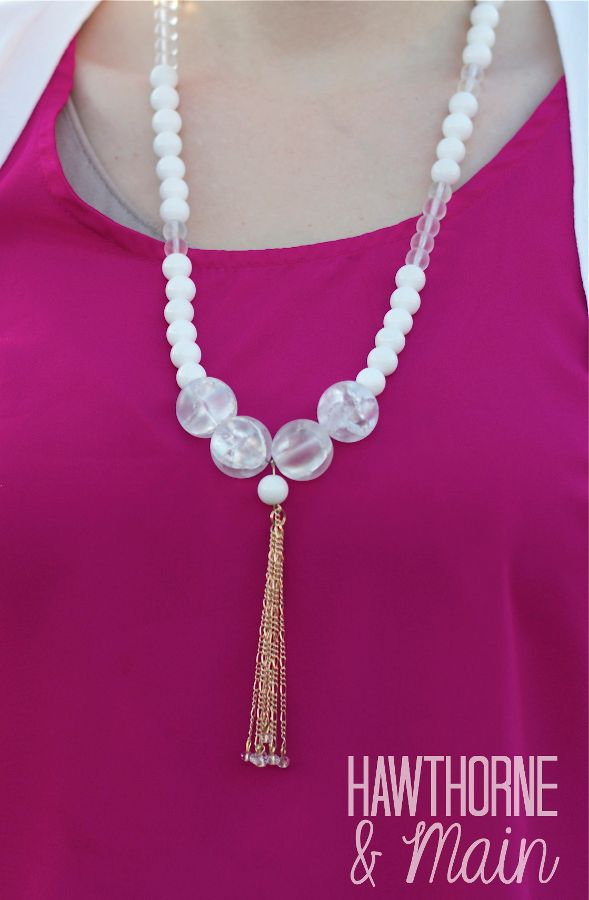 What DIY jewelry have you made?
Want more AWESOME ideas...Check these out too!